Chinese New Year or the Spring Festival marks the first day of the New Year in the Chinese calendar.
Celebrated not just in China but overseas in Singapore, Indonesia, Malaysia, Thailand, Cambodia and the Philippines as well as in Chinese communities across the world, custom sees every year characterized by one of the 12 spirit animals of the Chinese zodiac.
2019 is the Year of the Pig according TO Chinese zodiac. This is a Year of the Earth,starting February 5, 2019 (Chinese New Year) and lasting to Jan. 24, 2020.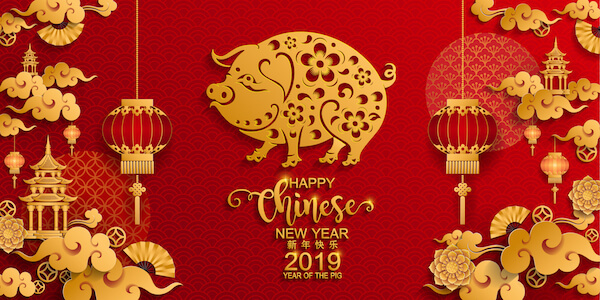 Image source: Kids World Travel Guide
Pig is the twelfth in the 12-year cycle of Chinese zodiac sign. The Years of the Pig include 1923, 1935, 1947, 1959, 1971, 1983, 1995, 2007, 2019, 2031, 2043…
Pig is not thought to be a smart animal in China. It likes sleeping and eating and becomes fat. Thus it usually features laziness and clumsiness. On the positive side, it behaves itself, has no plan to harm others, and can bring affluence to people. Consequently, it has been regarded as wealth.
Earthly Branch of Birth Year: Hai
Wu Xing (The Five Elements): Shui (Water)
Yin Yang: Yin
| Pig Year | Start | End |
| --- | --- | --- |
| 1923 | Feb.16,1923 | Feb.4,1924 |
| 1935 | Feb.4,1935 | Jan.23,1936 |
| 1947 | Jan.22,1947 | Feb.9,1948 |
| 1959 | Feb.8,1959 | Jan.27,1960 |
| 1971 | Jan.27,1971 | Feb.24,1972 |
| 1983 | Feb.13,1983 | Feb.1,1984 |
| 1995 | Jan.31,1995 | Feb.18,1996 |
| 2007 | Feb.18,2007 | Feb.6,2008 |
| 2019 | Feb.5,2019 | Jan.24,2020 |
| 2031 | Jan.23,2031 | Feb.10,2032 |
Lucky Signs for People Born in Pig Year:
Lucky Numbers: 2, 5, 8
Lucky Colors: yellow, grey, brown, gold
Lucky Flowers: hydrangea, pitcher plant, marguerite
Lucky Directions: southeast, northeast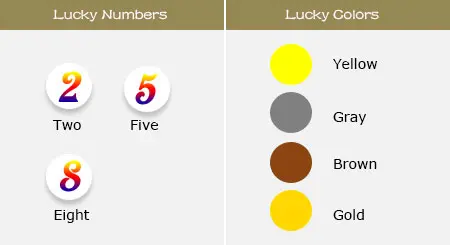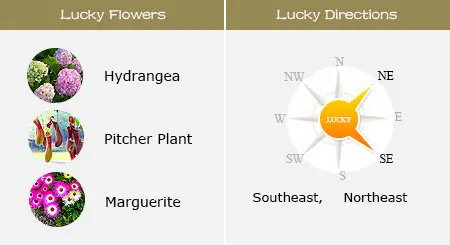 Things Should be Avoided:
Unlucky Numbers: 1, 3, 9
Unlucky Colors: red, blue, green
Unlucky Directions: east, west
People with Chinese zodiac Pig sign are considerate, responsible, independent and optimistic. They always show generousness and mercy to endure other people's mistakes, which help them gain harmonious interpersonal relationships. However, sometimes they will behave lazy and lack actions. In addition, pure hearts would let them be cheated easily in daily life.
Strengths
Warm-hearted, good-tempered, loyal, honest, gentle
Weaknesses
Naive, gullible, sluggish, short-tempered
Perfect Matches: Tiger, Rabbit, Sheep
These combinations always have a high possibility to obtain a sweet and everlasting marriage. When meeting difficulties, they can face them together. More patience and enough encouragement are keys to solve problems. They have common goals and similar values, which add more fun in daily life.
Avoid: Snake, Monkey
Totally different personalities may lead to conflicts. They always have completely contrary opinions about one thing, and cannot reach an agreement because of their stubbornness. If getting married, one would always think about his/her own advantages and feelings, which would hurt the other.
As the Zodiac Year of Birth (Ben Ming Nian) for people of Pig sign, 2019 could be a year full of ups and downs in all respects for them. They could receive support and help from their colleagues and leaders, but might feel stressful under too many regulations. The fortune in wealth is fair. Although they can expect a salary increase and also gain more income from financial products, there could be a lot of unexpected expenditure offsetting the favorable money increase. As for love relationship, single females of this Chinese zodiac may have a fairly good fortune and could start a sweet relationship in Year of the Pig.

Their personalities are different based on 12 western astrological signs, including lenient Aries, honest Taurus, talented Gemini, prudent Cancer, romantic Leo, right-minded Virgo, loyal Libra, ambitious Scorpio, sensitive Sagittarius, responsible Capricorn, brave Aquarius and gentle Pisces.
Blood Type O: They are brave and full of enthusiasm. Most of them are independent. They believe that success should be achieved by own efforts.
Blood Type A: Their gentle and optimistic characteristics can always influence people around. They are reliable, and always try their best to help friends who are in trouble.
Blood Type B: In most cases, they are honest to everyone, which gives enough sense of security to their partners.
Blood Type AB: They have high responsibility towards career, with enviable intelligence and outstanding abilities. They are born leaders that can make full use of everyone's advantages.
The system of Five Elements in Chinese culture influences people's character, ability, and luck. See analysis on the following five types of Pigs.
| Types | Years of Birth | Personality Traits |
| --- | --- | --- |
| Wood Pig | 1935, 1995 | Simple and honest, easygoing, endurable but sometimes impetuous. |
| Fire Pig | 1947, 2007 | Dependent, cooperative, owning great ambitions and good luck in wealth. |
| Earth Pig | 1959, 2019 | Good at socializing and maintaining interpersonal relation. |
| Metal Pig | 1911, 1971 | Gentle, broad-minded, frank, helpful. |
| Water Pig | 1923, 1983 | Responsible, serious, like to go one's own way. |
Celebrities Born with Chinese zodiac Pig
Henry VIII, Oliver Cromwell, Albert Schweitzer, Christopher Boykin, Ernest Hemingwa, Stephen King, Alfred Hitchcock, Woody Allen, Arnold Schwartzenegger, Ewan McGregor, Hillary Rodham Clinton, Jenna Elfman, Julie Andrews, Lucille Ball, Luke Wilson, Mahalia Jackson, Magic Johnson, Mark Wahlberg, Nicholas Brendon, Rachel Weisz, Ronald Reagan, Agyness Deyn, Amber Tamblyn, Amy Winehouse, Carrie Underwood, Mila Kunis, Chiang Kai-shek (an influential Kuomintang leader of 20th century China), Lao She (a Chinese author)
Source:
*****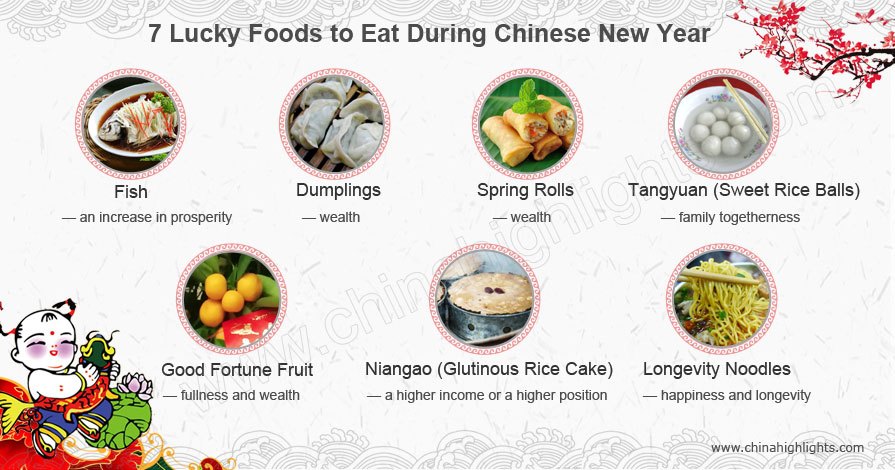 Chinese new year food Image credit: China Highlights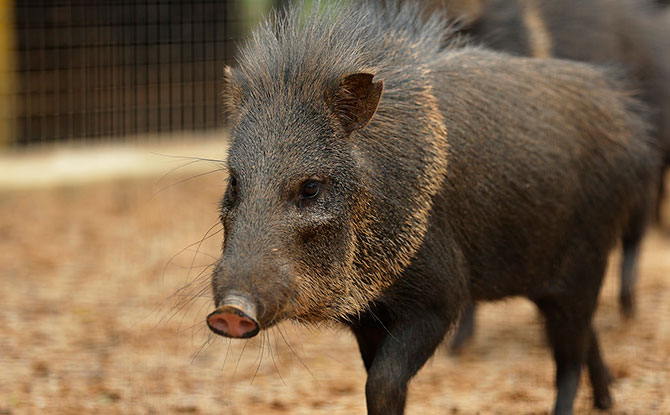 The pig takes centrestage at Wildlife Reserves Singapore's parks for Chinese New Year 2019 with a series of events, activities and retail promotions. There will be festive animal enrichments, a zoo-diac trail and mascot meet-and-greets. Looking for things to do for Chinese New Year 2019 in Singapore? Get wild at the wildlife parks!
When: 5 to 19 February 2019 (activity dates vary)
Where: Singapore Zoo, River Safari, Jurong Bird Park, Night Safar
Source: littledayout.co
Dragon fish lanterns for 'Carps Leaping Over The Dragon's Gate' performance at Gardens by the Bay. Image: Gardens by the Bay. Image source: littledayout.com 
Hongkong Fireworks Source: Chinaimportal.com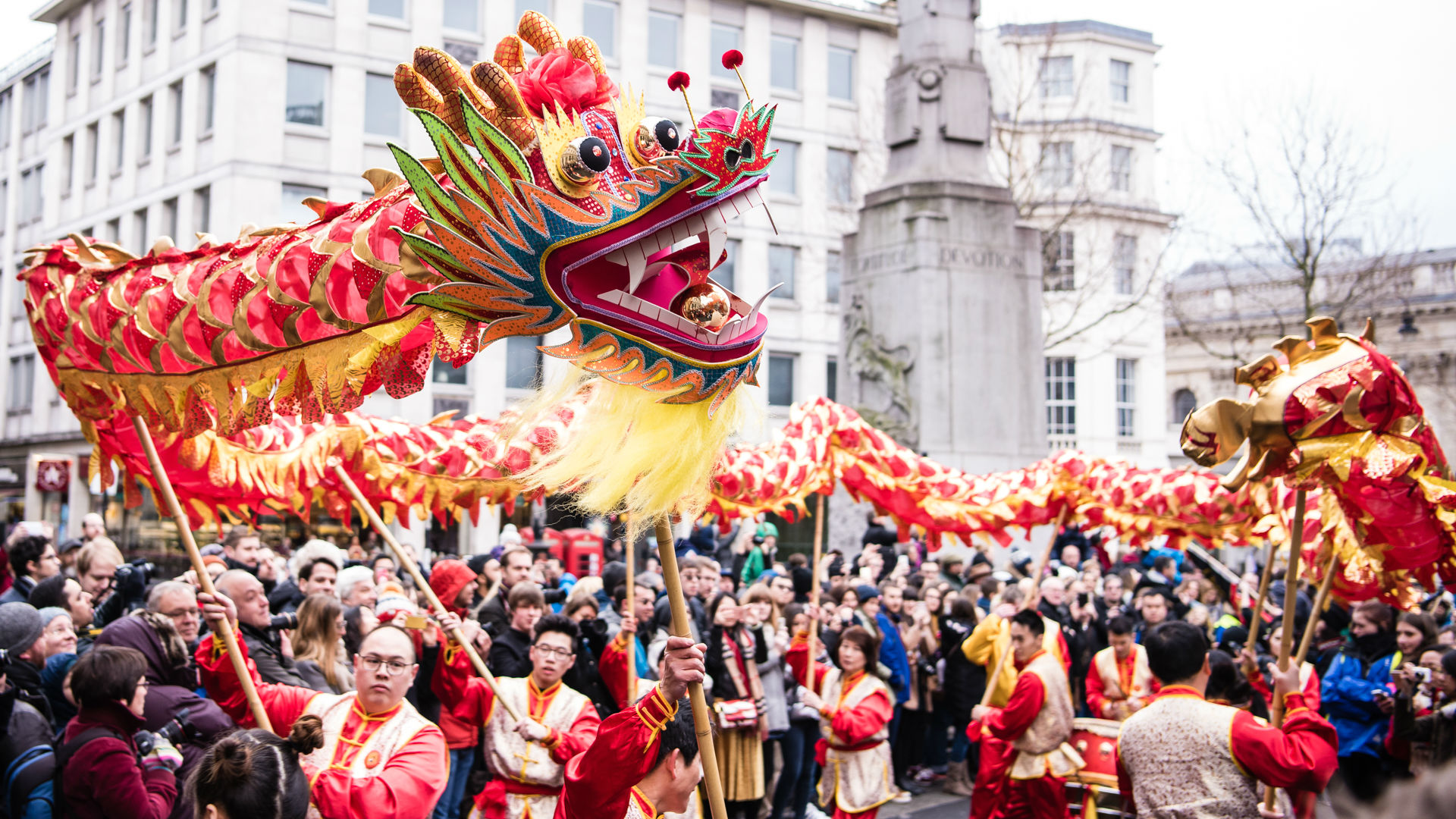 Dragon dancers at Chinese New Year celebrations in London. Photo: Jon Mo / LCCA Source: London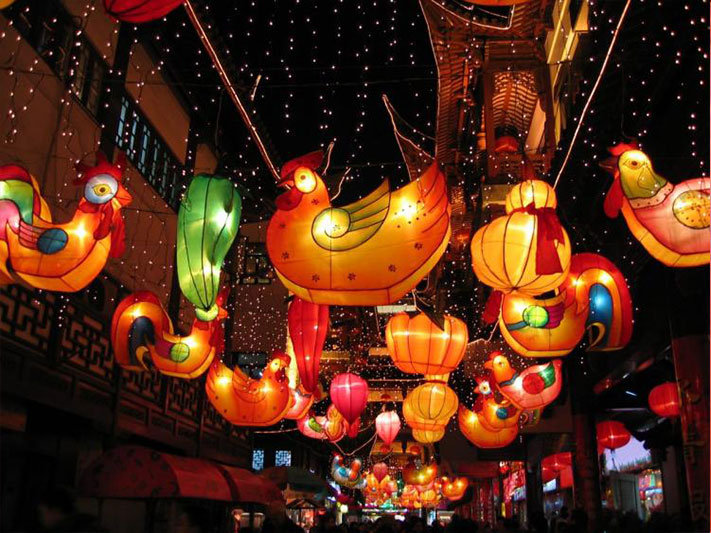 Just like Pontianak, as well as most major cities across the archipelago, Singkawang also dresses up for the coming Chinese New Year Celebration. In Singkawang, you will be presented with a unique representation of the 12 Shios or Chinese Zodiacs in the form of giant lanterns. The animals such as chicken, rooster, and dragon represent certain characteristics and philosophies in Chinese culture. The lanterns are placed at several points throughout the city. In addition, a couple of 3 meter long lanterns will be installed at the city's main roundabout to greet visitors to the wonders of Singkawang. Source: indonesia.travel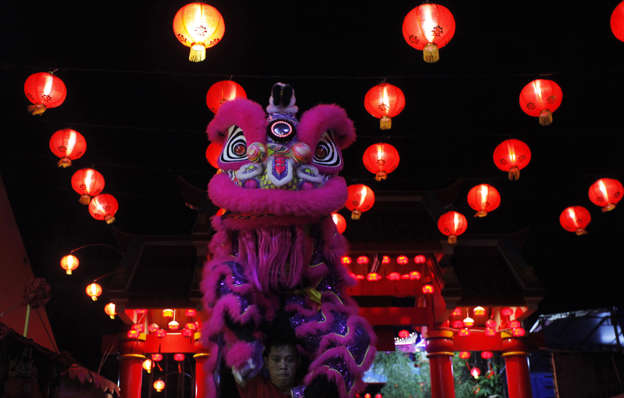 DHANAGUN, BOGOR, WEST JAVA, INDONESIA -: "Barongsai" (Lion) dancers seen performing at Dhanagun Temple during the new year celebration. The lion dance attraction entertains residents while celebrating Chinese New Year's Eve. Source: MSN.com
Saigon is one of the most vibrant places to celebrate the Lunar New Year in Vietnam. Vietnamese New Year or Lunar New Year is known in Vietnam as Tet Nguyen Dan, or simply Tet, the Lunar New Year is a celebration of spring and the upcoming year. During the Vietnam New Year, it is polite to offer a greeting to friends, family members, and strangers. The traditional greeting for the holiday is 'Cung Chuc Tan Xuan' Or "Van Su Nhu Y". This greeting can be used to wish a good spring to anyone that you encounter during the holiday. Another commonly used greeting is 'Chuc mung nam moi', or 'Happy New Year'. This is a literal translation of the Western New Years greeting and has become more popular in recent years. Source: TopsVietnam
Banh chung is a rice cake the consists of glutinous rice, mung beans, pork, and other ingredients that depend on the area and the preferences of the chef. Banh day is also a common Tet food.Banh day is a sweet rice cake that is chewy due to its glutinous rice. The cake is wrapped in banana leaves and served in pairs. Another popular Tet celebration food, canh mang is a soup made of pickled bamboo, broth, and pork, chicken, or seafood. This tangy soup is a staple of Lunar New Year feasts throughout Vietnam. Canh măng is often paired with gio lua, a Vietnamese pork roll. Portions of gio lua are often cut into thick slices and served on plates. Before and after the feast, a few ceremonial words are spoken to honor the ancestors. Source: TopsVietnam
The 9th annual Lunar New Year Celebration in Redwood City featuring lion dancers, martial artists, taiko drummers, and other live performances, for this celebration of the Year of the Pig. Plus, folks can enjoy Free admission to the San Mateo County History Museum where they can find free Kids Arts and Crafts on Saturday, February 9, 2019. Source: sf.funcheap.com
While it's fun to visit whatever the season, Yokohama's Chinatown district is never livelier than during its New Year festival. The two weeks of festivities are stacked with events, including a countdown party on the night of February 4, traditional lion dance and music performances at Yamashitacho Park (February 9, 10, 11 & 17), a parade of traditional costumes on the afternoon of February 16, and a spectacular Lantern Festival on February 19 from 5.30pm (around Masobyo Temple). Source: timeout.com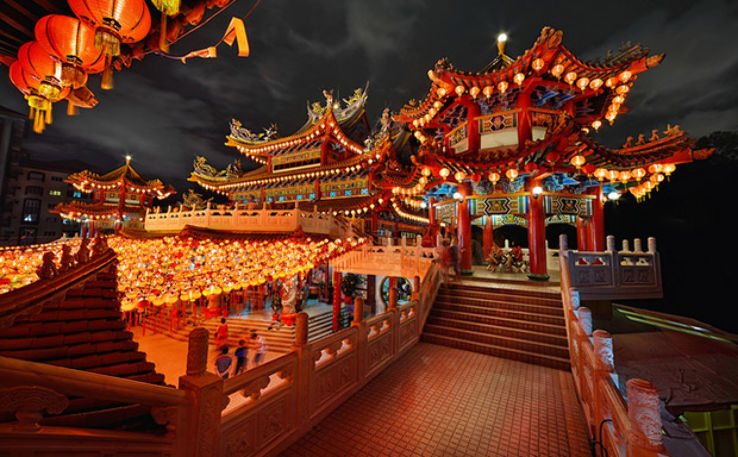 Thean Hou Temple in Kuala Lumpur Kuala Lumpur, Federal Territory Of Kuala Lumpur, Malaysia Source: hellotravel.com
Chinese New Year Highlights – The Villages at Tamayong, Davao City, Philippines Source: YouTube
Image source: Goodwood Park Hotel