It's everyone's dream to have a flawless and glowing skin. Sun exposure, life style, and pollution contribute to the lose of skin natural moisture, glow and fairness. Glowing is an indication of our skin being healthy.
Here are some …
Do's and Don'ts to Get Glow on the Skin
Drinking plenty of water serves several purposes, including the good health of your skin.
Eat fresh fruits and drink juices.
Eat healthy.
Do not use too much makeup as it can harm your skin.
Whatever you are applying on your skin, test it on your hands first, and avoid using it if you feel stingy.
Before going to bed, don't forget to remove your makeup.
Take at least 8 hours of sleep.
Don't smoke.
Drink green tea.
Do exercise or yoga. 
There are lots of products that promised for skin radiance  and beauty but they only work on our external features alone due to active chemicals which is definitely bad on the long run.  So try home remedies than can do wonders for the skin. These herbal remedies can give back the lost glow and beauty instantly and can do wonders in the long run. So, try these glowing skin herbal tips for lasting result and inexpensive.
1. Honey 
 Mix some honey with cream and apply on your face. This would make your skin moist, soft and bright.  
2. Milk And Lime Juice   
Mix raw milk with lime juice and add a bit of salt. Apply this mixture on your face. This would open up the pores in your skin and cleanse out all the debris.   
3. Turmeric, Sandalwood And Milk   
Mix a bit of turmeric with sandalwood powder. Blend this mixture using milk. Apply this paste on your skin and let it remain for 5 minutes. This would make your skin appear bright and fresh.
4.  Cinnamon Powder And Honey  
Mix a little cinnamon powder with honey and apply it on your skin. Let it remain overnight. This is a great treatment for pimples. It also helps in removing the scars left by pimples.
5. Yogurt And Apricots   

Apply a paste of yogurt and apricots to get a fresh-looking skin. If your skin is dry then add a little honey to this mixture.
Are you concerned about your dry and lifeless skin? Are you looking for a natural remedy that can make your skin glow with life? If you are ready to try some home remedies, follow some of the aforementioned remedies. These natural remedies are effective and safe. If you follow these tips on a consistent basis you can get a healthy skin that glows. These natural herbs can also help you to get rid of wrinkles and aging signs.
6. Lime Juice And Groundnut Oil 
For preventing blackheads and pimples apply a mixture of lime juice and groundnut oil.
7.  Aloe Vera Juice 
For reducing skin pigmentation, apply Aloe Vera juice on your face. This would also make the skin moist.  
Aloe vera is very useful for your skin. It contains antibacterial properties which may help in killing bacteria causing acne. Besides, anti-inflammatory and astringent properties in aloe vera also have the ability to soothe irritated skin and heal scars. Moreover, aloe vera may moisturize your skin and boost up new skin cell growth. 
 8. Grapes  
To add glow to your face, take a few grapes and rub on your face. Or, make it into a pack by mashing the grapes. It cures uneven skin tone, rejuvenate skin, softens skin and reduces wrinkles. 
9. Turmeric powder, wheat flour and sesame oil 
Dry skin is specially a big problem in winters when the cold  and dry air take away the natural moisture of your skin and leaves it dry and flaky. So here is a natural homemade scrub to a beautiful and nourished skin.  all you need is :
wheat flour / millet flour 60 gms
turmeric powder 1/4 tsp
sesame oil / mustard oil or desi ghee 1 tsp
water as required
Mix all the ingredients to make a fine (slight thick) paste. Apply on your face and other body parts. Leave it for 10 minutes. Remove it by gently rubbing with your hand firstly and then take bath with luke warm/ normal water. It will make your skin instant smooth, shiny,nourished.Apply this on your skin to remove unwanted hair and dry skin.
10. Tomato, Oatmeal & Yogurt Pack  
Take 1 tablespoon of tomato juice, 2 tablespoons of yogurt and 2 tablespoons of oatmeal. Mix them and make a paste. Apply it on the skin and leave for 15 minutes. Wash off, pat dry and apply a light and mild skin moisturiser.
Tomato is capable of healing many skin issues. It may reduce acne, large pores, rashes as well as soothe sunburn. If you don't get any skin problems, you may still apply tomato pulp on the face to get a clear face. Tomato contains antioxidant lycopene will help you in fighting cellular damage and redness of your skin. The combination of tomato and honey is one of wonderful home remedies for clear skin because honey contains enzymes that make your skin be fair and keep your pores clean and clear. It will also keep the skin moisturized naturally.
11. Banana & Egg White Face Pack 
Take half ripe banana and mash it. Add 1 tablespoon of yogurt and 1 egg white. Beat them together and apply it on the skin. Wash after 15 minutes. Banana gives a facial like glow at home.
12. Cucumber, Lemon & Turmeric Pack 
Take 1 tablespoon of  cucumber juice, few drops of lemon juice and a pinch or two of turmeric powder. Mix them well. Apply this pack on your skin for a shiny look. Leave it for 15 minutes and wash off the face with lukewarm water. Apply a good moisturiser afterwards.
Cucumber contains nourishing, hydrating, astringent properties which are very useful for your skin. They can help in removing dead skin cells, repairing the damaged skin cells and thereby giving you a clear and glow skin. You can apply cucumber or combine it with lemon juice or turmeric powder to have some home remedies for clear skin in summer.
13. Potato   
Take a slice of unpeeled potato and soak in water for like 5 minutes or so. Rub it on your face. Potato works as a natural bleacher, which will lighten and brighten the skin in seconds.
14. Potato Juice And Gram Flour Face Mask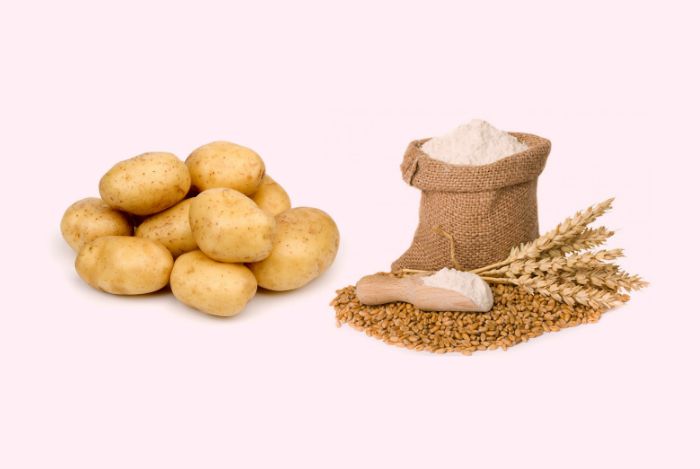 Gram flour acts as a mild exfoliant that may lighten and smoothen your skin. It also eases the excess oil and removes acne. Moreover, this flour can help you in eliminating unwanted facial hair. You can mix gram flour with potato juice to get the best result because potato contains natural bleaching properties which can help in fading dark spots and blemishes.
15. Milk  
Take a tablespoon of milk and add a few drops of lemon to it. Massage face and neck with this milk. This will soften and moisten your skin naturally, within a few minutes. Wash off the face after 20 minutes. You can also add a pinch of turmeric to the solution.
You can also take a few strands of saffron and soak it in 2 tablespoons of milk cream for overnight. Mix this pack in the morning and apply it on your skin. Saffron will give your skin a healthy glow while milk will lighten your skin colour.   
16. Coconut Oil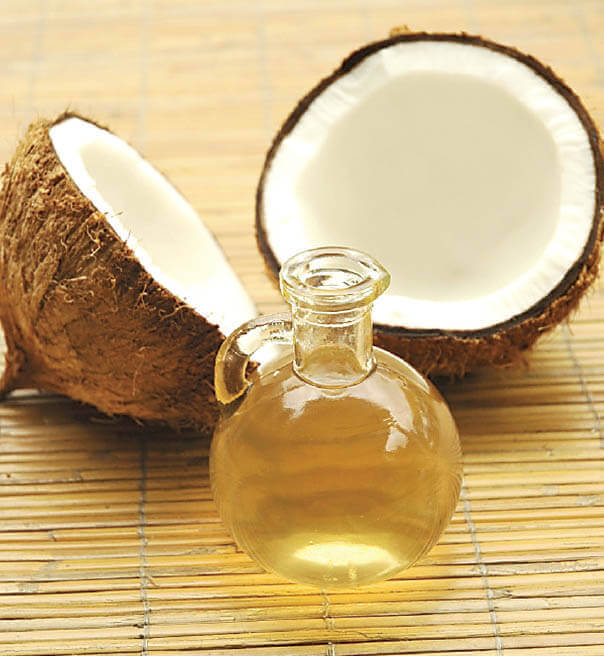 Coconut provides plenty of benefits to the skin. Apply some amount of coconut oil on your skin. This will remove the tan and makes it clearer, and moisten your skin. Apply it on the daily basis.
Coconut oil is also considered as one of common home remedies for clear skin in summer. This oil is very high in antioxidants which may remove the radical activity causing a dull and lifeless skin. Plus, it contains antibacterial and antifungal properties that can help you in maintaining a clear skin. Besides, it will make your skin moisturized and soft because this oil can penetrate deeply into the underlying tissues of your skin.
17. Almond Pack   
Take 1 tablespoon each of almonds and honey, and 2 tablespoons each of yogurt and oats. Mix it well and apply it on the face. Leave it for 15 minutes. Wash off with warm water. This pack will make your skin shiny and naturally fair, instantly.
18. Lemon & Sugar Scrub  
Take 2 tablespoons of brown sugar and 2 tablespoons of lemon juice and mix them. Apply it on your face and massage. You can also use this scrub on your elbows and knees. Keep it for 10 minutes. Subsequently, rinse thoroughly with warm water. This will help in removing the tan and dead skin, acne and whitens underarm.
19. Oatmeal & Cinnamon Scrub   
Take 2 tablespoons of oatmeal and ½ tablespoon of cinnamon powder along with 1-2 tablespoons of milk. Mix them all together and apply it on the face. Gently massage it like a scrub. Leave it for 15 minutes, then rinse with cool water and pat dry. The sugar granules help to eliminate the dead cells from the skin. This lemon and sugar combination thus works as an excellent skin lightening agent. 
20. Tea Scrub   
Take a tablespoon of tea leaves and boil it in water. When it begins to impart the colour, remove it from the flame, and allow it to cool. Take 2 tablespoons of tea water. Put 1 tablespoon of brown sugar and 1 tablespoon of cream in it, and mix. Apply it on your skin and gently massage it. Leave it for 10 minutes and wash it off with cold water.  Great for clearing acne and making skin feel tight .
21. Fruit Pack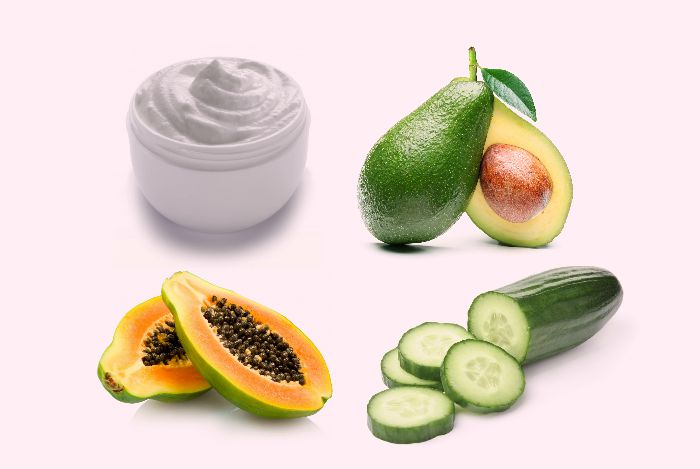 Take the pulp of papaya, avocado, and cucumber and mix well. Add 2 tablespoons of cream in it to make a smooth paste and apply it on the face. Leave this pack for 20 minutes. Next, rinse thoroughly with lukewarm water. Fruit pack will add glow on your skin that you always wished for.
Note- If you have oily skin, avoid cream as it will make your skin oilier. Instead of cream, use 1 tablespoon of fuller's earth.
22. Yogurt & Honey   
Take 2 tablespoon of yogurt and 1 tablespoon of honey. Mix it well and apply it on your skin. Leave it for 15 minutes. After that, wash off with normal water. Yogurt will moisturise the skin and honey will help in clearing the skin texture and make it fairer. You can use this face pack on the daily basis.
Else, take 1 tablespoon of honey and add 2 tablespoon of milk (raw and un-boiled) in it along with 1 tablespoon of gram flour. Mix them together and apply on your face. This facemask will make your skin look fair, instantly.
23. Eggs & Honey  
Take the egg and separate egg whites as you are going to need the white part only. Now, add 1 tablespoon of honey and mix it well. Apply it on your face and leave it for 15 minutes. Honey will brighten up your skin while egg whites will tighten your skin. Wash off after 15 minutes. You will notice the difference.
24. Olive Oil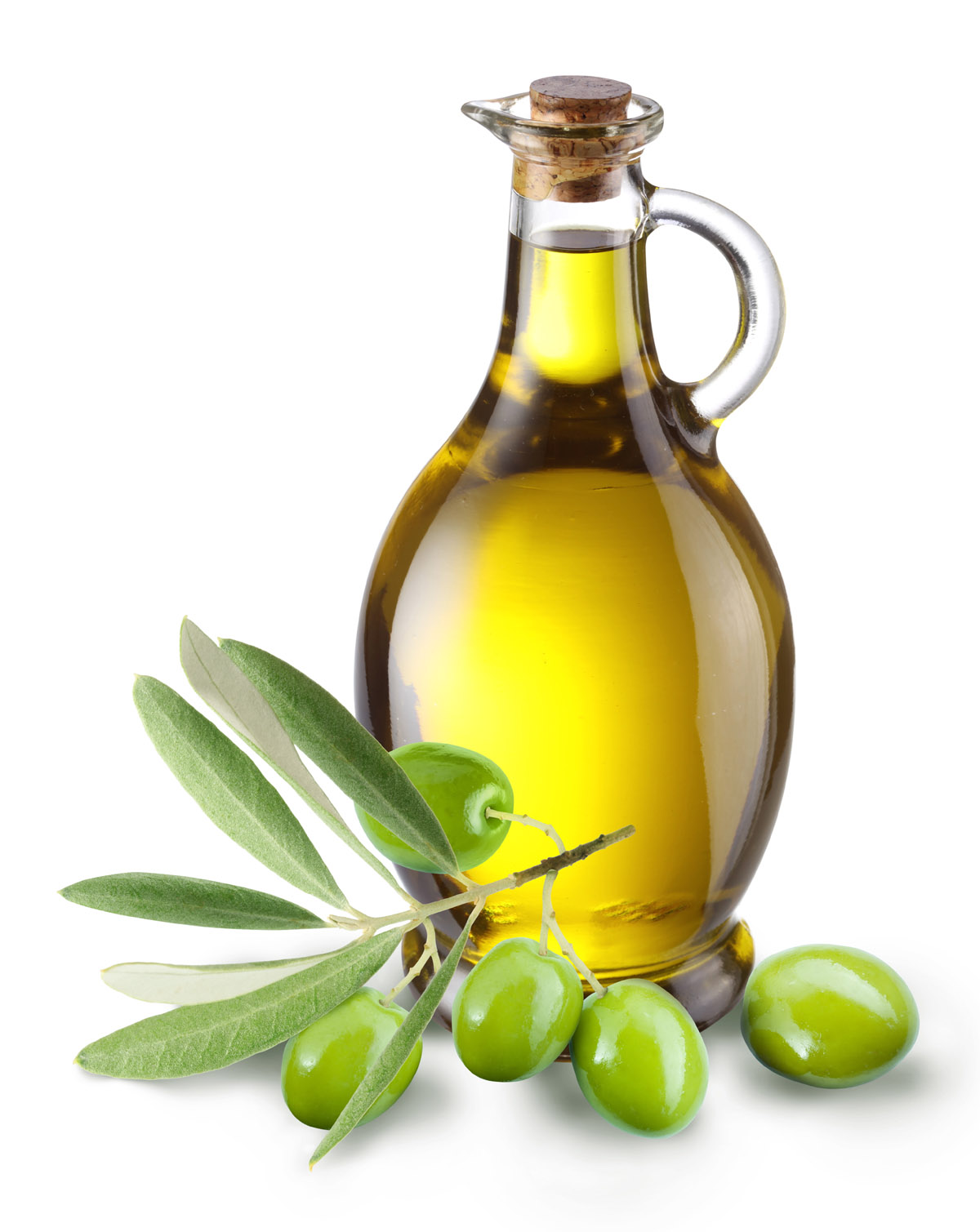 Take a few drops of olive oil and apply it on the cheekbones, where you usually put on the blusher. This will give your face an instant glow. You can also use coconut oil or jojoba oil.
25. Green Apple  
Green apple works great in bringing back the lost glow. Apply the pulp of green apple on your skin. This will not only make your skin radiant and fair, but also circulates the blood well.
26. Rice Flour  and Milk   
Take rice and make a fine powder in the grinder. The powder should feel like a smooth white scrubber. Mix enough milk in it to form a paste. Apply it on your moisten face and scrub your skin for 15-20 minutes. The paste will fall automatically while you rub your face. Let the whole scrub fall, and then, wash your face with cold water. Rice will exfoliate the skin and remove the dead cells. It will improve the blood circulation. As a result, you will get the smooth, clean, blackheads-free glowing skinin minutes.
27. Papaya & Honey   
Take a piece of papaya and mash it with the help of a fork. Take a tablespoon of honey and mix well with papaya pulp. Moisten your face and apply it on your face. Leave it for 15 minutes. Rinse thoroughly with cold water.
28. Ice Cube  
Rub an ice cube on your face to improve the blood circulation. Also, if you are going in a party or in a special occasion, rub an ice cube before putting on the make-up. This will help the make-up to last longer, and the make-up won't smudge.
Alternatively, put a few drops of your favourite moisturiser on the ice cube and massage it on your face. This will instantly freshen up your skin and give it an instant glow.
29. Tomato 
Take a tomato and rub the tomato pulp on the skin. Rub it all over your face and leave it for 15 minutes. Tomato contains natural bleaching properties, which helps in lighten the skin colour. Rinse thoroughly with cold water after 15 minutes.
30. Oatmeal  
Oatmeal work as a great scrubber and give your skin the shine and smoothness. Take ½ cup of oats and pour a little warm water in it. Leave it for 5 minutes. Water will help in forming a thick paste. Apply it on your face and gently rub and massage in a circular motion with your fingers. Rub harder around and on the nose to remove blackheads, for 15 minutes. Then, wash off with cold water. This will make your skin smooth and fair.
Oatmeal contains antioxidants, avenanthramides, as well as anti-inflammatory compounds, which help soothe skin that is irritated, dry or itchy. It is also a great treatment option for those who suffer from acne. This is because it absorbs oils on the surface of the skin.
31. Papaya, Sandalwood, And Honey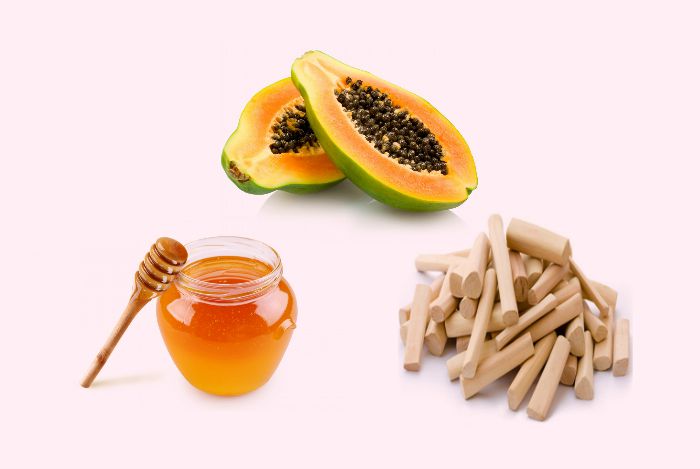 Papaya can help in improving your skin's texture as well as maintaining a clear skin. It contains natural bleaching properties which help you to reduce scars. Besides, papaya contains the enzyme that has antibacterial and wound healing agents. It also helps in removing dead, damaged skin. In conclusion, you cannot deny that papaya is one of the most effective home remedies for clear skin fast.
32. Baking Soda, Lemon Juice, And Honey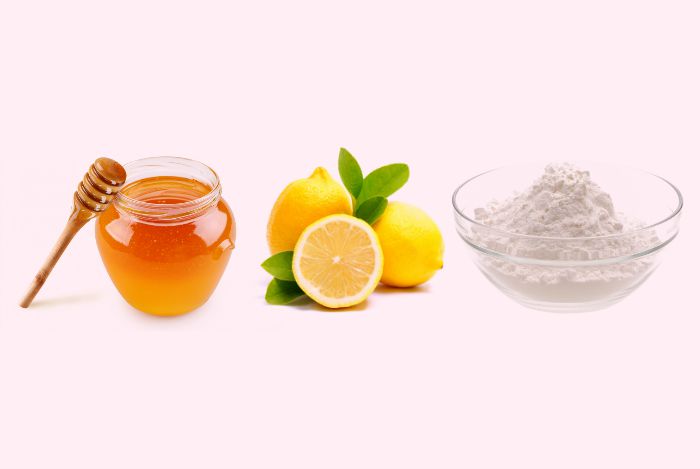 Baking soda helps in balancing pH levels of your skin, which is very necessary to keep a clear skin. In addition, it contains anti-inflammatory and mild antiseptic properties that help you to deal with many skin problems such as acne, pimples, and spots. Baking soda also acts as an excellent exfoliating ingredient to protect your skin from impurities, dead skin cells, and dirt.
33. Cabbage juice and honey  
Cabbage juice when mixed with a little honey and applied on face prevents wrinkles.
34. Tomato  and lemon Juice  
For a glowing and healthy skin apply a mixture of tomato juice and lemon juice.
35. Carrot Juice  
For a glowing skin apply some carrot juice.
36. Green Tea And Aloe Vera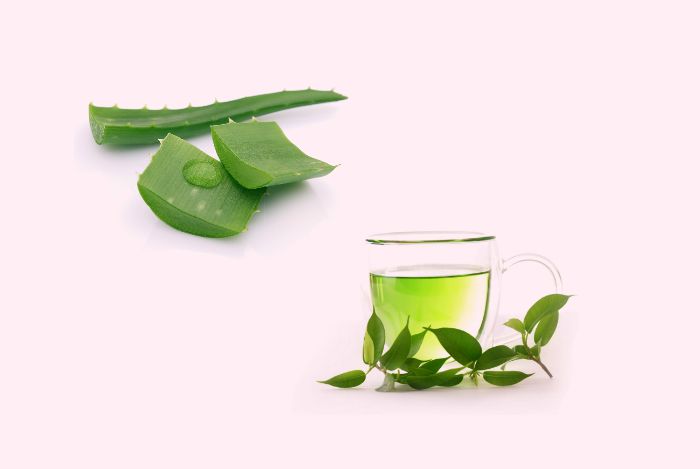 Aloe vera is a superb ingredient for a clear skin thanks to vitamins, minerals and amino acids content in it. It helps you in fading dark spots and blemishes. It is also beneficial for reducing tan. Green tea is also known as a skin-nourishing ingredient which gives you a clear skin and fighting the signs of aging. Both of ingredients contain antibacterial and anti-inflammatory properties that help you in fighting acne and pimples.
You firstly squeeze an aloe vera leaf to get the juice. Then you combine 2 to 4 tablespoons of this aloe vera gel with 1 tablespoon of green tea and put them in a blender. You blend them well to get a fine paste. Now, you rub this face mask directly on your face and leave it on for about 15 to 20 minutes. Finally, you rinse it off with clean water and apply this process several times a week
37.  Honey And Green Tea Bag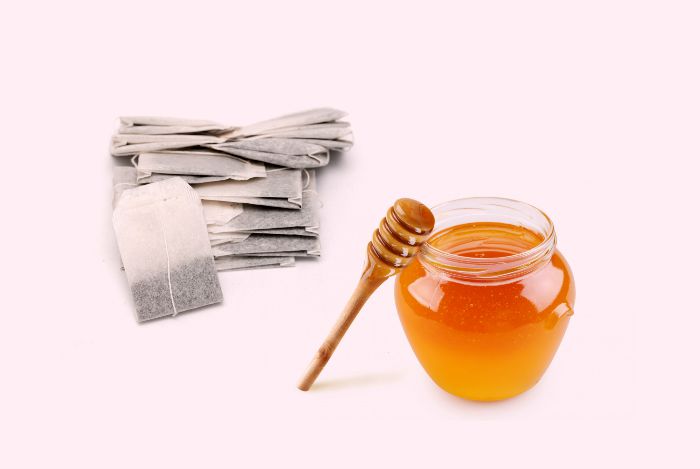 After using green tea, you may take the green tea bag and use it to make a face mask for a clear skin. It will add you many benefits of green tea as well as eliminate impurities. Besides, you can combine it with honey to get a soothing effect for your skin.
.
SOURCE:
allremedies.com
homeremedyshop.com
stylecraze.com