In the world of Hollywood, it's rarer and unusual that  stars who find themselves in handcuffs when they're merely trying to make a difference in the world. They are the celebrities who used their power to  speak out and stand up for human rights. And we must be proud to have them.
Injustices in mainland China and around the world continue to this day. The ongoing persecution of religious groups and activists has not subsided.
It was since April, 1989 when hundreds of Chinese students and Beijing locals who had been on Tiananmen Square to protest totalitarian regime. But the Chinese Communist Party (CCP) classified the gathering an "anti-revolutionary riot" and used it to depend their actions to attack and kill unarmed students, possibly thousands according to some estimates. The Tiananmen Square Massacre of 1989 or other know as "June 4th Incident" in mainland China marks its anniversary on June 4th.
For the bravery of "Tank Man"  who  blocked the way of Chinese tanks heading to Tiananmen Square, he proves and awakens the world that it only takes one person to make a difference.
Celebrities often have causes that they stand up for. Many even have three or four issues they support, speak out on, and help draw attention to. But, some celebrities do more than just that — they immerse themselves in the issues they believe in, and do whatever they can to make a change.
Here are the good celebrities who stand for fight for a cause:
ANGELINA JOLIE
Angelina Jolie is a well known human rights activist who started her good deeds back in Cambodia when filming "Tomb Raider" in 2000. Jolie was a Goodwill Ambassador for the United Nations from 2001 to 2012 and was appointed as Special Envoy of UN High Commisioner and then promoted to the position of a Special Envoy of UN High Commissioner for Refugees António Guterres in April 2012, according to the UNHCR.  Jolie is well known for standing up for ending violence against children and women in conflict zones, and this is especially known through her directorial debut "In the Land of Blood and Honey." She also focuses on major crises resulting in mass population displacements, undertaking advocacy and representing UNHCR and Guterres at the diplomatic level, and engaging with decision-makers on global displacement issues. Jolie continues to use her fame to shine attention on the refugees' struggles, including those in Cambodia, Thailand, Sierra Leone, Syria and Darfur.
BRAD PITT
After meeting  Angelina Jolie on the set of "Mr. and Mrs. Smith" in 2005, the two started the Maddox Jolie-Pitt Foundation in honor of their eldest son Maddox and his homeland—Cambodia. Through the charity they have donated millions of dollars to humanitarian causes around the world.
Below is a list of five remarkable and inspiring things that Brad Pitt has done for the world:
1.In 2004, Pitt joined the One Campaign as a spokesman alongside Bono to help advocate for an additional 1 percent of the U.S. budget to go towards supplying Africa with basic needs such as clean water, education, medicine, and food. Pitt has made frequent trips to Africa using his celebrity status to successfully draw media attention and support for the campaign.
2. Pitt traveled to Haiti in 2006 to visit a school supported by the Haitian foundation, Yéle Haiti Foundation. There, he assisted the charity by aiding projects focused on bettering health, community development, environment and education in Haiti through media, sports, and music.
3. In 2007, following the devastation of Hurricane Katrina, Pitt started a project in New Orleans to help build environmental friendly housing in the Ninth Ward. He and Angelina Jolie bought a mansion in the French Quarter of New Orleans to ensure that the project would be a part of their daily life. Pitt also teamed up with Global Green USA as a sponsor of a competition to design and build energy-efficient housing in the Ninth Ward that was both environmental friendly and affordable.
4. In addition to physically joining the ranks of advocacy campaigns and organizations, Pitt and Jolie continually show their support for global issues by donating to various foundations. In 2006 alone, the couple is reported to have donated more than $8 million to charity.
5. Last on the list of inspiring things, but certainly not the least, is Pitt's history of adopting children with Jolie. The couple currently has six children, three of whom were adopted from different countries. The celebrity couple has certainly shown the world that adoption is a powerful way to make a big difference in a child's life. – Chante Owens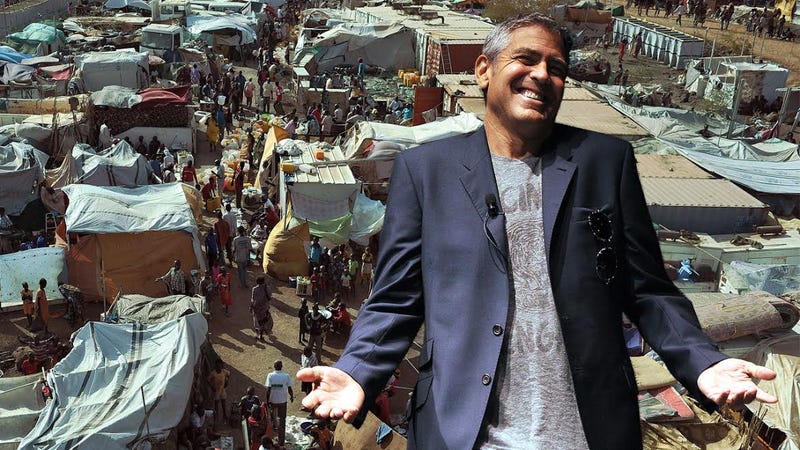 GEORGE CLOONEY
Hollywood hunk George Clooney is known mostly for his big roles, but he has also played an important role in anti-war activism and humanitarian work.
Clooney's activism actually led to his arrest during a protest in 2012. His mission? To draw attention to the humanitarian crisis affecting hundreds of thousands of people in Darfur. In 2006, Clooney and his father, Nick, smuggled cameras into Darfur refugee camps to document the horrific things happening. He also started a non-profit, Not on Our Watch, with Brad Pitt and Matt Damon, and continued to return to Sudan to further draw attention to the crisis.
n September 2006 he addressed the United Nations Security Council, urging it to act over Darfur. Later that year, Clooney also traveled to China and Egypt to make a plea to government officials to use ties with Sudan and help stop the violence in Darfur.
Since 2008, Clooney has served as one of the United Nations Messengers of Peace, he has been advocating for Darfur, and has organized the Hope for Haiti telethon to raise fund for victims. He also donated to relief funds after hurricanes Katrina and Rita.
According to Time, in a 2010 interview, Clooney said, "I've been honored to be able to lend my celebrity to help wherever I can, especially on behalf of the United Nations, but in the case of Darfur it's been the greatest failure of my life." Clooney persisted, and in March 2012 he participated in a protest in front of the Sudanese embassy in Washington D.C., an act that led to his and his 78-year-old father's arrest. The two were released later that day and fined $100. One thing's for sure — Clooney's arrest certainly helped bring more attention to the issue.
BONO
U2's frontman and lead singer, born Paul David Hewson, has been most notably involved in political activism and advocating for debt relief in Africa against unfair trade rules. In 1985 he traveled to Nicaragua and El  Salvador where he witnessed the damage wrought by  US-backed projects, which lead to U2's participation in the Amnesty International benefit tour.
He has helped startup organizations such as DATA and ONE, writes CEOWorld Magazine. ONE, which works to end extreme poverty and preventable diseases, has played an important role in persuading governments to support effective programs and policies that make a difference in fighting poverty. Through his efforts, Hewson was also credited for being instrumental in the G-8's decision to forgive 18 African countries owing a sum of $40 billion in debt and have provided medication to the more than 7.5 million people living in Africa with AIDS, and Malaria has been cut by 75 percent in eight African countries since 2000. There are now 51 million more children across sub-Saharan Africa who are going to primary school. Thanks to Bono's efforts. DATA is another advocacy organization that works to eradicate extreme poverty and AIDS in Africa, which was founded by Bono, Bobby Shriver, and activists from the Jubilee Drop the Debt campaign in 2002. The organization works closely with politicians, celebrities, and the media to help focus public attention on how to beat AIDS and poverty in Africa.
Hewson has been in meetings with George W. Bush, U.S. Treasury Secretary Paul H. O'Neill, and the Canadian Prime Minister Paul Martin. His work has earned him a knighthood in Britain, the Légion d'honneur in France, and two separate nominations for the Nobel Peace Prize.
RICHARD GERE
Richard Gere has been an outspoken supporter of human rights issues since the 80s. In 1986, Gere went on a fact-finding mission in Nicaragua and Honduras where thousands of people were getting killed in armed conflicts. He then became interested in Buddhism, and has associated with the faith ever since.
After establishing "The Gere Foundation," the actor has been providing relief assistance for Tibetans who have suffered from the repression of the CCP since the 50s. The regime has been violently trying to eradicate culture and religious belief in Tibet and the mainland. Gere has been frequently visiting the region and is in very close contact with the Dalai Lama himself. Gere also co-founded Tibet House US in 1987, which is the cultural center of the Dalai Lama.
Gere is said to be banned from entering mainland China because of his outspoken support of the Free Tibet Movement. But the veteran actor has also been reprimanded in Hollywood. Notably, in 1993 Gere was to present an Academy Award, but rather than reading off the teleprompter he used the opportunity to say a few words to the former Chairman of the Central Advisory Commission of the Communist Party to cease the persecution in Tibet. Ever since his speech, Gere has not been asked to present awards at the ceremony.
SEAN PENN
US actor and activist Sean Penn  holds an Egyptian flag as he joins Egyptian protesters in Cairo's Tahrir Square on September 30, 2011.
The Hollywood actor has been notable for his criticism of president George W. Bush and his stance on the War on Iraq.
One of Penn's most well-known protests was in opposition to the 2003 Iraq invasion. "The converse of discreet activism might be best characterized by actor Sean Penn, who is vociferous in his campaign against the war in Iraq. The Oscar winner shelled out $56,000 in 2002 for a full-page ad in the Washington Post deriding Bush's policy in Iraq. Penn accused Bush of violating democratic principles there 'through a blood-lined sense of entitlement,'" writes Forbes.
Penn has also advocated for gay rights, and he was also closely involved with relief efforts during hurricane Katrina. He traveled to New Orleans and physically helped rescue people who were affected. Then in 2010, during the Haiti earthquake, Penn again traveled to the ravaged country and helped man rescue tents on site.   established a relief organization to help — but he took it a step farther. He ended up staying, enlisting as a manager at one of the refugee camps, according to the National Journal Magazine.
In February, 2014, just prior to the Oscars, Penn attended and spoke at the 2014 Unite4:Good and Variety's Unite4:Humanity gala in California, which celebrated stars' philanthropic efforts.
MATT DAMON
Matt Damon someone who is fully committed to human rights, is Matt Damon. Matt has teamed up with fellow actors George Clooney and Brad Pitt founded Not On Our Watch Foundation. In addition, Matt also Ambassador of several human rights organizations. He protested alongside George against the wars in Darfur and has teamed up with Ben Affleck took part in a poker game, the proceeds of which go to Darfur is gone.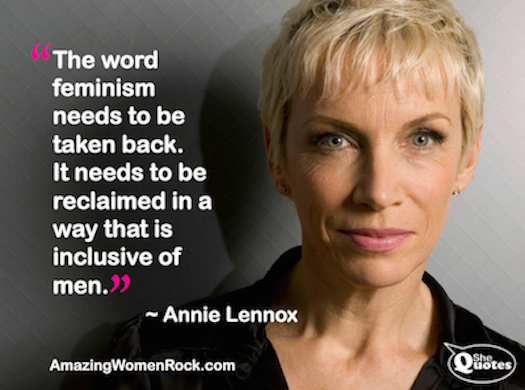 ANNIE LENNOX
Annie Lennox this lady is a peace activist. Annie is getting hard for human rights, especially for women and children who live in developing countries. In addition, the singer Ambassador of Oxfam, an organization under other commitment to Fair Trade. In 2007, Annie the single Sing out. Along with 23 fellow singers (think of names like Madonna, Christina Aguilera and Shakira) she sang this song, the proceeds of which went to South Africa for the fight against aids. this year was knighted for her   Annie charity work.
MICHAEL J. FOX
Since 1998 when Michael J. Fox revealed he had Parkinson's Disease, he has worked hard to expand efforts to find a cure, especially by funding stem-cell research. His advocacy became pretty well-known in 2006 when Rush Limbaugh accused Fox of playing up his Parkinson's Disease symptoms in ads for pro-stem-cell candidates, per Forbes. Fox has lobbied for more government support, but he's also found a way to take matters into his own hands. His foundation, the Michael J. Fox Foundation for Parkinson's Research, has funded more than $200 million in Parkinson's research. "Few celebrities have ever been associated more closely with a cause for as long as Michael J. Fox, and his selfless efforts have inspired many others to follow suit," a Democratic insider said in a National Journal Magazine's survey.
STING
Sting is committed for the human rights organisation Amnesty International since 1987. He wrote a lot of protest songs, such as They Dance Alone about the foolish mothers in Chile, Fragile and The War. He also often takes part in political protests and he refuses to act in countries that violate human rights. The singer is knighted by the British Empire for his good deeds.
CHRISTIAN BALE
This Academy Award winning actor is known for being able to plan a whole range of challenging roles, but what he has recently displayed was an act of bravery deserving of more important accolades.
When Mr Bale, the current star of the Batman franchise, was in China to promote his new film, "the Flowers of War", which is China's entry to the Oscars,he made an 8 hour cursory trip from Beijing to meet a "personal hero." Bale wanted to shake the hand and thank the blind civil rights lawyer, Chen Guangcheng in his small village, but plainclothes security guards outside Gangchen's village would not let Bale pass. They shooed away the actor and the CNN reporters who accompanied him, but not without the group catching the whole scene on video.
The 40-year-old Mr Chen, one of most prominent China's human rights lawyer, has been under house arrest since being released from serving a four-year prison sentence last September.
A blind self-trained lawyer, he upset local Communist party officials by exposing a gruesome programme of forced abortions and sterilisations as part of China's one-child policy.
To make sure no visitors can reach him, his phones and internet lines have been cut and a 200-strong army of thugs patrol the perimeters of his village night and day.
"I am here to see Chen Guangcheng," Mr Bale told them, according to CNN, which accompanied him and filmed the encounter. "Go away!" the men shouted back. Dozens more men then emerged and a scuffle ensued.
"Why can I not visit this free man?" Mr Bale asked, while being punched by guards trying to grapple his camera away from him and to separate him from the group. Mr Bale's car was then chased away from the village by minivans as he made his escape.
"This doesn't come naturally to me, this is not what I actually enjoy, it isn't about me," Mr Bale told CNN. "But this was just a situation that said I can't look the other way."
"I'm not brave doing this," he added. "The local people who are standing up to the authorities, who are visiting Chen and his family and getting beaten or detained, I want to support them."
Mr Bale's involvement in "Operation Free Chen Guangcheng", as the mission to visit him has been dubbed on the Chinese internet, caused a flurry of excitement on Sina Weibo, China's answer to Twitter.
"Our village authorities really are formidable. They can even stop Batman," wrote one commenter. "This village really has realised our dream of social equality," remarked another, acidly. "Everyone has an equal chance of being beaten up."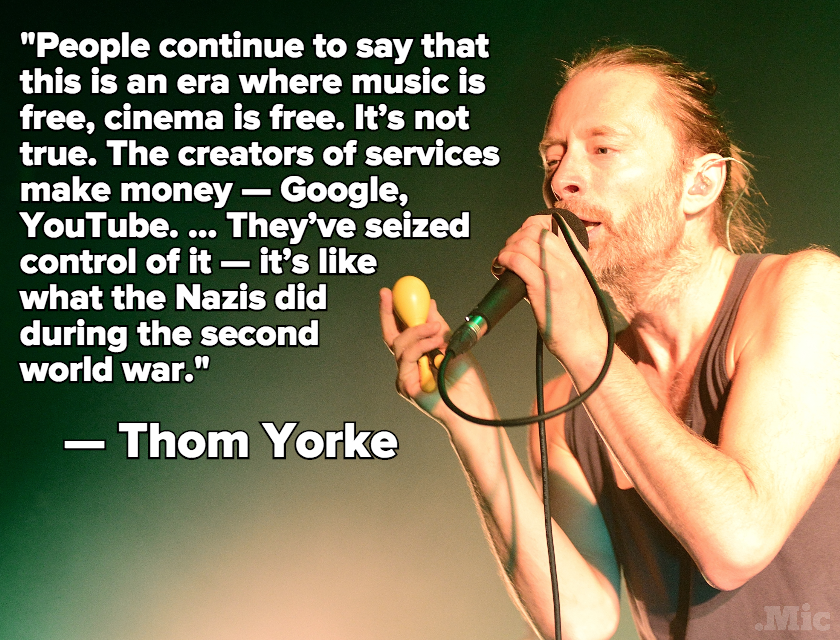 THOM YORKE
Radiohead's lead vocalist, Thom Yorke, is best known for his environmentalist work, although a very strong supporter of human rights and anti-war causes. He is also involved in Amnesty International causes as well as the Campaign for Nuclear Disarmament (CND).
His band, Radiohead played at the Free Tibet concert in 1998 and 1999, as well as the 1998 Amnesty International concert.
Radiohead was established in 1991, and in 2009 Yorke founded his side-band "Atoms for Peace" which was said to sue the Smiling Sun logo to further highlight their anti-nuclear power beliefs.
DON CHEADLE
The Academy Award nominated actor got involved in human rights issues while shooting "Hotel Rwanda" in 2004, where he played a hotel manager during the time of the Rwandan Genocide. Since then, Cheadle has campaigned for the end of the genocide in Darfur, Sudan, and even co-authored a book titled "Not on Our Watch: The Mission to End Genocide in Darfur and Beyond."
In 2010, Cheadle again co-authored a book "The Enough Moment: Fighting to End Africa's Worst Human Rights Crimes." His work earned him the BET Humanitarian Award for the cause of the people of Darfur and Rwanda, as well as a shared Summit Peace Award by Nobel Peace Prize Laureates in Rome which he shared with George Clooney.
WILLIE NELSON
While he's had less success with some of his other causes, such as legalizing marijuana and mobilizing opposition to the Iraq war before the 2003 invasion, Willie Nelson played a huge role in setting up the annual Farm Aid concerts, which have raised tens of millions of dollars to support family farmers since the first show in 1985, according to the National Journal Magazine. The organization's primary goal is to keep family farmers on their land – an effort that has raised more than $45 million over the years. Farm Aid also works with local, regional, and national organizations to promote fair farm policies and grassroots campaigns designed to defend and bolster family farm-centered agriculture.
TED DANSON
You might know him as Sam Malone on the TV show Cheers, but Ted Danson is much more than an actor – he's an environmental advocate. For more than 25 years, he has been an activist who has worked hard to inform the world about the critical state of the Earth's oceans. He's co-founder of the American Oceans Campaign, which is devoted to protecting the Earth's oceans and coastal waters. Truthout writes that he's been known to go as far as to chase senators into elevators in order to get them to listen — a move that has earned him respect in the environmental and political worlds.
LADY GAGA
In 2009, she took her first step toward celebrity activism by appearing at the National Equality March in Washington. A year later, she took on "Don't Ask, Don't Tell,"and asked her fans to call elected officials and ask them to repeal the law, according to Politics Daily. In 2010, Lady Gaga took her activism a step further and had retired gay military officers from the Servicemembers Legal Defense Network escort her down the red carpet at the MTV Video Music Awards; the SLDN received an instant public relations boost. Politics Daily writes that 100,000 people visited the group's site within 72 hours and 93 percent of those were new visitors. She's continued to fight for gay and lesbian rights, in addition to taking on a few other causes, such as Arizona's immigration law. 
ALICIA KEYS
The Grammy Award winner has been an advocate in the fight against AIDS and HIV for years.Alicia Keys has long fought for the rights of children and those who are underprivileged. She co-founded the "Keep a Child Alive" (KCA) campaign in 2003 after taking her first trip to Africa which has raised millions of dollars to provide AIDS medicine and care to AIDS patients in India and Africa.
The organization supports innovative, community-led responses that increases access to HIV treatment and care, nutritious food, and support for children and families affected by HIV. "Helping keep a child or mother or father or brother or sister alive means turning the worst epidemic of our lifetime into the greatest victory of our generation," Keys says in an Everyday Health article.
She then introduced different media initiatives that drew attention to the cause, garnering support of other actors and actresses like Sarah Jessica Parker, George Clooney, Gwen Stefani, and Lenny Kravitz.
DARYL HANNAH
Actress Daryl Hannah, famous for her movie roles in Splash and Wall Street, was among dozens of anti-oilsands activists arrested 5 Oct 2012 at the White House in ongoing "sit in" protests against TransCanada Corp.'s proposed Keystone XL pipeline.
"Stop the Keystone pipeline," Hannah shouted as she was being handcuffed by SWAT team officers. "No to the Keystone pipeline." (Photo: Saul Loeb/AFP/Getty Images)
SOUCES:
http://www.theepochtimes.com/
http://borgenproject.org/
http://www.cheatsheet.com/
http://howcheer.com/
(http://nationalpost.tumblr.com)