Woman spent a year madly in love with stranger on train, but he never looked up—one day he popped the question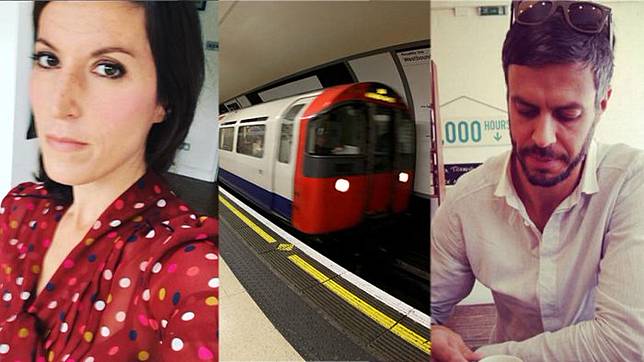 For the hopeless romantics, this story might have you falling in love with every stranger you come across. Have you ever passed someone on the street and locked eyes with them for a moment, and in that moment, you can picture an entire life with them? You can see your house, vacations, and maybe even children. This may seem like a crazy thing to think about, but many people would call this, love at first sight. Sometimes, when this happens it's just not the right timing, but you can't stop thinking about that person with the sparkle in their eyes. This couple started out as merely strangers, but with time and patience it turned into something so incredibly beautiful. ~ toopanda
Credit: Meaww
Zoë Folbigg took the same train every day on her commute to work.
She would see the same people all the time, and most of the time she just keep to herself. Until one day, there was a new face sitting across from her on the train.
How my rush-hour crush turned into happily ever after
 by Zoe Folbigg
METRO NEWS
IF only Rush-Hour Crush were a thing in those days, I could have messaged him through Metro. But perhaps the handsome man who got the 8.21am to King's Cross wouldn't have seen it. He tended to flick from news to showbiz to sport, before plugging in his earphones and getting lost in a book.
I'd fallen for him the minute he walked up the platform battling with an umbrella, rushing for the train. He was the most handsome man I'd ever seen in real life, like a taller, darker, more beautiful Brandon Flowers. I'd never seen anyone so handsome, let alone on my daily commute.
I hoped he'd be there the next day, and the next. And he was! I upped my game, waking earlier to make an effort, ditching the Converse and cargo pants (it was 2003) in favour of cute circle skirts and raffia wedges, mascara and MAC Ladyblush. I even brushed my hair.
But 'Train Man', as he had become known to my colleagues (with whom I worked on a magazine in Soho), was oblivious. Always lost in a book. Never looking up. Giving no clues as to whether he was straight, gay, single or married. He read books I loved. The curve of his neck looked like home. It took ten long months before my friends finally lost it with me.
'Stop talking about Train Man and talk to him! What's the worst that can happen?!'
But how? I dropped my ticket one morning to see if he'd pick it up and start to chit-chat. And after seven excruciating seconds with the ticket lying on the train floor, Train Man did pick it up.
'You dropped this…' he said with a proffered hand.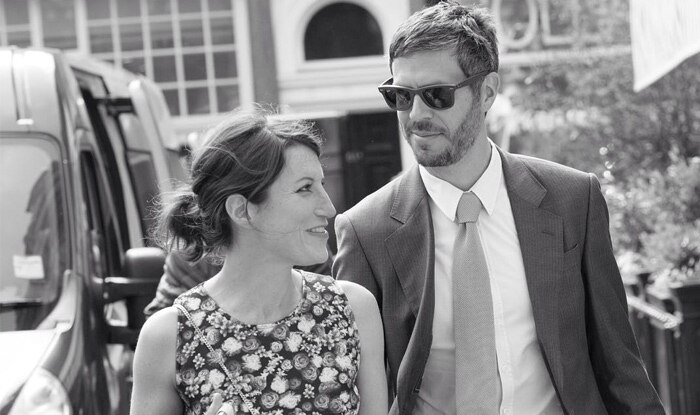 The Note Image: India.com
'Thanks,' I could only squeak, my face flushing before I returned to my magazine. He was too handsome to even look at.
I decided to write him a note. It was my 28th birthday and I asked if he'd like to go for a drink sometime. It was friendly but unobtrusive, polite but breezy. I left my email address in case it was a no.
As the train pulled into King's Cross on the morning of my birthday, I stood up to make my move: my plan was to give Train Man the note, then walk as far away as possible. But I bottled it. And the next day. Eleven days later I finally gave him the now slightly crumpled note.
It was a May morning, the fields were yellow; Train Man was battling hay fever. 'Excuse me, can I give you this?' I asked sheepishly. He looked confused and said, 'Sorry?' Other commuters looked up. My face went even redder.
'Sure,' he said, in beautiful bafflement. I darted up the train as fast as my raffia wedges would allow.
At 5pm he emailed me. Subject line: The Guy On The Train. My heart stopped. He was called Mark and was very polite in his rejection. Unfortunately he had a girlfriend, he said, but I'd done a brave thing and he wished me a happy birthday.
I was gutted, embarrassed and a little bit heartbroken, if I'm honest. And I worried about how to style it out the next day. Hide in another carriage? But what if he's hiding there too? I had to bite the bullet and get it over with. The next morning we exchanged an awkward smile, then it was back to our books and the silence of the cramped commute.
Worth the wait: Zoë finally got together with Mark 18 months after first seeing him on the train and eight months after handing him a note asking him for a drink. They now have two young sons Source: Metro News
I tried to move on and went on dates, none of them giving me the butterflies that Train Man did. My sister was exasperated. My friends stopped asking me about Train Man.
And then it happened. One glorious Friday in January 2005, 18 months after I first saw Train Man and eight months after I had given him the note, I came back to my desk after lunch and there it was. An email asking if I'd still like that drink. Mark had been single for six months. He was ready. I was over the moon. The next night we went for a drink in our home town; on Monday morning we got the train together. We're now married with two young sons.
Wedding day: Zoe and Mark, her Train Man, were married in April 2009 Source: Daily Mail
My story spread far and wide: friends of friends gave notes to people they fancied on trains, planes and trams in Australia, Brazil, Ireland… sometimes it worked, sometimes it didn't. But their kind inspired me to write The Note, a novel based on my story.
Zoe Folbigg with her Train Man and their two kids Image: The Sun.Co.UK
It was fun writing about the colourful characters on the commute and hopefully it'll encourage more people to make a quietly brave move. Because, as Maya's sage friend says to her in the book, and mine said to me: 'What's the worst that can happen?'
Zoe Folbigg and family Image: The Sun
How to steal the heart of a handsome stranger by Zoë Folbigg
■ If you're feeling scared to approach someone, remember: how bad can it be? A rejection makes you no worse off than you are now.
■ Be friendly but not overfamiliar. You don't want the object of your affection to feel like you've been watching their every move for months.
■ If you are going to give someone a note, or announce your desire in the Metro Rush-Hour Crush column, don't stand over them while they read it. It makes an awkward experience even weirder, so have your exit strategy ready…
■ Keep your wits about you: don't be too quick to tell your crush where you live/your date of birth/inside leg measurement. Remember you might go for a drink but might not want to go for a second. So look out for yourself: meet in a public place and tell a friend what's happening.
■ If it's a no, accept it, back off and be glad you did something brave. Some things aren't meant to be. Despite being gutted and embarrassed when I received my rejection, I was glad I'd taken the chance.
Be brave
Metro's Rush-Hour Crush column now connects love-struck commuters every day. To save you the embarrassment Zoë endured, text CRUSH, your Rush-Hour Crush, name and where you live to 65700*, and it might just oil the wheels of your own romantic journey…