October 18,2017 is the first year anniversary of the Saudi prince execution
Saudi Arabia has executed one of its own young princes for the first time in 40 years, sending what analysts described as a "strong message" to younger royals that they are not above the law.
The execution comes as the Saudi government grapples with the impact of the falling price of oil on its generous welfare system. Source: The Telegraph
It is the rare execution of a Saudi royal appears to have helped resurrect the monarchy's popularity-  at least according to the social media and this caused some surprise across the Western world.
Saudi Arabia is one of the world's few remaining absolute monarchies. The thousands of members of the royal family enjoy perks not available to the rest of the country's 20 million citizens.
Some on social media described the execution as "evidence of the justice which sharia law affirms," referring to the conservative Islamic codes that govern Saudi Arabia and other Muslim nations. Others said the ruling demonstrated "the king's integrity in treating all citizens equally" and that "nobody is above the law."
Newsweek:The hashtag "Decisive Salman orders retribution for the prince" began to pick up traction on Twitter in support of the country's monarch. But Mohammed Khalid Alyahya, non-resident fellow at the Atlantic Council, says Kabir's execution is "nothing really significant in Saudi" because princes are held to the same legal standards as others.
"It's really made the rounds in U.S. and Western media because there is this perception that princes are above the law in Saudi Arabia," he says. "It's very clear, if a family [of the victim] agrees to give him clemency then he is exempt from the execution, if they don't then it goes through. There is no way around it."
May Romanos, Saudi Arabia Researcher at Amnesty International released a statement on the execution to Newsweek: "The death penalty is a cruel, inhuman and degrading punishment and should not be applied in any circumstances. Whether the accused is a prince, an ordinary Saudi Arabian citizen or a migrant  worker makes no difference whatsoever—no one should be sentenced to death or executed."
Explaining the big time difference between the royal executions, Alyahya says there have not "been many murder cases involving members of the royal family in the past several decades to my knowledge."
Saudi's ageing royal elite is one at odds with a youthful society, where more than half of the country's population is now aged under 25. The House of Saud holds great wealth and its thousands of members enjoy a life of luxury in comparison with those who fall outside its lineage.
The decision appears to be a demonstration that there is no one exempt from the strict laws that regular citizens are held to on a daily basis. The Interior Ministry conveyed this in their statement, saying that the "legitimate punishment would be the fate of whoever tries to assault innocent people and shed their blood."
Daily Beast: Saudi expert Robert Lacey, author of the erudite history of the country, The Kingdom, tells The Daily Beast that while the family group is not in the direct Abdul Aziz line of succession, it is very highly respected across the country.
"Saud Al-Kabeer was married to Abdul Aziz's favorite sister, Nura, considered a closer confidante to the king than anyone else in the family. The massive women's university that you pass today when entering Riyadh from the airport is named in her honor," says Lacey, adding, "Saud Al-Kabeer became a prominent figure in the majlis of inner advisers surrounding Abdul Aziz (who reigned until 1953).
"Saud was known for his speaking his mind, even in direct disagreement with the king, and was the more respected for it."
While no member of the royal family has been put to death since 1975, Lacey says it is "certainly not unusual for King Salman to discipline errant members of his family firmly. As governor of Riyadh for many years—Salman is really the architect of modern Riyadh—he had a prison in his palace to which he regularly consigned princes who misbehaved.
His Highness King Salman bin Abdulaziz al-Saud of Saudi Arabia Image: Arab News
There have been suggestions in some quarters that Saudi Arabia's rulers have used the execution of the prince to shore up their popularity, and these are certainly tough times in the kingdom, which launched an oil price war by refusing to cut oil production in the face of a global slump in demand in 2014.
The hope was that this would lead energy prices to fall to a point where American frackers would be put out of business. Energy prices did fall, massively, but the strategy was a failure; the frackers simply became more efficient—and Saudi Arabia's main revenue stream shrank dramatically as the oil price collapsed.
Lacey says he is "not at all surprised by the execution," which is consistent with Salman's principles and character, but rejects as bogus allegations that the prince was sacrificed in a cynical attempt to improve the image of the monarchy.
"Some people refuse to give any credit to the Gulf monarchies," he says. "It's worth remembering that Saudi Arabia has never executed a single secular human-rights protester or campaigner—unlike Iran, which strings them up on cranes by the dozen."
Indeed, it has emerged that the execution was in fact entirely in line with Sharia justice for murder.
~ PRINCE TURKI BIN FAISAL AL SAUD ~ 
The Telegraph: The interior ministry released a statement saying the royal death was proof of the government's commitment to "implement the rules of Allah everywhere and against anyone who kills civilians and commits bloodshed".
Execution of Saudi prince brings praise for the monarchy: Saudi Arabian citizens have taken to Twitter over the past week to praise their monarchy's upholding of equal justice under Sharia law following the execution of a member of the royal family found guilty of fatally shooting a civilian. Many used an Arabic hashtag that translates roughly to "Decisive Salman orders retribution for the prince." Source: International Business Times
The prince, who was in his twenties, was one of an estimated 6,000 Saudi royals. He hailed from the al-Kabeer branch of the family, which is not directly in line to throne but nonetheless holds a prominent position with Saudi Arabia's complex constellation of royalty.
The prince's name made clear, he was a direct descendant of the legendary Saud Al-Kabeer (which means "Saud the Great" or "Saud the Elder").
Prince Turki bin Faisal Al Saud was a Saudi prince and a direct successor of Saud ibn Abd al-Aziz ibn Saud   Source: wikipedia Image: jafrianews.com
Another member of the royal family, Prince Faisal bin Farhan al-Saud, said by telephone from Riyadh that Prince Turki was from one of the most prominent branches of the royal family after that of the direct descendants of King Abdulaziz, who founded the modern Saudi state in 1932.
While criminal acts committed by Saudi royals are sometimes censored, the execution of Prince Turki was widely reported through the state media.
Adam Coogle, a researcher at Human Rights Watch who tracks Saudi Arabia, said the execution of the prince did not affect his organization's criticisms of the country.
The Telegraph: Prince Turki who was found guilty of shooting to death a Saudi friend named  Adel bin Suleiman bin Abdulkareem Al-Muhaimeed  during a brawl or group fight in  al-Thumama region in the outskirts of Riyadh that occured in December,2012 was arrested and executed on Tuesday, October 18, 2016, as per a royal order by King Salman, himself.  He was a distant relative of the King.
He became the first member of Saudi royalty to be executed in the Gulf Kingdom since 1975 when Prince Faisal bin Musaid was beheaded in Riyadh for assassinating King Faisal.
The two young men were involved in a fight at a desert camp where many young Saudis go to drive their cars and get away from their parents.
According to one report, the prince became enraged after an argument and went to his Lexus and returned with a Glock pistol. He killed Mr Mohaimeed and injured another man.
A grainy video published on Iranian television claimed to show the quarrel that led to the shooting. In the unconfirmed footage a group of men can in traditional Saudi garb can be seen milling around before one figure in dark clothing begins firing bursts of shots.
"This ruling and execution was a strong message sent to the royals, young royals and to Saudis in general that no one is above the law," said Fahad Nazer, senior political analyst at JTG Inc, a analysis firm.
The execution came a few weeks after King Salman gave a high-profile address in which he declared that no member of the royal family, including himself, was immune from prosecution or lawsuits in the civil courts.
The Saudi government is also grappling with how to reduce the country's generous welfare payments in response to the falling price of oil. The Arab kingdom has for decades kept its population in line with salaries and subsidies but a reforming new deputy crown prince, Mohammed bin Salman, has cut those back.
The execution may be a way of signaling to the public at a time of austerity that the royal family is being treated no differently from the general public.
The last execution of a royal was in 1975 when a prince was killed for assassinating King Faisal, his uncle.
Prince Turki faced a similar fate according to a description of his final hours given by Mohammed Almsalokha, an imam at a mosque next to the square where he was killed.
The prince is the 134th person to be put to death in 2016, according to a tally compiled by the AFP news agency.
Daily Beast: The victim's family refused offers of "blood money" by which they would receive financial compensation in return for not demanding the death sentence, Saudi-owned Al-Arabiya network reported
Mohammed Khalid Alyahya, non-resident fellow at the Atlantic Council, told Newsweek that Kabir was "held to the same legal standards as others," saying, "It's very clear, if the family [of the victim] agrees to give him clemency, then he is exempt from the execution; if they don't, then it goes through. There is no way around it."
Prince Faisal bin Farhan al-Saud, a member of the royal family, speaking to The New York Times by telephone, said, "The king has always said that there is no difference in the law between princes and others, and I think that this is clear manifestation of the reality of that fact.".
Washington Post: But other royals were pardoned at the last minute by victims' families. This time, though, the victim's family turned down an offer of "blood money," reportedly in the millions of dollars to pardon the prince. Then, both the kingdom's appeals court and the Supreme Court affirmed the death penalty.
At a time when the monarch is implementing unprecedented austerity measures, even royal families welcomed the execution as decisive and fair.
"This is the law of God Almighty, and this is the approach of our blessed nation," wrote Khalid al-Saud, a royal family member, according to Reuters.
The picture of Prince Turki circulated online. Credit: Online
Washington Post: Details of the prince's last hours were revealed on social media, another rare development for the conservative, often secretive kingdom.
Mohammed al-Masloukhi, the Imam of Al Safa mosque, who was present while the victim's family was being offered the "blood money," described the prince's "heartbreaking last moments with his family members" who visited him for one last time in prison.
Another Saudi royal member, billionaire businessman Al Walid Bin Talal, recited a Koranic verse: "there is life for you in retaliation."
The execution, tweeted al-Masloukhi, was carried out in presence of the prince's father, who "broke down in tears" while the victim's father watched with "a fixed expression on his face."
Gulf News: Recounting the last hours of Prince Turki Bin Saud Bin Turki Bin Saud Al Kabeer, the imam of Al Safa mosque in the capital Riyadh said that the convict and the family were crying throughout their meeting held late on Monday at the prison.
"The family was called in to bid the prince goodbye and during the time spent together, you could see only tears and hear only expressions and sighs of sadness," Mohammad Al Maslookhi posted on his account on the Twitter microblog, Saudi news site Al Marsad reported.
What Prince Turki did in his last final hours:
"Turki then offered prayers and read from the Holy Quran until dawn.
At around 7am, the warden took him to a place where his last will was written for him as he could not use his own hand,
He then made the ablution and at 11am, he was taken to the mosque.
In the meantime, the immediate family of the victim Adel Al Muhaimeed who was shot dead in a group brawl in 2012, were kept at their home and had their mobile phones switched off. When they arrived to the square designated for carrying out the execution, senior members of the larger family tried to intervene with Adel's father to pardon Turki and accept diya (blood money). However, the father said he would not forgive and insisted on the execution of his son's killer."
Following the Dhohr (noon) prayers, a member of Turki's family tried to convince the father to accept blood money and set him free, but the attempt failed.
Islamic law treats homicide and unintentional homicide as a civil dispute between people, and not a corrective punishment by the state to maintain order.
When the victim's family grants a pardon for blood money or unilaterally, the state is not allowed to prosecute.
In the cases of death, injury, and damage, the prosecutor is the victim or the victim's family and if the family or heir accepts the diyah (blood money or the financial compensation paid to the victim or heirs of a victim), the killer is pardoned.
"The execution was carried out immediately after the Asr (afternoon) prayers at 4.13pm and Adel's father showed no expression afterwards. However, Turki's father cried profusely over his son. Adel's family left the square under a heavy guard," Al Maslookhi said.
~ FAISAL BIN MUSAID ~
The prince, Faisal bin Musaid, shot the monarch inside his own palace and was later beheaded in front of a crowd in Riyadh
Lebanon Daily News from Lebanon, Pennsylvania on June 19, 1975  Source: Newspapers.com
The prince, Faisal bin Musaid, shot the monarch inside his own palace and was later beheaded in front of a crowd in Riyadh. It remains unclear to this day whether the 27-year-old assassin was mentally unstable or had a grudge against the king.
1975: TIME names King Faisal of Saudi Arabia its Man of the Year Image: 

Pinterest
The New York Times: June 18, 1975 —Kneeling before a crowd of 10,000 a white‐robed Saudi prince was beheaded in Riyadh today for the assassination of his uncle, King Faisal, on March 25.
The crowd reportedly watched silently as the executioner swung a sword with a golden hilt, but then thousands broke into chants of "God is great!" and "Justice is done!"
Twenty‐seven‐year‐old Prince Faisal bin Musaed bin Abdelaziz had been convicted by a Koranic law court of having shot his uncle to death, the Saudi Government said in a broadcast announcing the beheading.
The verdict of the religious court, which met in closed session, was approved by King Khaled, the late King's brother and successor, the announcement said.
Like2do.com: Faisal bin Musaid bin Abdulaziz Al Saud(4 April 1944 – 18 June 1975) was the regicide and also nephew of King Al Faisal.
Early life
Faisal was born in 1944. His father was Prince Musa'id, the paternal half brother of King Faisal, and his mother was Watfa, a daughter of Muhammad bin Talal, the 12th (and last) Rashidi Emir. His parents divorced. He and his brothers and sisters were much closer to their maternal Rashidi relatives than their paternal Al Saud relatives.
In 1966, his older brother Khaled, a Wahhabist, was killed during an assault on a new television station in Riyadh. Wahhabi clerics opposed the establishment of a national television service, as they believed it immoral to produce images of humans. The details of his death are disputed. Some reports allege that he actually died resisting arrest outside his own home. No investigation over his death was ever initiated. Faisal had another brother, Bandar, and a sister, Al Jawhara. Abdul Rahman bin Musaid is his half-brother.
Education
Faisal arrived in the United States in 1966 and attended San Francisco State College for two semesters studying English. Allis Bens, director of the American Language Institute at San Francisco State, said, "He was friendly and polite and very well brought up it seemed to me." While Faisal was at San Francisco State his brother Khaled was killed. After leaving San Francisco State College, Faisal went to the University of California at Berkeley and then to the University of Colorado at Boulder. He was described by his peers as "[a] quiet, likable, notably unstudious young man". University of Colorado Professor Edward Rozek, who had taught him in three comparative government courses, described him as "academically a D and a C student".
In 1969, while in Boulder he was arrested for conspiring to sell LSD. He pleaded guilty and was placed on probation for one year. In May 1970, the district attorney dropped the charges.
In 1971 he received a bachelor's degree in political science from the University of Colorado and then returned to the San Francisco Bay area. At the University of California at Berkeley he enrolled in graduate courses in political science, but did not receive a master's degree.
After the United States
After leaving the United States, he went to Beirut. For unknown reasons, he also went to East Germany. When he came back to Saudi Arabia, Saudi authorities seized his passport because of his troubles abroad. He began teaching at Riyadh University and kept in touch with his girlfriend, Christine Surma, who was 26 at the time of the assassination. Surma viewed the Saudi interest "in achieving peace with Israel" as positive outcomes "not available with the previous ruler King Faisal".
Assassination and trial
Royal Palace shooting
On 25 March 1975, he went to the Royal Palace in Riyadh, where King Faisal was holding a meeting, known as a majlis. He joined a Kuwaiti delegation and lined up to meet the king. The king recognized his nephew and bent his head forward, so that the younger Faisal could kiss the king's head in a sign of respect. The prince took out a revolver from his robe and shot the King twice in the head. His third shot missed and he threw the gun away. King Faisal fell to the floor. Bodyguards with swords and submachine guns arrested the prince. The king was quickly rushed to a hospital but doctors were unable to save him. Before dying, King Faisal ordered that the assassin not be executed. Saudi television crews captured the entire assassination on camera.
The New York Times: Crowd Hears Verdict
Reports from Riyadh, the Saudi capital, said the verdict was announced to the crowd before the beheading. The crowd applauded.
The sentence was carried out in a central square in front of the palace of the Governor of Riyadh, facing the great Central Mosque. According to the Saudi radio, the time was 4:30 P.M.
A witness, reached by telephone, said the Prince was quiet and appeared calm as he was led to the execution spot.
Afterward, his head was reported to have been displayed for a time on a wooden stake before being removed by ambulance together with the body for burial.
The beheading was reported to have been witnessed by the Governor of Riyadh, Prince Salman, the younger brother of the slain King. He was said to have been the only member of the royal family among the spectators.
Like2do.Com: Imprisonment and execution
Initial reports described Faisal bin Musaid as "mentally deranged." He was moved to a Riyadh prison. However, he was later deemed sane to be tried.
A sharia court found Faisal guilty of the king's murder on 18 June, and his public execution occurred hours later. His brother Bandar was imprisoned for one year and later released. Cars with loudspeakers drove around Riyadh publicly announcing the verdict and his imminent execution, and crowds gathered in the square. Faisal was led by a soldier to the execution point and was reported to have walked unsteadily. Wearing white robes and blindfolded, Faisal was beheaded with a single sweep of a gold handled sword. Following the execution, his head was displayed to the crowd for 15 minutes on a wooden spike, before being taken away with his body in an ambulance.
Motives
Beirut newspapers claimed involvement with drugs as a motivation in the assassination. Saudi officials began to state that the prince's actions were deliberate and planned. Rumours suggested that the prince had told his mother about his assassination plans, who in turn told King Faisal who responded that "if it was Allah's will, then it would happen". Arab media implied that the prince had been a tool of the U.S. Central Intelligence Agency.
Beirut newspapers offered three different explanations for the attack. An-Nahar reported that the attack may have been possible vengeance for the dethroning of King Saud, because Faisal was scheduled to marry Saud's daughter — Princess Sita — in the same week. An-Nahar also reported that King Faisal had ignored his repeated complaints that his $3,500 monthly allowance ($15,200/month in 2014 dollars, $182,400/year) was insufficient and this may have prompted the assassination. Al Bayrak reported that according to reliable Saudi sources, King Faisal prohibited him from leaving the country because of his excessive alcohol and drug consumption overseas and the attack may have been a retaliation against the ban.
The New York Times:  Beheading Is Traditional
The practice of public beheading is the traditional form of execution for a convicted murderer in Saudi Arabia, whose Islamic law prescribes the death penalty—"a soul for a soul," in the words of the Prophet Mohammed—unless the defendant is found to be insane.
Immediately after the assassination last March,1975 the royal family had issued a statement saying the assailant was deranged.
But since then a panel of medical experts ruled that he had been sane when he slipped past security guards and fired several shots from a revolver at King Faisal. The King was granting an audience at the time to a high Kuwaiti official.
In the 16 weeks that Prince Faisal was held after the assassination, Saudi security authorities carried out an exhaustive investigation of the motives behind the killing and, according to Saudi sources, turned up no evidence of a conspiracy.
The investigation extended to Prince Faisal's activities and personal acquaintances while he was studying in the United States, first at the University of Colorado and later at the University of California at Berkeley, from 1969 to 1973. He was once arested on charges of selling the drug LSD.
After his return to Saudi Arabia, the Prince was an instructor at Riyadh University. He was reportedly regarded as unstable emotionally, and he was at one time under psychiatric treatment in Beirut.
Annual Stipend Rejected
Prince Faisal also aroused comment in the royal family when he rejected the annual stipend, said to have been about 812.000, to which he was entitled as a minor prince in a country where the royal family numbers at least 3,000 persons.
He was reported to have been angered by the refusal of the royal authorities to issue him a passport to travel abroad early 1975. The refusal was said to have been because of his arrest in the United States.
There also was speculation that the Prince had shot his uncle to avenge the death of a brother, a religious zealot killed nine years ago by policemen breaking up a demonstration against attempts to modernize Saudi Arabia.
'For Good of Mankind'
LOS ANGELES, June 18 (AP) —Christine Surma, who said she had lived with Prince Faisal during his stay in the United States, predicted today that he would eventually he recognized as the liberator of his country's people.
Christine Surma, 26, of Los Angeles and Prince Faisal Ibn Mussed Ibn Abdul are shown in happier says in this photo Source: Pinterest 
"The way I feel about it is that if he did it—and I still want to emphasize the 'if'—he did it for the good of mankind," Miss Surma said in an interview, commenting on the assassination of King Faisal.
She said she had met the Prince at the University of Colorado in September, 1968, when he was a student there. The last time she saw him, she said, was in July, 1974, here in Los Angeles, when he had completed his education and was about to return to Saudi Arabia,
Murderpedia:His girlfriend was Christine Surma, a blond part-time movie actress who played in Bite of the Cobra. She was 26 at the time of the assassination. Surma viewed the Saudi's interest "in achieving peace with Israel" as positive outcomes "not available with the previous ruler [King Faisal]". She stated her boyfriend was a "perfect gentleman who was proud of his family and his country.
~ PRINCESS MISHAAL BINT FAHD BIN MOHAMMED AL SAUD ~
Independent.Co.Uk:Princess Mishaal bint Fahd al Saud, the 19-year-old great-niece of the late King Khalid, was shot several times in the head in 1977. Her death is thought to have been ordered by her grandfather, Muhammad bin Abdul Aziz al Saud, the King's older brother. She was unmarried but had confessed that she had committed adultery.
Most executions carried out in the kingdom are by beheading in a public square, but stoning is the technique reserved for married people convicted of adultery. Among the offences which rank beside adultery as capital crimes are murder, drug-trafficking and sodomy.
The killing became the focus of an international outcry in 1980 when the docu-drama Death Of A Princess was shown on teleivison. Saudi authorities tried to get the film suppressed and, when that failed, they expelled the British ambassador to Riyadh, withdrew 400 members of their royal family from Britain and cancelled millions of pounds worth of exports.
Mishaal bint Fahd
Born
1958
Died
15 July 1977 (aged 19)
Jeddah

Full name
Mishaal bint Fahd bin Mohammed bin Abdulaziz Al Saud

House
House of Saud
Father
Fahd bin Muhammed bin Abdulaziz Al Saud
Religion
Islam
DAWN.Com: In 1980 the British Television channel ATV and the American television network PBS broadcasted a controversial docudrama called 'Death of a Princess' which told the true story of a Saudi princess named Misha'al bint Fahd al Saud who had been executed for adultery along with her 20-year-old lover Khaled Mulhallal al Sha'er.
Misha'al bint Fahd al Saud Image: FamousFix
Two years later, AFTER Prince Faisal bin Musaed bin Abdelaziz EXECUTION,  a princess named Mishaal bint Fahd was executed for adultery.
Ken Webster Jr aka Producer Kenny: Princess Misha'al's story is very sad. Like Romeo & Juliet. Princess Misha'al bint Fahd (1958 – 15 July 1977) was a member of House of Saud, who was executed by gunshot for alleged adultery in 1977, at the age of 19.
She was a granddaughter of Prince Muhammad bin Abdulaziz, who was an older brother of King Khalid [the guy who ran Saudi Arabia until 1982 – he gets credit for making the country a rich oil nation].
Princess Misha'al Image:News.com.au 
Strange History.Net: Was she married? There had certainly been a marriage contract, though apparently Misha'al had not been happy with said contract and so the marriage had not been consummated? Here Beach lacks the necessary background in Islamic marriage law.
Wikipedia: Where did Misha'al meet Khallid? Her family sent Mishaal bint Fahd, at her own request, to Lebanon to attend school. While there, she fell in love with a man, Khaled al-Sha'er Mulhallal, the nephew of Ali Hassan al-Shaer, the Saudi ambassador in Lebanon, and they began an affair.
Misha'al meet Khallid Image: Kaskus
DAWN.COM: Were they lovers? Upon their return to Saudi Arabia, it emerged that they had conspired to meet alone on several occasions.  She had allegedly committed adultery by becoming romantically involved to him, a serious no-no in Saudi society for the simple fact that they were not married.She attempted to fake her own drowning and tried to escape from the country. Although she disguised as a manshe was caught along with Khaled at the Jeddah Airport by the passport examiner. She was subsequently returned to her family.
Strange History.Net: Was their execution a court decision? There are two views on this. One claims that before the court Misha'al herself announced herself to be an adulteress, even though her grandfather, the powerful Prince Mohammed urged her not to do so: there were not the necessary witnesses for her to be condemned independently. The second view claims that Mohammed had simply decided that she and Khallid must die as a question of tribal honour even though, again according to some sources, she was his favourite grand daughter
DAWN.COM: Under Sharia law, a person can only be convicted of adultery by the testimony of four adult male witnesses to the act of sexual penetration, or simply have one of the accused confess to having committed the offence by stating three times in court "I have committed adultery."
There were no witnesses.
The princess's family begged her not to confess and simply promise not to see the young man anymore.
She refused and on her return to the courtroom, she allegedly repeated her confession: "I have committed adultery. I have committed adultery. I have committed adultery," as a result she was condemned to death.
At least that was the official version from the Saudi government.
This account has been challenged by many critics who claim the princess and her lover were never actually tried in court. They were just murdered.
It's probable that there had been no trial and she had simply been executed, on charges of adultery, for simply bringing dishonor to the family, which after all was ruling the roost in the country.
Strange History.Net: Who did the killing? Much is made of two points here. First, the killing took place in a carpark, not in the normal place of execution. Second, the executioner was not practiced or dressed as a normal executioner. Both these points have been used to suggest that it was Prince Muhammad's bodyguards who carried out 'the execution'. Khallid received a blow on the left and on the right of the head with a short sword. Was there even an effort to make his death particularly gruesome?
Wikipedia: EXECUTION: On 15 July 1977, both were publicly executed in Jeddah by the side of the Queen's Building in the park. Despite her royal status, she was blindfolded, made to kneel, and executed on the explicit instructions of her grandfather, a senior member of the royal family, for the alleged dishonour she brought on her clan.
The filming of Princess Misha'al execution Image: ArrahmahNews
Another royal family member was executed in 2016. Khaled, after being forced to watch her execution, was beheaded with a sword by, it is believed, one of the princess's male relatives. It took five blows to sever his head, which was not the work of a professional executioner. Both executions were conducted near the palace in Jeddah, not in the public execution square in Jeddah.
Following the execution, segregation of women became more severe, and the religious police also began patrolling bazaars, shopping malls and any other place where men and women might happen to meet. When Prince Muhammad was later asked if the two deaths were necessary, he said, "It was enough for me that they were in the same room together".
Strange History: Was Misha'al really killed? Conspiracy theories are always fun. Someone suggested to Antony Thomas, director of Death of a Princess, and this thought was subsequently put into the mouth of a British diplomat that Misha'al was not killed. She was schizophrenic and had been removed to a clinic. Conspricacy theories are almost always wrong but let's just run with the ball. We see nothing of Misha'al's body in the execution photos as she is covered in a hibab. From what Beach can see it could have been a man (rather than a woman) in there? Many sources claim that a firing squad dispatched her. This is incorrect. She was shot in the head. It is possible that the shooting was carried out with blanks and she or a proxy pretended to die.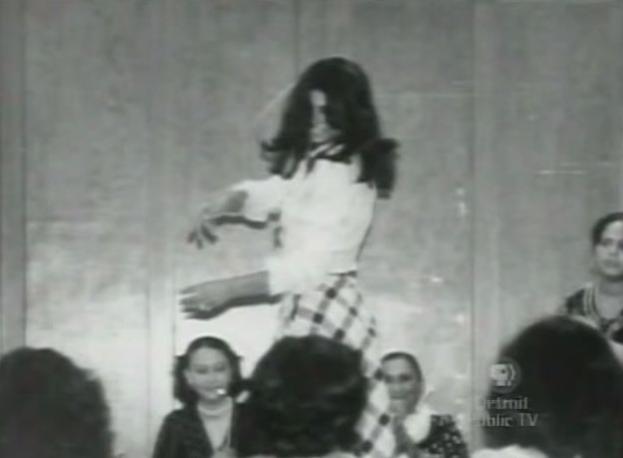 Dancing Princess Image: Beachcombing's Bizarre History Blog
Let's finish with the picture that head the post. This is a still from the documentary of a magazine article carrying a picture of Misha'al dancing at a party: at four removes then, which just about says it all. Just possibly the picture is genuine: it seems, in any case, to catch how she is described by others; a fun-loving, rather shallow sort with strong passions, who took after her grandfather who either had her killed or allowed justice to take its course (in a country where justice has no real independence from the monarchy).
GENI.COM: Controversy
South-African born, independent film producer Antony Thomas came to Saudi Arabia, interviewed numerous people about the princess' story, and was met by conflicting stories, which later became the subject matter of the British documentary, Death of a Princess. The movie was scheduled to show on 9 April 1980 on the ITV television network and then a month later on the public television network PBS in the United States. Both broadcasts caused livid protests and strong diplomatic, economic and political pressure from the Saudis. Failing to get the British broadcast cancelled, King Khalid expelled the British ambassador from Saudi Arabia. In May 1980, attention then shifted to PBS, where PBS officials endured a month of mounting pressure from corporations and politicians. A major PBS sponsor, The Mobil Oil Corporation, took out a full-page ad in the New York Times op-ed page opposing the film and declaring it jeopardized U.S.-Saudi relations. Finally the PBS officials and local affiliates chose to not continue with the broadcast, instead running two other programs, one was a pro-Saudi discussion of the film, the second shown in early June, presented a flattering portrait of the role of women in Saudi culture. King Khalid, Saudi Arabia's ruler at the time, was said to have offered $11 million to the network to suppress the film. According to Antony Thomas, there was no trial nor was there an official execution. "It wasn't a trial. She wasn't even executed in the Square of Justice. She was just executed in a car park. I've witnessed executions in Saudi Arabia, I'm afraid. They're always done in a special square. This wasn't even done there. It wasn't done with an official executioner, not that that would make it any worse or any better. But this was not following the process of any law." Her death and events that led up to it are believed to have been the inspiration for the fictionalized docu-drama Death of a Princess (1980): "The difference between the official version, which was the girl was killed because she was found guilty of adultery, and the truth of it, which turns out that she was, in fact, executed by the king's elder brother in an act of tribal vengeance in a parking lot in Jeddah, was, in fact, the heart of the controversy because that was the part that, of course, the royal family could not countenance. And that was the great outrage. —David Fanning, Cowriter and Executive Producer of Death of a Princess"
Strange History: IN SEARCH OF MISHA'AL:  Moments after Misha'al's death her lover, Khallid Mahallal (aka Khaled al-Sha'er Mulhallal), was blindfolded and beheaded (kind of, even after five blows his head did not properly come off) . It is very difficult to add to that rather bold statement of facts for the simple reason that all other facts are contested: there would be serious doubts even about these points had there not been a British witness (Barry Milner or Millner spellings vary) who took photographs of the murder/execution/judicial murder and sold them to the Daily Express, January 1978. Misha'al's death is most famous today because of a controversial but very watchable British documentary from 1980, Death of a Princess. If this was a serious blog there would now be some wise words about how the controversy tells us far more than the sordid events of 1980: but happily we can get to the juicy details… This post has been written as an attempt to establish some facts, not least because Wikipedia has not covered all the possibilities and problems that Misha'al's death brings up. If anyone can help it would be great to get some definite answers.