From the time we are little girls, women often dream of the day we will become brides. The white dress, the long veil, the bushels of flowers and the soft candlelight…
But in our bridal fantasies, there is always one thing that dramatically differs from one bride to the next: the groom. Tall, short, rich, poor — we all envision something different waiting for us at the end of that aisle.
However, for a very special group of women in the world, there will be no man standing next to them at the altar. Despite arranging a wedding ceremony, there will be no first kiss as man and wife; no exchange of rings; no towering wedding cake.
These women are called "consecrated virgins," and around the world, there are only about 3,000 of them; in the United States, there exist only around 215.
But thanks to these amazing photos taken by the Diocese of Fort Wayne-South Bend, the story of one consecrated virgin is now going viral.
What do you think about this special marriage ceremony?
'I'm married to Jesus': Woman 'weds' son of God in ceremony attended by hundreds
August 19, 2015
She had to pick a date, build out a guest list, and design her invitations. Source: Owambe Image: Little Things
RSVP's had to be recorded and a reception needed to be planned Source: Owambe Image Daily Mail
And of course, a dress and veil had to be carefully selected, tried on, and tailored…
She told WANE.com her biggest worry was finding a dress that was pretty while still covering her up as she would have to lie on the floor for some of the service.
She said: "I really wanted to make sure that I was well-covered in a way that still shows the beauty of a bride."
Source: Mirror Image: News.com.au
But when it came to the groom, Jessica didn't have to do much planning Image: thecompassnews.org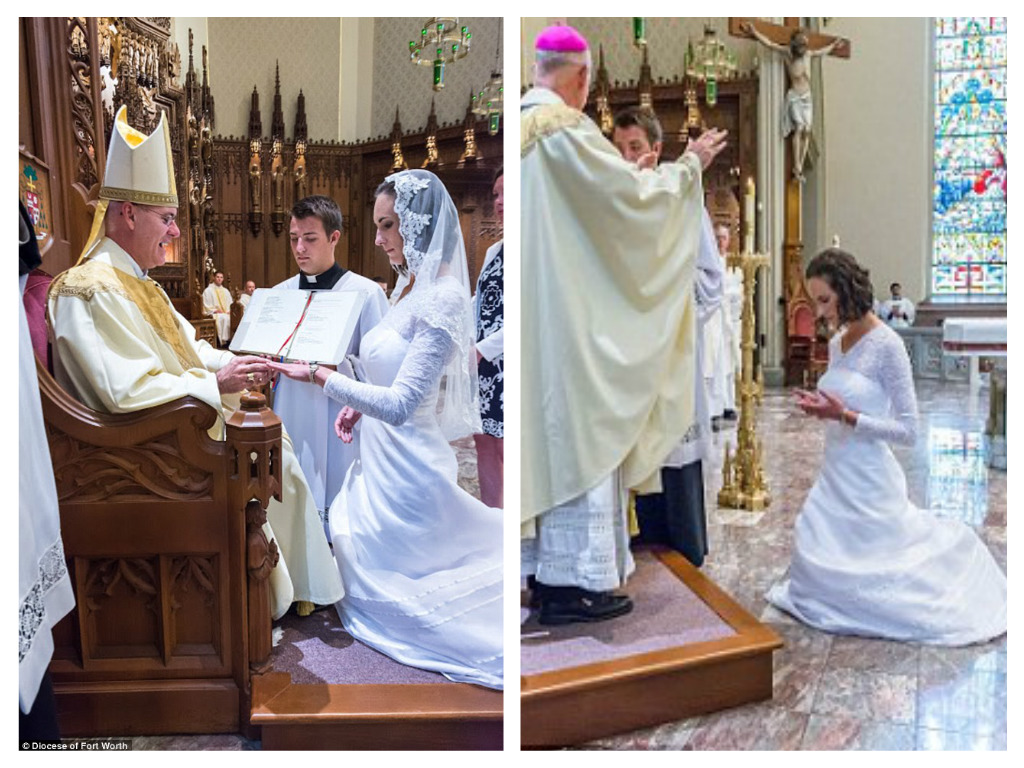 There was no tuxedo to rent, boutonnières to select, or a groom's gift to purchase. The reason? For Jessica Hayes was not in church to marry any ordinary man, but Jesus Christ himself. Source: Mirror   Image: parhlo.com
Jessica Hayes, 38, from Fort Wayne in Indiana, donned a white, long sleeved lace dress, white veil and nude heels and curled her shoulder-length hair. She has chosen to be a consecrated virgin, one of only 3,000 Catholics in the entire world who have chosen that path Source: Mirror
This may look like an ordinary wedding with a beautiful bride in a white dress and hundreds of well wishers, but there is one glaring absence – the groom
"I am married to Jesus", Jessica Hayes Image: 360Nobs.com The virgin has pledged not to have sex for the rest of her life and to dedicate herself to God. However, unlike a nun, she will stay in the community and continue her job as a theology teacher. Source: Mirror
Hayes, who is a theology teacher at Bishop Dwenger High School in Fort Wayne, said she decided to become a consecrated virgin after years of prayer and soul-searching. Source: jadeafrican.com Image: News.com.au
Ms Hayes said she hoped she would encourage some of her pupils at Bishop Dwenger High School, as well as the hundreds of people, many of them strangers, who came to watch, to consider a religious life for themselves.
She said: "I'm so happy to have had so many witnesses today because there may be others that the Lord is calling in this way that have now heard of this life and can consider it in their prayer." Source: Daily Mirror
The ceremony was called a "service of consecration," and in it, Jessica would become a consecrated virgin — one of only 200 in the United States.  
In this commitment of faith, Jessica had to approach the altar, lay herself down on the church floor, and swear to "persevere to the end of [her] days in the holy state of virginity and in the service of God and His Church." Source: Owambe Image: Daily Mirror
Fashion: She thought long and hard about the dress as she would have to lie on the floor at one stage (Image: Joseph R. Romie)
The service, carried out by Bishop Kevin C. Rhoades at the Cathedral of the Immaculate Conception on Saturday, was not literally a marriage.
However it uses some of the symbols of marriage, including a dress, a veil and a ring, to make the point that women who become consecrated virgins are pledging to spend their life in the service of God.
The practice died out in the Middle Ages, died out until it was reinvented by Pope Paul VI in the 1970s. Source: Mirror
Image: You Tube
She says she will continue to live her normal life at home – only now she will not be able to get married to anyone else or to have sex for the rest of her life.
'My students asked if they should call me Mrs. Hayes when I come back to school next week, and no, I'm still Ms,' she said.
'But I am married to Jesus.'
As a consecrated virgin, Hayes may not have 'knowing and deliberately' engaged in sexual relations in the past.
'I think that in some sense, we're all called to be married. It's just a matter of discerning how. So, my marriage is to Christ and someone else's marriage is to their spouse.' Source: jadeafrican.com
Image: news.com.au
Image: jadeafrican.com