Oh Children of Syria
You are an angel send from up above
Who have flesh, blood and heart just like an ordinary human
But why you have given this fate
To live in a world of cruelty and greed
Full of anger and evil
In a nobility of your soul
So many questions you don't know what to utter
Upset, grieve, confused, frustrated
Screaming and a heart full of fear
A spatter of hail, a voice of a thunder
Rubble your place dyed with blood
When the serenity of the night comes
You sleep like an innocent child
So calm and laid in the arms of a guardian angel
So blessed and protected
Even in a few hours, you find peace and rest
When the morning comes
You heard them fighting again
With the roar of  bombs, tanks and guns
You have been shuttered with the brutalities
No child should ever see, scarred and trembled
The horror of war, what you are afraid of
You are slowly taken
Another mother's breaking
Heart is taking over
When the violence causes your silence
Why do they have to do this inhumanity to you?
A simple soul whose dream is to have a beautiful life
And share the world to live in
Now that your perfect day had been ruin
Rest in peace and glory be to you, dear little one
For this is the price that children to pay for war.
What have you done to suffer like this?
An innocent soul have been murdered,
Starved, raped, mutilated, battered
If the war won't take you away
You grow up as emotionally crippled adults
And become vengeful
Who periodically restage their early traumas
In sacrificial rites called wars." ~ Lavenderjean
*****
The Baby Grey Hair in Lebanon
A Syrian mother gave birth to a baby boy with grey hair in Lebanon and social network viewers said he reflected the crisis in Syria.
Newspapers in Lebanon said the boy was born to a Syrian refugee in Lebanon but did not mention where, adding that his picture was published on social networks.
Some social network viewers said it could be a disease while others went further by saying it was a sign of the doomsday.
One reader said, "This boy reflects the deteriorating situation in Syria… may God help his mother, who obviously gave this birth after she has been through tragedies and disasters… may God also help the Syrians."
VIA emirates247.com
***
EU migrant crisis: Syrian baby girl Rahf born in Greece has no where to go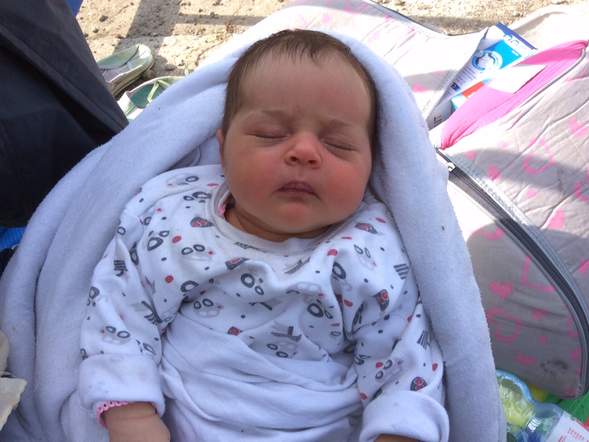 Four day old baby girl Rahf who was born on the Greek island of Samos is now stuck with her parents at the Serbia-Hungary border with no where to go. Her father, Yousef Aba Zeed and mother Anwar, had fled war-torn Syria through Turkey, Greece, Macedonia and Serbia and are now stranded after Hungary closed its border with a razor wire fence.
Sky News spotted Rahf among the new arrivals at the border. Her mother Anwar was sitting on the dirt floor and clutching little Rahf, wrapped in a blanket. She sleeps oblivious to what is happening around her.
Yousef told the TV station that the family is desperate for help but have received no information from the authorities. He says the young family is coping for now but wonders for how much longer. He said they fled war-torn Syria in the hope of seeking a better life but are now stuck with nothing and no where to go.
Hungary closed its border and declared a state of emergency in two of its southern counties following a huge influx of migrants. According to news agencies, Hungarian police claim to have stopped almost 10,000 refugees from entering the country. The Independent said that under tougher new legislation that takes effect today, asylum seekers will be turned away immediately at the border.
So far, the country has ruled on 16 asylum requests at the Serbian border and rejected all of the applications. Reuters said that Hungarian authorities were processing another 32 applications. A total of 174 people have been arrested for trying to sneakacross the border.
VIA ibtimes.co.uk
***
Miracle! Syrian baby pulled alive from rubble
This is apparently the astonishing moment a young child is pulled alive from rubble in war-ravaged Syria.
The unverified video was posted on YouTube by activists opposed to the regime of President Assad.
It shows a group of men desperately clawing away at rubble after reports that a baby had been heard crying.
The footage, from the besieged town of Aleppo, shows the men furiously removing piles of stones and concrete in an attempt to find any signs of life, reports Metro.
They frantically dig faster after it becomes clear that there is indeed a toddler buried underneath the rubble.
The dust-covered child is seemingly lifeless at first, but can then be seen rubbing its eyes.
Eventually the toddler is pulled from the rubble to loud cheers from rescuers.
The video was apparently shot last Tuesday, following bombing from government forcers on the town.
The Syrian civil war has been raging for almost three years and has cost an estimated 120,000 lives, with millions more people displaced from their homes.
Aleppo is Syria's largest city and has been the scene of fighting since July 2012.
SOURCE:
NEW YORK DAILY NEWS
Saturday, January 25, 2014, 11:15 AM
***
***
Syrian Baby Who Died With A Smile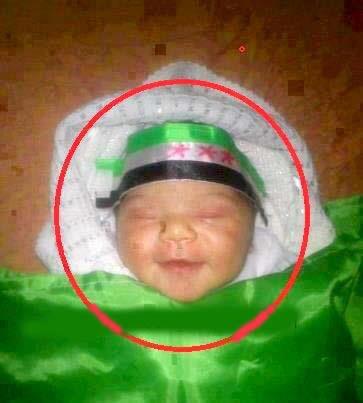 A baby girl has been born with shrapnel lodged in her head in Syria after her pregnant mother suffered horrific injuries in a rocket attack. Doctors successfully remove the shrapnel from the newborn's head.
A Syrian child fleeing the war is lifted over border fences near the Turkish border crossing at Akcakale in Sanliurfa province on June 14, 2015
A Syrian refugee baby girl burst into tears after she was separated from relatives after crossing through the broken border fence into Turkey from Syria in Akcakale, Sanliurfa province, southeastern Turkey, Sunday, June 14, 2015.
Amid gloom of terror, Syrians flee their country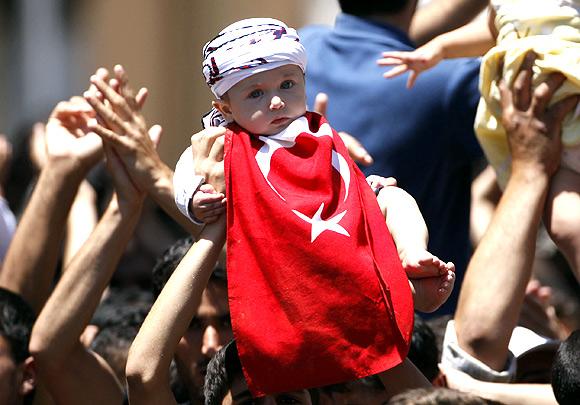 A child, born in a family of Syrian refugees, in Gaziantep, southeastern Turkey.
Syrian baby sits in front of Turkish police – PHOTOS
A Syrian baby lies in the floor of Kara Tepe camp. The family has no milk to feed the child and no money to buy
A young girl, hair and face matted with mud, in the Atmah refugee camp
An injured Syrian child waits for treatment at a makeshift hospital in the rebel held area
Syrian Baby whose face melted in shell attack on Rastan, Homs
Mohamad, four, was only 10 months when he was blown out of his aunt's arms by a tank shell in the town of Rastan
He has already undergone two rounds of surgery, and he will need more – but his parents fear they can't afford it
Like Mohamad, hundreds of children need treatment for wounds caused by the bombardments of shells and bombs
It is not just the physical scars but the emotional damage which is taking its toll on the refugee children in Lebanon
Read more: http://www.dailymail.co.uk/news/article-3369206/I-frightened-home-guns-bangs-Baby-face-melted-searing-shell-attack-Syrian-town-damaged-barely-suck-Kalashnikov-lollipops-given-comfort.html#ixzz44gFca1qT
Follow us: @MailOnline on Twitter | DailyMail on Facebook
A Syrian man carries a wounded baby following a reported air strike by Syrian government forces in the rebel-held area of Douma, …
A Syrian refugee begs in the street with a baby lying on his lap in Istanbul
Terrorists in Syria Hang Shiite Child after Killing Family Members
Pregnat Syrian woman and baby killed in bombing
A baby boy crawls on the floor at Mytilene port, Greece. Parents try to comfort children sobbing from thirst or hunger
As Syrian President Bashar al-Assad's army stepped up its military campaign to regain control of Aleppo, a severely wounded baby is medically treated by the small staff of doctors in one of the city's last standing hospitals on Oct. 3, 2012.
Baby Girl becomes a martyr after being Shot Dead by Syrian Security forces – 14th August 2011
What has this mother done to suffer and her baby suffers too?