Pakistan is undoubtedly one of the most beautiful countries on the planet. This beautiful land comprises an assortment of places from beautiful lands to sky high mountains alongside rivers, lakes, seaside, hills and much more. This wonderful country is blessed with four seasons. The winter season usually starts in the month of November and lasts till the end of February. Pakistan is historically know for it's being a major market on the world's trade routes. But see how it was portrayed in the movie "HIGH ROAD TO CHINA"
1. A location amidst the Seven Kingdoms from Game of Thrones?
Kalash Valleys – Chitral
Kalash Valleys are among the leading tourist destinations of Chitral. They are a home to "Wearers of the Black Robes" which is a primitive pagan tribe. The valley is situated at an elevation of 5,476-7, 576 feet. To many people's misconception, Kalash Valley is a single valley but it is in fact formed out of three small valleys including Brir, Bumburet and Rambur. The valleys are connected to each other via roads that you can travel by jeeps. Apart from relishing the snow, one can also enjoy 'Snow Golf' at Kalash Valleys, which has been one of their traditional games since many years.
This is Kalash Valley, Chitral. Where the Nuristani people of Kalash speak 'kalashamondr'.
2. A hospitable café by the river in Switzerland?
Not at all! This is Kalam Valley, Swat. A tourist hot-spot, labeled as 'mini-Europe' by many.
Kalam is along the upper reaches of the Swat River in Swat Valley.
Kalam is known for its waterfalls, lakes and lush green hills, and is a 270 km drive from Islamabad, the capital of Pakistan. It is a popular destination for tourists.
3. Volcanoes fascinate everyone. Is this on Dante's peak?
Not exactly, these Mud volcanoes can be found in different regions of Balochistan. This particular one rests in Hingol, Balochistan.
There are more then 80 mud volcanoes located in Pakistan.All of them in Baluchistan province; there are about 10 locations having clusters of mud volcanoes. The highest Concentration is just 3 hrs drive from Makran Coastal highway towards North in Hingol National Park, Baluchistan, Pakistan.
They are actually world's largest live mud volcanoes. It actually spits cool mud which streams down from the top to the bottom of the hill. The large volcano is named Chandragup (or Chandragupt) and the smaller one is called Rani.
4. The magical waters from the Chronicles of Narnia?
Can't be. This is the exotic Ghizer River in Gilgit-Baltistan.
Wrapped around lush, green and pleasant landscapes, Ghizer is a diamond in the dirt.
Ghizer District is northernmost part of the Northern Areas of Pakistan. Its capital is Gakuch. Ghizer is also a contact point between Gilgit District and Chitral District (which are connected via Shandur Pass). Ghizer is a multi ethnic district and three major languages are spoken. Khowar, Shina and Burushaski are spoken in Ghizer. There are also a few Wakhi speakers in Ishkoman.
This is the land of adventure because it offers a lot of avenues for adventure and fun like: trekking, jeep safari, trophy hunting, water rafting, wind surfing and sight seeing. A large number of tourists come to the District Ghizer each year because all four major valleys are beautiful and easily accessible areas for visitors.
5. Definitely something taken out of a Hollywood movie?
Not to be. These are the Rakaposhi-Haramosh Mountains, Karakoram. Amongst the largest in the world, these mountains are a trekker's fantasy.
The Rakaposhi-Haramosh Mountains are a subrange of the Karakoram range.The two namesake peaks, Rakaposhi (7,788 m/25,551 ft) and Haramosh (7,409 m/24,308 ft), are among the largest in the world in terms of rise above local terrain, due to their positions near very low valleys. Rakaposhi rises dramaticallyabove a bend in the Hunza River, forming the western anchor of the range, while Haramosh stands on the north side of the Indus River, in the south-central portion of the range.
6. Did you just open your window in a Khatmandu resort?
A window does open, but from the Hunza Valley, Gilgit-Balistan. The Burushaski speaking locals live a happy, peaceful life amidst cold weathers.
The Hunza Valley is a high altitude, fertile valley that supports agriculture and provides isolation from the rest of the world. Some say that the Hunza Valley was the basis for Shangri La in the book Lost Horizons.
Mostly plants, eaten raw. The Hunza do not have access to a large amount of fuel for cooking food, nor are there many animals available for eating, so they plant what they can and gather the rest. Apricots, cherries, grapes, plums and peaches are all cultivated by the Hunza. They also eat a lot of grains — wheat, barley, and millet.
7. A temple for the faithful situated near the holy river Ganges?
The Katas Raj Temple in Chakwal, Punjab. Remains of the Buddhist Stupa, the Katas site houses the Satgraha, a group of seven ancient temples.
It is surrounded by the Wakhan Corridor (Afghanistan) to the north; Xinjiang (China) to the northeast and east; Skardu, Astore and Diamer to the south; and Ghizer District to the west. – See more at: http://www.tourisminpakistan.com/gilgit-baltistan/gilgit/gilgit/#sthash.uSUWIGpL.dpuf
Katas Raj temple is a complex ancient structure situated near the district of Chakwal in Pakistan. It is famous for its Bhudist and Hidu temples still in good condition. Govt. of Pakistan with the help of donors has recently renovated the temple.
8. Foreigners sidelining along the blue lines of Goa?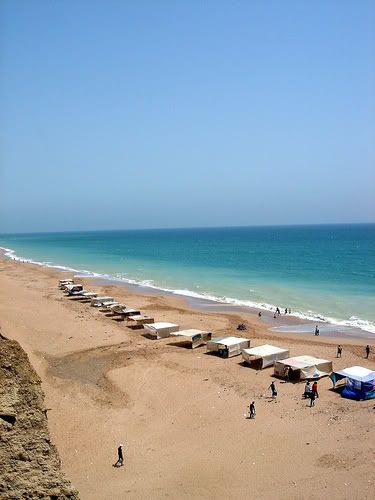 The Arabian Sea says no! Cape Mount(or Monze), Karachi or locally , Karachinown as Ras Muari, the Cape Mount Beach floats near the Gadani Beach, Karachi.
Cape Monze (a.k.a. Cape Mount) is a beach on the Arabian Sea located near the Hub River and Gadani Beach in Karachi, Sindh, Pakistan.
9. Stone-walls in the Grand Canyon or Texas?
No, this is Hingol National Park, Baluchistan, Pakistan. It has mysterious mud mountains, beautiful blue water Hingol river, desert and deep blue Arabian Sea. 3.5 hours'drive from Karachi on the beautiful Makran coastal highway.
Hingol National Park is the largest of National Parks of Pakistan. It is on the Makran coast in Balochistan and is approximately 190 km from Karachi. The area was declared reserved in 1988.
Hingol National Park is known to support at least 35 species of mammals, 65 species of amphibians and reptiles and 185 species of birds. Some 250 plant species were recorded in the initial surveys including 7 yet undescribed species. Many more species are yet to be collected.
10. An artist's imagination as he draws a landscape in Iceland?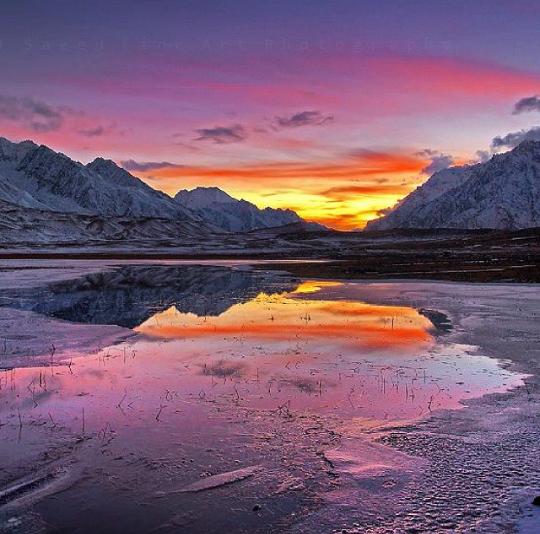 A view of the frozen sunset captured in Shandur Lake, Gilgit-Baltistan. Where the locals like to play Polo and live ordinary lives, Shandur serves as a tourist's delight.
Chitral fort is an mportant historical point and is very famous among tourists due to its unique architecture. This fort has built for administration as well as for defence purpose. It is situated along the bank of river Chitral. Prince of Katoor dynasty famously known as Mehtars have built this fort.
11. Wooden cottages on a lush top in Ireland?
This astounding, lush green tourist spot is Arang Kel, Neelum Valley, Azad Kashmir. Located on an altitude of 8,379 feet, this striking sight is a 2km trek from Kel.
12. The dukes and duchesses of Scotland must've walked on these fields?
Overcast weather in Dharam Sar Lake, Kaghan Valley. Resting in the Mansehra district of Khyber Pakhtunkhwa, this attraction was largely rebuilt after 2005's earthquake.
The road to Kaghan is frightening because on your left are the deep slopes to the river and on your right are the lofty mountains.
13. A heaven to the foreigners. Must be Brazil or Chile?
The double-bed waterfall rests in Sajikot, Khyber Pakhtunkhwa. Stagnant in the Hazara region, Sajikot would put any South American country to shame.
14. An insight on the dazzling caves of South Africa?
This tourism deprived sight is known as Moola Chotok in Khuzdar, Balochistan. Amidst tense hold of nationalists in the Jhalawan belt, Chotok seems like a lost cause.
15. Where are the tourists? This must lead to the Niagara Falls?
Fortunately, no! This peach of a view is from the Neelam Valley, Kashmir. One of the better tourist ranges in Pakistan, this valley is a 200km long bow-shaped, deeply forested region.
The Neelam Valley opens up wide and spreads like a fairy land in Halmat. It is a beautiful village, dissected by the Neelam river.
16. Book-cover material. Has to lie in the outskirts of Belgium?
Wrong again! This shot from heaven was captured at the Attabad Lake, Hunza Valley.
Attabad Lake, Gojal, otherwise called Gojal Lake, is a lake in the Gojal Valley of northern Pakistan. In 2010, a landslide blocked the river and creating Attabad Lake, the potential collapse of which threatened the valley below.The Hunza is situated at an elevation of about 2,500 metres (8,200 ft).
17. The astounding waterfalls from Leura Cascades, Australia?
No chance. This is an awe-inspiring view of Pir Ghaib, Balochistan.  Locals here believe in the myth of the Invisible Saint (Pir Ghaib), who was saved by the Almighty.
"Waterfall"A waterfall located at Pir Ghaib near Bolan in Balochistan.It is so blue and Beautiful that we cant even think that it is located inside the barren landscape.
Pir Ghaib (Invisible saint) is a beautiful oase surrounded from all sides by daunting rugged mountains and is almost 10 KM eastwards from the National Highway between Sibi and Mach cities of Baluchistan, Pakistan. No one knows about the exact historical validity of a Saint's Grave. The locals attribute many mythological stories.
18. Great Wall of China?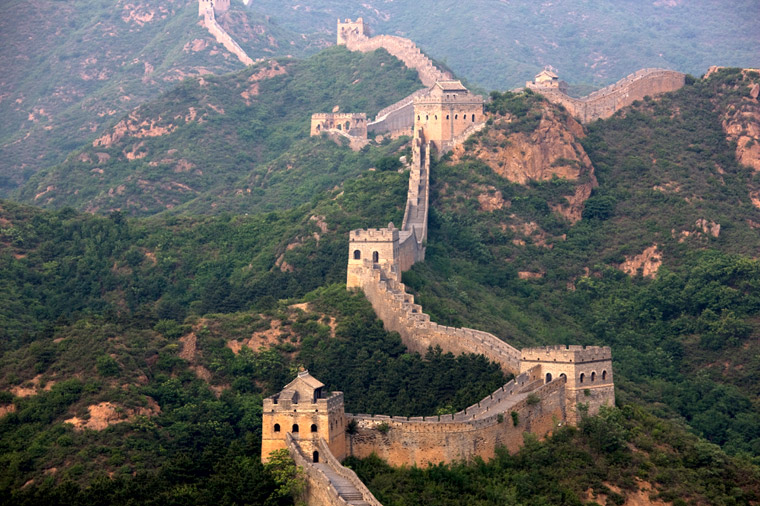 No, this is the great wall of the fort of Ranikot in Sindh province, Pakistan. Located at a distance of 3 hours' drive from Karachi. This wall is part of one of the largest fort on this planet, the Fort of Ranikot.
REFERENCES:
visitorsheaven.com
wikipidea