By definition, a neck strain is not a serious injury. However, the pain and dysfunction that it causes can be significant. This article reviews both first aid approaches to alleviate the pain, as well as signs and symptoms that indicate when to see a doctor.
Neck strain is often just called whiplash. Although it's usually associated with car accidents, any impact or blow that causes your head to jerk forward or backward can cause neck strain. The sudden force stretches and tears the muscles and tendons in your neck.
Neck strains are often confused with neck sprains. They're a bit different. Neck strains are caused by damage to the muscle or the tendons, bands of tissue that connect muscles to bones. Neck sprains are caused by tearing of the ligaments, the tissues that connect the bones to each other.
However, the differences between these strains and sprains probably won't mean much to you. The causes, symptoms, and treatment of neck sprains and neck strains are usually the same.
Neck Strain Overview 
Neck strain is injury to the muscles and tendons that support and move the head and neck. The neck is susceptible to injury because it is capable of extensive range of motion. It is, as a result, less stable that many other body areas. In addition, the neck muscles are affected by the motion of nearly all other areas of the body.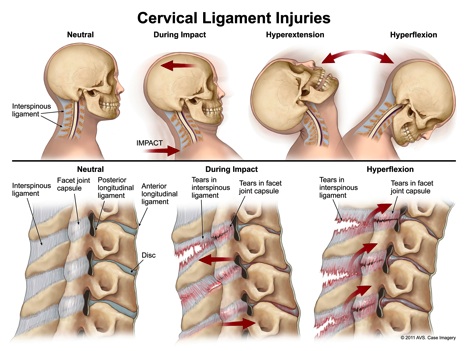 The neck contains many vital anatomic structures, the most critical being the airway (breathing tube), the spinal cord, and the blood vessels that supply the brain. Neck strain injuries do not typically involve serious injury to any of these vital structures. Neck strain is also not usually associated with fractures or dislocations of any of the bones of the cervical spine, but injury to all of these tissues can occur with the most severe trauma.
Injuries of tissues that contract and move, such as muscles and tendons, are termed strains. Similar injuries to nonmoving structures, such as ligaments, joint capsules, nerves, bursae, blood vessels, and cartilage, are termed sprains. Both strains and sprains of the neck may involve tears to ligaments covering the cervical vertebrae of the spine, the many muscles of the neck (which move the head), and many other associated structures. They may also result in injury to cervical nerves caused by stretching or compression.
The neck is an area where stability has been sacrificed for mobility, making it particularly vulnerable to injury. Because one can be injured in a number of different ways, a detailed medical and job history (including an analysis of work activity) is often needed to fully evaluate a neck injury. It also helps to predict how long one's recovery will take and what the prognosis will be following an injury.
What Are the Symptoms of Whiplash? 
The pain of whiplash is often hard to ignore. The symptoms may include:
Pain, decreased range of motion, and tightness in the neck. The muscles may feel hard or knotted.
Pain when rocking your head from side to side or backward and forward.
Tenderness.
Headaches at the base of the skull that radiate towards the forehead.
Triggers for the onset of neck muscle strain can be traced to several common activities that strain the neck anatomy, such as:
Too much time in an awkward position, such as hunched over a steering wheel while driving, hunched forward to view a computer monitor, or cradling a phone in the crook of the neck
Sleeping in a position that strains the neck, such as with a pillow that is too high or too firm
Carrying a heavy suitcase or other object on one side of the body
Any form of trauma that impacts the neck, such as from whiplash in a car accident, or from a fall in which one lands on the top of the head
Sometimes, the pain of a neck strain is immediate. In other cases, it can take several hours or days before your neck begins to hurt.
Most episodes of neck muscle strain (or other soft tissue strain or sprain, such as ligaments or tendons) result in a stiff neck and/or pain in a shoulder muscle. Symptoms typically include difficulty and pain when moving or rotating the head or neck.
The blow that causes neck strain can sometimes cause a concussion, too. Since concussions can be serious, you need to see a doctor right away. You need emergency medical care if you are confused, dizzy, nauseous, excessively sleepy, or unconscious.
To diagnose neck strain, your doctor will give you a thorough examination. You may also need X-rays, CT (computed tomography) scans, and other tests, to rule out other problems.
Remedies 
Given time, whiplash should heal on its own, there are many self-care remedies that are effective in alleviating the pain and stiffness. To help with recovery, you should:
Ice your neck to reduce pain and swelling as soon as you can after the injury. Do it for 20-30 minutes every 3-4 hours for 2-3 days. Wrap the ice in a towel or cloth to prevent injury to the skin.
Applying heat. The heat helps bring nutrient-rich blood flow to the area to stimulate a healing response. Some people prefer moist heat, such as from a hot bath or shower. Others find more relief from applying continuous low level heat from a heat wrap (such as brand name Thermacare, or store brand heat wraps)
Take painkillers or other drugs, if recommended by your doctor. Non-steroidal anti-inflammatory drugs (NSAIDs), like ibuprofen(Advil, Motrin) or naproxen (Aleve), will help with pain and swelling. However, these medicines can have side effects. Never use them regularly unless your doctor specifically says you should. Check with your doctor before taking them if you take other medicines or have any medical problems. If over the counter medications do not work, prescription painkillers and muscle relaxants may be necessary.
Use a neck brace or collar to add support, if your doctor recommends it. However, they are not recommended for long-term use, because they can actually weaken the muscles in your neck.
Apply moist heat to your neck — but only after 2-3 days of icing it first. Use heat on your neck only after the initial swelling has gone down. You could use warm, wet towels or take a warm bath.
Other treatments, like ultrasound and massage, may also help.
When to See a Doctor for Neck Strain
For more severe pain and stiffness, if the symptoms last for more than a day or two, or if the pain is accompanied by arm pain, numbness or tingling, a visit to a health professional, such as a chiropractor or primary care physician, is generally advisable.
Also if the symptoms started after any kind of trauma or accident it is a good idea to get a full examination from a health professional to diagnose or rule out any serious problems.
For most episodes of neck pain, self-care and avoiding any additional strain to the neck will usually suffice to manage the symptoms until the strain is healed.
SOURCE:
spinehealth.com
webmd.com
emedicinehealth.com