> JONATHAN MAY, PHOTOGRAPHER PHILATROPIST
Photographer Philanthropist [Australia]
When Sydney photographer Jonathan May won $5000 for the Head On Portrait photographic competition this year, he decided to use the money to pay for medical treatment for the 12-year-old Kenyan boy who appears in his winning entry. Stanford has a rare skin condition that makes him hypersensitive to sunlight, and is badly disfigured and partially blind.
Kate McBride is a 31 year old Australian gal who has been volunteering in Nairobi, Kenya for the last 18 months. She work's for an NGO called AMREF (African Medical and Research Foundation), specifically trying to improve the Surgical Outreach Program. Stanford and his family can be supported through Jonathan May's organisation Empowering Blind Youth.
"First we need a proper diagnosis," says May. "It's a question of whether he can be treated locally or needs to be flown here."
Whatever the next step, May is determined he will use the money to make a difference to Stanford's future.
Dr Mengiste confirmed that Stanford had a rare congenital condition called Xeroderma Pigmentosa that meant his skin was extremely sensitive to ultraviolet light. Children with this condition need total protection from sunlight and often die of skin cancer early in adulthood.
> KEVIN CARTER, PULITZER PRIZE 1994 WINNER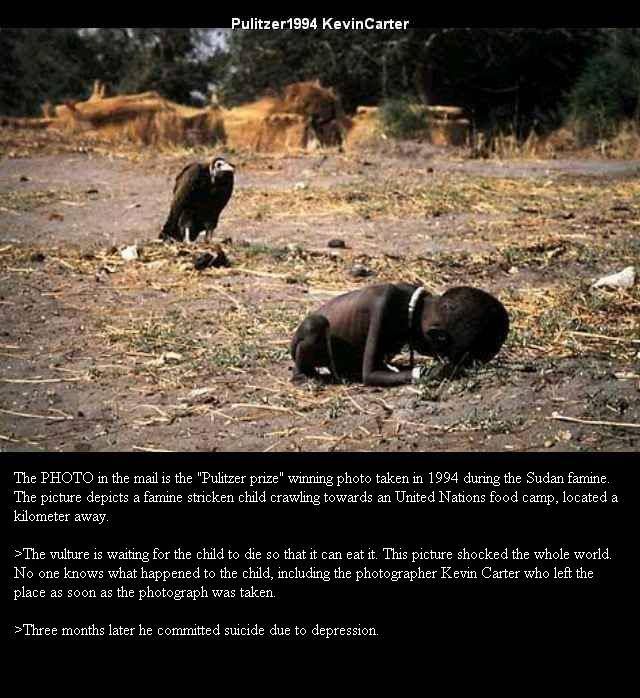 Brief Analysis
It is true that Kevin Carter won a Pulitzer Prize for his famous photograph. It is also true that Carter left the scene after taking the photograph without helping the child. However, it is too simplistic to suggest that he committed suicide as a direct result of his experience with this child as implied in the message. It is also unfair to judge his actions without having some understanding of the man's state of mind along with the terrible conditions in Sudan at the time the photograph was taken.
> STEVE MccURRY – Afghan Mona Lisa: The Story of the Girl Whose Eyes Captivated the World   
In 1984, photographer Steve McCurry shot a portrait titled "Afghan Girl" that would become the defining image of his career and one of the most famous National Geographic covers ever published. In 2002, McCurry was able to locate the subject, Sharbat Gula, and learn her story. National Geographic then published a fascinating piece telling the story of the photo, the search, and the subject:
The reunion between the woman with green eyes and the photographer was quiet. On the subject of married women, cultural tradition is strict. She must not look—and certainly must not smile—at a man who is not her husband. She did not smile at McCurry. Her expression, he said, was flat. She cannot understand how her picture has touched so many. She does not know the power of those eyes.
Some interesting facts: McCurry shot the photo on Kodachrome using a Nikon FM2 and Nikkor 105mm f/2.5. Gula's identity was confirmed by comparing her iris to the Afghan Girl's. Although she had never seen her famous portrait, Gula distinctly remembers sitting for the photo — it was one of the only times in her life that she had a photo taken of her.
> LIFE MAGAZINE – Behind the Picture: The Photo That Changed the Face of AIDS
In November 1990 LIFE magazine published a photograph of a young man named David Kirby — his body wasted by AIDS, his gaze locked on something beyond this world — surrounded by anguished family members as he took his last breaths. The haunting image of Kirby on his death bed, taken by a journalism student named Therese Frare, quickly became the one photograph most powerfully identified with the HIV/AIDS epidemic that, by then, had seen millions of people infected (many of them unknowingly) around the globe.
More than two decades later, on the 25th World AIDS Day, LIFE.com shares the deeply moving story behind that picture, along with Frare's own memories of those harrowing, transformative years.
"I started grad school at Ohio University in Athens in January 1990," Frare told LIFE.com. "Right away, I began volunteering at the Pater Noster House, an AIDS hospice in Columbus. In March I started taking photos there and got to know the staff — and one volunteer, in particular, named Peta — who were caring for David and the other patients."
David Kirby was born and raised in a small town in Ohio. A gay activist in the 1980s, he learned in the late Eighties — while he was living in California and estranged from his family — that he had contracted HIV. He got in touch with his parents and asked if he could come home; he wanted, he said, to die with his family around him. The Kirbys welcomed their son back.
> THE 2800 YEARS OLD KISS AS IF TO SIGNIFY THAT LOVE IS ETERNAL
This is from an archeological site called Hasanlu, level IVB, which was burned after a military attack. People from both fighting sides were killed in the fire, which apparently spread quite unexpectedly and quickly through the town. These skeletons were found in a plaster grain bin, probably hiding from soldiers, they almost certainly asphyxiated quickly because of the fire. They are both male, which could indicate a family connection (or maybe a homosexual relationship). The "head wound" is actually from modern-day excavators. The skeleton couple was unearthed in 1972.
Theses skeletons were found in a bin with no objects. The only feature is a stone slab under the head of the skeleton on the left hand side (SK335). Some sources claim that skeletons, appearing to kiss each other, were buried 6000 years ago, but that's not true. The archeologist who studied the skeletons say they were there since 2800 years ago. The University of Pennsylvania has determined that the couple died together in about 800 B.C. The skeletons do appear like they are kissing each other before they died – as if to signify that love is eternal.
The source of this image comes from the Penn Museum and they have name it as "The Lovers". Its description reads:
"The Lovers" from 1972 season at Hasanlu
Hasanlu is an archaeological excavation site in Iran, Western Azerbaijan, Solduz Valley. Theses skeletons were found in a Bin with no objects. The only feature is a stone slab under the head of the skeleton on the left hand side (SK335).
Penn Museum
Teppe Hasanlu, located in northwest Iran is a very famous archaeological site of an ancient city and was excavated in 10 seasons between 1956 and 1974 by a team from the University Museum, University of Pennsylvania and the Metropolitan Museum of New York. Many valuable artifact were unearthed, including this eternal couple.
> ALFRED EISENSTAEDT – UNDER A MISSISSIPPI SUN PORTRAITS OF DEPRESSION-ERA SHARECROPPERS  
Alfred Eisenstaedt's remarkable photos of sharecroppers working their plots of soil on the Delta & Pine Land Co. plantation in Scott, Miss., in the midst of the Great Depression.
> DOROTHEA LANGE, I NEVER LOST
I never lost hope': Startling interview unearthed with woman behind iconic Great Depression image talking just five years before her death in 1983
The photograph of her lined and weary face, with two of her hungry children resting on her shoulders, is perhaps the most iconic image of the Great Depression era.
Florence Thompson was a widowed migrant worker and mother of seven children when this photo, called Migrant Mother, was taken in 1936 by photographer Dorothea Lange. Now, new details about the captivating subject are being revealed by NBC journalist Bob Dotson from his interview with the woman.
It has since become one of the enduring images of the dust bowl era, symbolizing, if not defining, an entire era in U.S. history.
> NICK UT,THE NAPALM GIRL
In this June 8, 1972 file photo, crying children, including 9-year-old Kim Phuc, center, run down Route 1 near Trang Bang, Vietnam after an aerial napalm attack on suspected Viet Cong hiding places as South Vietnamese forces from the 25th Division walk behind them. A South Vietnamese plane accidentally dropped its flaming napalm on South Vietnamese troops and civilians. From left, the children are Phan Thanh Tam, younger brother of Kim Phuc, who lost an eye, Phan Thanh Phouc, youngest brother of Kim Phuc, Kim Phuc, and Kim's cousins Ho Van Bon, and Ho Thi Ting.
It's a disturbing image. The main subject in the shot is nine year old Kim Phuc; running, , wailing the words "Too hot, too hot", crying and naked. As she was hit by the burning Napalm, it raced up her body and incinerated her clothing on contact. It burnt through the layers of her skin all over her back, leaving her heavily scarred to this day.
Nick Ut took this image seconds after his famous shot, of Kim Phuc running down the street. Television crews and South Vietnamese troops surround 9-year-old Kim Phuc on Route 1 near Trang Bang, South Vietnam, after she was burned by a misdirected aerial napalm attack, June 8, 1972.
> ROCCO MORABITO, won the 1968 Pulitzer Prize for Spot Photography for this photograph, called "The Kiss of Life."  
The Kiss of Life – A utility worker giving mouth-to-mouth to co-worker after he contacted a high voltage wire, 1967
Taken in 1967 by Rocco Morabito, this photo called "The Kiss of Life" shows a utility worker named J.D. Thompson giving mouth-to-mouth to co-worker Randall G. Champion after he went unconscious following contact with a Low Voltage line. They had been performing routine maintenance when Champion brushed one of the low voltage lines at the very top of the utility pole. His safety harness prevented a fall, and Thompson, who had been ascending below him, quickly reached him and performed mouth-to-mouth resuscitation. He was unable to perform CPR given the circumstances, but continued breathing into Champion's lungs until he felt a slight pulse, then unbuckled his harness and descended with him on his shoulder. Thompson and another worker administered CPR on the ground, and Champion was moderately revived by the time paramedics arrived, eventually making a full recovery.
What's even more incredible is Champion not only survived this thanks to Thompson, but he lived an extra 35 years. He died in 2002 at 64 years old. Thompson is still alive today.
Morabito was driving on West 26th Street in July 1967 on another assignment when he saw Champion dangling from the pole. He called an ambulance and grabbed his camera.
"I passed these men working and went on to my assignment," says Morabito. "I took eight pictures at the strike. I thought I'd go back and see if I could rind another picture." But when Morabito gets back to the linemen, "I heard screaming. I looked up and I saw this man hanging down. Oh my God. I didn't know what to do. I took a picture right quick. J.D. Thompson was running toward the pole. I went to my car and called an ambulance. I got back to the pole and J.D. was breathing into Champion. I backed off, way off until I hit a house and I couldn't go any farther. I took another picture. Then I heard Thompson shouting down: He's breathing!"
Rocco Morabito won the 1968 Pulitzer Prize for Spot Photography for this photograph, called "The Kiss of Life."
> JOE O'DONNELL -A JAPANESE BOY STANDING ATTENTION AFTER HAVING BROUGHT HIS DEAD YOUNGER BROTHER TO A CREAMATION PYRE, 1945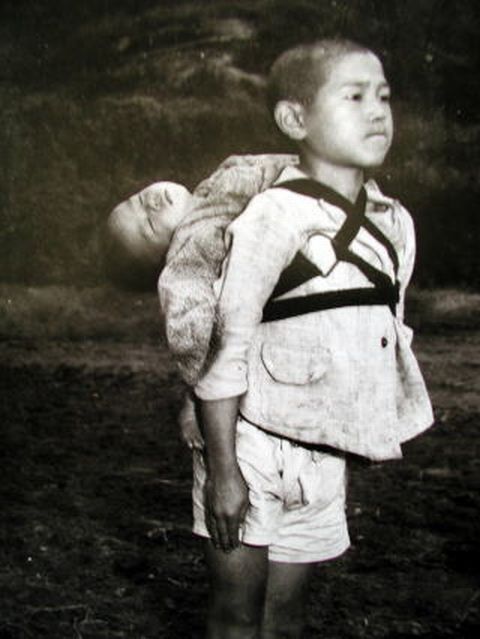 Joe O'Donnell, the man who took this photo at Nagasaki, was sent by the U.S. military to document the damage inflicted on the Japanese homeland caused by air raids of fire bombs and atomic bombs. Over the next seven months starting September 1945, he traveled across Western Japan chronicling the devastation, revealing the plight of the bomb victims including the dead, the wounded, the homeless and orphaned. Images of the human suffering was etched both on his negatives and his heart.
In the photo, the boy stands erect, having done his duty by bringing his dead brother to a cremation ground. Standing at attention was an obvious military influence. Looking at the boy who carries his younger sibling on his back, keeps a stiff upper lip, tries so hard to be brave is heart-breaking. He has epitomized the spirit of a defeated nation.
Sometimes later Joe O'Donnell spoke to a Japanese interviewer about this picture:
"I saw a boy about ten years old walking by. He was carrying a baby on his back. In those days in Japan, we often saw children playing with their little brothers or sisters on their backs, but this boy was clearly different. I could see that he had come to this place for a serious reason. He was wearing no shoes. His face was hard. The little head was tipped back as if the baby were fast asleep. The boy stood there for five or ten minutes."
"The men in white masks walked over to him and quietly began to take off the rope that was holding the baby. That is when I saw that the baby was already dead. The men held the body by the hands and feet and placed it on the fire. The boy stood there straight without moving, watching the flames. He was biting his lower lip so hard that it shone with blood. The flame burned low like the sun going down. The boy turned around and walked silently away."
Interesting stuff:
This story looks like the real-life "Grave of the Fireflies", a Japanese movie from 1988. A tragic film covering a young boy and his little sister's struggle to survive in Japan during World War II. It's a really powerful movie and highly recommended to watch.