Aokigahara Forest
Aokigahara Jukai is the second most popular suicide location in the world. Aokigahara forest in the northwest part of Mount Fuji, Japan, is also known as 'sea of trees' or the 'forest of suicides'. It is a relatively quiet forest as the density of trees is very high and the trees block winds. It is a very dark place lit only by a collection of sunbeams. There is no wildlife in this forest. It's not just the dense shrubbery that makes this place so creepy. It's all the dead bodies. Located at the base of Mt Fuji, ever since the 1950s the Japanese have been committing suicided here in droves. In fact, its so bad that there are now signs scattered throughout the woods with sayings such as "life is precious" and "think of your family". The suicide rate in this forest has seen an increase after 2011. This is a creepy place, so visit it at your own risk. Japanese mythology suggests that the forest has an association with the demons. It was used for the practice of 'ubasute', a custom of leaving the elderly relative to die in a remote location. Rocky and icy caverns are a popular place among visitors.
Catacombs of Paris
Around the 17th and 18th centuries Paris's cemeteries were getting so full that residue from decaying organic material was getting into the water supply and creating very unsanitary conditions. Hence the creation of the Paris Catacombs.
The Sedlec Ossuary
Ever since soil from the Holy Land was sprinkled over this small town in the Czech Republic people from all over the world have claimed Sedlec as their final resting place. After hundreds of years though, the number of bones on this relatively small property began to get a bit out of control and the priests realized they had to do something. Their chosen course of action? Redecorate…using bones. If you go today you'll be greeted by an entire church built from seemingly nothing but human bones.
Candido Godoi
This town in Southern Brazil holds an interesting distinction – it is the twin capital of the world. In fact, it's twin birth rate is 18 times higher than the world average. Why? Well according to the locals it was after chief Nazi physician Mengele, who fled to the village after World War II, that the births started happening. Oddly enough Mengele was known to have a strange fascination with twins. Modern scientists, however, propose that it is most likely due to toxic waste or inbreeding. Either way, it's pretty creepy.
Gunkanjima
Literally translated as Battleship Island due to its supposed resemblance to the massive vessel, like several other places on this list Gunkanjima used to be a mining facility, and just like those other places it shut down. Since then it has deteriorated even further and even been featured on the History Channel's show Life After People
Prague's Old Jewish Cemetery
Normally 1 overcrowded cemetery is enough to be considered creepy. The Old Jewish Cemetery in Prague, however, takes things to a whole new level considering that it is actually 11 cemeteries stacked on top of each other! That's right, the cemetery got so full that not once, not twice, but 11 times they actually decided to just build another cemetery right on top of the old one.
Isla de las Munecas
Found deep in the swamp of former Aztec country is what has come to be known as the Island of the Dolls. Although it is now abandoned at one time it had a single inhabitant. His name was Don Julian Santana Barrera and according to legend, one day a young girl drowned just off shore (don't ask us how she got there). At any rate, not long after this, Don Julian found her doll floating in the water. Then he found another, and another. Supposedly as tribute he decorated the entire island with the dolls before mysteriously drowning in the very same canal as the little girl.
British Sea Forts
Constructed by the British Royal Navy during the Second World War as an advance line of defense these forts now sit abandoned a few feet above the waves of the North Sea.
Ghost City of Fengdu
This 2,000 year old ghost town is something like hell on earth, at least the Chinese version. Believed by locals to be the spot where spirits "crossover" after death, the place is chock full of burial sites and mock torture devices.
Sighisoara
This medieval citadel located deep within Transylvania is best known as the birthplace of Vlad the Impaler, the real life inspiratin behind Count Dracula.
The Overtoun Bridge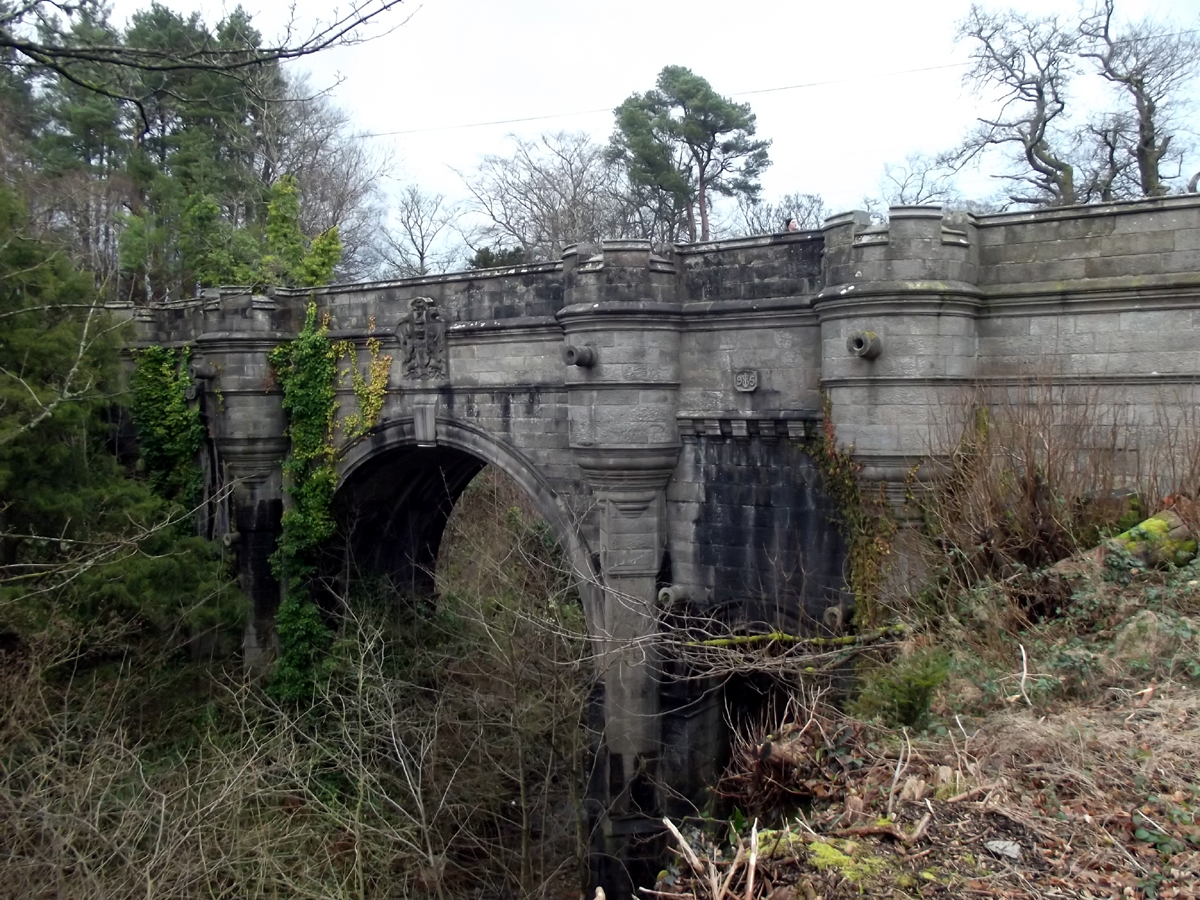 Found near the village of Milton in Scotland, this bridge is the location of numerous suicides – over 600 to be exact. Every year since its construction roughly 12 to 15 dogs launch themselves to their deaths…that's right…dogs. Why? Well although there are numerous theories but no one really knows. One thing is for sure though – the dogs are hell bent on leaving this planet behind as some people have even witnessed dogs jump off, survive, climb back up, and jump off again.
Takakonuma Greenland Park
After opening in the 70s this theme park was abruptly closed down supposedly due to a number of deaths on its rides and what was once intended to be the happiest place on Earth is now gradually being swallowed by the encroaching wilderness. The close proximity to Fukushima (where the nuclear reactor melted down) and the ever present fog make this one of the top contenders for the next big zombie outbreak.
Actun Tunichil Muknal
Also known as the Cave of the Stone Sepulcher, it's like something straight out of Indiana Jones. Housing numerous skeletons, the creepiest thing about this place is that most of them belong to children…sacrificed children to be more precise. Most likely many years ago there was a drought and these unfortunate youngsters were the ones chosen to have their skulls crushed.