Whatever the reason may be, unusual friendships like these show that animals may be far more emotionally complex than many of us believe. Maybe these friendships aren't so unusual after all!
1. Bubbles, The African Elephant and Bella, The Black Labrador 
Despite the extreme difference in size, Bubbles the elephant and Bella the black lab have become great friends. Bubbles the African elephant and Bella the black Labrador, both residents at the Myrtle Beach Safari in South Carolina, have become the best of friends, and can often be seen playing in the water together. In 2007, a contractor hired to build Bubbles a swimming pool, abandoned Bella as a puppy at The Preserve. The pool and eventually the river presented these two the opportunity to interact in a way that developed a deep and lasting friendship.
2. Bea, The Giraffe and Wilma, The Ostrich
Keepers at Busch Gardens in Tampa, Fla., report that this unlikely duo — Bea, a 3-year-old giraffe, and Wilma, a 10-year-old ostrich — have become inseparable pals. (It looks to us like Bea is a little more committed to the unorthodox friendship than Wilma, but hey — that's just us.)
"Bea likes to use her tongue to explore her surroundings, and Wilma isn't fazed by those very close encounters," the park's assistant curator, Jason Green, told People Pets.
Bea and Wilma have become great friends during their time together at Busch Gardens in the U.S. The two share a huge 65-acre enclosure, so they aren't forced to spend time together – they do so willingly.
3. Tinni , The Dog and Sniffer, The Wild Fox
Tinni the dog and Sniffer the wild fox, two unlikely friends from two different worlds. Tinni lives with his owner photographer Torgeir Berge in the forests of Norway. One day, while they were on a walk together in the woods, they met a wild fox that they named Sniffer. Despite the thousands of years of breeding and the social circumstances that stood between them, they became the best of friends.
4. Torque, The Dog and Shrek, The Owl
Six-month-old pup Torque adopted tiny baby owl Shrek when she was taken from her mother for her own protection aged just three days.
Keepers feared Shrek's mum would eat her first offspring if she became stressed.
Adoptive dad Torque is now guarding the rare long-eared owl at the home of head falconer John Picton.
5. Fred the Labrador and Dennis the Duckling
Things were looking grim for Dennis the duckling when his mother had been mauled by a fox. Fred the Labrador and his owner Jeremy, however, found and rescued Dennis. Dennis and Fred have been buddies ever since. Fred apparently has a big heart, because it's not the first time he's helped take care of an orphan – he once adopted a baby deer as well.
6. Suryia the Orangutan and Roscoe the Blue Tick Hound 
They make an unlikely duo. But after meeting at a reserve for endangered animals, Suryia the orangutan and Roscoe the Bluetick hound have become inseparable.
And now the pals have released a picture book capturing their unorthodox friendship.
The best friends were besieged by young fans as they held their own signing for the new release at a bookstore in Georgetown, South Carolina.
7. The Baby Wombat and a Baby Kangaroo
 Do you know which two animals are most famous in Australia? For us those are Kangaroos and Wombats. Even they are really cute as adults, as a babies they are much more fun and cute. True blue mates! Orphaned kangaroo and wombat are inseparable friends (they even share the same pouch) .
Opposites can attract and Anzac a doe-eyed baby kangaroo has become best friends with Peggy, a tiny squint-eyed wombat.
Their unlikely union developed after the pair –  both orphans – shared a pouch at the Wildlife Kilmore Rescue Centre in Victoria, Australia.
At just over five months old, Anzac was brought to the centre after being rescued in the Macedon Ranges.
The joey is in the mother kangaroo's pouch for about eight months, depending on the species, but Anzac was abandoned a few months before he was ready to be free.
Luckily he was placed with Peggy, who was also feeling lonely and the two now sleep together, reducing the amount Anzac misses his mum.
Worker Lisa Milligan explained the unlikely friends are comforted by each others movement and heartbeat.
8. Polar Bear in Canada and Wolf 
Wildlife photographer Norbert Rosing experienced a once in a lifetime encounter when visiting a dog sled kennel in Manitoba, Canada.
A wild male polar bear seemed to appear out of nowhere and approached a dog. Obviously, Rosing and Brian Ladoon, the breeder, assumed that his dog was doomed. They were quite surprised that instead of apprehension and hostility, the bear and the dog interacted playfully right off the bat.
For the week that Rosing was visiting, the polar bear came back every night. Eventually, a second bear came to play with the dogs as well.
9. Marmoset Monkey and Iguana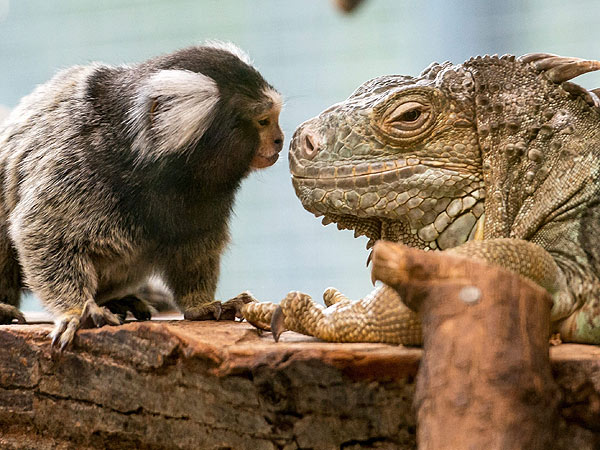 Sure, these two have their differences. For starters, one is a monkey and the other is an iguana.
But they've clearly overcome them. That's right: Leave it to a common marmoset and a green iguana to teach us the true meaning of friendship. the little marmoset would climb on the back of the big iguana and rub its face all over the iguana's back. The iguana didn't seem to mind at all!
This wild pair of pals were spotted hanging out and, catching up at a zoo in Straubing, Germany.
10. A Wild Cat And A Fox
Near the shores in the city of Van, Turkey,  a cat and a fox are often seen playing together. A local said he first saw them together when they shared some left over fish from a fisherman.
The pair soon began to play together and it has now been over a year since they began this unlikely alliance.
11. Baloo (The Brown Bear), Leon (The Lion) and Shere Khan (The Tiger)
The tale of Shere Khan the tiger, Baloo the bear and Leo the lion is truly touching. The three of them were rescued together from a drug dealer who had abused them extensively. Baloo even needed surgery to remove a harness that had grown into his skin and caused deformities – the owner had never bothered to adjust it. Because of what they've suffered together, the three friends are now inseparable. They are under the care of the Noah's Ark Animal Sanctuary in the U.S.
12.  Manni, the Wild Boar Piglet and Candy ,The Terrier
 Manni the wild boar piglet was found starving in a field in southwest Germany and brought home by the Dahlhaus family. When he was introduced to their Jack Russell terrier Candy, the two immediately hit it off. Since last we heard, Manni is recovering well and will either stay with his family or move to a wildlife park.
13.  Kasi, The Cheetah and Mtani, The Labrador
Kasi and Mtani were raised together at Bush Gardens in the U.S. During their youth, their unusual friendship was a treat to watch. As he grew into adolescence, however, Kasi began drifting away from Mtani and becoming more interested in the female cheetahs in the next pen. While Kasi now spends more time with other cheetahs, the two are still good friends and often visit schools and other places together.
13. Rabbit and Deer
Spotted by animal photographer Tanja Askani, this unusual deer and rabbit duo looks like right out of Disney's classic Bambi.
14. Anjana, The Chimpanzee and Tiger Cubs

These two white tiger cubs were separated from their mother after her enclosure was flooded during a hurricane. Fortunately, they've been adopted by a U.S. animal reserve by Anjana the chimpanzee and their caretaker, China York. Anjana has helped China raise many different orphaned animals, so we're sure they're in good hands.
15. Chimpanzee and Dog