Amazing display of Noctilucent clouds and Northern lights above Caithness, Scotland, on August 20, 2013. (Photo by Guzelian)    
Robby Gordon and Kellon Walch of the United States for Hummer Team Speed Energy compete during Day 5 of the 2014 Dakar Rally on January 9, 2014 in San Jose, Argentina. (Photo by Dean Mouhtaropoulos/Getty Images)
Winter evening sunset over Cork famed Shandon steeple, on January 4, 2014. (Photo by Eddie O'Hare/PA Wire)   
Jennifer Berry watches the sunset from a lifeguard chair at a beach on Lake Calhoun in Minneapolis, January 7, 2014. (Photo by Eric Miller/Reuters)     
The sun rises across the fields around Pershore, central England, Friday, January 10, 2014. After Britain has been pummeled with severe winter storms since late December, raising the water table and causing flooding in much of western, central and southern parts of the country, a brief respite is expected for the next two days. (Photo by David Davies/AP Photo/PA Wire)    
Kabul Sky 8 by Morando (Photo) | Weather Underground   
The MSC Magnifica cruise ship enters the mouth of River Tyne at sunrise, on August 27, 2013. The MSC Magnifica ship is 293.8 metres long, has 1259 cabins and can carry 2,500 passengers who are looked after by a 1,000-strong crew. (Photo by Owen Humphreys/PA Wire)    
Dramatic Time lapse Clouds. Sunset in Kabul, Afghanistan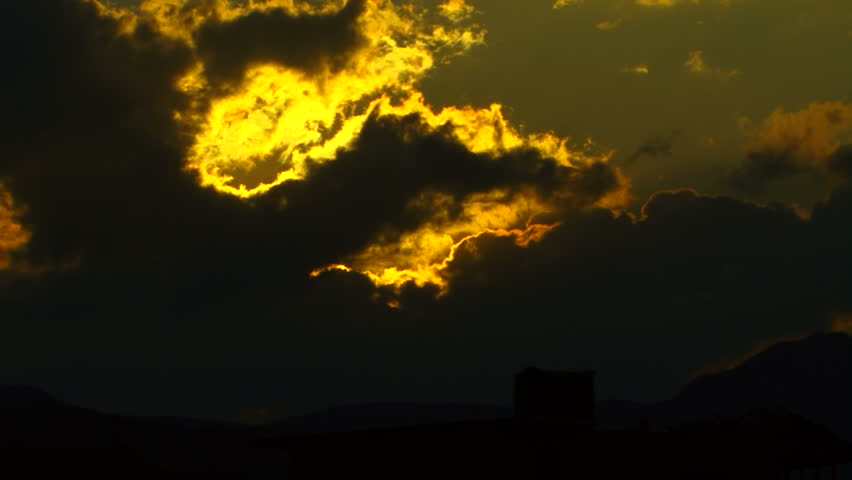 07:44 a.m.- December 5, 2013 -180° panoramic view of the sky – glad I brought the wide-angle lens!  (lensesforhire.blogspot.com)
These amazing clouds that were photographed in Australia didn't happen by jets passing by. They are called Morning Clouds and no one knows why they appear that way. They stretch 1,000km long and can cause serious problems to airplanes passing by.(kuwaitiful.com)   
"These clouds appeared just before sunrise," says photographer Mike Bartils. These are, essentially, man-made noctilucent clouds (NLCs). Water vapor in the exhaust of the rocket crystallized in the high atmosphere, creating an icy cloud that turned blue when it was hit by the rays of the morning sun. Years ago, space shuttle launches produced similar displays.
Natural NLCs form around Earth's poles when water vapor in the mesosphere crystalizes aroundmeteor smoke. Sometimes they spread as far south as Colorado and Utah, but rarely or never Florida. Electric-blue over the Sunshine State requires a rocket launch, and that's what happened today. (From SpaceWeather.com) 
sky, clouds, spiral, India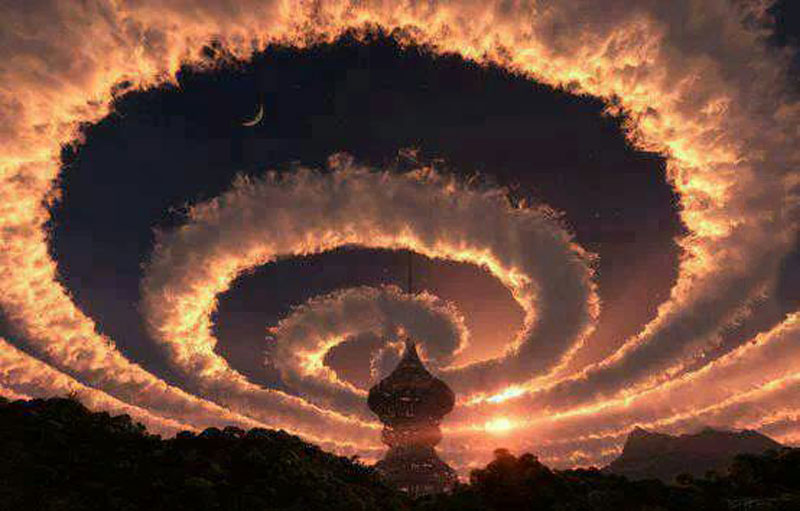 Awesome cloud over Cable Beach, Western Australia   
Sydney storm March 2014 -The clouds completely dwarfed the city's landmarks and the storm forced flights to be diverted.    
This photo was taken at Maroubra Beach, Sydney   
Beautiful red clouds over long reef, Australia    
The Kelvin-Helmholtz wave cloud looks like crashing ocean waves. These beautiful clouds are named after German physicist Hermann von Helmholtz and British physicist Lord Kelvin, because they form when two different layers of air are moving past each other at different speeds. The above layer is faster. Some parts of the boundary – a shearing layer – move down, and others move up.   
Fallstreak hole, Linz, Austria    
Cloud formations over the Pacific Ocean (image Richard Arculus)  
Asperatus formation, Canterbury, New Zealand    
Absolutely spectacular shot of lenticular clouds over the Sandwich islands. Also known as altocumulus standing lenticularis, these are stationary, lens-shaped clouds that form at high altitudes.    
Anvil Clouds    
Fire rainbow Idaho USA   
Fire Rainbow – It is the 90° inclination that produces the well-separated rainbow-like colours and, if the crystal alignment is just right, makes the entire cirrus cloud shine like a flaming rainbow.   
Lenticular Cloud appeared in Las Vegas, Nevada.    
Wall cloud, South Dakota    
Adventures in Tornado Alley    
A circumzenithal arc smiling over Stratford-Upon-Avon, UK.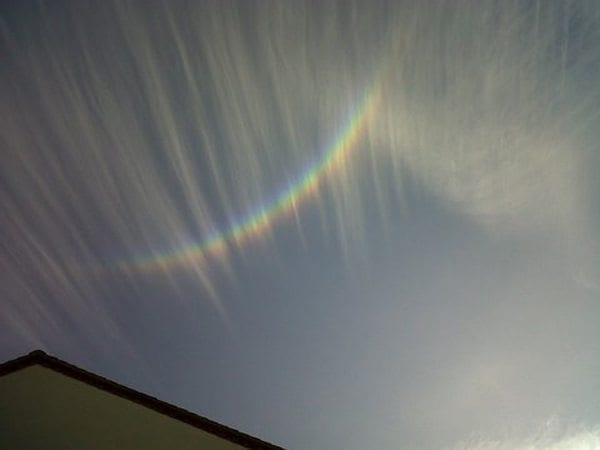 Rio de Janiero, Brazil   
Sun and Clouds Alexandria Egypt by Mina Aboud    Egypt – Clouds Over Pyramid Photograph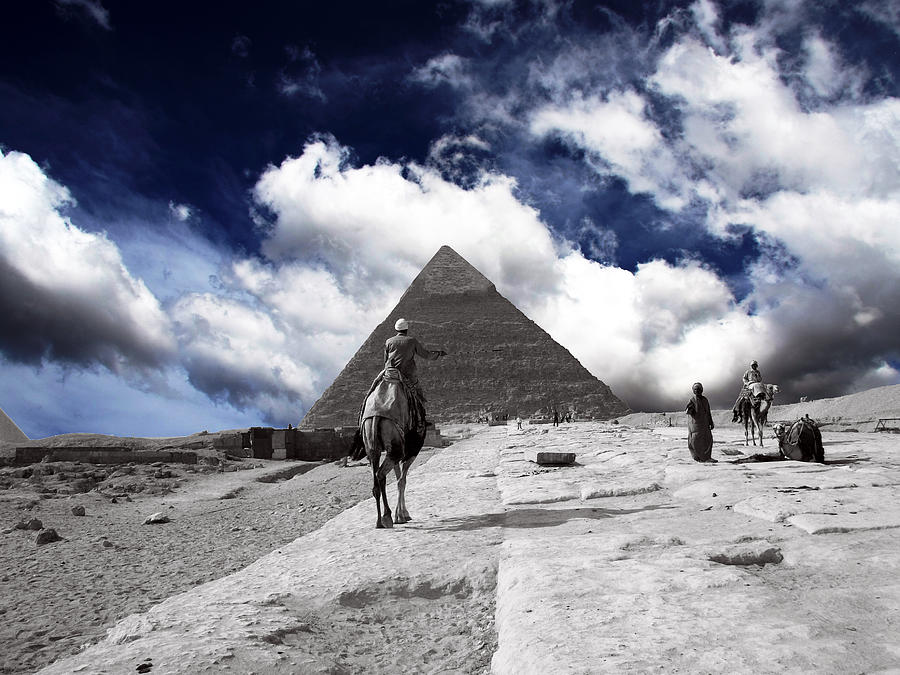 Fire – Sinai Sunset, Egypt   
STRANGE CLOUDS IN DUBLIN, IRELAND? MARCH 17, 2014 (EXPLAINED)   
Dark clouds at sunset; C Duchesne; 1976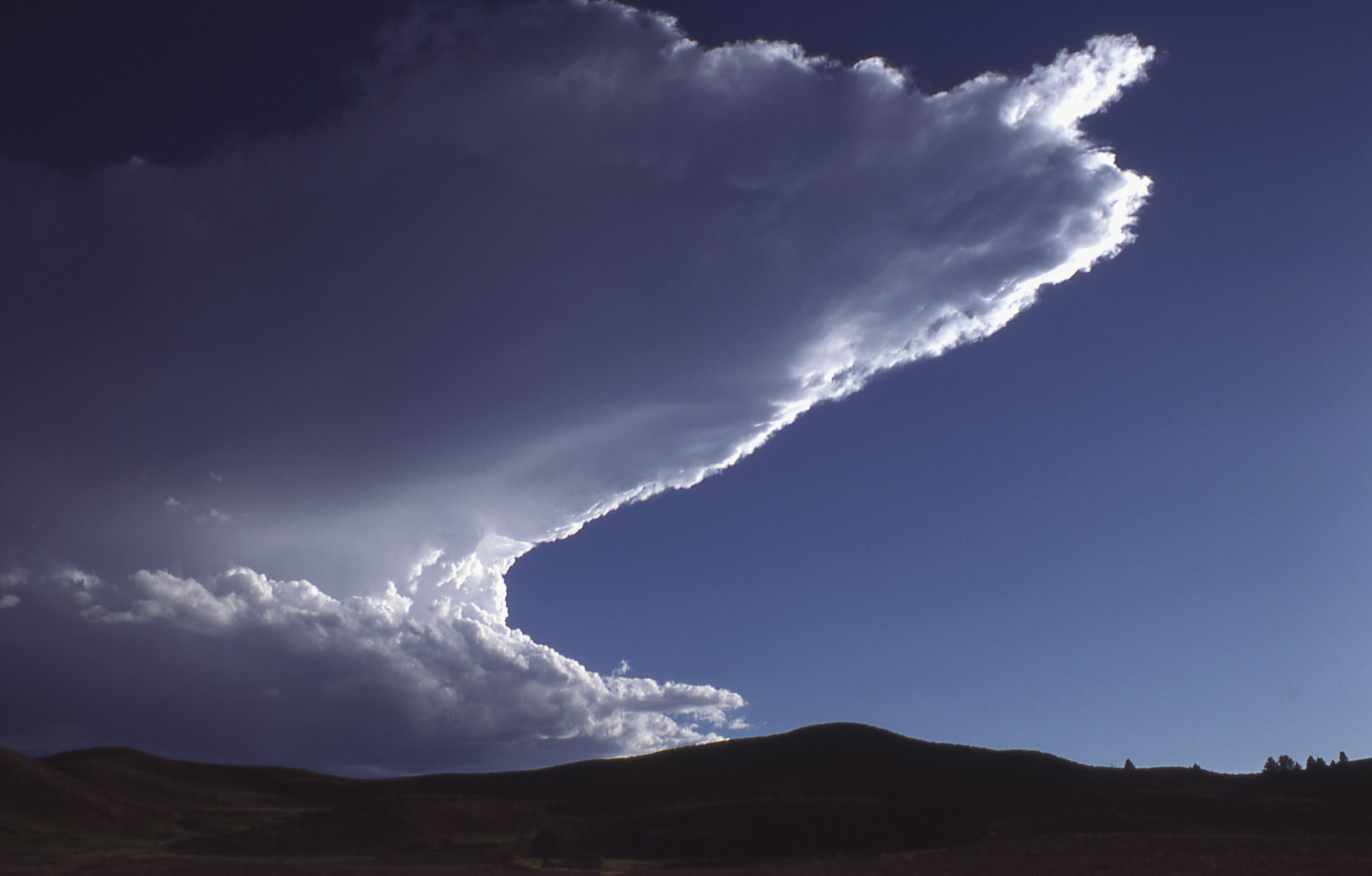 Northeast South Dakota milky cloud. It is when down the cooler air temperature of airflow inside the updraft temperature warmer air met formed.    
Giant Tsunami-Shape clouds roll across Alabama Sky   
This fallstreaks or cloud holes was taken in the morning of February 18, 2015 between 6:30 and 8am at Eastern Washington or Northerh Idaho.    
The photo  shows a classic example of a hole punchcloud and accompanying fallstreaks as observed over Gold River, California on February 2, 2013. I was playing tennis with my girlfriend in the early afternoon when this intriguing gap in the clouds caught my eye. Hole punches are almost always caused by an aircraft passing through a shallow cloud deck. Supercooled water droplets in mid-level clouds perturbed by the tail or wings of an airplane will freeze instantly. This releases the heat of fusion –  the resulting latent heat warms the air and evaporates the cloud deck about the entry point. The feathery wisps near the center of the hole are fallstreaks formed by falling ice crystals. (
Photographer
: 
Jeff Shin
Summary Authors
:
Jeff Shin
;
Jim Foster
)   (Source: epod.usra.edu)  
This photograph was taken after a pair of perfectly straight contrails become distorted and twisted, and eventually broke into isolated rings. The initial contrails didn't result from exhaust contrails as would commonly be observed from high altitude aircraft. Nor were they vortex contrails as sometimes are seen from the wingtips of a plane, typically at high humidity and low altitude. Rather, they seem to be a hybrid of the two — wingtip vortices interacting with exhaust contrail to produce a pair of very crisp contrails.
Subsequently, instabilities in the vortices, known after their discoverer as Crow Instabilities, cause them to interact, and ultimately to join. This has the effect of breaking up the long contrail pairs whereby they link up with their partner, creating cloud rings or loops. Only a narrow range of temperature and humidity conditions allow this to occur; the kind of weather just right to go out for a spring walk in the Oxford countryside. Photo taken above Standlake, Oxfordshire, England on April 6, 2015.
Photographer: Brian Barrett  Summary Author: Brian Barrett (Source: epod.usra.edu)    
The panoramas at top and bottom show attention-getting mammatus clouds over San José Pinula, Guatemala and Lasham, Hampshire, U.K., respectively. Mammatus clouds such as these can form when downdrafts in athunderstorm complex push against a storm cell's base. On occasion they're observed on the underside ofcumulonimbus anvil clouds. It may look as though a funnel could decent from a droopy mammatus, buttornadogenesis occurs in rotating storm systems, not from protruding clouds. Top photo taken on February 12, 2015; bottom photo taken on May 12, 2015.
Summary Authors
: 
Diego Fabriccio Díaz Palomo
;
Ken Summers
;
Jim Foster
  (Source: epod.usra.edu)   
 (Source: epod.usra.edu)   
Undulatus asperatus (or alternately, asperatus) is a cloud formation, proposed in 2009 as a separate cloud classification by the founder of theCloud Appreciation Society. If successful it will be the first cloud formation added since cirrus intortus in 1951 to the International Cloud Atlas of theWorld Meteorological Organization. The name translates approximately as "roughened or agitated waves".
The clouds are most closely related to undulatus clouds. Although they appear dark and storm-like, they tend to dissipate without a storm forming. The ominous-looking clouds have been particularly common in the Plains states of the United States, often during the morning or midday hours following convective thunderstorm activity. As of June 2009 [update] the Royal Meteorological Society is gathering evidence of the type of weather patterns in which undulatus asperatus clouds appear, so as to study how they form and decide whether they are distinct from other undulatus clouds.   (Source: reddit.com)     
Ash clouds from Chile volcano creates spectacular sunsets around the world   
Lenticular cloud over Iceland on May 25, 2015 by Anne Greschuk.  
Lenticular cloud- These lens-shaped clouds typically form where stable moist air flows over a mountain or a range of mountains. When this happens, a series of large-scale standing waves may form on the mountain's downwind side. If the temperature at the crest of the wave drops to the dew point, moisture in the air may condense to form lenticular clouds. As the moist air moves back down into the trough of the wave, the cloud may evaporate back into vapor. So lenticular can appear and disappear relatively quickly. Plus they're not familiar to people who live in low-lying or flat terrain. And, just to confound things, lenticular clouds have also been known to form in non-mountainous places, as the result of shear winds created by a front. For all of these reasons, lenticular clouds are often mistaken for UFOs (or "visual cover" for UFOs). (Source: democraticunderground.com)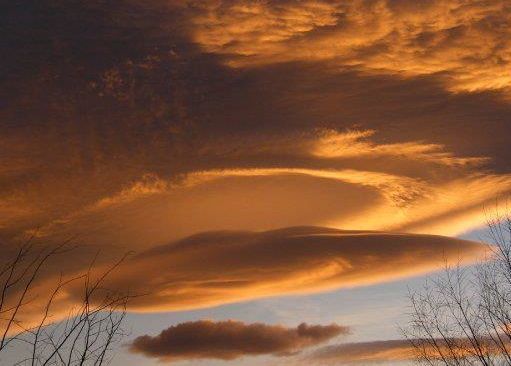 Lenticular Cloud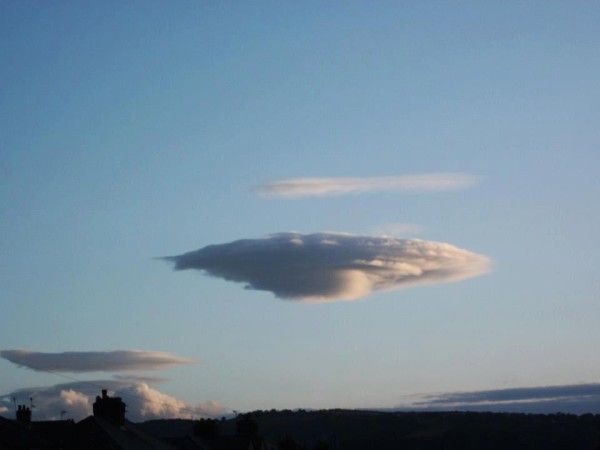 Wild Mojave Desert Skies – Lenticular Cloud Drama   
Volcanos of Kamchatka, Siberia, Russia.    
Sunrise over Small Pond, Indiana