Gliding into the record books, Zyla St. Onge, at six months and 27 days old, became the youngest water-skier in the world as she traversed nearly 685 feet of water on skis at Lake Silver, Florida, on Saturday, May 21.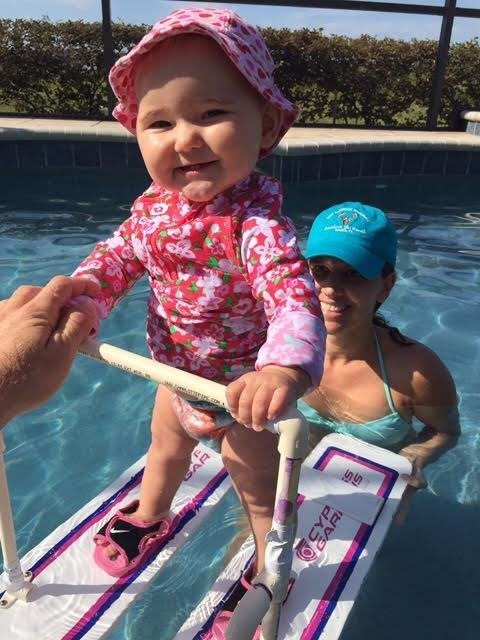 Parents explain how they 'trained' baby daughter Zyla to water ski
The Florida parents who controversially let their daughter water ski behind a boat at just six-months-old have explained how they trained the little girl – and why they are sure it wasn't dangerous.
Parents Keith St. Onge, a champion barefoot water skier, and Lauren Lane St. Onge, a champion show skier, spent three weeks dragging their daughter Zyla around the house on the purpose-built 'baby ski' they made her.
'She got it straight away,' Lauren told Daily Mail Online on Thursday.
'My husband would follow behind her so she wouldn't fall. It became like a game.'
Scroll down for video 
Getting ready: This home video by Lauren Lane St. Onge shows her husband, champion barefoot water skier Keith St. Onge, teaching their daughter Zyla how to ski by dragging her around the house
'She was a natural': Zyla gripped a handle bar attached to the skis. The parents spent three weeks dragging their daughter Zyla around the house
Zyla cannot walk yet or even crawl, however her parents say they knew almost straight away that she – like them – loved the water.
'You put this in a pool or a lake or a bathtub and she is cheering and kicking her legs. She loves it,' Lauren said.
However it was the little girl's infancy that troubled people when a video of Zyla going skiing on Lake Grew in Florida went viral this week.
The feat of a 700ft ski without support was called a record-breaking run, however others called it irresponsible and dangerous. What if she had fallen in the water?
Lauren said that she never feared for Zyla's safety and that the expedition was well-planned and thought out.
'I see where those people are coming from, but they don't know what they are talking about,' Lauren said.
'Water skiing for us is like going for a job for other people. It's just what we do. We live and breath it. I first learned aged three.
'We would never put our daughter in danger.'
Testing the water: Baby Zyla is just six months old and can't crawl yet – but she can water ski
The baby girl appeared calm and relaxed as she cruised on a lake in Florida last weekend – and she would have gone farther given the chance
Zyla skied almost 700ft on a pair of modified water skis as her parents watched from the shore
Her parents say she has always loved the water and cheers and kicks her legs even in the bath
It only tracks the youngest and oldest to ever compete in national championships.
'I am presuming this is something that the folks at Guinness World Records may track,' Atkinson said in an email.
Six-month-old Zyla skied nearly 700 feet Saturday in what the owners of a Florida water ski school called a record-breaking run – but Guinness doesn't record anything for people under 16
In video footage, the girl's parents can be seen running alongside the baby in the shallow water as she glides on a pair of modified skis
Keith said he had contacted Guinness officials, but they told him they don't record anything involving individuals under age 16.
Zyla's parents noticed that when she was able to stand, she had a strong grip on whoever's hand she was holding, so they thought she might be good at water skiing.
They placed her in skis inside their house, pulled her across the carpet and saw that she loved it, St. Onge said. She also was used to the water from trips to pools and lakes.
Keith said he realizes some people might not think it's appropriate for someone so young to be water skiing, but he said safety measures were taken and it happened in the controlled environment of a private lake geared for water skiing.
'People don't realize that it was done properly,' he said. 'It was planned and she was ready for it.'
Keith is a champion show skier, Lauren Lane St Onge is a champion show skier.
The WBC wrote wake boarding star Parks Bonifay set the previous record of 100 feet at the age of six months and 29 days.
via http://ever4online.com/