This world's anguish is no different
from the love we insist on holding back.
NO young child is an enemy who doesn't even understand war.
"War violates every right of a child – the right to life, the right to be with family and community, the right to health, the right to the development of the personality and the right to be nurtured and protected."  
"….modern wars are exploiting, maiming and killing children more callously and more systematically than ever"
~ Graca Machel 1996 and 2000
War creates an anger, a RAGE that lasts for thousands upon thousands of years.
Ask those who have "lost" wars. We ALL lose in war. We may lose our "humanity", our compassion 'only', or we may lose lands, homes, family,but we ALL lose in war. Wars CREATE losers.
Turkish photographer Osman Sağırlı took this picture at a Syrian refugee camp: Nadia Abu Shaban's post on 24 March has been shared more than 14,000 times, sparking threads on Reddit and other forums being inundated with thousands of comments.
With her brother on her back a war weary Korean girl tiredly trudges by a stalled tank, at Haengju, Korea. June 9, 1951.  
The salute was the little Filipino lad's own idea, when a Coast Guard Combat Photographer encountered him somewhere on liberated Leyte Island. Ca.1945.     
Unhealthy and suffering from hunger child in the clinic Miabi, Congo, 26 January 1961. (AP Photo)   
Malnourished Vietnamese child eating a can of American C-rations at a refugee camp during the Vietnam War, Vietnam", by Paul Schutzer, 1965
Biafra, 1969:A starving albino boy, harassed and discriminated against for the colour of his skin, clutches an empty corned-beef tin at an orphanage ~ Don McCullin     
Damascus Center for Human Rights Studies documented on Thursday 4/12/2014 Forty Three (43) victims who were killed in different cities across Syria, most of them fell in Der Ezzor and Damascus   
One of the most devastating effect of the Gaza War is how children are victimized.
Children survey the ruins of their village in South Vietnam    
1918. Moscow. V. Lenin on Red Square on the day of the first anniversary of October Revolution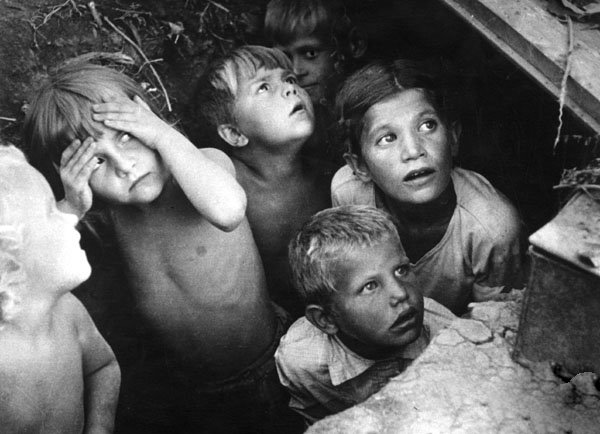 Botswana Defense soldier and Somali toddler during an arms raid in Mogadishu (Image in public domain)     
A Palestinian schoolgirl walks past Israeli border police officers on her way home from school during clashes between Israeli troops and Palestinian stone-throwers in the Shuafat refugee camp in the West Bank near Jerusalem.     
1940 Children struggle to survive in the rubble and devastation of World War II.
Vietnam War Kids from the zeitgeist movement   
On Hiroshima's outskirts, homeless children huddle by a fire, September 1945.    
Ladies and kids hiding in a ditch on the Viet Cong fire at Bao Trai, 20 miles west of Saigon, Jan. 1, 1966. (AP Photo)  
Praying for Less War
An Afghan boy greets a U.S. Army soldier from Alpha Company, 1-22 Infantry Battalion who is on position to provide security to a joint U.S.-Afghan military checkpoint along a road in Kandahar province in southern Afghanistan on October 10, 2010.  (Photo: Erik de Castro/Reuters)   
Victoria Chant weeps as the coffin of her father, British soldier Darren Chant, is carried out of the Guard's Chapel following his funeral in London on December 1, 2009. Warrant Officer Chant, Regimental Sergeant Major, 1st Battalion Grenadier Guards, was killed on duty in Afghanistan on November 3, 2009. (Photo: Toby Melville/Reuters)   
No room of his own. A boy sits at his parents' house,damaged by shelling by forces loyal to Syria's President Bashar al-Assad, in Talbiseh, near Homs on August 31, 2012. By the summer of 2012, President Assad had unleashed the full power of his military onto his people to maintain his power. (Photo: Shaam News Network/Reuters)   
Liberia civil war, lots of children below the age of 14 were used as battle soldiers. These children became disoriented. Others are molested and forcefully separated from their parents.  
Children of the Jihad: ISIS Behead Kurdish Children; Train Kazakh Children to Fight   
Displaced Iraqi children sit inside a UNHCR tent at a temporary camp set up to shelter people fleeing violence in northern Iraq on June 17, 2014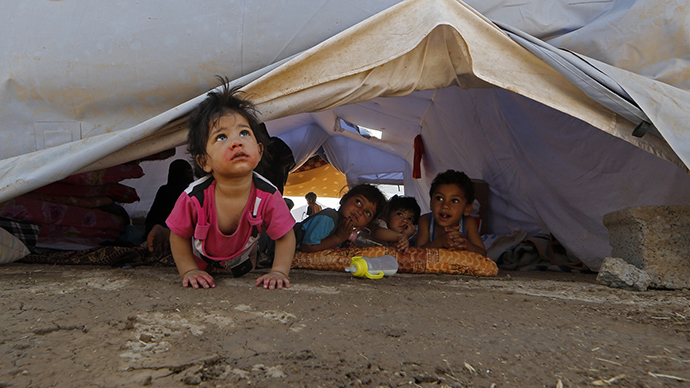 A Syrian Kurdish child looks through the fence of a refugee camp in the town of Suruc, Turkey, last month. The advance of Islamic State jihadists on Kobane has forced some 200,000 refugees to flee across the border to Turkey.   2014 
Thousands of desperate Syrian refugees seek safety in Turkey after outbreak of fresh fighting  
Two Kurdish boys carry a TV screen frame in Kurdistan, Turkey, 1993Image Credit: ©Reza Deghati.   
A wounded Syrian girl stands in a makeshift hospital in the rebel-held area of Douma, east of Syria's capital of Damascus, following shelling and air raids by Syrian government forces on August 22, 2015. At least 20 civilians were killed, and another 200 wounded or trapped in Douma, a monitoring group said, just six days after regime airstrikes killed more than 100 people and sparked international condemnation of one of the bloodiest government attacks in Syria's war. (theatlantic)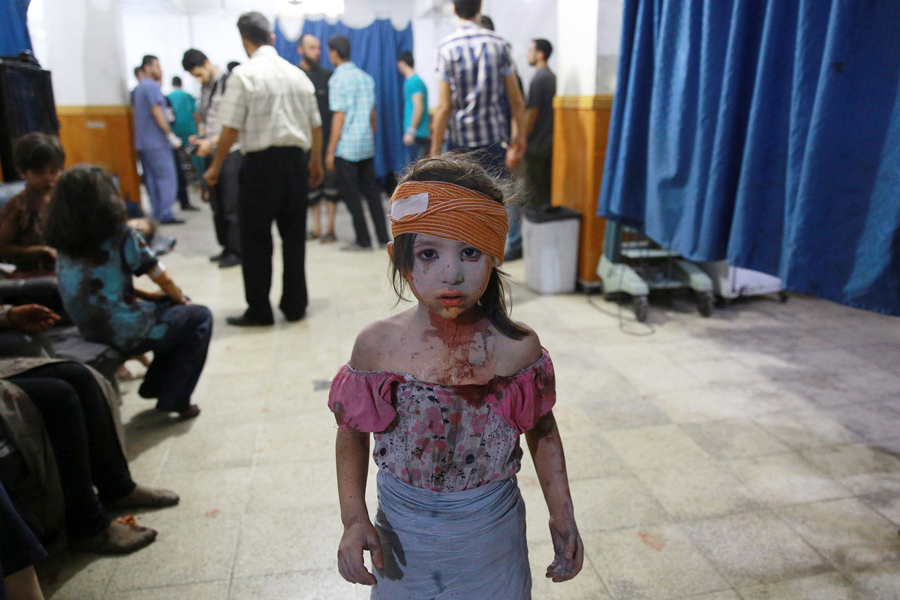 Many children in war zones become refugees due to separation from or death of their family. Orphaned children often have limited access to food and clean water and therefore become susceptible to deadly illnesses and face life-long health problems. It is estimated that such diseases account for 60-80% of the deaths of displaced children of war*.
Those that survive are not considered lucky. In many instances, vulnerable boys are brainwashed into becoming child soldiers, working with the oppressors and regularly engaging in combat. Girls can be exploited into sex trade, forced to offer sexual services, married off to rebel leaders, or even sexually mutilated.  (engagingpeace.com)