origami paper garden inspires Peace in Nagasaki, Japan
Foam is a spectacular installation by Japanese artist Kohei Nawa that transforms a room into a magical scene, making it seem as though visitors are walking up on the clouds. Unveiled at the Aichi Triennale 2013, the artist's piece offers a dreamy landscape in an otherwise pitch-black room. The Osaka-born, Kyoto-based artist creatively transports viewers to an alternate universe without ever having to physically move them. Instead, he forces visitors to tap into their own imagination.
Though Nawa's installation is neither in the clouds or even actually made of cloud particles, he has managed to simulate their appearance enough to excite and delight visitors. Experimenting with variating solutions of detergent, glycerin, and water, Nawa was able to produce the foamy material that is stiff enough to retain an upright position, yet still fragile enough to be manipulated and disintegrate.
Paris building and the art of paper cutting
Japanese artist Sachiko Abe cuts fine strips of paper for hours on end in her performance series titled Cut Papers. Having first discovered the calming effects of shredding paper over 15 years ago while admitted at an insane asylum, the artist now explores the act's meditative properties as an art form. Abe most recently performed Cut Papers #13 this year at the 18th Biennale of Sydney at Cockatoo Island.
Ethereal Paper Sculptures Float Inside a Church
Peter Gentenaar isn't any ordinary paper artist. He creates extraordinarily beautiful paper sculptures that have an ethereal quality to them. His exhibition at the abbey church of Saint-Riquier church in northern France proves this point. It's where he hung more than a 100 paper sculptures in the church's grand halls. (What a perfect backdrop.)
For nearly 10 years, Sophie Mouton-Perrat and Frédéric Guibrunet have combined soft lighting with delicate paper craft to create ethereal sculptures.
Amazing Ice Sculptures Art..  Ice Magic at Lake Louise, Canada
Ice Leopard
Kusama Pumpkin square by Shigeo Anzai
Instagram artist Bernulia creates amazing art using spilled coffee
Amazing Food Art: A Chicken Made With… Eggs
Leaf painting – Falling Back to Earth by Cai Guo-Qiang
Installation view of Head On at the Gallery of Modern Art, Brisbane, 2013.
One of the exhibitions at Gallery of Modern Art Brisbane, Queensland, Australia (Source nhlifefree.com)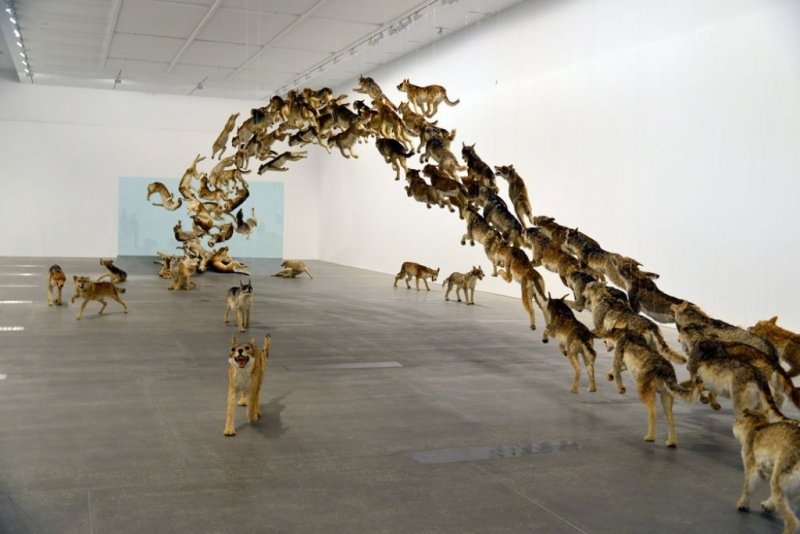 View at the Mori Art Museum in Tokyo is Motohiko Odani's hauntingly beautiful sculptures. His unique style has won this artist acclaim both in Japan and abroad, and in 2003 he was selected as one of the artists to represent Japan at the Venice Biennale.
Painting of Jose Alfredo Jimenez by Octavio Campo – Metamorphic painting
Amazing Arts By Tomek Setowski Painting
Amazing Digital Arts By Russia Artist LLen29
Fruit Carving
Amazing 3D art photo
Amazing Body Paintings and Art work from World Body Painting
Amazing Digital artist Hans Peter Kolb from Germany. He was well-known of his incredible works. The giant visions of Gods and humanity was show on his canvases. Not so much at harmony within their landscape but sewed into the very fabric of its existence.
Amazing Rare Thing: the Art of Natural History in the Age of Discovery has been arranged by the Royal Collection curators in association with Sir David  Attenborough
Amazing body-art illusions
Kinetic Sculptor – kinetic art
The ethereal phenomena of bubbles have captivated people for hundreds of year
Incredible Flower of Made Out of Glass
Awesome and Creative Sand Art
AMAZING ARTS AND ARTISTS: PHOTO ART BY DON DONALD CECIL
ARTIST PUT SOME AMAZING ARTS TO MAKE PEOPLE SMILE
JARDIM GRAMACHO RIO DE JANEIRO, BRAZIL, COMMUNITY ART
AMAZING ART: BOSTO EXHIBIT
AMAZING  Img-35
TOYAMA GLASS ART 
BEAUTIFUL SMOKE WITH DIGITAL ART
CANDLE SMOKE RAINBOW
STONE WORK
ROCKS OF ART: STONE PAINTING
OPTICAL ILLUSSION PAINTING: BRIDGE TURNS INTO BOAT. ROB GONSALVES  THE SUN SETS SAIL
SURREALIST ART/ ZHUANGZI DREAMS
FINGER DRAWING ART
AWESOME ART OF 100,000 TOOTHPICKS
STUNNING DIGITAL ART BY ALEXANDER ROMMEL
INSPIRED BY the origins of light and the beautiful night skies of Alberta, Calgary-based creatives Caitlyn R.C. Brown and Wayne Garrett came together to create CLOUD, a spectacular art installation resembling a life-sized cloud built from 6000 incandescent light bulbs and 1500 lbs of steel.