Surrealistick interior restaurant L'Opera Restaurant in Paris
The impressive interior of the restaurant L'Opera Restaurant, located in Paris (France). The project was developed in the institution for three years, and the cost of its implementation was about 6 million euros.
Author of the interior, the most famous woman architect Odile France Dec (Odile Decq) and her deceased partner, architect and doctor Benoit Cornette (Benoit Cornette, 1953-1998), never afraid to large and complex projects.
The most impressive feature of the new restaurant became undulating glass walls, zoning space, unique winding space for relaxing and socializing, contrasting combination of white and red colors, and exciting the imagination of interaction signs of various epochs, artistic and architectural styles.
Composed of wool panels lashed together with rubber bands, these "clouds" banking so effortlessly across the ceiling of SmithGroup's new DC office took about 40 hours to put together on site. "Never again!" principal Rob Moylan told me, joking that his arms still hadn't recovered.
Russian style in the interior
With the fall of the Soviet Union, the whole world has finally opened to the West. Russian culture and art are exciting and very rich, so those who have never been there and did not live to be something to learn.
Seeing photos of Russian interior, you make sure that the characteristic feature is its rather heavy furniture, unlike the major trends that dictate the west. In general, Russian design is conservative. Russian traditional elements of style are considered decorations of the Russian Empire, namely, very beautiful, saturated color wallpaper, lots of velvet and brocade. At the moment, Russian style in the interior develops and transforms, using the ideas of the West.
Cubist Bathrooms and Kitchens by Gemelli
These colorful geometric bathroom designs by Bulgarian twin designers Branimira Ivanova and Desislava Ivanova are sharp and dynamic, with all of those colorful shapes and angles multiplied by mirrors.
H.R. Giger Bar, Switzerland
Few spaces are more surreal than the H.R. Giger Bar in Gruyéres, Switzerland, which takes its cues from the artist's work. The skeletal motif found within, with giant vertebrae arches, makes it feel like you're inside some monstrous creature.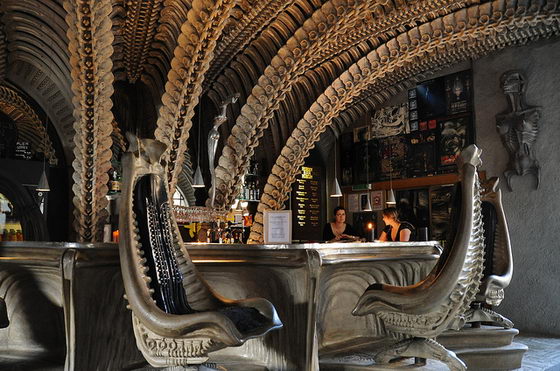 HITGallery Hong Kong
The paintings of artist Giorgio de Chirico inspired this surreal black, white and blue shop interior in Hong Kong. Symmetry, a restrained color palette and the scale of the humanoid shelves that take up the center of the store make it feel like stepping into a work of art.
Surreal Louis Vuitton Interior
Japanese artist Yayoi Kusama designed this incredible concept store for Louis Vuitton at Selfridges in London, with her trademark polka dots taking on a larger scale than ever throughout the entire interior.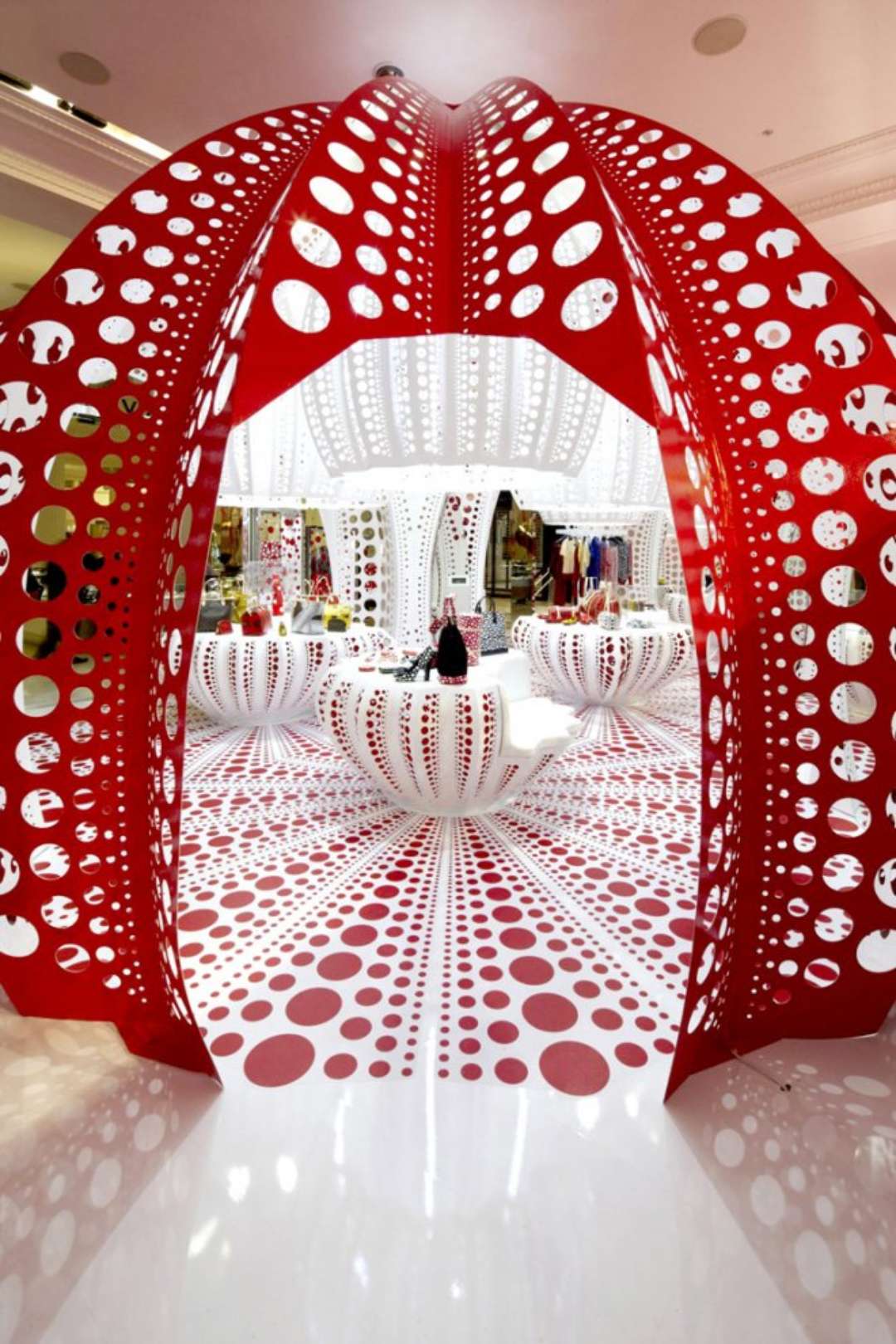 Arabesque Shadow Interiors
Vegas Beijing Noodle No. 9 Provides a Surreal Dining Environment
With an interior by Japanese Studio Design Spirits co., ltd, the Vegas Beijing Noodle No. 9 restaurant features a woodland-patterned steel throughout the interior with arabesque shadows illuminated by LED lights on the tables, floor, and appliances. These come together to create a cohesive space and what Dezeen calls a "visually calm atmosphere in the heart of a surrealistic environment."
Bizarre Japanese climbing wall provides the most surreal climb ever
Indoor rock climbing is a huge sport, in Japan as well as in the United States — but why climb fake rocks, when you can climb someone's wall hangings? The Illoiha Omotesando fitness center in Tokyo lets you climb a wall that looks like it belongs to a mad evil family whose picture frames are all empty.
The wall's designer, Nendo, explains the philosophy (via Inthralld):
To express the original brand concept of "becoming beautiful through movement", we chose the theme "rock-climbing in Omotesando" and developed a design that uses the mismatch between a rugged outdoor sport and Tokyo's fashion district to its advantage. Instead of the usual rough and outdoorsy climbing wall, we came up with the idea of using interior design elements like picture frames, mirrors, deer heads, bird cages and flower vases to create a challenging wall with hard-to-find holds and unusual finger grips. We hope that our uniquely Omotesando-style climbing wall inspires newcomers to try out the sport, and starts a new wave in fitness with style.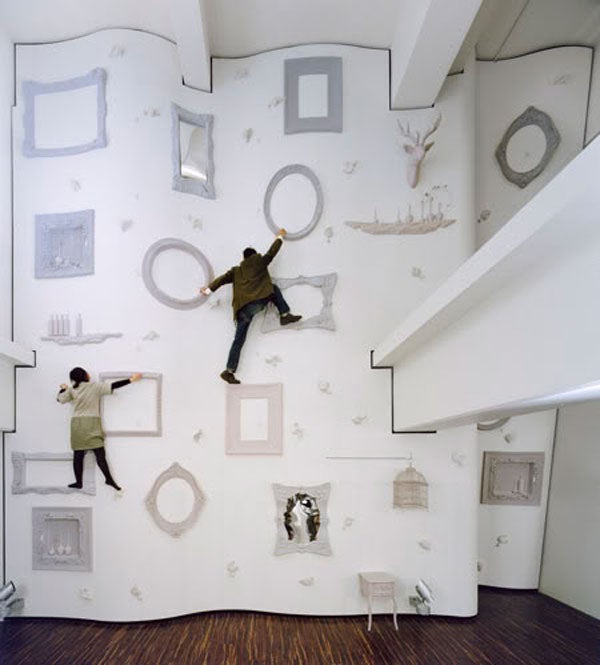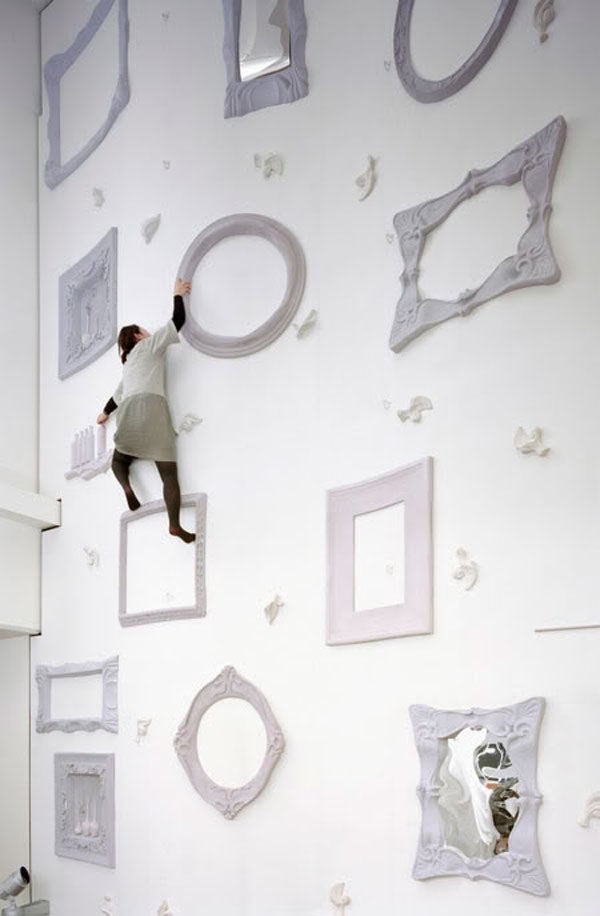 Ghostly Interior for the PLAY Project by Ka-Lai Chan
The PLAY Project is a community-based art project that Dutch designer Ka-Lai Chan is a part of in which artists and temporary inhabitants do various installations and projects. Chan took over a living room / gallery and covered everything with tape, and I do mean everything.
The furniture and objects that are on or pushed up against the wall look as if they are pushing through or growing out of the wall. It's surreal looking, right?
From my understanding, the PLAY Project is part of a bigger art project where buildings in Utrecht that are set to be demolished are temporarily handed over to artists to do with what they like. It's all about building a bigger and more close-knit artistic community.