Vernacular architecture is an architectural style that is designed based on local needs, availability of construction materials and reflecting local traditions. At least originally, vernacular architecture did not use formally-schooled architects, but relied on the design skills and tradition of local builders. However, since the late 19th century many professional architects have worked in versions of this style. (wikiwand.com)
THE TRADITIONAL HOUSES: 
THE CONSTRUCTION OF A MUDHIF (REED BUILDINGS IN THE IRAQI MARSHES)
Ma'dan houses are architectural marvels – all built without any nails, wood or glass. It takes as little as three days to build a house, using a method that has remained unchanged for the thousands of years since these people have inhabited the marshes.
Houses built of reeds had the additional advantage of being portable. In the spring, if the marsh waters rose too high, a five-arched raba could be taken down, moved to higher ground, and re-erected in less than a day. With proper care and repair, reed dwellings could last for well over 25 years. (zme science)
Stone house in Portugal
Nipa Hut is made of nipa and  bamboo in Philippines
Capnay house of Igorot in Philippines is made of wood and cagon grass. Divided in two stories, with each story performing specific functions.
Stone House
Pakistan mud house
SAUDI ARABIA MUD HOUSE: Mud houses reflect the history and culture of Saudi Arabia and its people
Mud house, Tonga Hills, near Bolgatanga, Ghana.
Decorated Mud House of India
Decorated mud house in Tiebele, Burkina Faso 
Mud and straw are also used to build huts like this in Ghana, Africa
Mud House in Yemen
Sand Bag House
Desert House in India
Sand House
Straw house
Honolulu, Hawaii Straw House
Thatched Hut, Swazi Village, Swaziland, South Africa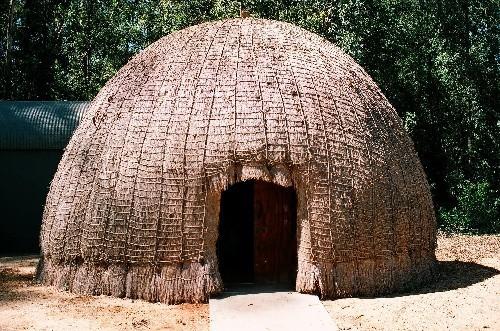 Clay House
Flinstones' House made entirely of clay
Clay house
Mali – Africa – Mali's earthen buildings are renowned worldwide for their aesthetic beauty and diversity
Traditional Sahel Architecture of Segou
Dorze Traditional House of Ethiopia 
Dorze people lives southwest Ethiopia in the mountains north of Arba Minch and they are famous for their huge huts, resembling a giant beehive. Although these huts look fragile, they can last up to 60 years. The huts can also be transported to another locations, thanks to the structure made of vertical poles. Traditional Dorze huts/houses.
In the middle of the hut there is an open fire for cooking. There are also low benches to sit around the fire. Along the walls are located sleeping places and places for storage.
Smaller huts can include guest houses, a workshop kitchen and even cattle Dorze huts
The Chencha house is found in a small relatively high area West of Lake Margarita, South of the city of the city of Boroda. The Chencha house is more oval than hemi-spherical in shape. The height of the hut sometimes exceeds 8 m, and is usually not less than 6 m. Apparently there is a good reason for making it as high as it is. As soon as the portion which is directly in contact with the soil begins to rot, as indeed it does, the whole house is sunk to an appropriate extent allowing the fresh portion of the wall to come in contact with the earth. This is done as often as necessary until the hut becomes too low for normal human activities to take place inside it.
The entire house is constructed with almost blind walls except the door and smoke outlets.Constructions are carried out with scale variation for different purposes but with the same form. A main space integrated with a second airy space forming the nose like entrance.
Every hut hat a sort of "nose" at its south side, serving as reception room were accustomed at the rather darkness, coming from the full sunlight, to see the construction of the hut from the inside. It's surprising the large hut when outside it looked so small. Inside Dorze hut: animals live inside with the people.
The flooring, the walls and the roofing and even the partitions are made from bamboo.  The doors are usually made of timber. The leaves are used for finishing. Material collection and preparation (Building sequence.
The Dorze houses are constructed entirely from organic material :  Bamboo  Enset (false banana) leaves  Grass  Timber Building a house is very similar to weaving a basket. They can measure up to 9 m tall.
Bamboo with a good quality is brought construction begins. The doors are usually made of timber. The bamboo cover is separated from trunk.  Bamboo will be ready for construction by splitting it in to three parts with the help of an axe or knife. Bilkers standing inside house on scaffolding and pulling a wet strip in to a place.The Dorze house is almost exclusively made from bamboo. Partially completed house; note scaffolding protruding. Builder adding katla thatch. Man spilling inner fibers away from bamboo splint to obtain bamboo to wave a fence. House being moved; men are inside, women outside; people brace it with long bamboo poles to keep it from falling as it comes downhill When termites attack the hut, the Dorze can just remove it from its foundation and relocate it. This allows the home to last much longer, but every move shortens the height of the hut.
Ice house at Beaulieu: A mound shaped structure covered in grass at the front is a stone wall with a doorway
Crosbie Full art on Ice House Troon Ayrshire
An ice house or Yakhchal, an ancient refrigerator allowing the storage of ice in.the desert in summer. It was collected in winter and kept cool by its shape and walls.made from special mortar called s_rooj, composed of sand, clay, egg whites, lime,.goat
An Igloo, also spelled Iglu, or a snow house is a kind of shelter built out of snow. It is also called "aputiak" and is a temporary winter home or a hunting underground dwelling used by the Canadian and Greenland Inuit (Eskimos). The word Igloo comes from the Eskimo "Igdlu" which means house or home. It is also related to a town named Iglulik and Inuit people known as Iglulirmiut both belonging to the Iglulirmuit island. For an Inuit, Igloo is not restricted to only homes made out of snow, but can also be a cloth tent, sod houses, houses constructed of driftwood and even modern buildings.  Inuits who live between the Mackenzie river delta and the Labrador live in snow houses in winter and in sealskin or cloth tents in summer. But for general purposes, an igloo is a shelter built out of blocks of snow and is dome shaped.
Earthship Biotecture, Near Taos, New Mexico, USA
An Earthship is an autonomous building made from car tyres filled with waste (such as drinks cans and bottles) to produce highly insulating walls. The Earthship has been replicated in the UK (Fife and Brighton), Holland, France, South Africa and India. There are now 3,000 Earthships globally. The design, often built into the ground, not only uses recycled and natural materials, but by using passive solar heating (and cooling), water harvesting, contained sewage treatment, and internal food production (through conservatories), creates a self-sustaining building with a stable ambient temperature even in climatic extremes. Built to be cheap, efficient and autonomous, Earthships represent radical ecological architecture designed to reshape our relation to the environment and our daily lifestyles.
"The Earthship concept is meant to place shelter and a less stressful method of living within the immediate grasp of people. If land is made available for no profit; if shelter can be obtained with little or no mortgage payment; if utilities come free from the sky; if much of our food can be grown in our homes; people will become more mobile with their thinking. They will begin to have time to think of each other and the planet" (Reynolds, 1990, p.254)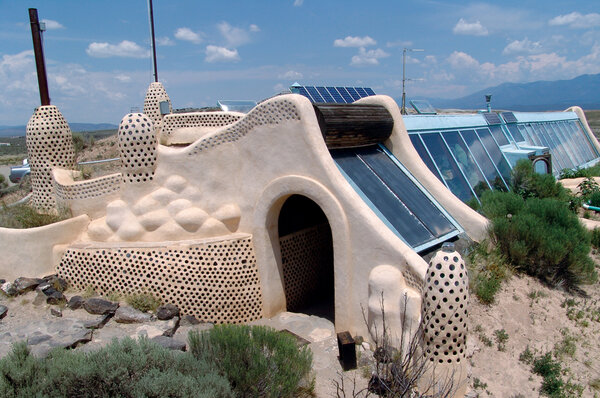 Hobbit Holes House
Thirty-seven hobbit holes were originally created with untreated timber, ply and polystyrene. After the 2011 rebuild, there are now 44 unique hobbit holes, the Green Dragon Pub, Mill, double arched bridge and the famous Party Tree.