"When I realized there was nothing to do to bring that boy back to life I thought I had to take his picture … to show the tragedy," Nilufer Demir, a photographer with the Dogan news agency, told broadcaster CNN Turk. "I hope the impact this photo has created will help bring a solution," she said.
The grim reality, however, is that the tiny figure captured in images released , September 2, 2015, Wednesday is of a drowned child whose body washed up on the beach in Bodrum, Turkey.
Another survivor, Syrian Omer Mohsin, said he swam ashore after the boat sank shortly after heading off at 02:00 am (2300 GMT) and was now looking for his missing brother.
"There were supposed to be 10 people on the boat, but they put 17 people on board. Me and my brother paid 2,050 euros each," Dogan quoted Omer Mohsin as saying on its website.
The family of Aylan, a Syrian toddler whose body washed up on a Turkish beach, had been trying to emigrate to Canada after fleeing the war-torn town of Kobani, one of their relatives told a Canadian newspaper. A photograph of the tiny body of three-year old Aylan Kurdi washed up in the Aegean resort of Bodrum swept social media on Wednesday, spawning sympathy and outrage at the perceived inaction of developed nations in helping refugees. His 5-year-old brother Galip and mother Rehan, 35, also died after their boat capsized while trying to reach the Greek island of Kos. His father, Abdullah, was found semi-conscious and taken to hospital near Bodrum, according to Turkey's Sabah newspaper. REUTERS/Murad Sezer
Two boats carrying what were believed to be Syrian refugees sank off the coast of Bodrum en route for Greece, according to Turkey's Dogan news agency. It said at least 11 people died.
The image of Aylan, the little boy wearing a bright red t-shirt and shorts lying face-down in the surf on a beach in one of Turkey's most popular holiday regions, went viral on social media and piled pressure on European leaders.
Thousands of migrants have been following the same route in search of a better life in Europe. Many have made it; the child whose body washed up on the beach of Bodrum was just one of the scores who have perished.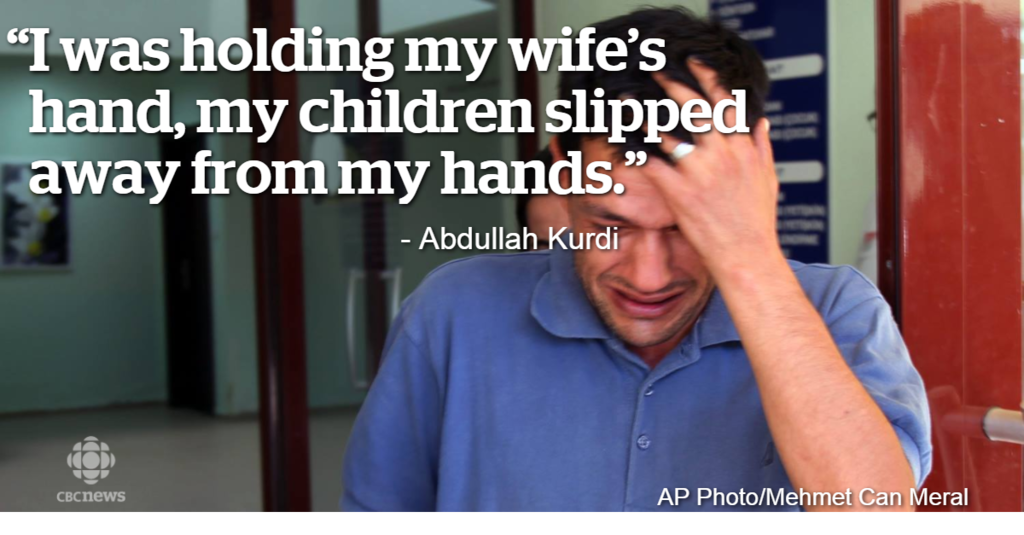 Abdullah Kurdi  described the moments before he realized his family had drowned.
He said he was forced to take control of the boat after the captain panicked and jumped into the sea in high waves.
"We went into the sea for four minutes and the captain saw that the waves were so high and as he tried to steer the boat we were hit immediately," he said.
"He panicked and dived into the sea and fled.
"I took over and started steering, but the waves were so high that the boat flipped immediately.
"I took my wife and my kids in my arms and I realised they were all dead."
He added: "My kids were the most beautiful children in the world. Wonderful. They woke me up every morning to play with them and now, they are all gone.
"Now all I want is to lie in a grave next to my wife and children." (sg.news.yahoo.com)
THE FATE OF MIGRANTS/REFUGEES , WHO IS TO BLAME? 
David Cameron has insisted that ministers "do care" about the growing refugee crisis, but refused to say how many more asylum-seekers Britain would take.
The Home Office says that since 2011, almost 5,000 Syrians have been given asylum in Britain. On top of that, the UK has taken 216 Syrian refugees under a specific "vulnerable persons" government scheme.
Cameron said: "We're taking thousands of refugees and we have always done that as a country, running our asylum system properly and giving a proper welcome to this country…"
He was asked why he would not commit to taking more refugees at this point.
"We keep it under review, we work with our partners, we are taking thousands of people and we will take thousands of people," he replied. "And what matters is when they come that they get a proper welcome and we look after them."
The Sky News reporter said: "You say you care. The accusation is you don't care enough."
Cameron said: "We do care because we sent the Royal Navy to the Mediterranean to save lives… We will do more, we are doing more." (buzzfeed.com)
Citizenship and Immigration Minister Chris Alexander suspended his re-election campaign to return to Ottawa for consultations on the migrant crisis.
"The tragic photo of young Alan Kurdi and the news of the death of his brother and mother broke hearts around the world," Alexander said in a statement Thursday morning. "Like all Canadians, I was deeply saddened by that image and of many other images of the plight of the Syrian and Iraqi migrants fleeing persecution at the hands of ISIS.
"…I am meeting with officials to ascertain both the facts of the case of the Kurdi family and to receive an update on the migrant crisis." (news.nationalpost.com)
Earlier in the day, Prime Minister Stephen Harper, who has committed during the campaign to allow 10,000 more Middle East refugees into the country over the next four years, said that simply granting asylum to the desperate won't fix the crisis.   (news.national.com)
Prime Minister Tony Abbott has described a picture of a little boy dead at sea as a tragic reminder why governments need to implement strong policies to stop the boats.
Tony Abbott says the heartrending image of drowned Syrian toddler Aylan Kurdi PROVES his 'stop the boats' policy is right… as The New York Times lashes his stance as 'inhumane'.
The New York Times editorial board today criticised Mr Abbott's 'ruthlessly effective' policies, urging European governments not to follow his lead.
Mr Abbott's measures – which include using the Navy to turn back boats – were blasted as 'inhumane' and of 'dubious legality'.
The editorial said it would be 'unconscionable' for European governments, grappling with the world's biggest refugee crisis in decades, to turn to Mr Abbott for inspiration.
'The world's war zones are all but certain to continue to churn out an extraordinary number of refugees and economic migrants in the years ahead,' the Times said.
'Those people understandably will head to the most prosperous nations, hoping to rebuild their lives.
'It is inexcusable that some find themselves today in situations that are more hopeless and degrading than the ones that prompted them to flee.' (dailymail.co.uk)
SOURCES:
msnbc.com
gdnobline.com  
scoopnest.com
telegraph.co.uk
**********
How the photo of Aylan Kurdi resonated with Irish Examiner readers
Irish Examiner readers have been sharing their thoughts since the difficult decision was made to publish the deeply disturbing photograph of Syrian boy Aylan Kurdi's body washed up on a beach in Turkey.
In an editorial, which can be read in full here, Editor Tim Vaughan explained why the decision was made to publish the upsetting image.
"This is one of those occasions when we feel the gravity of a situation justifies the publication of the photograph you see before you," he writes.
"It does not get much more horrific than this image of the little Syrian boy who never made it to safety in Europe."
Aylan's sad story and the photograph of his tragic death have resonated with Irish Examiner readers and struck a cord with people around the world.
Many of our readers have been sharing their thoughts on the image across social media. Here are ten of the comments left on our Facebook page today.
1.
2.
3.
4.
5.
6.
7.
8.
9.
10.
 Source:
irishexaminer.com