THE EXPRESS TRIBUNE: A 25-year-old Muslim woman who fled the Bosnian refugee camp where she spent time as a baby has been crowned Miss World Australia 2017, reported Daily Mail Australia.
She's the criminal profiler from Melbourne who was crowned Miss World Australia 2017.But following her win, Esma Voloder was heavily criticised for winning the pageant because she is a practising Muslim. Source:dailymail.co.uk
Esma Voloder is creating headlines with her positive reinforcement of Islam after her crowning ceremony. She said, "I believe Islam is about peace, unity, prosperity, and inclusion." At a time when the world is experiencing Islamophobia and hate crimes, Voloder is using her title to shatter these stereotypes about religion.
The stunner told The Daily Telegraph she believed acceptance and respect were important parts of Aussie life.
The Daily Telegraph: Esma Voloder has fired back at "hurtful" people who claim the Muslim woman does not represent our nation, saying: "Life if too short for negativity".
She said life is too short for negativity. Picture: Dylan Robinson Source: The Daily Telegraph
"I forgive them … I feel it comes from a lack of understanding," said Voloder.
"I am hoping to break down the barriers by just being me."
Miss World Australia national director Deborah Miller has told The Daily Telegraph that since Ms Voloder was crowned, the organisation had fielded many "awful and mean" calls demanding she be replaced.
Breaking down stereotypes! The beauty queen is hoping to use her title to help eradicate the intolerance surrounding her religion. Source: dailymail.co.uk
"We have had lots of calls, people saying terrible things," Ms Miller said.
"People have said: 'How did you let a Muslim win?'. We believe Esma is a strong woman and represents a multicultural Australia."
Ms Voloder said many people "fall into a trap of believing what they are told" but they would not detract her from trying to win the global Miss World title.
THE EXPRESS TRIBUNE: Esma moved to Australia when she was just five-months-old and in 2008 was named Miss Teen Australia. She went on to compete in a number of pageants as well as pursue fashion and modelling, but education was always her number one priority. Growing up in Australia, the young beauty went on to earn a degree in psychology and currently works as a criminal profiler.
"Thank you, Australia – for giving me a home and opportunity to do good," she wrote in a post on Instagram following her win. Daily Mail Australia reported that Voloder practices Islam and hopes she can use her new found platform to help people understand the faith better.
'People tend to blame religion for the atrocities': The brunette beauty is urging people to put the responsibility on individuals rather than an entire religion Source: dailymail.co.uk
"The Islam that I know, that is in the Quran, I don't associate that with any acts that are occurring around the world," she was reported as saying. Esma took home the $68,000 pearl-encrusted crown after competing against girls from across the nation at the Grand Hyatt Hotel in Melbourne.
"People tend to blame religion for the atrocities that are happening, but if we do that we take responsibility away from the individuals." Voloder said a lot has been misconstrued about Islam.
"I feel that a category has been created that is not really what the Quran actually promotes. I believe Islam is about peace, unity, prosperity and inclusion." Voloder and Somali-American model Halima Aden, who at 19 years of age, rose to fame last year after competing in a US beauty pageant wearing a hijab and a burkini, have both represented Muslim women on international forums.
Beauty, as they say, is in the eye of a beholder. People can have endless arguments as to which one of the finalists was the most attractive and most deserving of the crown, and there will never be any consensus. Source: The Daily Chrenk
Like Voloder, Aden was also born in a refugee camp, and moved to Minnesota at the age of six. She has since landed a contract with IMG Models, and recently became the first ever hijabi cover star for Allure magazine.
Esma Voloder went  to China for the annual competition, vying for the crown against 139 other women from across the globe. The title was announced on November 18 and  Miss India Manushi Chhillar won the crown Miss World 2017.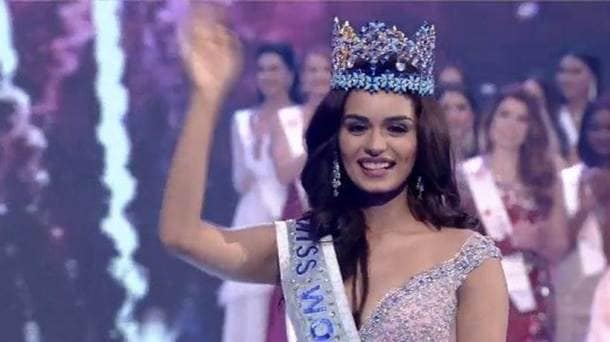 Miss India Manushi Chhillar Crowned Miss World 2017 Image: The Indian Express
The Bosnian beauty said she hopes she can inspire unity with her platform. 'Despite what your personal beliefs are, if we all believe in what is good, we can work together and make this world a beautiful and liveable place while we are here.'
Miss World contender Esma Voloder says yes to gay marriage
The Daily Telegraph
Esma Voloder has waded into the same-sex marriage debate. Picture: Christian Gilles ce: The Daily Telegraph
"I think it is Australian culture to have acceptance and these are the things we should continue to focus on and continue to talk about with respect," Voloder told The Daily Telegraph, adding when asked about the marriage equality debate: "I believe that everyone has equal rights."
"I am not a representative or a teacher of Islam. I try to be really careful with what I say because I just do the best I can from my understanding," she said yesterday.
"Whether it is about my faith or my looks, criticism is something that is to be expected. Coming from a psychological background, I guess I am just trying to learn how to remain positive.
"If we want to talk about my faith and bring that into it — it teaches me why I am here and to focus on the ultimate goal, which is to do charity, do good … and to do the best you can with the time you have to be the best person that you can."
"It is something I bring into my life to find a way to live it to the best of my abilities and I practise it in my life and I guess I am the example of what I believe in.
"I believe in an afterlife and I believe in God and I believe that our ­actions here are really important."
Voloder said her faith informed her work as Miss World Australia.
"Knowing that I am watched constantly and knowing that my deeds are being held accountable and I have a responsibility to humanity while I am here, that is what I tend to focus on," she said.
"I always do my best to be the representation of what I find in my faith to be the truth."
Wikipedia: Pageantry
Miss Supranational 2013
Voloder represented Australia at Miss Supranational 2013 in Poland and ended up as a Top 10 semi-finalist.
Miss Globe International 2014
Voloder has been crowned as Miss Globe International 2014 at the conclusion of the finals held on September 14, 2014, at Baku Crystal Hall, in the city of Baku, Azerbaijan.
Miss World Australia 2017
Voloder was crowned Miss World Australia 2017 and competed at Miss World 2017 in Sanya, China, but failed to place in the semifinals, ending Australia's six-year streak of consecutive placements in Miss World, from 2011 through 2016.