Congratulations: Karen Ibasco is Miss Earth 2017 and Winwyn Marquez is Reina Hispanoamericana 2017 !!!
PHILIPPINES WINS MISS EARTH 2017,CLAIMS 4TH MISS EARTH CROWN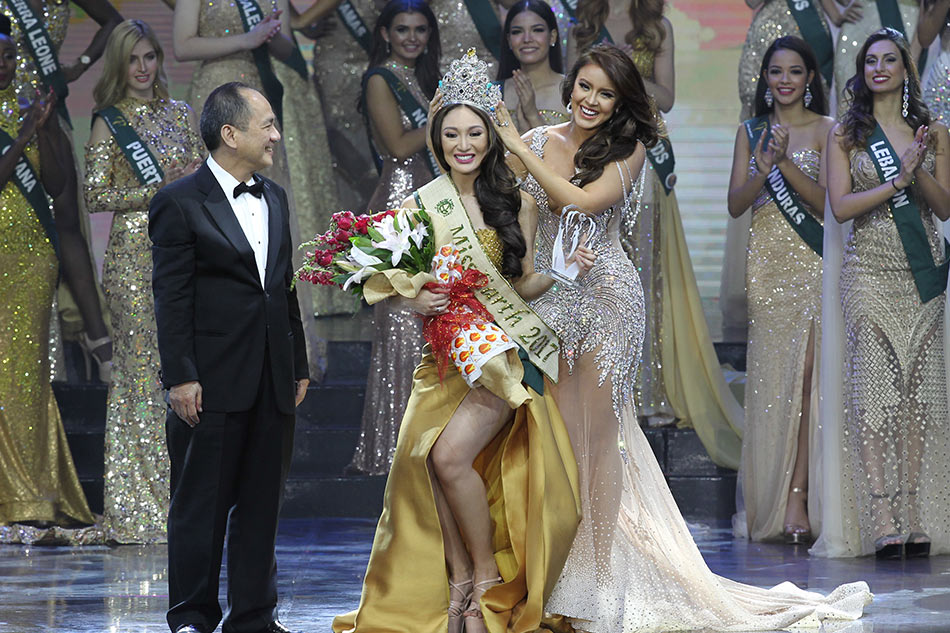 Karen Ibasco, crowned Miss Earth 2017, said it takes "recalibrating our minds" to start reversing the negative effects of climate change. George Calvelo, ABS-CBN News
PhilStar:  Miss Philippines Karen Ibasco has just been crowned as the new Miss Earth 2017.
This has been the fourth Miss Earth title for the Philippines as the country has snagged the crown in 2008 (Karla Henry), 2014 (Jamie Herrell) and 2015 (Angelia Ong).
Image: Cris Rankie Cruz/FaceBook
Ibasco's win has not been a surprise for many pageant enthusiasts as she took an early lead in the competition. She placed first among 86 contestants with five medals, three golds and two silvers, in different categories – from swimsuit to national costume.
Miss Philippines Karen Ibasco in her Maria Clara-inspired national costume is new Miss Earth 2017. Source: PhilStar Image: Miss Earth
Her Maria Clara-inspired national costume, embroidered following the grandeur of old Philippine churches' stained glass, was designed by Louis Pangilinan and was among those that got her a gold medal.
In the finals, her answer to the final question and answer sealed her win: "The real problem is not climate change. The real problem is us. So we have to rethink our ways to save the Earth."
Image: Imgrum
During the competition's Earth Talk segment, Karen said: "Biodiversity is important because it balances the ecosystem. As we protect it, we protect the Earth."
But Karen is not the only Filipina in the contest. Miss Earth Australia Nina Robertson is half-Filipina, also won as Miss Air.
Karen Ibasco advocates energy conservation, works as Medical Physicist at St. Lukes Medical Center she use variety of analytical, computer aided and bio-engineering techniques such as x-ray imaging, ultrasound, radiotherapy, tomography, radiology, lasers and nuclear magnetic resonance imaging. Source: LITRATO PHILIPPINES
She said in the Q&A: "The biggest enemies of the Earth are the people who don't believe climate change is real."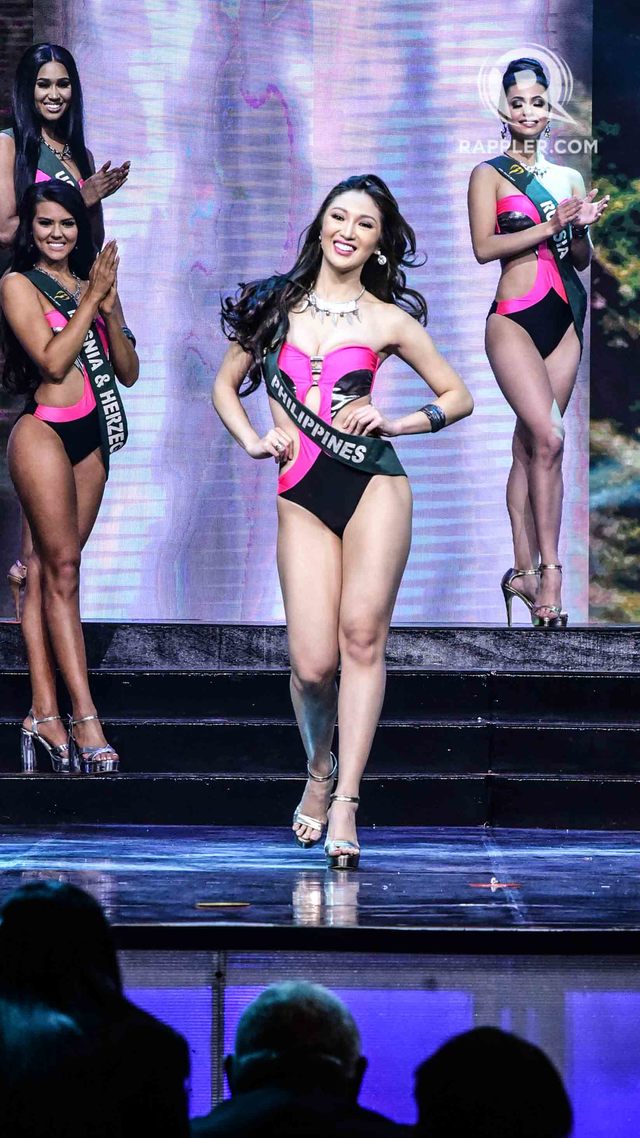 Karen during the swimsuit competition. Photo by Alecs Ongcal/Rappler
Miss Colombia, who has been crowned Miss Water, said in the Q&A: "The biggest enemy of the Earth is consumption. We have to rethink what we buy and eat."
Image: You Tube
Miss Russian, who has been hailed as Miss Fire, said: "We are the most serious enemies of Mother Earth. So we have to rethink our conduct."
Image: You Tube
As the new Miss Earth, Karen is now the voice of the international beauty pageant in promoting better understanding of Mother Nature's plight.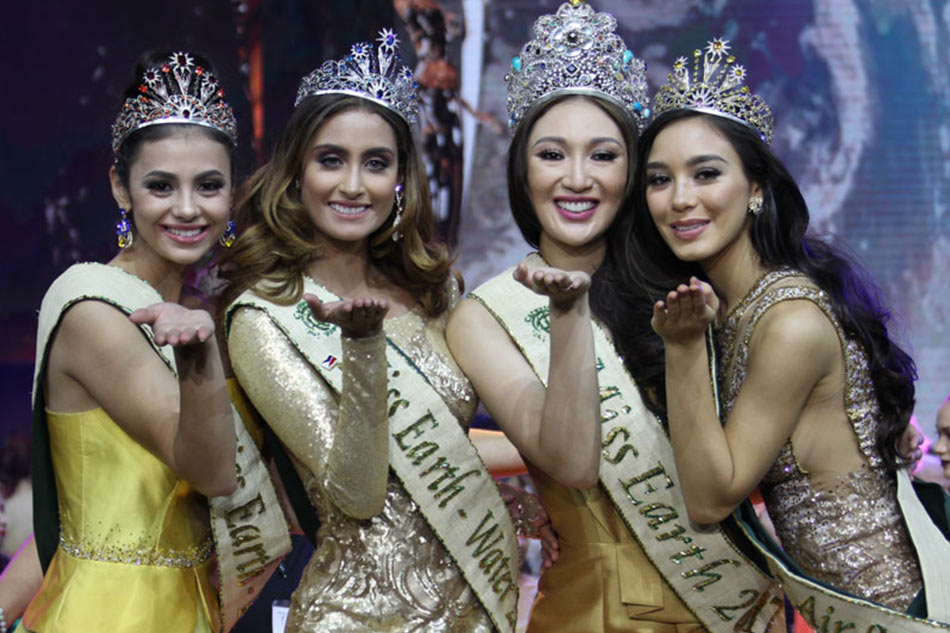 Miss Earth 2017 Winners, Russia's Lada Akimova as Miss Earth Fire 2017, Colombia's Juliana Franco as Miss Earth Water 2017, Miss Earth 2017 Karen Ibasco and Australia's Nina Robertson as Miss Earth Air 2017 during the coronation night at the SM Mall of Asia Arena on Saturday evening. George Calvelo, ABS-CBN News
ABS-CBN: MISS EARTH 2017: AUSTRALIAN CANDIDATE IS HALF-FILIPINO
Miss Australia Nina Robertson revealed during the coronation night of the Miss Earth 2017 pageant on Saturday,September 4 that she is half-Filipino.
Before giving her answer in the competition's final Q&A segment, Robertson was asked how she finds the Philippines so far.
Image: CHASINGCURIOUSALICE
To the audience's surprise, the 20-year-old beauty queen said: "I am actually half Filipino so for me, this is like my second home. It is so lovely to be here but I am very proud to be representing Australia. Whichever country I am representing, I am just happy to be doing what we are doing here–advocating the conservation of the Mother Earth."
In an interview with ABS-CBN News, Robertson shared that her mother hails from Nueva Ecija.
According to her profile on the official Miss Earth website, Robertson is the youngest of three children and is constantly surrounded by her big family especially from her mother's side.
Miss Earth Australia won as Miss Earth Air 2017 Image: Pageantology_101
"Living all in the same area means we all grew up spending lots of time together, celebrating special events with lots of food. Another thing that my family taught me was to appreciate all the opportunities I had growing up in a developed country compared to their upbringings in the Philippines," her bio said.
The grand finale of Miss Earth Australia 2017 held tonight at The Grand Ballroom in Crowne Plaza Terrigal concluded with the crowning of Nina Josie Robertson as the new Miss Earth Australia. She succeeds Lyndl Kean – Miss Earth Australia 2016 and will now represent Australia in Miss Earth 2017.
Nina is 20 years of age and stands tall at 5'7″. She is half Filipino and has participated earlier in Mutya ng Pilipinas 2015 as the representative of the Filipino Community of Australia, where she was placed amongst the Top 10 finalists. Tonight, she was able to beat the other 21 finalists to fetch the title! Source: Angelopedia
Robertson also shared in her profile that she and her family frequently visit the Philippines "and make sure to take part in actions to give back to the unfortunate."
After the coronation, Robertson won the Miss Earth Air 2017 crown.
"I am so excited for all the activities for the year but even after that, we are still going to continue doing what we are doing here at Miss Earth," she said.
WINWYN MARQUEZ: FIRST EVER "REINA HISPANOAMERICANA FILIPINAS" TITLEHOLDER
On the other beauty pageant, 25-year-old actress  Teresita Ssen "WinWyn" Marquez was crowned Reina Hispanoamericana 2017 on  November 4, Saturday night in Bolivia (Sunday morning, November 5 in Manila), making her the very first Filipina to compete and win in the said beauty pageant.
Marquez bested 26 other beauties in the competition, which celebrates the Hispanic heritage and culture. She succeeded Maria Camila Soleibe from Colombia.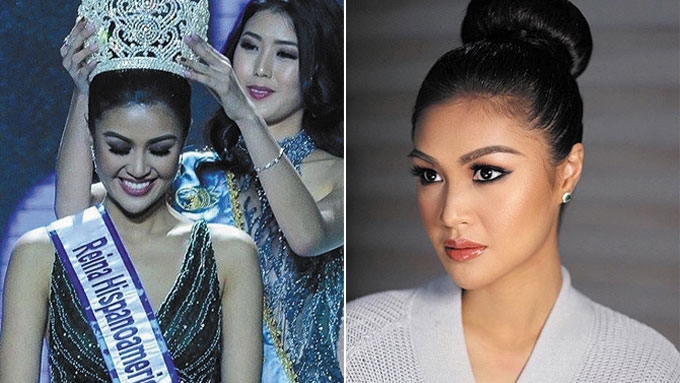 Winwyn Marquez defends pageant title from bashers: "Don't belittle the crown." Source: pep.ph
Winwyn was crowned by Reina Hispanoamericana 2016 Maria Camila Soleibe of Colombia, during the pageant held in Sta Cruz, Bolivia.
She was named also as Miss Talent, Miss Savoy Hotel Boracay and Beach Beauty winner.
Winwyn Marquez is Reina Hispanoamericana 2017  Source: globalnews.favradio.fm
Judging from her brillant answer during the Q&A, Winwyn was regal and very much ready to rule, which the judges clearly saw.
The daughter of celebrities Joey Marquez and Alma Moreno was  applauded by the audience for her answer during Q and A:
Q: How can you convince the judges that you are worthy of becoming miss world Philippines 2017?

Winwyn: I live a life of substance and meaning and that is through service. I uphold social awareness and treasure empathy. I am here ready to give my whole self and to give a win win situation to the organization. I will continue to make beautiful life with determine and passion for my advocacy as well.
Bolivia is 4th runner up, Mexico is 3rd, Venezuela 2nd, and Brazil is 1st runner up.
Image: The Filipino Times
Marquez is determined to show that a Filipino woman can also win in that competition, especially since the Philippines was a colony of Spain for over three centuries. She's maybe the first ever Filipina to compete in Reina Hispanoamerica pageant, but the Winwyn Marquez is determined to make a huge impression and bring home glory to the nation. The Philippines is the first Asian country to compete in the pageant.
Here's a brief history of the international pageant as stated at Wikipedia:
The pageant began in 1991 as Reina Sudamericana (South American Queen) in Bolivia and was participated by 10 countries which are restricted from South America until 2003. The first winner of the pageant was Patricia Godói of Brazil. In 2004 participants from Panama and Costa Rica in Central America were invited; and in 2006 beauties from the Dominican Republic, Nicaragua, Puerto Rico and  Spain joined. By 2007, Mexico, Guatemala, Honduras and the  United States were added, the pageant changed its name to "Reina Hispanoamericana".
In 2008, Carribean Islands Curaçao and Haiti were added in the pageant.
The Philippines is the only Hispanic country in Asia that made a Filipina debut in the pageant.
Marquez said that she is pressured yet very willing to equip skills like learning Spanish just to make the Philippines proud of her.
"I'm just happy kasi I'm going to be the first Reina Hispanoamericana Filipinas candidate, first ever Filipina to compete sa Bolivia. I'm going to fly, I think, end of October. I'm pretty nervous but it's good na rin na malapit na siya kasi yung momentum ko nandoon pa rin. But I'm still going to train," ABS-CBN quoted Marquez.
The daughter of Joey Marquez and Alma Moreno is determined that the former colony of Spain for over three centuries can win the competition on the first try.
Photo credit: Wyn Marquez/Instagram Source: The Filipino Times
The Philippines is the first and only Asian country to compete in the Hispanic-dominated beauty pageant.
But before her training for Reina Hispanoamerica begins, she will first celebrate her fresh hard-earned victory she got on September 3,2017.
Image: CNN Philippines
"I joined the pageant not expecting anything. Sabi ko I'm going to enjoy. I'm going to show people what I've got. I'm going to perform and I'm going to show people na I can answer well, that I'm ready. So God's will siguro talaga. Sobrang overwhelmed," she said.
She then expressed her gratitude to all her suporters, especially now that she's going global: "Maraming maraming salamat po sa lahat ng sumuporta and naniwala saakin!! Hindi po madali ang sasalihan ko pero alam ko kakayanin ko po dahil sainyo.. Laban Pilipinas."
(Many thanks to all those who supported and believed in me. My journey [to the international pageant] will not be easy but I [know I can] do it because of you. Fight, Philippines.)
The Philippines, which was a colony of Spain for over three centuries, is the first Asian country to compete in the pageant.
Prior to the coronation night, Marquez said through an Instagram post that she is "enjoying every minute" of her stay in Bolivia for the beauty competition.
She also thanked her fellow candidates for helping translate the questions – which are primarily in Spanish – during their interviews.
During the pre-pageant activities, Marquez won several special awards.
According to the pageant's official Instagram page, Marquez finished in the top 3 in the Traditional Costume category.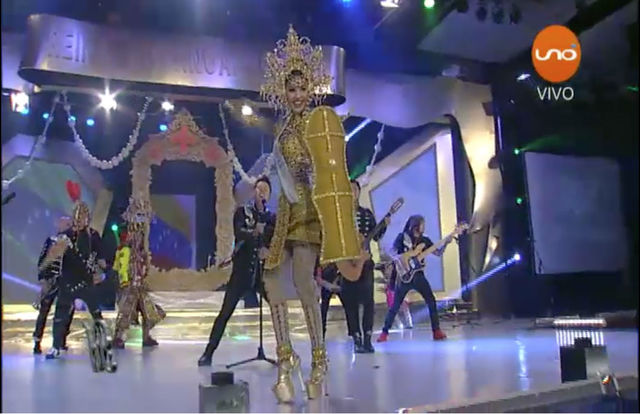 Screengrab from Promociones Gloria Source: Rappler
She wore a golden warrior outfit, created by Edwin Uy who said that he drew inspiration from the Pintados tribe of Cebu. It was Panama's Carolina Castillo who won the award.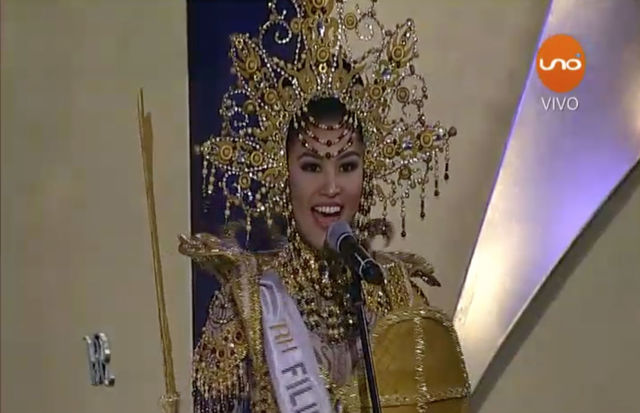 Screengrab from Promociones Gloria Source: Rappler
Meanwhile, the Aces & Queens Instagram page reported that Marquez finished first runner-up in the Miss Personality category.
She was likewise a finalist in the Best Smile and Miss Silhouette categories, and was named the Ipanema Girl.
Official photo of Reina Hispanoamericana Filipinas 2017 Teresita "Winwyn" Marquez. Instagram/Wyn Marquez Source: Phil Star
Winwyn Marquez previously joined Binibining Pilipinas in 2015, where she finished her journey as part of the top 15.
Former Miss International Melanie Marquez and Winwyn Marquez/ @wynmarquez Instagram Source: Inquirer
Winwyn hopes that like her aunt Miss International 1979 Melanie Marquez, to bring home an international pageant crown. Goodluck Winwyn!
Source:
Global News
The FIlipino Times
ABS-CBN
Inquirer