There's a lot of technique and products involved in making truly stunning eyes. Even if you're an old pro at doing your own makeup, you may be stuck in an eye makeup rut or looking for ways to brighten your look.To save up your time and revamp your makeup, you need beauty hacks that will make look stunning in matter of minutes.
Find some incredible makeup hacks to getting glamorous eyes super-easy:
Make a beautiful cat eye
Source: Shareably
Ever wanted an even cat eye but no matter how hard you try they're still crooked? Then this tip is for you! Simply grab a clean tablespoon and use the handle of the spoon to draw the line, use the spoon's curve to create the angle, and then fill it in.
Easy tweezing
Source: yourbestdigs
Use a spoon to pump up your mascara
 Image credit: lindayes.com
Apply mascara with help of spoon to prevent smudging and to pump up the mascara. Flip it over and place it next to the roots of your lash, then pull slightly upward on the lid of your eye with the spoon. This will expose more of your lash roots and shield the skin of your eyelid. You can go for a heavier application than you normally would and will get better coverage on your entire lash. The spoon will keep you from getting mascara all over your eyelids, preventing unnecessary clean-up later.
Heat the eyelash curler 
Image credit: Debasree Banerjee 
Your curling iron uses heat to give your locks perfect curl. Use the same premise with your eyelash curler. Blast the curler with your hair dryer until it heats up, and then let cool until it is warm. Too hot, and you can end up burning your face or eyelids. Clamp down on your lashes and make the curl last longer.
Instant eyeliner gel
Eyeliner pencils can be difficult to apply, with the hard tip pulling and tugging at your sensitive lids. To make application go more smoothly, make your eye pencil work gel eyeliner by eating the tip with a lighter for one second. Let the pencil cool for about 15 seconds, and then apply. That previously hard liner pencil will temporarily have a softer, more gel-like consistency, which will be easier to apply and give a thicker and easier-to-smudge line.
Making your eye makeup pop out
 Image credit: Beauty Banter
Probably one of the most versatile pieces in your eye makeup arsenal should be a white eyeliner pencil or eyeshadow stick. Use white eyeliner in a light blended application all over your eyelid before applying your regular shadow color. The white base will intensify the color, which is especially important for sheer colors that need a boost. Secondly, you can apply a white shadow stick along the outer part of your brow bone and blend into your all-over eye shade to define your brows and brighten your eyes. Lastly, use white eyeliner applied along your lower water line to open up your eyes and make them look brighter, whiter, and larger than they actually are. If you have deep skin, try a nude liner on your waterline instead.
Stop concealer creasing
               Image credit: Pinterest 
Creasing, caking eye makeup is a surefire way to highlight every fine line and wrinkle. Stop your concealer from creasing by changing your routine.  According to Almodovar, "eyeshadow creases because of excess oil production on the eyelid. The oil mixes with your shadow and causes it to slide around ending up in the crease." Since there's not much you can do to prevent excess oil on your lids, the key to crease prevention is in the prep.  Make sure you're using a relatively thin formula under your eyes, not the thick stuff you'd normally use for covering blemishes. Apply only to the inner corner under your eye, before sweeping down across your cheekbone. Use a damp sponge or brush to blend up under your eyes and into your cheeks, then let dry.
 Image credit: shabbymakeupandmore.blogspot.com 
After it's dried, gently pull down on the skin under your eye, and carefully blend out any creases that have formed using your fingers.  "Take a clean finger and smooth out the creased shadow. However, be aware that it will crease again so you just have to be mindful of it and smooth it out from time to time. You really don't even need a mirror, just close your eye and smooth it over," Almodovar suggests. "You could pull out your brush and shadow and apply more but that will also crease later so it's not a must-do. Your finger does the trick just fine!" Once this is done, use a translucent setting powder and a soft brush to gently add a light coating of powder over your under-eye area.
If you're especially prone to creasing, you can try "baking" your makeup for longer crease-free power: After applying a much thicker coating of translucent powder, let it sit several minutes, which will "bake," or set, your base makeup. Then use your fluffy brush to dust off all the excess powder.
Tightlining for a natural look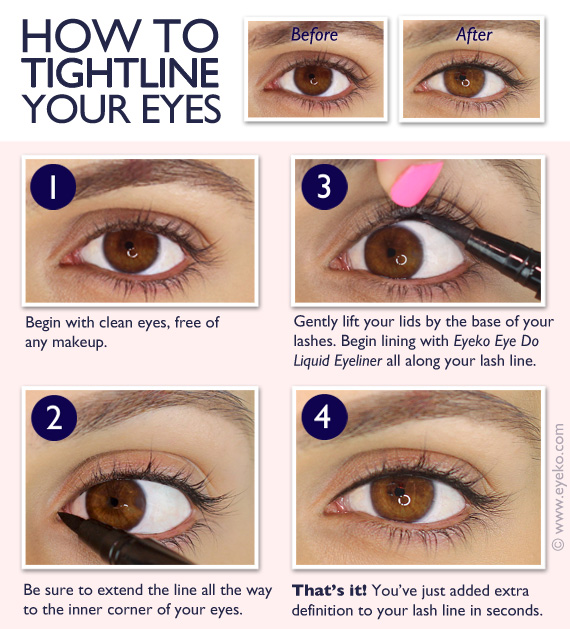 Image credit: diymakeupideas.info 
You may be used to applying eyeliner above your eyelashes to accentuate your look, but have you tried tightlining before? If not, definitely give it a go, because it can really change how you do your eye makeup forever. When you tight line, you should be applying eyeliner directly at the roots of your lashes with a gentle "dotting" technique. This gives you the appearance of thicker and fuller lashes without any mascara. Use this liner technique alone with a nude eyeshadow and no mascara or clear mascara for a gorgeous natural look. Or you can add this technique into your regular routine, because when paired with winged liner, mascara, and dramatic shadow, tightlining care really make your eye makeup look amazing.
Covering dark circles
  Image credit: Pinterest
To cover up your dark circles, make a triangle with concealer under your eyes and blend it well over your skin to get natural look.
Sources:
www.gymbuddynow.com
www.thelist.com
www.makeup.com