There was a time when women would ask, "Does my bum look big in this?" and pray for a response in the negative.
Butt injections: are they worth it? In a visual society where women are screaming for attention, I sometimes wonder what they will do next.
The road to happiness is filled with pot holes and possibly death for women desperate to fix their imperfections. At some point, beauty became more important than health in today's donk-obsessed society where women risk their lives for bigger booties.
Now, courtesy of the generously proportioned Kardashian clan and singer Nicki Minaj, it's more likely those same women are hoping for a "yes".
There are actually women who have built entire empires off the back of their backsides.
Take New York fitness model Jen Selter, whose ample derriere has garnered her more than five million online followers — and lucrative endorsement deals to butt, I mean, boot.
Selter's and Kim Kardashian's biggest contribution to society has been photographing their rear ends in the nearest reflective surface and sharing the tasteless results with the rest of the world. They've even inspired a new word, the "belfie" — a bum selfie.
According to British research, there has been a 200 per cent rise in inquiries for rear-enhancing procedures in the past year, and the most famous Kardashian is responsible for motivating 45 per cent of them.
"Kim has been popular among women seeking bottom augmentation — or 'Brazilian butt lifts' as they are more commonly known — for a few years, but in the last 12 months,we've had a massive rise in the numbers asking for a Kim Kardashian bum," said British plastic surgeon Dr Fuat Yuksel, who commissioned the research.
Butt implants are great and they are also very bad!
There's an ugly side to this bizarre trend — uglier than just the vulgar narcissism of it all.
There are countless more stories of women left permanently deformed after paying for black-market jobs that involve having everything from cement to tyre sealant jabbed in their bottom.
Evita Nicole Sarmonikas dies during surgery in Mexico 
30 March 2015 The Daily Telegraph
A family is in mourning after the death of a beautiful young Gold Coast woman, Evita Nicole Sarmonikas, who had travelled to Mexico to have butt implants.
The 29-year-old was already physically stunning, but she was so insecure about her looks, she was willing to undergo a dangerous procedure in a Third World country.
In the wake of her March 21 cardiac arrest, Sarmonikas' sister Andrea blamed the immense pressure on women to strive for unachievable ideals.
"Her perfect and whole soul was not strong enough in light of a world that constantly bombarded her with an urgency to demand more from herself and her body," she wrote on Facebook.
"Don't listen to a world that is hungry to fill your insecurities with poison. Stop feeding an industry that hates humans, especially women in the natural state and their perfect birth bodies."
Sadly, Sarmonikas is far from the only woman to fall victim to what will no doubt become just another passing beauty fad, like bolt-on breasts or foot binding.
At least 15 women have reportedly died from having silicone injected into their butts in beauty-obsessed Venezuela between 2011 and 2013.
Interestingly, Sarmonikas' surgeon, Dr Victor Ramirez, was embroiled in a legal battle with Kardashian in 2012 over the unauthorised use of her image on a billboard advertising his services.
Brazilian supermodel's buttocks explodes in public
Doctors say TV host/supermodel, Andrea Teresa Marach could lose one of her legs thanks to butt infections
Published:
Brazilian supermodel and TV host, Andrea Teresa Marach also known as Andressa Urach almost lost her life after her butt implants exploded.
The 27-year-old model was rushed to hospital where doctors confirmed the butt implants were infected.
Reports say Andrea had her first surgery nine years ago but has had multiple butt and thigh injections.
The famous model is currently in intensive care and has undergone several surgeries.
Doctors say her life is still in danger and she could lose one of her legs as the infection is yet to be flushed out completely.
Andrea Teresa was the runner up for the 2012 Miss Butt Brazil pageant.
(Source: Pulse.ng)
Suicide Attempt
Butt implants save Russian after falling off building
Looks like butt implants are good after all!!!
Aug-6-2014
Woman Fell To Her Death From High Rise Building – Silicone Butt Implants Burst Out On Impact
A 28 year old Russian fell to her death from a 34th floor apartment in Bangkok, Thailand. The woman, identified as Svetlana Pokaslova, was there with her sister and at least one other Russian female. Svetlana's sister had rented the apartment opposite and was questioned by police. They are still looking for the friend who shared the room with Svetlana.
Police found no trace of a struggle or drugs or drug paraphernalia. There wasn't even any alcohol present. The investigation is still ongoing.
(SOURCE: liveleak.com)
British woman who died in Bangkok beauty clinic was having corrective surgery after £2,000 operation to have her bottom enlarged left her with infections
Published: October  27, 2014
A 24-year-old British woman who died at a beauty clinic in Thailand had undergone cut-price plastic surgery to increase the size of her bottom, police said.
The woman, named locally as Joy Williams, 24, from London, travelled to Bangkok for the £2,000 buttock augmentation operation on October 14, but her wounds became infected.
She returned to the SP Clinic to have the silicone implants removed and died shortly after the second operation on Thursday night, Police Colonel Chayut Marayard said.
Dr Sompob Saensiri, 51, has been accused of negligence after he carried out night-time surgery without a licence. He could face ten years in jail if convicted, but according to police he has insisted he has not broken any laws or deviated from normal surgical procedures.
One of Joy's friends said:
"She was a really, really nice girl. She was very friendly and caring. She was always helping her mum with her brothers."
 "At school she had been bullied over her appearance and she went for surgery on her nose and face. Last time I saw her it was obvious she had had cosmetic surgery.
"She was fine before, she didn't need to. She was fine the way she was but she just wasn't happy. She had no self esteem and I guess she felt she needed to do it. She was just never happy with herself."
A former schoolmate said:
 "I'm in total shock," she said. "I just can't believe it. Not Joy. Not her. She was lovely, she was my friend."
The clinic where she had the surgery has been shut down and Dr Sompob could face ten years in jail if convicted.
(Source: Daily Mail)
Former Miss Argentina died following surgery to make her buttocks firmer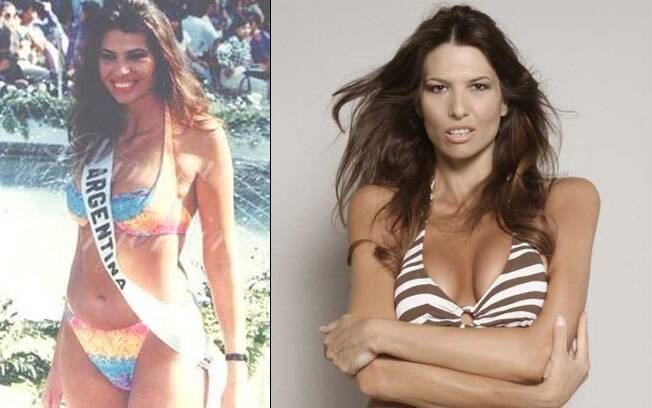 In December 2009, a former Miss Argentina died following surgery to make her buttocks firmer.
Solange Magnano (right), 38, was rushed to hospital with severe breathing problems after the cosmetic operation.
The mother of eight-year-old twins died from a blocked lung artery after spending three days in a critical condition in intensive care. 
(Source: Daily Mirror)
Denise died of meningitis seven years after 'botched' liposuction operation
9 MAR 2011  MANCHESTER EVENING NEWS
The wife of footballer Colin Hendry died from meningitis after a tragic "chain of events" stemming from a botched liposuction operation, a coroner ruled today.
Denise Hendry, 43, whose husband was nicknamed "Braveheart" as captain of Scotland, endured an agonising seven-year battle with illness after the disastrous cosmetic surgery procedure in April 2002, Bolton Coroner's Court heard.
Her family and friends had been, "cruelly and tragically" deprived of a special person and herself "robbed" of life, the inquest heard.
The mother-of-four suffered punctures to her bowel nine times during the "routine" surgery performed by foreign doctor Gustaf Aniansson, at the private Broughton Park Hospital near Preston, Lancashire.
It left Mrs Hendry with terrible injuries to her stomach area and she had to have a series of operations to correct the damage.
And it was during one such "high risk" 16-hour operation at Salford Royal Hospital, when she died in July 2009, the inquest into her death heard.
Today Coroner Jennifer Leeming, gave a narrative verdict after two days of evidence.
Mrs Leeming said: "I come by my conclusion again on a balance of probabilities and the evidence before me.
"Denise Hendry died of a combination of necessary ventilation following complex abdominal surgery carried out to address the consequences of previous surgery that had been performed in an attempt to deal with the complications of necessary surgical procedures, following and required, because of nine perforations of Denise Hendry's bowel during her abdominal liposuction procedure."
Addressing Mr Hendry directly, she added: "The respect and admiration I feel for your wife Denise as a result of her immense courage and fortitude in dealing with what happened to her is beyond words.
"You, your children, Denise's parents and all of her family and friends have in my view been cruelly and tragically deprived of a very special person and Denise herself has been robbed of the life she so much enjoyed.
"Would you accept my most sincere condolences for her loss."
Mrs Leeming cited brain inflammation, blood clotting from a drain inserted into her head to relieve pressure and meningitis as the medical cause of death on Mrs Hendry's death certificate.
Doctors realised something was wrong with Mrs Hendry not long after her operation on April 22, 2009.
On May 5 there was a "sudden" neurological deterioration due to "Klebsiella Meningitis" rather than the more common "staph" strains of the brain infection.
Dr Chinari Subudhi, a microbiologist at the hospital, said he took samples from Mrs Hendry while she was in intensive care after the last 16-hour operation, on April 22, 2009.
Dr Subudhi said in his opinion a bacteria, Klebsiella, which can occur naturally in the gut, had spread from her stomach to her lungs and then to her brain.
He said the spread of the bug in the blood stream is common in critically ill patients who are on a ventilator, as was Mrs Hendry.
Wykesha Reid Dies After 'Illegal Black Market Butt Enhancement Injections'
26 March 2015 The Huffington Post UK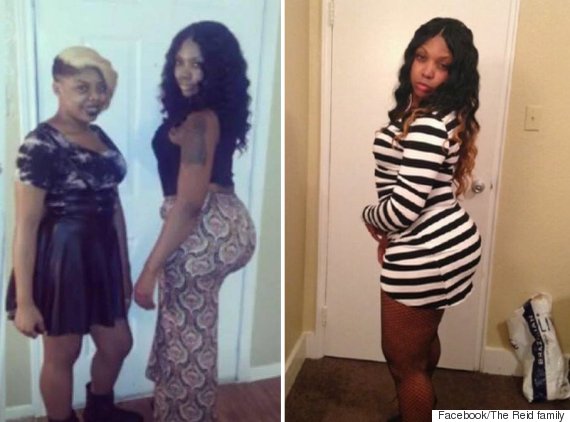 The step-mom of a woman who died following a botched black-market cosmetic procedure on her buttocks has recalled how the victim was obsessed with having a larger bottom.
Wykesha Reid, 34, was found dead on a massage table at the Deep Ellum salon in Dallas on February 19, with her pants partially pulled down and a blood-stained gauze on her butt.
Patricia Kelley, 70, who had raised Reid since she was a baby, said the victim had always 'wanted a big booty.'
Reid's daughter Keaira said "she was feeling just fine because she was laughing and joking about stuff," before going to the Deep Ellum salon where she was found dead.
Wykesha Reid reportedly paid thousands for the illegal injections
The salon owner told police her establishment was providing eyelash extensions, but Reid's family maintain she had been frequenting the location to receive underground cosmetic surgery.
"Every time she goes and gets it done she comes back, but this time she didn't come back," Keaira said.
"She told me the needle was big and it was real big and thick and they would pump some clear looking stuff inside your butt cheeks."
Police have issued arrest warrants for Denise Rochelle Ross, 43, and Alicia Clarke, 31, for allegedly conducting the black market procedure. They cannot be charged for Reid's death unless the medical examiner finds the injections to be the cause.
"I want to see them on trial for murder," said 20-year-old Keaira. "I'm very mad because anybody could have called 911."
Reid's appointment was at 6pm on Wednesday 19 February, but her body wasn't found until the following morning. Her purse and mobile phone were missing and the premises had been cleared and abandoned.
Dallas police say there were no immediate signs of trauma, and await the medical examiner's results. They believe she suffered some kind of "medical emergency".
The salon owners had already been taken to court after another customer was left in agonising pain. The victim claimed she had screamed in pain when injected with the water-based hydrogel saline solution and "the injection holes were closed with superglue and cotton balls".
Ladies whose butt injections went bad
December 6, 2013 rollingout.com
Renee Talley
Renee Talley was an older Vegas stripper/VIP nightclub hostess who wanted a larger booty to compete with the younger ladies in the club and nearly died from black market silicone shots.
Apryl Michelle Brown
Apryl Michelle Brown allowed a "pumper" (unlicensed person) to inject industrial-grade silicone into her buttocks. Unfortunately, soon after the procedure, her implants hardened and she needed lifesaving amputation of her limbs.
Vanity Wonder
Vanity Wonder, the popular stripper-turned-anti-booty shots activist/author of Shot Girls, was obsessed with butt injections and blew over $15,000 on illegal shots.
Transgender Gets 100 Injections To Have A Big Butt
A transgender woman, who claims people call her Nicki Minaj, has reportedly received 100 injections to achieve a big behind
A transgender woman in the US has gotten more than 100 black-market injections to achieve her 60-inch backside, Daily Mail reports.
42-year-old Tatiana Williams has lost friends to similar procedures but that hasn't stopped her from spending £60,000 on getting her dream body.
Williams has reportedly filled each butt cheek with almost 4 kilos of silicone and says she is now being compared to Nicki Minaj.
She said:
 'Going to the black market is a big risk. People can die from these injections. 'I've seen people eaten up by the silicone. I've seen them turn black-and-blue and not being able to walk anymore. I've seen people have their whole breast taken off. I've seen everything.  It's cheaper on the black market and people are willing to take the risks to achieve the beauty. I'm one of the lucky ones and I knock on wood everyday thanking God that he brought me through.
'I love Kim Kardashian's body – it's beautiful. She's exactly what a woman should be.When it comes to me and celebrities, a lot of people compare me to Nicki Minaj'. It makes me laugh because I'm thinking, 'I had ass before I even knew of Nicki or before she was even around". Maybe Nicki's actually got an ass like me.'
Williams also reportedly said that she loves her new body because it makes men treat her like a queen.
(Source: Pulse.ng)
Many British plastic surgeons now refuse to do the procedure because they say it poses a far greater risk of complication and infection than other body-part augmentation, such as breasts, due partly to the fact that people spend so much time sitting on their bums and the area tends to be less, ahem, "clean".
Then there's the expense — fat injections reportedly start from about $5700, while implants can cost up to $13,000, the reason that so many women tend to look for cheap, backyard alternatives.
But all surgery, even that which takes place on First World hospital operating tables, carries with it the risk of serious infection and death.
We can only despair that so many women would gamble with their lives for the sake of vanity in a lethal game of keeping up with the Kardashians. (The Daily Telegraph)