"I was only 17 at the time and my offenders are walking free today, while I have to go through life without a face," Reshma, of Mumbai, tells PEOPLE.
"Ria helped me realize that it's the attacker who should be ashamed, not me. I have nothing to feel ashamed of, nothing to hide," Reshma said.
Says Reshma to her fellow survivors: "Beauty doesn't lie in physical appearance but in being strong from inside."
            Image People.com
Reshma is the face of the Make Love Not Scars campaign in India. The New York Times reported that as of September 2015, her videos have garnered over 900,000 views.
Reshma Banoo Qureshi, 19 years old, loves makeup. Her favorite beauty product is an eyeliner. The daughter of a taxi driver from Mumbai, India who lost one of her eyes in an acid attack applies it with precision on the eyelid that remains. Badly scarred, Reshma has had to rediscover a new confidence and inner strength. Now, she has gone on to help uplift and inspire women who have suffered the same plight around the world. She says she feels more beautiful than ever, for her perception of beauty has changed.
"Today I realize that beauty is not just about how we look in the mirror. Dil khoobsurat hona zyada zaruri hai. (It's more important to have a beautiful heart)," says the girl sounding way wise beyond her 19 years.
Reshma was left depressed, and was contemplating suicide after suffering a devastating acid attack by her brother-in-law. The attack left her face badly scarred, and she was blinded in one eye.
On May 19, 2014, at the age of seventeen, Reshma says that she, her sister and their two friends were visiting a the city of Allahabad for an Alim exam when her sister's estranged husband enlisted the help of two men to attack the women.
"There was a wedding in the family. I had got my hair straightened and bought new makeup. I was looking very pretty. I was so happy," recalls Reshma who had never heard of acid attacks or seen any acid attack victim until tragedy struck.
The attack was actually aimed at her sister Gulshan, but Reshma was mistaken for her.
The incident took place at the railway station in her hometown, Mau Aima, 36 km away from Allahabad. "I was there to appear for my 10th standard exam. My brother-in-law came with a few friends and threw a strange liquid on my sister's hand. She screamed in pain and asked me to run. Before I could escape, two of his friends grabbed me by my hair, pushed me to the ground, tore my burqa and poured acid on my face."
Image Hindustantimes
Reshma's brother-in-law, who is in jail now, had been torturing her elder sister Gulshan for dowry for a long time. Fed up, she separated from him and filed for divorce. Eight months before the acid attack, Reshma's brother-in-law kidnapped his own child.
"The day their child was to be brought to the court where he was to express his desire whether he wanted to live with his mother, the man decided to take revenge. He did this to hurt my sister and my family. I am the youngest among my siblings. He knew that I was pampered by everyone. He knew that hurting me would shatter the family," she says.
The family believes that the child has been hidden somewhere by the father. Two other assailants were never captured after the attack, her brother-in-law was arrested.
Reshma's mother smears a cream on to her face to sooth the painful burns. Source: yp.scmp. com
Reshma can never forget the pain that the corrosive liquid caused as it melted her face. "I didn't know what was happening to me. All I knew was unbearable pain. I thought I was going to die. My sister and I were crying loudly but no one came to help us. The station was crowded. But people just stood and watched," she recalls.
A kind stranger dropped the sisters home on his bike. "I don't know who that guy was. As I held on to him tightly on the bike, he too got burnt injuries due to the acid that has been poured on me."
Reshma's mother fainted when she saw her youngest child's disfigured face. The local doctor asked the family to rush her to a big hospital. But Reshma could get medical attention only after seven hours. "I was writhing in pain. I was taken to the local police post, where the cops took a long time in taking my statement. We then went to a government hospital in Allahabad. The police again wanted to record my statement there. A kind doctor asked the cops to do it later, as I was passing out." Reshma's face had badly swollen up by then, and she has lost her left eye. "Those were the worst days that come back to me as nightmare. I could not sleep for several nights, as there was no way I could shut my eyes. My eyelids were tightly stretched and the pain was killing me. My condition was worsening."
       Image  RESHMA/MAKE LOVE NOT SCARS
Resnma's brother and father, Zahir Ahmed, a 58-year-old  borrowed money from friends and relatives to get her shifted to a private hospital in Allahabad where she was hospitalized for two months. One of her eyelids was surgically removed in the hospital, as it had melted beyond repair. The family somehow managed to pay around 7 lacs in those two months for her treatment, even as they kept waiting for compensation from the government which they never received.
Reshma endured 5 facial skin-graft surgeries over the course of the next nine months.
Unhappy with the treatment in Allahabad despite spending a huge sum of money, they brought Reshma to Mumbai, where she underwent treatment in a municipal hospital. She had to undergo a series of surgery and it was becoming impossible for the family to bear the medical expenditure. She had sunk into severe depression by then.
"Treatment was also expensive and I could see my parents struggling for money. I used to tell them that I do not need surgeries and that I should end my life," she said.
"I had no will to live. The pain was unbearable, the smell was worse. I had to keep my face covered all the time so no one can see me… And then came the day when I first saw my first post-surgery."
"I fell unconscious. I was a beautiful girl but now all I saw in the mirror was scalded face with one missing eye. I failed to understand why it happened to me."
"I stopped talking to everyone and drifted into depression. There were times when I used to cry."
"I was almost dead. I had become ill-tempered. I hated all human presence around me. I attempted to kill myself several times. I couldn't bear to see myself in the mirror. Aisa mere saath kyun hua Allah? (why did it happen to me God?), this questioned was tormenting me," says Reshma. Her parents would be up all night to see that she doesn't cause any harm to herself.
After the attack, she felt suicidal for a short period of time as she was left scarred on her face and arms and lost one of her eyes completely.
After healing, Reshma became the face of the Make Love Not Scars campaign, which aims to give "a voice to those who have been assaulted" by acid attacks and campaigns for the end of the sale of acid in India. She also began making beauty tutorials online as a way to campaign against the sale of acid. Cosmopolitan called the videos "ridiculously empower.
Reshma's bleak outlook began to turn around however after she met Ria Sharma, the CEO and founder of Make Love Not Scars, a non-government organization dedicated to ending the uncontrolled sale of acidic substances—the kind Reshma's brother-in-law had used—in India and elsewhere.
Ria Sharma launched a crowd funding campaign to help Reshma meet her hospital and legal expenditure. Sharma also built up a close bond with her and helped her regain her courage. "I had never heard of acid attack until it happened to me. Ria showed me pictures of other acid attack victims whose lives were in a much worse condition than mine. That's when I decided to fight and do my bit to for them. Ria said life is too beautiful to quit, and my heart believed her."
"I have seen fashion shows only on TV and once in a five star hotel in Mumbai. I am so happy that I am going to be part of such a big show! I can't thank Allah enough," says Reshma to Hindustantimes. She has been selected by New York based fashion production house FTL Moda to walk the ramp in September, 2016.
Reshma broke down as she got to know that she was going to New York. Her mentor Ria Sharma of the NGO Make Love Not Scars played 'a little game' with her before breaking the big news. "Ria didi showed me pictures of a beautiful city on her laptop. She asked me which place it was, and I said America. That's when she told me that I am going there. I could not believe it. My tears just didn't stop," she says.
Image Hindustantimes
For the 2016 New York Fashion Week, she opened for Indian designer Archana Kochhar and wore a "stunning cream and floral floor-length gown". Reshmai's makeup was done by Chika Chan and her hair by Aubrey Loots. Of the experience, Reshma stated, "This walk was important to me because there are so many girls like me who are survivors of acid attacks, and this will give them courage. And it will also go to show people who judge people based on their appearance that you shouldn't judge a book by its cover – you should look at everyone though the same eyes."
Acid attack survivor Reshma Bano Qureshi (l.) and actress Sunny Leone (r) Source NY Daily News
Also at the 2016 NYFW she walked for Vaishali Couture.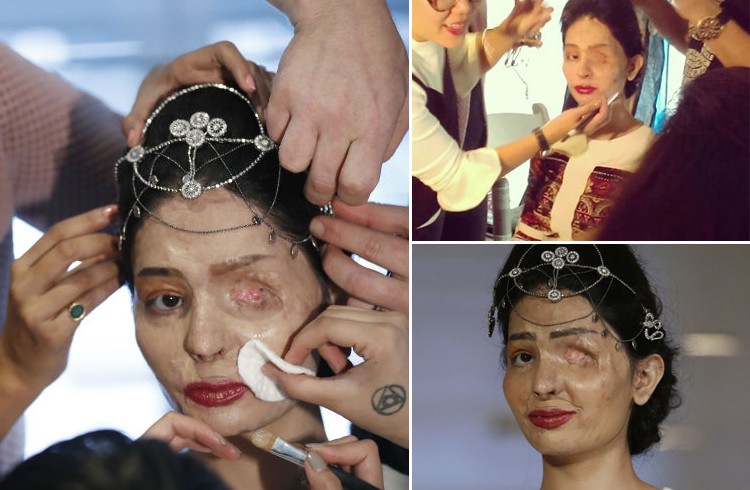 Image Newsdog.today
Ria also helped Reshma to fund her surgeries, and start on a rehabilitation program. Eventually, she regained her confidence, and found a new perspective on life—that beauty comes from within. Reshma worked with Make Love Not Scars on several ad campaigns to stop the sale of disfiguring acids, and shine a light on women who have suffered a similar plight. She said that she is proud to be able to stand up for women who have been suffering alone.
"I am hoping my participation will give them a confidence that they do not need to hide behind the veils," she explains.
Image New York Post
With no aid from the government to cover the costs of her surgery, Reshma  reached out to Make Love Not Scars, an organization that supports acid attack survivors while trying to ultimately end the practice. The group helped her launch a fundraising effort on IndieGoGo to pay for her surgery, and now she's urging others to protest the over-the-counter sale of harmful acids in India.
It was Reshma's 'changed persona' that eventually caught the attention of Ilaria Niccolini, producer of FTL MODA, New York Fashion Week. Reshma was to walk the catwalk as part of a fashion show to shed light on the devastating effects of acid attacks.
"This season I wanted to have Reshma because the plague of abuse of acid to attack women, so largely adopted in India and Pakistan, is devastating," Niccolini said.
Three acid attack victims have lunch at the Cambodia Acid Survivors Charity in Kandal province Source: stuff.co.nz
Reshma described her feelings about the show: "I am both ecstatic and nervous. I had never in my wildest dreams thought of going abroad let alone walking at a major fashion show. I am yet to sink in the feeling," she said, "I do not know about the brand. I do not know what I am going to wear or how I will walk. I am not prepared for all that."
"I am just happy to have been invited for a big event like this and show the world that beauty lies in the soul and not in looks."
In her vlog on YouTube, the teen seems to lightly share beauty secrets while actually calling attention to the serious subject of acid violence.
"See how easy it is to get rid of dark spots?" Reshma says in a video about erasing facial blemishes. "As easy as scarring someone's face with acid. Just open the bottle and throw."
Ria Sharma tells PEOPLE that the idea of an acid attack survivor giving beauty tips "doesn't sound normal," so "we felt that this video could change people's hearts and make them feel that survivors are as normal as they are."
"We wanted to create a contrast by using a topic as superficial as makeup to address a hard-hitting issue," she says. "It was also aimed at eradicating the social stigma that plagues victims of crime in India."
It's her ability to put aside her own misery and think of others that keeps Reshma going, says Ria. "Reshma is one of those human being who prioritise others. Their intense desire to do something for others gives them strength. It was not easy to bring her out of her shell as the trauma that she suffered at a tender age was devastating. There are phases when she is very low. Whenever she feels like she will give up, I remind her that she has to fight for so many other girls, and she springs back," says Ria who is busy arranging for Reshma's passport and other documents for her first travel outside the country.
Ria also made Reshma the face of her viral campaign #End AcidSale, which gave her a new lease of life. "I used to keep my face covered all the time after the attack. Log bas ghoorte rehte they (people used to stare at me all the time). But Ria helped me realize that it's the attacker who should be ashamed, not me. I have nothing to feel ashamed of, nothing to hide."
After concluding the makeup lesson she explains that you can buy lipstick in a supermarket – just as easily as you can buy concentrated acid."This is the reason why, every day , a girl becomes a victim of an acid attack," Qureshi says, asking viewers to sign a petition to ban acid sales.That's not exactly an exaggeration – last year 309 acid attacks were registered in India, according to the Ministry of Home Affairs. Activists say that hundreds more go unreported. Source: stuff.co.nz
One day, Qureshi wants to be like her mentor. "I want to be like Ria. I want to work for acid attack survivors and tell them that they should never give up on life. It's tough but they can do it. They too can find true happiness. Doosron ke liye kuch karne se sachchi khushi milti hai (you get true happiness when you do something for others)," she says.
It's her ability to put aside her own misery and think of others that keeps Reshma going, says Ria. "Reshma is one of those human being who prioritise others. Their intense desire to do something for others gives them strength. It was not easy to bring her out of her shell as the trauma that she suffered at a tender age was devastating. There are phases when she is very low. Whenever she feels like she will give up, I remind her that she has to fight for so many other girls, and she springs back," says Ria who is busy arranging for Reshma's passport and other documents for her first travel outside the country.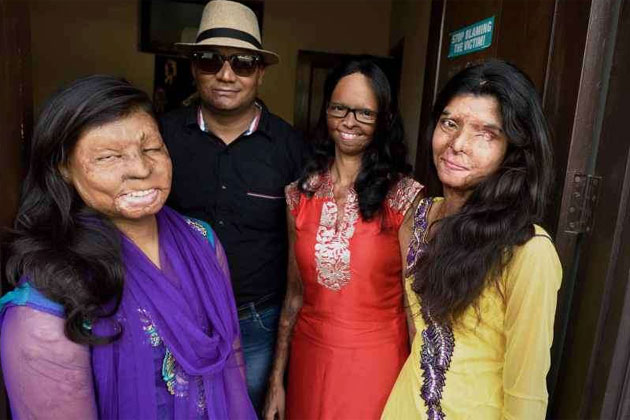 Acid Victims walk the ramp at fashion show in India Source: aaj.tv
Reshma also wants death penalty for acid attackers. "They commit the most heinous crime. They cause pain which can't be described in words. The reason why they don't fear is because they are let off easily. Unki sirf ek hi saza honi chahiye — phaansi. (They deserve just one punishment – hanging)," she says.
This is the end that she wants for her brother-in-law too, who has been asking for forgiveness. But the man is least repentant, she says. "He had kidnapped Gulshan's son and now he is blackmailing us. He says that he will return the child to her only on the condition that we withdraw the case," says Reshma who desperately wants to meet her nephew.
Reshma's sister Gulshan is determined to support her sister in her fight to seek justice. "It's not easy for a mother to live without her child. It's been years since I have seen his face, but I don't want him back on the condition of forgiving that man who destroyed my kid sister's life," says Gulshan.
According to an open letter to the Prime Minister of India posted on the group's website, the "number of acid attacks increased between 2012 and 2014 by an alarming 250" percent. And harmful acids like sulfuric, hydrochloric and nitric are still fairly easy to obtain, despite a 2013 order by India's Supreme Court to control the over-the-counter sales of the chemicals.
The Wall Street Journal said that India's Supreme Court prohibited the sale of acids to anyone under 18 and they are "completely prohibited unless the seller maintains a log/register recording the sale of acid."
But a girl becomes a victim of an acid attack every day, as Quereshi says in the videos. Says Sharma: "We need to end this horrific crime."
In partnership with The Logical Indian, Sharma's group has launched a petition called "#EndAcidSale," which now has more than 68,000 signatures, according to the campaign's website.
Sharma and Quereshi want the Indian government to end acid sales for good by enforcing the laws in place, and to help survivors of the attacks
Source:
wikipedia
Hindustantimes
People.com
stuff.co.nz