These ten men were also all born as women! They are all successful, handsome, and accomplished in their chosen fields.
1. Buck Angel
As an icon of popular culture LGBT (Lesbian, Gay, Bisexual and Transgender) community,Buck Angel's message of empowerment through self-acceptance and being sexually comfortable in your own skin has struck a passionate chord with folks all over the world. Buck is not only inspiring people to think outside the box, he is re-defining gender and educating an entire generation on the fluidity of sexuality and identity politics.
From female model and substance abuser to controversial trans porn star and now educator on trans health and gender identity issues, Buck has undergone many transformations in his life, and now shares it with us. Buck Angel is the only Female to Male pornstar. Buck claims that he is inventing a whole new category of porn because he is the only female to male pornstar.
He talks openly about his often rocky relationship with his family, the struggles he encountered growing up, and finding his true love, his wife. Mr. Angelchallenges our own perceptions of gender and explores the many different identities of Buck Angel in a way this is intimate and informative.
2. Balian Buschbaum (Yvonne Buschbaum)
He is a German Pole-Vaulter. Balian Buschbaum was born in 1980 as
Yvonne Buschbaum.
Balian Buschbaum was once a woman
"Let's Dance 2013 '-Kandidat Balian Buschbaum was in his previous life a woman. As Yvonne Buschbaum 1999 he became German champion in the pole vault – today Balian has an artificial penis and even hair on the back.
Though he was the second best female pole vaulter in Germany, in 2007 Buschbaum announced his retirement due to a persistent injury. He also expressed his desire to begin gender reassignment therapy. In 2008 he officially changed his name and underwent gender reassignment surgery to become a man.
3. Loren Rex Cameron
Loren Rex Cameron (born 1959) is an American photographer, author and transsexual activist. His work includes portraiture and self-portraiture which consist of lesbian and transsexual bodies in both clothed and nude form. Cameron's photography captures images of the transsexual body that "provide an affirming visual resource for transgender people and to demystify the transsexual body for the non-transgendered viewer."
4. Ian Harvie
Ian Harvie was born May 28, 1968, in Portland, Maine. Harvie knew he was transgender at a very early age, but didn't have a language for hisgender identity at the time. Harvie came out as queer at nineteen and as transgender at age thirty-two.
American Ian Harvie is a stand-up comedian who often uses his transsexuality as material in his act. He has performed with Margaret Cho and many other notable celebrities and is a well-known fixture in the LGBT pop culture community.
More Awards for LGBT Films, A New Gay Teen in The Avengers, and Trans Comic Ian Harvie
5. Lucas Silveira
Lucas Silveira is a Canadian vocalist/guitarist and songwriter for the rock band The Cliks. He is a transgender man. According to Silveira, at the age of about 3, "I knew exactly who I was …, which sucked, not having words for it and being told I was something else." He knew he was a boy and asked his mother to buy him a penis like his brothers. He suppressed his feelings about his identity. The first time he heard about transgenders was on Geraldo Rivera when he was about 14 or 15. He subsequently decided to come out and live as a lesbian. In 2010 he began hormone therapy by taking testosterone.
6. Rocco Kayiatos
Rocco Kayiatos, best known by his stage name Katastrophe, is an American hip-hop rapper and producer. By age 19 Kayiatos had poems on four compilation cds. He is widely credited as the first openly transgender singer in the hip-hop genre and he often incorporates his being a trans man in his work.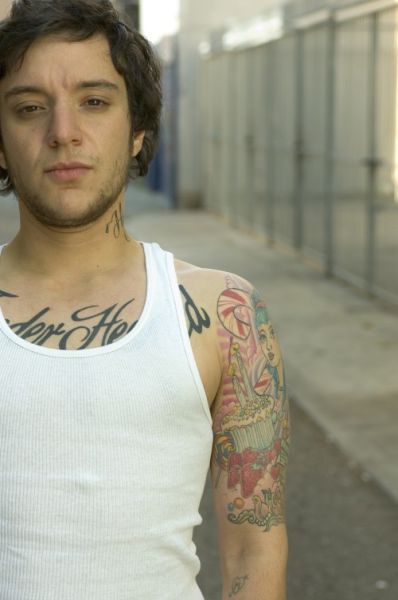 7. Thomas Beatie
Thomas Beatie, another transgender man, has borne three children. He chose to become pregnant because his wife Nancy was infertile, doing so with cryogenic donated sperm and a syringe, at home. He wrote an article about the experience in The Advocate.
Thomas Beatie gained international attention for being the one of the world's most visible "pregnant" men. Born female, Beatie lived his life as a woman until his mid-twenties. He then began taking male hormone therapy but decided to retain hisfemale sex organs so that he and his wife, who could not conceive herself, could have children together using donor sperm. Beatie has since had three children and is back on his male hormones.
The Washington Post further broadened the story on March 25 when blogger Emil Steiner called Beatie the first "legally" pregnant man on record, in reference to certain states' and federal legal recognition of Beatie as a man. In 2010, Guinness World Records recognized Beatie as the world's "First Married Man to Give Birth."
8. Ryan Sallans
Ryan Kim-Scout Sallans (born Kimberly Ann Sallans; 1979) is an American LGBT rights advocate and  public speaker who travels the U.S. to educate people about transgender issues and changes to the health care system.  He underwent his transformation from female to male over the course of several years and completed his transition in 2005. He travels the nation speaking to professionals, college audiences, and youth about what life is like being transgender and how health care is changing.
Sallans has been featured on "Larry King Live!" and the LOGO channel, as well as countless magazines and other publications.
9. Andreas Krieger
Andreas Krieger (born Heidi Krieger on 20 July 1966 in Berlin) is a former German shot putter, who competed as a woman on the East German athletics team at SC Dynamo Berlin. From his early teens he was given anabolic steroids without his knowledge, which lead him to become more and more masculine in appearance and attitude. Like many prominent East German sportspeople at the time, Krieger was systematically and unknowingly doped with anabolic steroids.
Krieger retired from the sport in 1990 and underwent sex reassignment surgery in 1997, and he has publicly said that he wishes he hadn't been drugged so that he could have discovered for himself what his gender preference was.
10. Chaz Bono
Chaz Salvatore Bono (born Chastity Sun Bono; March 4, 1969) is an American transgender advocate, writer, and musician. He is the only child of famous American entertainers Sonny and Cher. Raised in the public eye, Chastity came out as a lesbian when she was 25 before realizing that she was actually a transgender. Chaz underwent a sex change operation over the course of two years and is now happily living his life as a man. In 1995, after several years of being outed as lesbian by the tabloid press, he publicly self-identified as such in a cover story in a leading American gay monthly magazine, The Advocate. Bono went on to discuss the process of coming out to oneself and to others in two books. Chaz went on to be a contestant on the hit television show, Dancing With The Stars.