Instead of flowers or cards, the family requested donations to the Muhammad Ali Legacy Campaign for Global Respect, Hope and Understanding.
"We lost a legend, a hero, and a great man."
Legend Boxer Muhammad Ali Aged 74
Many residents of Louisville, Kentucky, woke up on this hazy Saturday morning to the news: Muhammad Ali is dead.
Boxing great Muhammad Ali has died aged 74 in a Phoenix hospital following a short battle with a respiratory illness.
The news of his death is on every local television station, and the front page of the local newspaper reads simply "The Greatest" over the iconic image of Ali standing victorious over Sonny Liston in 1965.
Louisville Mayor Greg Fischer declared that flags on government buildings would remain at half-staff until Ali has been laid to rest.
Flags at Louisville's city hall will fly at half mast today and the mayor will deliver a memorial service there.
Ali, regarded as the greatest professional boxer in the history of the sport, was admitted to hospital earlier this week with the illness and died on Saturday (AEST) of septic shock due to unspecified natural causes, a family spokesman said.
He had been suffering from Parkinson's disease for more than three decades.
"After a 32-year battle with Parkinson's disease, Muhammad Ali has passed away at the age of 74," spokesman Bob Gunnell said.
Muhammad Ali's multi-faith funeral set for Friday in hometown Louisville
Muhammad Ali will be memorialized June 10 at a multi-faith funeral set for his hometown of Lousville — and beamed globally via the internet.
Eulogists at the arena sendoff for the man known simply as "The Greatest" will include ex-President BIll Clinton, journalist Bryant Gumbel and comedian Billy Crystal.
The 2 p.m. funeral at the KFC Yum! Center will be open to the public per Ali's instructions.
He died Friday evening at the age of 74, four days after arriving in an Arizona hospital.
A private reception will follow, and the Cave Hill Cemetary burial of Ali will also be private following a procession through the streets of Lousville.
The family will hold a private ceremony on Thursday at a Louisville funeral home.
The services were announced Saturday by a family spokesman as Ali's wife and children continued to keep a low profile following the three-time heavyweight champion's death.
Ali's official time of death was 9:10 p.m., and the cause was listed as "septic shock due to unspecified natural causes," said family spokesman Bob Gunnell.
"He did not suffer, no," Gunnell continued. "It is very rough at this point for the family. All family members are having a rough time."
Ali compiled a 56-5 win-loss record as a professional boxer and won a gold medal at the 1960 Olympics in Rome.
Known globally not only for his storied ring career but also for his civil rights activism, Ali had been hospitalized multiple times in recent years.
American civil rights campaigner Jesse Jackson said Ali had been willing to sacrifice the crown and money for his principles when he refused to serve in the Vietnam war.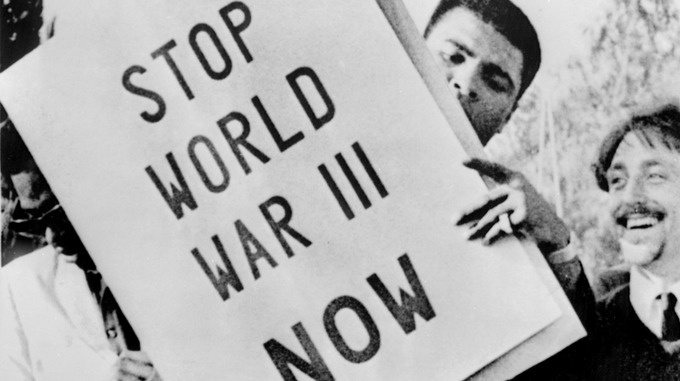 He spent time in hospital in 2014 after suffering a mild case of pneumonia and again in 2015 for a urinary tract infection.
Ali's Parkinson's, thought to be linked to the thousands of punches he took during a career that spanned three decades, had limited his public speaking for years.
But he continued to make appearances and offer opinions through his family members and spokespeople.
In April, he attended a Celebrity Fight Night Dinner in Phoenix that raised funds for treatment of Parkinson's.
In December, he issued a statement rebuking US presidential hopeful Donald Trump's call for a ban on Muslims entering the United States.
Born Cassius Marcellus Clay, Ali shot to fame by winning light-heavyweight gold at the 1960 Rome Olympics.
Nicknamed "The Greatest", the American beat Sonny Liston in 1964 to win his first world title and became the first boxer to capture a world heavyweight title on three separate occasions.
He eventually retired in 1981, having won 56 of his 61 fights.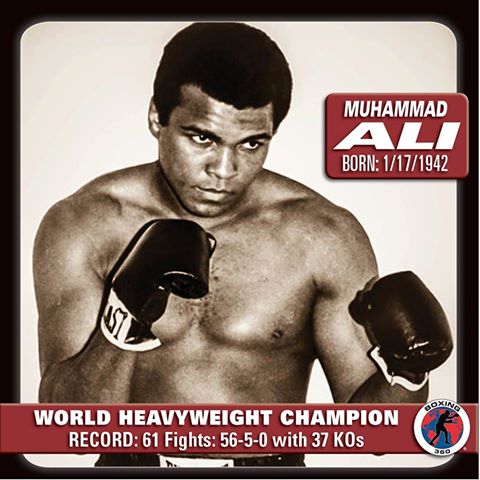 Crowned "Sportsman of the Century" by Sports Illustrated and "Sports Personality of the Century" by the BBC, Ali was noted for his pre- and post-fight talk and bold fight predictions just as much as his boxing skills inside the ring.
But he was also a civil rights campaigner and poet who transcended the bounds of sport, race and nationality.
Asked how he would like to be remembered, he once said: "As a man who never sold out his people. But if that's too much, then just a good boxer.
"I won't even mind if you don't mention how pretty I was."
Ali turned professional immediately after the Rome Olympics and rose through the heavyweight ranks, delighting crowds with his showboating, shuffling feet and lightning reflexes.
British champion Henry Cooper came close to stopping Clay, as he was still known, when they met in a non-title bout in London in 1963.
Cooper floored the American with a left hook, but Clay picked himself up off the canvas and won the fight in the next round when a severe cut around Cooper's left eye forced the Englishman to retire.
In February the following year, Clay stunned the boxing world by winning his first world heavyweight title at the age of 22.
He predicted he would beat Liston, who had never lost, but few believed he could do it.
Yet, after six stunning rounds, Liston quit on his stool, unable to cope with his brash, young opponent.
At the time of his first fight with Liston, Clay was already involved with the Nation of Islam, a religious movement whose stated goals were to improve the spiritual, mental, social, and economic condition of African Americans in the United States.
But in contrast to the inclusive approach favoured by civil rights leaders like Dr Martin Luther King, the Nation of Islam called for separate black development and was treated by suspicion by the American public.
Ali eventually converted to Islam, ditching what he perceived was his "slave name" and becoming Cassius X and then Muhammad Ali.
Muhammad Ali as a Family Man
Muhammad Ali is not only a fighter and humanitarian, but he's also a family man having endured four marriages and becoming a father to nine children.
This photo, taken on December 22, 1971, shows the family man training in Zurich, Switzerland, in preparation for his match against German boxer Jurgen Blin. With his twin daughters Jamillah and Rasheda wheeling ahead and eldest daughter Maryum scurrying right behind, Ali appears to be training his daughters how to multitask with the utmost efficiency.
SOME OF THE TRIBUTES : For the Heavyweight Great 
"Muhammad Ali shook up the world. And the world is better for it," said US President Barack Obama and his wife Michelle
"Muhammad Ali was The Greatest. Period. If you just asked him, he'd tell you. He'd tell you he was the double greatest; that he'd "handcuffed lightning, thrown thunder into jail."

But what made The Champ the greatest — what truly separated him from everyone else — is that everyone else would tell you pretty much the same thing.

Like everyone else on the planet, Michelle and I mourn his passing. But we're also grateful to God for how fortunate we are to have known him, if just for a while; for how fortunate we all are that The Greatest chose to grace our time.

In my private study, just off the Oval Office, I keep a pair of his gloves on display, just under that iconic photograph of him — the young champ, just 22 years old, roaring like a lion over a fallen Sonny Liston. I was too young when it was taken to understand who he was — still Cassius Clay, already an Olympic Gold Medal winner, yet to set out on a spiritual journey that would lead him to his Muslim faith, exile him at the peak of his power, and set the stage for his return to greatness with a name as familiar to the downtrodden in the slums of Southeast Asia and the villages of Africa as it was to cheering crowds in Madison Square Garden."
Obama went on to acknowledge Ali "wasn't perfect." He noted, "For all his magic in the ring, he could be careless with his words, and full of contradictions as his faith evolved." The statement continued:
But his wonderful, infectious, even innocent spirit ultimately won him more fans than foes — maybe because in him, we hoped to see something of ourselves. Later, as his physical powers ebbed, he became an even more powerful force for peace and reconciliation around the world. We saw a man who said he was so mean he'd make medicine sick reveal a soft spot, visiting children with illness and disability around the world, telling them they, too, could become the greatest. We watched a hero light a torch, and fight his greatest fight of all on the world stage once again; a battle against the disease that ravaged his body, but couldn't take the spark from his eyes.
Obama concluded, "Muhammad Ali shook up the world. And the world is better for it. We are all better for it. Michelle and I send our deepest condolences to his family, and we pray that the greatest fighter of them all finally rests in peace." See the President's personal picture below. (gossipcop.com)
Former President Bill Clinton – husband of Democratic frontrunner Hillary – said the boxer had been "courageous in the ring, inspiring to the young, compassionate to those in need, and strong and good-humoured in bearing the burden of his own health challenges".
"Through triumph and trials", Clinton said, Ali "became even greater than his legend".
Ali's stance as a conscious objector began an anti-war movement by many young Americans. Him being my friend: "it's a great honour".
Irish President Michael D. Higgins says the people of Ireland have awoken to news of Ali's passing "with the greatest sadness".
"He was tremendous, not just a boxer, a great human being, an icon", King said. "His life story is an American story, and it's a story that began in Louisville, Kentucky".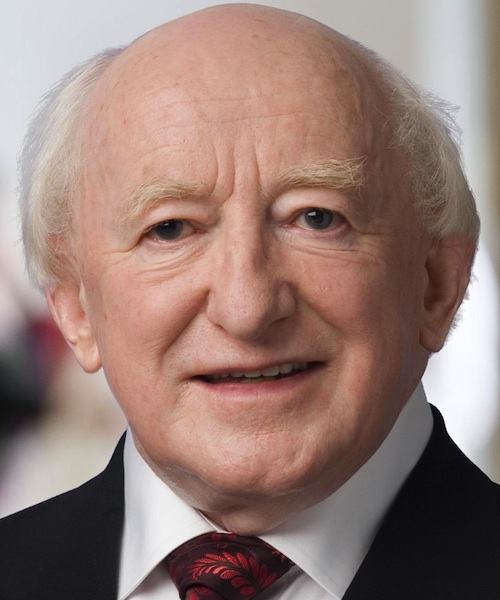 House Speaker Paul Ryan tweeted, "Rest in peace, Champ. You inspired a generation".
Basketball legend Kareem Abdul-Jabbar has written a Facebook tribute to his "friend and mentor" Muhammad Ali: "I may be 7'2'' but I never felt taller than when standing in his shadow."
During my more than 50 years in the public eye, I have met hundreds of renowned celebrities, artists, athletes, and world leaders. But only a handful embodied the self-sacrificing and heroic qualities that defined my friend and mentor, Muhammad Ali.

A master of self-promotion, he declared early in his boxing career, I am the greatest! This kind of boasting enraged many people, just as he'd hoped, ensuring a large audience that just wanted to see this upstart boy taught a lesson. But it was Muhammad who taught the lesson because, as he once said, It's not bragging if you can back it up. And back it up, he did. Again and again. And not just in the ring.

Part of Muhammad's greatness was his ability to be different things to different people. To sports fans he was an unparalleled champion of the world, faster and smarter than any heavyweight before. To athletes, he was a model of physical perfection and shrewd business acumen.

To the anti-establishment youth of the 1960s, he was a defiant voice against the Vietnam War and the draft. To the Muslim community, he was a pious pioneer testing America's purported religious tolerance.

To the African-American community, he was a black man who faced overwhelming bigotry the way he faced every opponent in the ring: fearlessly.

At a time when blacks who spoke up about injustice were labeled uppity and often arrested under one pretext or another, Muhammad willingly sacrificed the best years of his career to stand tall and fight for what he believed was right. In doing so, he made all Americans, black and white, stand taller. I may be 7'2" but I never felt taller than when standing in his shadow.

Today we bow our heads at the loss of a man who did so much for America. Tomorrow we will raise our heads again remembering that his bravery, his outspokenness, and his sacrifice for the sake of his community and country lives on in the best part of each of us. (theguardian.com)

Photos: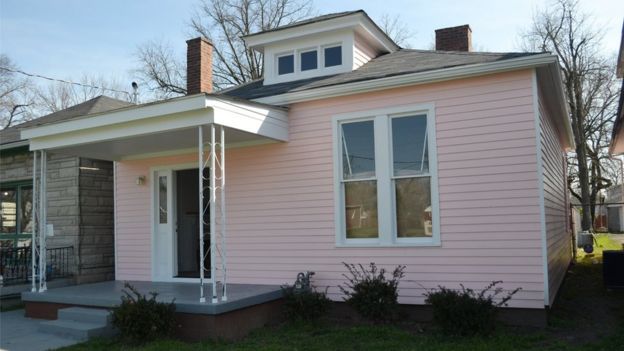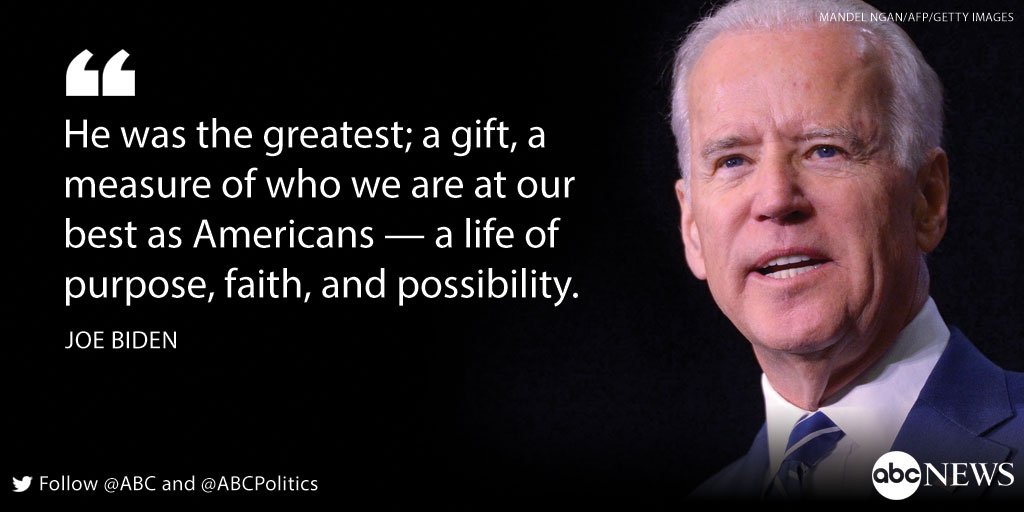 Sources:
BBC
abc.net.au
bbc.com
theguardian.com