Thailand in the province of Nong Bua Lamphu, Buddhist monks engage in a religious rite quite unusual. A monk meditating in lotus position in a pot of oil, is located above a fire. The monk remains impassive face the heat time of his prayer, the point is probably not a staged, simmering oil demonstrates the truth of the feat.
A blend of herbs is first applied to the surface of the container to reduce the high heat, but the feat is still seen around his dangerousness. By performing such a test, Buddhist monks prove their strength and determination to the people. Bottles of oils and relics used in this ceremony will then be sold to spectators of this amazing demonstration.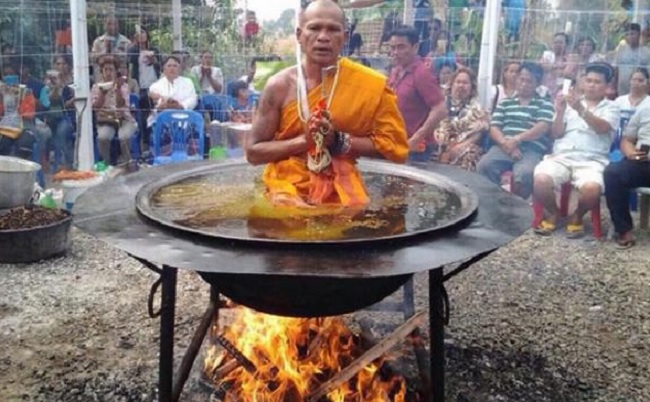 ***
***
This short biography of Venerable Lersi Sompit is courtesy ofYogi Tevijjo  
Ajarn Sompit was born in the Lopburi province of Thailand.  From a young age he expressed an interest in both Buddhism and the occult sciences.  As is tradition, he ordained as a novice monk when he was still a child.  Though he was not a novice for long he did get a chance to meet two lay people, a man and a woman, who took him as their student.  These two lay people were practicing the eight precepts and abstaining from eating any meat.  People who practice in this manner are known as nak phatibat.  They have knowledge of different sciences and practice meditation.  From these two teachers he learned various methods ofsaiysaht and putthamon.
Even after disrobing as a novice he continued to learn from these two teachers.   After living as a novice he became a dek wat, or a temple boy.  This means he lived at the temple and helped the monks with various tasks.  He was also able to study with the monks and any other teachers that were willing to teach him there.  
Later at age 20, Ajahn Sompit ordained as a monk.  He was a monk for about 15 years.  During this time he met with and was the student of many different and famous geji ajahn, or meditation masters.  He learned all sorts of sciences such as astrology, fortune telling, incantations, etc.  He also went on tudong, for many years.  This is when a monk goes on foot to live in the forest, caves, mountains, etc.  At this time, Ajahn Sompit travelled throughout most of the country and also went to Burma, Laos and Cambodia.  He was on a search for teachers and places to practice his mediation. 
While still on tudong, Ajahn Sompit met a Lersi named Lersi Puth.  This Lersi was living on a mountain in the Pechabun province of Thailand.  Ajahn Sompit stayed to study with this Lersi for some time.  Later, Ajahn Sompit decided to give up the life of a monk and ordain as a reusi.  For him, this path suited his practice better.  The life of a reusi was not governed by the rules of a monk.   The monk's rules state that a monk is not allowed to grow, pick or make his own food.  He is dependent on lay people to offer him food daily.  As a reusi he was able to practice in the solitude of caves and mountains for many days, even weeks, without having to see another person.  Of course there were many other reasons which supported his decision to become a reusi.  Ajahn Sompit ordained as a reusi at the age of 35 and has been aLersi ever since.   
At the present time, Ajahn Sompit is over 50 years old and is currently located in Pathumthani.  As he was taught by his teacher, he now helps people from the general public with their various problems and ailments.  It is the job of a reusi, after many years of practice, to give back to the community and help those in need.  Ajahn Sompit does this by utilizing the knowledge he obtained through his years of study and practice both as a monk and a reusi.  
Lersi Sompit live in town and goes only to the forest during his retreats, he is a maried man and does not live as an hermit, on the contrary he has a very active life and for example go regularly to Singapore to bless his local disciples and give teachings.
The amulets of Lersi Sompit are recognised as efficient and are the fruit of a long and patient work following precisely the instructions of the ancient tradition.  
The Fire Yogi has performed this Fire Ritual for a total of 1000 days over the last 45 years. The Yogi, weighing a mere 94 pounds, has been able to survive on only two bananas and a glass of milk with a few drops of water twice a day for the last 28 years.