Chicken and rice is the quintessential meat-and-starch combination in cuisines all over the world.
1. Thailand: Hainanese Chicken Rice  
Hainanese Chicken Rice often called Singapore's national dish. Chicken rice is quintessentially Singaporean, and arguably the island's most popular street hawker dish.
 HAINANESE CHICKEN RICE RECIPE 
While your chicken is cooking, it helps to prepare the ingredients for your chili sauce and rice. Both of these are usually assembled after the chicken is done because they require the chicken broth, but you can get started washing and soaking the rice, chopping the garlic and ginger before then. In this recipe, all of the poaching broth is reserved — some is used in the rice, a small amount is used in the chili sauce, and the remainder is saved to be heated and served as a simple soup to accompany the chicken.
INGREDIENTS: 
1 whole chicken (3.5 lbs, 1.8kg), preferably organic
kosher salt
4" section of fresh ginger, in 1/4" slices
2 stalks green onions, cut into 1″ sections (both the green and white parts)
1 teaspoon sesame oilFOR THE RICE
2 tablespoon chicken fat or 2 tbsp vegetable oil
3 cloves garlic, finely minced
1" section of ginger, finely minced
2 cups long-grain uncooked rice, washed and soaked in cool water for 10 min or longer
2 cups reserved chicken poaching broth
1/2 teaspoon sesame oil
1 teaspoon kosher saltFOR THE CHILI SAUCE
1 tablespoon lime juice
2 tablespoon reserved chicken poaching broth
2 teaspoon sugar
4 tablespoon sriracha chili sauce
4 cloves garlic
1" ginger
a generous pinch of salt, to tasteFOR THE TABLE
1/4 cup dark soy sauce
Few sprigs cilantro
1 cucumber, thinly sliced or cut into bite-sized chunks
DIRECTIONS:
1. To clean the chicken, with a small handful of kosher salt, rub the chicken all over, getting rid of any loose skin and dirt. Rinse chicken well, inside and outside. Season generously with salt inside and outside. Stuff the chicken with the ginger slices and the green onion. Place the chicken in a large stockpot and fill with cold water to cover by 1 inch. Bring the pot to a boil over high heat, then immediately turn the heat to low to keep a simmer. Cook for about 30 minutes more (less if you're using a smaller chicken). Check for doneness by sticking a chopstick into the flesh under the leg and see if the juices run clear or insert a thermometer into the thickest part of the thigh not touching bone. It should read 170F.
2. When the chicken is cooked through, turn off the heat and remove the pot from the burner. Immediately lift and transfer the chicken into a bath of ice water to cool and discard the ginger and green onion. Don't forget to reserve the poaching broth for your rice, your sauce, and the accompanying soup. The quick cooling will stop the cooking process, keeping the meat soft and tender, and giving the skin a lovely firm texture.
3. To cook the rice: Drain the rice. In a wok or sauce pan (use a medium sauce pan if you plan on cooking the rice on the stove top), heat 2 tablespoons of cooking oil over medium-high heat. When hot, add the ginger and the garlic and fry until your kitchen smells like heaven. Be careful not to burn the aromatics! Add in your drained rice and stir to coat, cook for 2 minutes. Add the sesame oil, mix well.
To make the rice on the stove: In the same sauce pan, add 2 cups of your reserved poaching broth, add salt and bring to a boil. Immediately turn the heat down to low, cover the pot and cook for 15 minutes. Remove from heat and let sit (with lid still on) for 5-10 minutes more.
To cook rice in a rice cooker: Pour aromatics and rice (after frying) into your rice cooker, add 2 1/2 cups of your reserved poaching broth and salt. Follow the instructions for your model (usually this will just mean "turn it on!")
4. While your rice is cooking, remove the chicken from the ice bath and rub the outside of the chicken with the sesame oil. Carve the chicken for serving.
5. To make the chili sauce: Blend your chili sauce ingredients in a blender until smooth and bright red.
6. To make the soup: You should have six or seven cups of the reserved poaching broth left over to serve as soup. Just before serving, heat up the soup, taste and season with salt as necessary.
Serve the chicken rice with chili sauce, dark soy sauce, cucumber slices, and a bowl of hot broth garnished with cilantro or scallions
Source:  
steamykitchen.com
2. Philippines: Chicken Adobo and Rice 
Chicken adobo is the quintessential Filipino dish.
Chicken Adobo
Serves 5

4 to 5 whole chicken leg quarters, divided into thighs and drumsticks, washed and cleaned, thighs skinned
6 to 8 cloves garlic, peeled and smashed
1/2 cup soy sauce (I don't recommend using Kikkoman for this, but if you have to, use the low-sodium Kikkoman)
1/2 cup vinegar
1/2 cup water
1 tablespoon packed brown sugar
1 tablespoon sweet chili sauce (or an additional tablespoon of brown sugar)
1 teaspoon black peppercorns, half left whole, half cracked slightly
2 bay leaves
Using the same pot you'll be cooking the chicken in, put all the ingredients. Let the chicken marinate for at least 20 minutes, and up to overnight.
When ready to cook, put the pot on the stovetop and bring to a boil over medium heat. Once boiling, lower the heat slightly and cook, covered, for about 15 minutes. Remove the cover. Flip the chicken pieces and continue to simmer, uncovered, to reduce the sauce, lowering the heat if necessary. If the sauce is too thick or too salty, add 1/4 cup to 1/2 cup of water. After about 8 minutes, flip the chicken again. Taste the sauce again and add more water if needed. Don't worry if you accidentally add too much water—the simmering will take care of that.
Continue to simmer until chicken is fully cooked and has released its oils into the sauce, and the sauce has thickened slightly and taken on a rich, dark brown color.
Serve over jasmine rice, or, for a real Filipino treat, with garlic fried rice.
Note: Use Filipino soy sauce and cane vinegar when making this. Remember to taste the sauce after about 15 minutes or so of cooking and adjust the seasoning accordingly. Distilled vinegar tends to be sharper, which you can remedy with additional water and brown sugar. If it's too salty, just add more water.
 Source: 
ivoryhut.com
3. Thailand: Khao Man Gai 
Khao Man Gai, one of the most common street foods in Thailand, is, in short, a mutation, albeit controlled, of Hainanese chicken and rice. This is a national favorite.
Khao Man Gai (or Khao Mun Gai) Recipe
(Serves 6)
First prepare the chicken: Place one large capon or roaster in a big stockpot and add water just until it barely covers the bird. Add a tablespoon of salt to the water and bring the whole thing to a boil. Once the water starts boiling, lower the heat and let it simmer on low, covered, until the chicken thighs move easily — a sign that the entire bird is thoroughly cooked. (You don't want to cook the chicken beyond this point. The meat should have firm, bouncy texture, not be falling-off-the-bone tender like stewed chicken.)

Place a large bowl in the kitchen sink and fill it with iced water. This is to keep the residual heat from further cooking the chicken as it cools down. The iced water bath helps keep the chicken meat moist, firm, and juicy. Gently remove the chicken from the pot, shake off the liquid inside the cavity, and dunk the chicken into the iced water. Leave the chicken in the iced water until the entire bird has cooled down to room temperature. Remove the chicken from the water, pat it dry with paper towel, carve it, and set it aside. Keep the chicken on a covered platter.

Then make the rice: Rinse 2 cups long grain rice until the water runs clear and drain. Skim the fat off the surface of the liquid in which the chicken is cooked into a measuring cup; add enough water to the measuring cup to make a total of 3 3/4 cups of liquid. Make sure the water is very cold so that when it's added to the fatty broth, the mixture is at room temperature which is ideal for making rice.

Stir in a teaspoon of salt (or a couple of teaspoons of soy sauce if you like your rice darker in color) Add the chicken fat-water mixture to the rice. (Don't be scared of the fat; this is, in fact, the "man" in Khao Man Gai and what gives the rice such great flavor.) A piece of fresh ginger, a smashed clove of garlic, a bruised cilantro root, or a few white peppercorns can be added for extra flavor, but if you don't have these things, don't worry about it.
Cook the rice however you'd like: on the stove top, in the microwave, or — the best and the easiest way — in an electric rice cooker.

Make the sauce: In the meantime, put about 1/3 cup of roughly chopped fresh ginger (the more fibrous, the better, in this case!) into a food processor along with 4 medium cloves garlic (peeled), 5-8 red or green bird's eye chillies (the number depends on your heat tolerance), and 1/2 cup fermented soybean sauce, 1/2 cup sugar, 1/4 cup dark sweet soy sauce, 1/4 "white" of thin soy sauce (information about dark sweet soy sauce and "white" (thin) soy sauce can be found in my post on soy sauces used in modern Thai cooking), and 1/3 cup white vinegar (not rice — oh gawd, not rice vinegar); pulse everything into a coarse puree. Pour the sauce mixture into a small saucepan and bring to a gentle boil and remove from heat after 30-40 seconds. Let the sauce cool down and adjust the seasonings as needed. In my opinion, the sauce should be primarily salty and sweet with a bit of sour taste from the vinegar. (You can make 3-4 times the amount of sauce and freeze it to use later. The sauce freezes beautifully and thaws easily.)

For the winter gourd soup: Peel and deseed approximately 2 pounds' worth of Chinese winter gourd (daikon or chayote can also be used). Cut the gourd into 2″ x 2″ pieces. Place the gourd pieces in the liquid in which the chicken is cooked. (After the fat has been skimmed off, the remaining liquid should be quite clear.) Bring it all to a boil, lower the heat, cover the pot, and simmer for 7-8 minutes, or until the gourd is tender but not mushy. Season the broth with salt or fish sauce (soy sauce will darken the broth too much.)

To serve: Put a mound of rice on a plate and top with chicken pieces. The rice should be warm and the chicken at room temperature. The sauce can go in a small dipping sauce bowl on the side or be drizzled on top of the chicken. The necessary garnish includes fresh cucumber slices and cilantro leaves. (You can be creative with the way you plate your Khao Man Gai, but the Khao Man Gai police may be knocking on your door.)

Serve the gourd soup piping hot in a separate small serving bowl. A light sprinkle of ground white pepper is not mandatory but highly recommended.
N.B. – This is not traditional, but several Khao Man Gai vendors have offered the option of substituting boiled/steamed chicken with fried chicken.
Source:
shesimmers.com
4. Sichuan, China: Kou Shui Ji 
The Chinese name of this chicken dish is "kou shui ji," which literally translates to "saliva chicken."    
If you want to enjoy this as the Chinese do, serve it cold as an appetizer before the meal! This dish is a little bit adventurous for first-timers.
Drool-worthy Sichuan Chicken in Chili Oil Sauce (Kou Shui Ji) 
Ingredients
For Step 1:
3 tablespoon plain roasted peanuts, finely chopped
1 tablespoon roasted sesame seeds
1 tablespoon red chili flakes or dried red chilis, seeded and chopped
½ teaspoon salt
1/3-1/2 cup oil
3 scallions, cut into large sections
4 slices ginger
5 cloves garlic, sliced
1 star anise
1 small cinnamon stick
1 1/2 tablespoons Sichuan peppercorns
For Step 2:
2 chicken leg quarters, deboned with skin still on (try asking your butcher to do this for you)
2 scallions
2 slices ginger
For Step 3:
1 tablespoon sesame paste
2 tablespoons light soy sauce
1 tablespoon rice wine vinegar
½ tablespoon sugar
3 cloves garlic, chopped
2 tablespoons chicken stock
Step 1:
Put chopped peanuts, roasted sesame seeds, red pepper flakes and salt into a medium bowl and set it aside. Heat your oil in pan over low heat, and add the scallions, ginger, garlic, star anise, cinnamon stick, and Sichuan peppercorns. Allow these aromatics to slowly infuse into the oil, until everything is kind of browned and wrinkly and fragrant. Discard the spices and pour the hot infused oil into the peanut mixture. Give everything a stir and cover the bowl with a plate to seal everything inside. Walk away and don't come back until everything else is ready!
Step 2:
Bring a medium pot of water to a boil (there should be enough water to submerge the chicken) along with the ginger and scallion. Once it's boiling, add the chicken (once it's added the water will probably stop boiling because of the temperature change).
Bring the water to a boil again, and after a minute, cover the pot and immediately turn off the heat. Let it sit on the stove for 20 minutes to slowly poach the chicken. In the meantime, prepare a small ice bath for chicken. After 20 minutes, take the chicken out of the pot and plunge it in the ice bath and let the chicken cool completely. Slice the chicken and place it on your serving plate.
Step 3:
Mix all of the Step 3 ingredients in a bowl. Now combine the mixture you just made with the peanut mixture you made in Step 1. Pour as much as you want over the chicken. We put about 2/3 of the mixture over the chicken and used the rest for a cold noodle lunch the next day (a highly recommended action!).
Source:
thewoksoflife.com
5.  Hongkong: Cantonese Claypot Rice 
CHINESE CLAY POT RICE RECIPE  
Servings: 4 Prep Time: 10 minutes Cook Time: 25 minutes
Recipe from Mama Ruthie! There are 2 versions of this recipe below – one for cooking on the stovetop and one for cooking in the rice cooker. The rice cooker method won't give you the super-coveted crispy burnt rice on the bottom of the pot – but it is definitely much easier to make.
You can find Chinese pork belly and Chinese sausage at the Asian market – they last for a long time! Buy a couple of packages and keep in the refrigerator. The Chinese rice wine is cooking wine made from rice. Substitute with dry sherry.
INGREDIENTS:
FOR THE SWEET SOY SAUCE
2 tablespoons cooking oil
2 shallots, thinly sliced
1 thumb-sized piece of ginger, peeled and thinly sliced
3 tablespoons brown sugar
1 cup soy sauce
1/4 cup Chinese cooking rice wine
1 tablespoon sesame oil
—————————-
FOR THE CLAY POT RICE
1 package Chinese sausage
1 package Chinese cured pork belly
2 cups long-grain raw rice (I like jasmine rice)
DIRECTIONS:
1. Make the Sweet Soy Sauce:
Heat a small sauce pot over medium heat with cooking oil. When hot, add in the shallot and the ginger and fry until browned but not burnt, approximately 3-5 minutes. The shallots should be shriveled, darker brown (just not black). Remove the shallots and ginger (as much as you can). The remaining oil will now be flavorful. Don't throw away the crispy shallots! Use this as a topping for salad, fried rice, vegetables, etc. The ginger can be discarded.
To the oil, add in the sugar, soy sauce and rice wine. Bring to a simmer and then turn the heat to low. Let simmer for 2 minutes. Turn off heat and pour in the sesame oil. Let cool completely before storing in a jar. Lasts up to 4 months in refrigerator.
2. Make the Clay Pot Rice
IF COOKING IN RICE COOKER
Place the rice in the rice cooker pot. Fill pot halfway with water and use your hands to swish the rice. Carefully pour out the water. Repeat 2-3 more times until the water is just barely cloudy. Pour in water until it reaches your knuckle. Use this Chinese method to measure water. Lay in the Chinese sausage and pork belly strips. Set rice cooker to cook. When cooking complete, remove pork belly and Chinese sausage and slice thinly on the diagonal. Serve with rice Sweet Soy Sauce drizzled on top.
IF COOKING ON STOVETOP
To the pot (preferably clay, cast iron, enameled cast iron or some kind of heavy-bottomed pot), add in the pork belly and Chinese sausage. Turn the heat to medium-high. As the pot heats up, the pork and sausage will slowly begin to release its fats (yum!). Cook for 2 minutes, then flip the pork and sausage and cook the other side. Remove the pork and sausage to a plate. You should have about a tablespoon of delicious fat in your pot! Add in your raw rice to the pot (still on medium-high heat) gently stir the raw rice in the fat for 30 seconds until coated. Pour in 3 cups of water and snuggle in the pork belly and sausage in the rice. Bring to a low boil. Turn heat to low and immediately cover. Cook for 12 minutes. When done cooking, pork belly and Chinese sausage and slice thinly on the diagonal. Serve with rice and Sweet Soy Sauce drizzled on top.
 Source:
steamykitchen.com
6.  Italy:  Chicken Risotto   
INGREDIENTS
4 boneless, skinless chicken breasts
3 Tbsp. olive oil
1/2 tsp. salt
1/8 tsp. pepper
1 onion, finely chopped
3 cloves garlic, minced
2 cups uncooked regular long grain rice
4 to 6 cups chicken broth
1 tsp. dried basil leaves, if desired
1 cup grated Parmesan cheese
2 Tbsp. butter
Prep Time: 15 minutes
Cook Time: 30 minutes
Total Time: 45 minutes
Yield: 6-8 servings
PREPARATION
Cut chicken breasts into 1-1/2″ pieces and sprinkle with salt and pepper.
In heavy saucepan, heat olive oil over medium heat. Add onion and garlic, and cook for 5 minutes until tender.
Add chicken pieces, and cook and stir until chicken begins to brown, about 3 minutes. Add rice, and stir to coat.
Add 1 cup chicken broth, and cook until liquid is reduced, stirring frequently.
Continue to add chicken broth to keep rice covered, stirring frequently.
The total cooking time should be about 25 minutes, or until the rice is tender.
Add basil, cheese, and butter just before serving and stir to melt.
Cover pot and let stand 5 minutes off the heat.
Source:
busycooks.about.com
7.   Saudi Arabia: Al Kabsa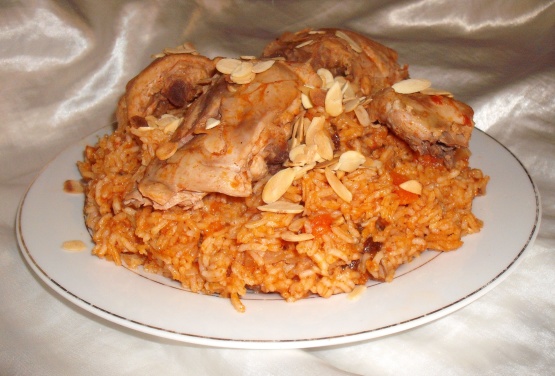 Kabsa is a famous traditional rice dish of Saudi Arabia. It can be made with many variations – and rice with chicken is one of them.
KABSA
SAUDI FOOD WITH EMAN
KABSA INGREDIENTS
1/3 CUP OIL
2 CUPS ONIONS
1/2 TSP GRATED GINGER
600G CHICKEN
1 TBSP SALT
1/2TBSP ORANGE ZEST
1/2TBSP BLACK PEPPER
1/2TBSP FINELY GRINDED CARDAMON
1 PIEACE DRIED LEMON
1/2 TSP CINNAMON POWDER
1/4TSP CLOVES POWDER
1TBSP TOMATO PASTE
2 CUPS TOMATO (FINELY CHOPPED)
KABSA TOPPING
1/3CUP ALMONDS(BOILED, CLEANED, CUT IN HALF)
1/3CUP RAISINS (ROASTED LIGHT BROWN)
KABSA MAIN DISH
1 1/2CUP LONG GRAIN RICE (SOAKED WATER 45MIN)
2CUPS SHREDDED CARROTS
KABSA INGREDIENTS
1) ON MEDIUM HIGH HEAT ADD THE 1/3 CUP OIL, 2 CUPS ONIONS, AND 1/2 TSP GRATED GINGER. COOK TILL BROWN.
2) ADD THE 600G CHICKEN, AND COOK TILL BROWN.
3) ADD THE REMIANING SPICES FOR KABSA INGREDIENTS (1 TBSP SALT, 1/2TBSP ORANGE ZEST, 1/2TBSP BLACK PEPPER, 1/2TBSP FINELY GRINDED CARDAMON, 1 PIEACE DRIED LEMON, 1/2 TSP CINAMON POWDER , 1/4TSP CLOVES POWDER, 1TBSP TOMATOE PASTE, 2 CUPS TOMATOE (FINELY CHOPPED)
4) ONCE YOU SEE THE OIL TO RISE ON TOP, POWR 1 LITER OF WATER AND COOK CHICKEN FOR 25MINUTES COVERED ON MEDIUM HIGH HEAT.
KABSA TOPPING
1) ON A SEPARATE PAN ON MEDIUM HIGH HEAT ADD A BIT OF OIL AND ALMONDS, ONCE BROWN PUT IT ON TISSUE PAPER.
2) THEN, TAKE THE RAISINS AND BROWN THEM, BE CAREFUL THEY BROWN QUICKLY. ONCE BROWN, PUT IT ON TISSUE PAPER.
KABSA MAIN DISH
1) ONCE CHICKEN COOKED FOR 25MIN, REMOVE AND ADD IT TO BAKING PAN AND BROIL IN HOT OVER FROM 5-10MIN.
2) TO THE POT, ADD 1 1/2CUP OF LONG GRAIN RICE AND 2CUPS SHREDDED CARROTS. COVER WITH CLEAN TOWEL TO ABSORB EXTRA MOISTURE AND TO KEEP THE RICE STIFF AND PUT THE COVER ON TOP. COOK FOR 25MIN ON MEDIUM HEAT.
SERVING
1) SERVE RICE FIRST, THEN CHICKEN ON TOP, AND THEN SPRINKLE ROASTED ALMONDS AND RAISINS ON TOP.
8. Taiwan:  Three Cup Chicken Recipe   (San Bei Ji)
Three Cup Chicken  has been enjoyed in Taiwan as a quintessential Taiwanese dish for quite some time.
The eponymous "cups" of this recipe denote equal parts soy sauce, sesame oil, and rice vinegar. It's a potent, salty and savory braised chicken dish with these ingredients along, but the dish really gets its signature from the sheer volume of garlic cloves, thick pieces of ginger and fresh basil leaves for flavor.
Prep Time: 30 minutes
Cook Time: 30 minutes
Level of Difficulty: Easy
Serving Size: 4 to 6
Ingredients 
Directions 
Heat the sesame oil in a large skillet or wok over medium-high heat.
Add the ginger, garlic, scallions, and chilies, and cook until just fragrant, about 1 minute.
Add the chicken pieces and lightly brown, stirring occasionally, 2 to 3 minutes.
Add the rice wine and soy sauce and bring to a boil.
Reduce to a simmer and cook, uncovered, until the chicken pieces are cooked through and the sauce has slightly reduced, about 15 minutes.
Stir in the sugar until just dissolved.
Remove from the heat and stir in the basil. Serve immediately.
Source:
foodrepublic.com
9.  Spanish Chicken and Rice   
This is the perfect recipe for any family mid-week supper, as well as for a weekend gathering with friends and a bottle of red wine! Any leftovers can be reheated the next day and UI have also frozen this too, with great results.
PREP 10 MINS
COOK 1 HR  
Ingredients:
 DIRECTIONS  
Heat the oil in a large pot or pan over a medium heat and then add the chicken pieces and brown for 2 to 3 minutes, before adding the chorizo sausage and sautéing for a further 2 minutes.
Add the onions, garlic and red pepper, and sauté for a few minutes until the chorizo sausage releases red oil and the vegetables have softened slightly.
Add the rice and mix thoroughly and cook for 1 to 2 minutes to coat it all in oil.
Add the stock and smoked paprika, and place a lid on the pot/pan. Simmer over a very low heat, with the lid on, for 45 minutes, or until the chicken is cooked and tender and the rice is soft and has absorbed all the liquid.
Adjust the seasoning and gently fluff up the rice and mix all the vegetables and chicken through, before adding the olives and the chopped thyme.
Serve immediately, setting the pot/pan on the table, with crusty bread and salad if liked.
 10. Korea: Bibimbap Chicken  
Serves 4
Turn your leftover chicken into bibimbap, the Korean meal-in-a-bowl rice dish. Here, carrots, stir-fried zucchini, and shiitake mushrooms adorn the rice, each of them infused with sesame oil.
Ingredients  
1 cup peeled and grated carrots
Kosher salt
1 Tbs. toasted sesame oil
3 Tbs. canola or peanut oil
2 medium zucchini, cut in half lengthwise, then cut into 1/4-inch-thick slices
1 clove garlic, minced
6 oz. shiitake mushrooms, stemmed and caps thinly sliced
3 cups thinly sliced leftover roasted chicken (or store-bought rotisserie chicken)
1 Tbs. soy sauce
6 cups hot steamed medium-grain rice (long-grain also works fine)
3 Tbs. sesame seeds, toasted in a dry skillet over medium heat until lightly browned and fragrant
4 scallions (white and green parts), trimmed and thinly sliced
Spicy Korean red bean paste or Thai chili paste (available in Asian markets; optional)
 Directions   
In a small bowl, toss the carrots with 1/2 tsp. salt and 1 tsp. of the sesame oil.
Heat 1-1/2 Tbs. of the canola oil in a large nonstick skillet over medium-high heat until shimmering hot. Add the zucchini, sprinkle with about 1/2 tsp. salt and 1 tsp. of the sesame oil and cook, stirring a few times, until it browns in places and becomes tender, about 4 minutes. Transfer to a large plate.
Return the skillet to the heat and add the remaining 1-1/2 Tbs. canola oil and the garlic. Once it begins to sizzle, add the mushrooms and cook, stirring, until tender and starting to brown, about 3 minutes. Add the chicken and cook, tossing, until heated through, about 2 minutes. Stir in the soy sauce and the remaining 1 tsp. sesame oil and cook for 1 minute. Remove from the heat.
Fluff the rice with a fork and divide it between 4 large bowls. Top each serving with the zucchini on one side, the carrots on the other, and some of the chicken mixture in the middle. Sprinkle with the sesame seeds, then the scallions. Serve immediately with the spicy bean paste if you like.
SOURCE:
finecooking.com
11. Japan: Oyakodon 
 This is a delicious traditional Japanese meal consisting of chicken sauteed and then cooked in a Japanese broth, and then finished with egg and served over rice. It's really easy, filling and delicious.
PREP: 15 mins
COOK: 25 mins
READY IN: 40 mins
Ingredients
 Directions 
Rinse the rice in 3 to 4 changes of water until the rinse water is almost clear, and drain off the rinse water. Bring the rice and 4 cups of water to a boil in a saucepan over high heat. Reduce heat to medium-low, cover, and simmer until the rice is tender and the liquid has been absorbed, 20 to 25 minutes.

Place the chicken in a nonstick skillet with a lid, and cook and stir over medium heat until the chicken is no longer pink inside and beginning to brown, about 5 minutes. Stir in the onion, and cook and stir until the onion is soft, about 5 more minutes. Pour in the stock, and whisk in soy sauce, mirin, and brown sugar, stirring to dissolve the sugar. Bring the mixture to a boil, and let simmer until slightly reduced, about 10 minutes.

Whisk the eggs in a bowl until well-beaten, and pour over the chicken and stock. Cover the skillet, reduce heat, and allow to steam for about 5 minutes, until the egg is cooked. Remove from heat.

To serve, place 1 cup of cooked rice per bowl into 4 deep soup bowls, top each bowl with 1/4 of the chicken and egg mixture, and spoon about 1/2 cup of soup into each bowl. 
SOURCE:
allrecipes.com
12.  Indonesi: Ayam Penyet   (Spicy Penyet Chicken)   

Ayam Penyet (Penyet Chicken) is a type of dish that will make your tongue feel like burning… It's so spicy that when you have the first bite, you will want some more of that spiciness.
Ingredients
Serves:
 2 
4 piece Chicken

300ml water

2 piece Salam Leaf

Oil to fry

5 cloves Garlic

1/2 tsp Coriander

3 cm Ginger

3 cm Galangal
3 cloves Shallots
1/2 tomato
1 tsp shrimp paste
2 tsp salt
1 bunch Lemon Basil (kemangi)
2 keylime
11 piece red chili
Directions
Prep:
30

min  ›  Cook:

30

min  ›  Extra time:

1

hr marinating  ›  Ready in:

2

hr 
Combine 4 cloves of Garlic, Coriander, Ginger, Galangal, Shallots and 1 1/2 of salt and make them into paste.
In a pot, soak chicken with paste, salam leaf and water and cook until chicken is tender. Meanwhile, heat the frying pan with oil.
Once the chicken is fully boiled, fry the chicken in the frying pan until it's golden brown.
To make the sambal (chili sauce): Heat up 1 tsp of oil, add shallots, tomato and red chili for 2 minutes. in a bowl, combine shallots, tomato and red chili with shrimp paste, salt, dash of sugar, keylimes, lemon basil and mix them until it forms a paste.
In a serving plate, place the sambal (chili sauce) at the bottom of the plate and place the fry chicken on top of the dish.
SOURCE:
allrecipes.asia
13.   India: Chicken Biryani 
INGREDIENTS
DIRECTIONS 
Soak the rice in warm water, then wash in cold until the water runs clear.
Heat the butter in a saucepan and cook the onions with the bay leaf and other whole spices for 10 minutes. Sprinkle in the turmeric, then add chicken and curry paste; cook till aromatic.
Stir the rice into the pan with the raisins, then pour over the stock. Place a tight fitting lid on the pan and bring to a hard boil, then lower the heat to a minimum; cook the rice for another 5 minutes. Turn of the heat & leave for 10 minutes. Stir well, mixing through half the coriander.
To serve scatter over the rest of the coriander and the almonds.
SOURCE:
indian.food.com
14.  Greece: Greek Rice Pilaf With Chicken  
PREP:  5 MINS COOK: 22 MINS  
INGREDIENTS 
DIRECTIONS  
In a heavy saucepan, saute onion in butter until tender.
Add rice and orzo and cook, stirring, for 2 minutes.
Add chicken broth and lemon juice and bring to a boil.
Reduce heat, cover, and simmer for 20 minutes or until rice is tender and liquid has been absorbed.
Fluff pilaf up with fork and stir in chopped parsley.
SOURCE:
food.com
15. Africa: Jollof Rice   
West African Jollof Rice is superb! Every west african country has its own version, however this is the best!
INGREDIENTS 
2cups rice (long grained or medium variety)
1⁄4cup groundnut oil or 1⁄4 cupolive oil
1⁄2tablespoon butter
1teaspoon dried thyme, if using fresh 2 tbsp would be perfect
1⁄4teaspoon curry powder(optional)
1onion, sliced
1celery, diced
1green pepper, diced (remove the seeds & white stuff)
2 -3garlic cloves (as per taste)
1cup chicken breast, diced not cooked preferably, omit if vegan
1⁄2inch piece ginger, peeled and grated
1tablespoon ground paprika(smoked would be ideal)
2tablespoons cayenne, add more if you want it hotter
3tablespoons tomato paste, I love using hunts
2large tomatoes, chopped finely (or 1 small can pureed tomatoes)
1carrot, cubed
1chicken bouillon cube (I love knorr chicken or maggi)
2cups chicken stock
2cups water
1⁄2cup portebello mushroom(optional)
peas (You can use frozen mixed veggeis)
DIRECTIONS  
Method.
Add oil and butter in a heat resistance pot, then add the chicken breast, paprika, cayenne, onion, celery, green pepper, garlic and ginger. Saute for about 3 minutes.
Add the chopped carrots next and saute for a minute with little salt.
Add the tomato paste, tomatoes along with curry powder, bay leaf & thyme. Cook until tomatoes get slightly soft. For about 3 minutes until you see the oil getting red. Then add frozen veggies. . Add the rice next. Saute for another 2 minutes or so.
Add 3 cups of vegetable stock/water, bouillon cube, required salt,close the lid and cook until 90% cooked, for about 30 minutes.
Allow the rice to continue cooking until the rice is soft. If it is not dry at this point, then switch the heat to low to allow it to dry the excess water without making the rice much softer.
If rice is still lil hard, add 1/4 cup water and cover with foil, which will allow it to steam through. Check back at 5 min and It should be ready. You want your rice not too soft.
Garnish with cilantro/parsely and serve.
 SOURCE:
food.com
16.  Latin America: Arroz con Pollo 
Total Time: 1hr 15min  Prep: 30mins Cook: 45mins
Yield: 6 servings  Level: Intermediate
Ingredients 
1/4 cup Achiote Oil, recipe follows
1 (3 to 4-pound) chicken, cut into 10 pieces
Fine sea or kosher salt and freshly ground black pepper
1/2 cup Sofrito, recipe follows
1/4 cup alcaparrado or coarsely chopped pimiento-stuffed olives
1 teaspoon ground cumin
Pinch ground cloves
4 cups long-grain rice
5 cups homemade or store-bought reduced-sodium chicken broth
2 large bottled roasted red peppers, cut into 1/4-inch strips (about 1 1/2 cups)
Achiote Oil:
1 cup olive oil
2 tablespoons achiote (annatto) seeds, see Cook's Note*
Sofrito:
2 medium Spanish onions (about 12 ounces), cut into large chunks
3 to 4 Italian frying peppers or Cubanelle peppers, cored, seeded and cut into large chunks
16 to 20 cloves garlic, peeled
1 large bunch cilantro, washed
7 to 10 ajices dulces (see Cook's Note*), optional
4 leaves culantro (see Cook's Note*), optional
3 to 4 ripe plum tomatoes (about 1 pound), cored and cut into chunks
1 large red bell pepper, cored, seeded and cut into large chunks
Directions  
In a paella pan or wide, shallow pan with a tight-fitting lid, heat the Achiote Oil over medium-high heat until the oil is rippling. Season the chicken with salt and pepper and add as many pieces skin side down to the pan as fit without touching. Cook, turning as necessary, until well browned on all sides, about 10 minutes. Remove the pieces as they are done and set aside. Adjust the heat under the pan, especially after you start removing chicken, so the chicken browns without the oil darkening.When all the chicken is removed from the pan, add the Sofrito and alcaparrado. Season, to taste, with salt and pepper. Raise the heat to high and boil until most of the water is evaporated from the Sofrito. Add the cumin and cloves.
Stir in the rice until coated with oil. Return the chicken to the pan, pour in enough broth to cover the rice by the width of 2 fingers (about 1-inch), and bring to a boil. Cook over high heat until the level of liquid reaches the rice. Stir gently and reduce the heat to low. Cover the pan and cook until the liquid is absorbed, the chicken is cooked through, and the rice is tender but firm, about 20 minutes. Fluff the rice with a fork. The arroz con pollo can be brought to the table right in the pan or transferred to a large serving platter. Either way, garnish with the red pepper before serving.
Achiote Oil:
Heat the oil and annatto seeds in a small skillet over medium heat just until the seeds give off a lively, steady sizzle. Don't overheat the mixture or the seeds will turn black and the oil will turn a nasty green. Once they're sizzling, remove the pan from the heat and let stand until the sizzling stops. Strain and reserve in a jar with a tight-fitting lid at room temperature for up to 4 days.
*Cook's Note: Achiote seeds are a deep orange seed with a nutty flavor. They are available in many supermarkets and almost all Latin markets.
Yield: about 1 cup
Sofrito:
Chop the onion and Cubanelle or Italian peppers in the work bowl of a food processor until coarsely chopped. With the motor running, add the remaining ingredients 1 at a time and process until smooth. The sofrito will keep in the refrigerator for up to 3 days. It also freezes beautifully.
*Cook's Note: Ajices dulces are little sweet peppers that look similar to the fiery hot Scotch bonnet or habanero peppers, only smaller. They have a wonderful fresh herbal flavor, almost like cilantro, but only a tiny bit of heat. Culantro is an herb with broad, round-tipped leaves. Its flavor is similar to cilantro, but much more intense. Both ajices dulces and culantro are available in Latin markets. If you cannot find them, simply increase the amount of cilantro to 1 1/2 bunches.
Yield: about 4 cups