Pregnant 10-year-old Indian girl allegedly raped by her stepfather is allowed an abortion
A panel of doctors has accepted a 10-year-old rape victim's plea for an abortion in the northern Indian state of Haryana.
A pregnant 10-year-old girl from northern India, who was allegedly raped repeatedly by her stepfather, will be permitted to have an abortion.
The victim is nearly five months pregnant and abortion after 20 weeks is legally restricted in India, but a medical board studied her case and eventually gave its consent on Tuesday (16 May). A local court in Rohtak, in the state of Haryana, ordered that the procedure be carried out in the next few days.
Dr Ashok Chauhan told the BBC the termination would be carried out "anytime now".
GETTY IMAGES 
The decision to allow the child to abort was taken after a local court told doctors at the Post-Graduate Institute of Medical Sciences (PGIMS) in the town of Rohtak that it would accept their recommendation.
"The court had asked the medical board to take a call and doctors have decided to go ahead with the abortion," Garima Devi, the police investigation officer assigned to the case, told AFP.
"The board has not said when they are planning it (abortion) but it will be any time soon."
In recent months India's top court has received a number of petitions from women — including rape survivors and trafficking victims — seeking abortions where pregnancies had gone beyond 20 weeks.
Activists say the restriction should be extended to 24 weeks as victims of rape are often late to report their pregnancies.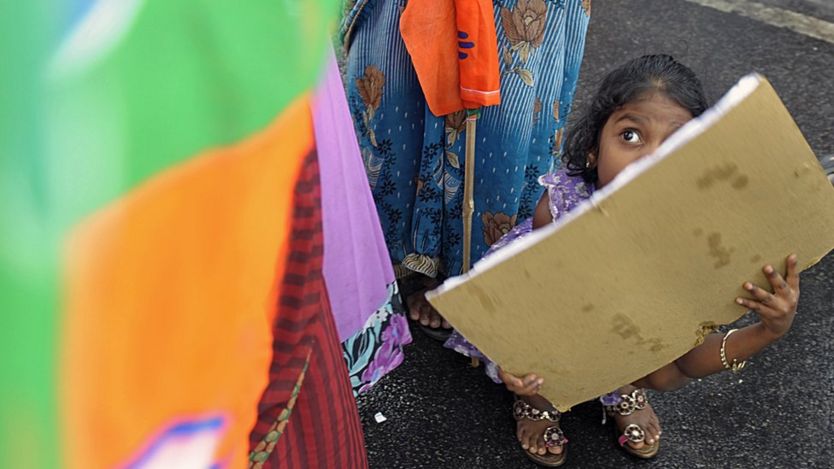 Campaigners say child safety is of utmost importance IMAGE:    AFP Source: BBC
The Indian Express said the victim's mother wanted the accused to be set free as he had apologized and that she had other children to take care of.
"The girl's life is destroyed but what will happen to my other children? I need to think about their future too," the daily quoted the mother as saying from a hospital in Rohtak, a district in northern Haryana state.
Image: Yahoo news
India has a gruesome record on rape, with the capital New Delhi alone registering 2,199 rape cases in 2015 — an average of six a day.
India is home to the largest number of sexually abused children globally. But there's a general reluctance to talk about the problem and it's rarely discussed in public.
Studies have shown that in large numbers of cases, like in the case of the 10-year-old rape victim in Rohtak, the abusers are known to the children and include care-givers like parents, relatives and teachers.
Contrary to the popular belief that only girls are abused, boys are equally at risk; and children from affluent families are just as much at risk as those from poor backgrounds.
Campaigners say sexual abuse of children goes unchecked because the victims are often afraid to report it to their parents or teachers, and also because parents themselves often hush it up, fearing family dishonour.
But in recent years India has been waking up to the problem and on Tuesday, child rights charity World Vision India launched a new campaign to end child sexual abuse by 2021.
The campaign aims to impact five million children across 200 districts and calls on every Indian citizen to work to break the silence that surrounds child abuse.
Campaigners say India's culture at present stands on the side of the offender, and that must change.
---
The tough law against abortion was introduced to fight India's skewed gender ratio. A deep-seated cultural preference for sons has led to millions of female foetuses being aborted over the years by pregnant women after undergoing foetal gender testing.
In recent months India's Supreme Court has received several petitions, some from women who were raped, wanting to terminate pregnancies after 20 weeks. The court has always referred the matter to medical experts.
---
The scale of abuse in India
A child under 16 is raped every 155 minutes, a child under 10 every 13 hours
More than 10,000 children were raped in 2015
240 million women living in India were married before they turned 18
53.22% of children who participated in a government study reported some form of sexual abuse
50% of abusers are known to the child or are "persons in trust and care-givers"
Sources: Indian government, Unicef
---
A UN Committee on the Rights of the Child in 2014 expressed alarm over the widespread sexual abuse of children and said one in three rape victims in India was a minor.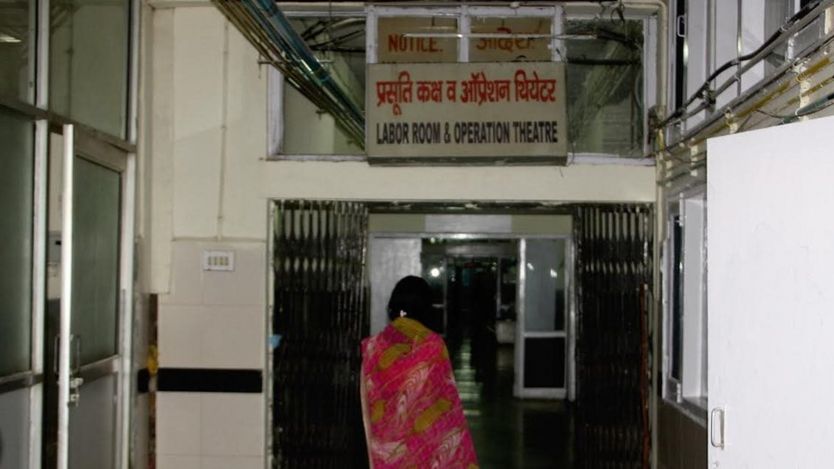 Doctors at the Rohtak hospital told the BBC the termination would be carried out "anytime now" IMAGE MANOJ DHAKA Source: BBC
In the latest case in Rohtak town in Haryana, doctors from the Post-Graduate Institute of Medical Sciences (PGIMS) accepted the family's request to allow the child to have an abortion after discussing the matter on Monday.
The pregnancy came to light last week when the 10-year-old's mother, who works as a domestic helper, suspected her child was pregnant and took her to see a doctor.
Reports said the girl was often left at home when her mother went to work. She told her mother that she had been repeatedly raped by her stepfather, who had warned her not to say anything.
The stepfather was arrested after the mother lodged a police complaint, senior Rohtak police official Pankaj Nain told the BBC.
Dr Chauhan had said on Monday, May 15, 2017 the case for the termination was "borderline".
"She is around 20 weeks pregnant, but it could be 19 weeks or it could be 21 weeks. The technology is not so advanced that it can tell you exactly what week she's in."
SOURCE:
Yahoo news
BBC
IBTimes UK
*****
Child sexual abuse in India
By: Wikipedia
Child Sexual Abuse is a major problem in India, . This is a compilation of statistics and major incidents and policy developments around the issue of Child Sexual Abuse in India.
Definition
The Protection of Children from Sexual Offences Act, 2012, drafted to effectively address sexual abuse and sexual exploitation of children (below 18), defines different forms of sexual abuse, as listed below:
Penetrative sexual assault
inserting any object or using any part of body to cause penetration into any part of the body of the child or making the child do so.
Sexual assault without penetration
touching penis, vagina, anus, breast of a child with sexual intent
making physical contact to child with sexual intent or making the child do so.
Sexual harassment
making any sound or gesture or exhibiting any object or part of body, with sexual intent, so that it will be heard or seen by the child
making a child exhibit his body or make a gesture son that it is seen by the child or other person with sexual intent.
constantly following or watching child either directly or through digital or any other means with sexual intent
showing any object to child in any form with sexual intent or enticing child for pornographic purposes.
The law deems a sexual assault to be "aggravated" under certain circumstances, such as when the abused child is mentally ill or when the abuse is committed by a person in a position of trust or authority vis-a-vis the child, like a family member, police officer, teacher, or doctor.
Any person who suspects that such a crime may be committed or finds out that such a crime is in fact being committed has a duty to report it to the police. The policy have a duty to take the child to a hospital if they are in need of care and protection. They also must report such crimes to the child welfare committees and courts. The child welfare committees will look into whether a child needs to be removed from his or her home if the offender lives in the same household.
Surveys and statistics
A statement released by Louis-Georges Arsenault, UNICEF Representative to India states, "It is alarming that too many of these cases are children. One in three rape victims is a child. More than 7,200 children including infants are raped every year; experts believe that many more cases go unreported. Given the stigma attached to rapes, especially when it comes to children, this is most likely only the tip of the iceberg."
1998
The Indian NGO Recovery and Healing from Incest (RAHI) conducted India's first study of child sexual abuse. It surveyed 600 English-speaking middle and upper-class women, 76 percent of whom said they had been abused in childhood or adolescence, 40 percent by at least one family member, most commonly an uncle or cousin.
2006
Tulir-CPHCSA`s study in 2006,conducted among 2211 school going children in Chennai,indicates a CSA prevalence rate of 42%.Children of all socio-economic groups were found to be equally vulnerable.while 48% of boys reported having been abused,the prevalence rate among girls was 39%.15 % of both the boys and girls were severely abused
2007
The Indian government backed a survey of 125000 children in Thirteen states. Of the children interviewed, more than half (53%) said that they had been subjected to one or more forms of sexual abuse. Over 20% of those interviewed said they were subjected to severe forms of abuse. Of those who said they were sexually abused, 57% were boys.
Law
The government has failed to prevent much of the child sexual abuse from taking place. Additionally, the existing systems of child protection and the stakeholders involved including police, lawyers, media, teachers, parents etc. are simply not doing enough to help victims or to ensure that perpetrators are punished. A government appointed committee, in January, found that the government's child protection schemes, "have clearly failed to achieve their avowed objective."
Causes
It is argued that the prevalence is driven by a higher reluctance to expose relatives and other known persons, who are often the abusers, such as neighbors, teachers and authority figures. As a result, more than 50% of adults who were abused surveyed wanted the matter to stay within the family and only 17% wanted harsh punishments for offenders. There is a culture of silence around it.
Prominent cases
Before POCSO
The Mathura rape case was an incident of custodial rape in India on 26 March 1972, wherein Mathura, a tribal girl who was a minor at the time, was allegedly raped by two policemen on the compound of Desai Ganj Police Station in Chandrapur district of Maharashtra. After the Supreme Court acquitted the accused, there was public outcry and protests, which eventually led to amendments in Indian rape law via The Criminal Law (Second Amendment) Act 1983 (No. 46)
Bharwada Bhoginbhai Hirjibhai v. State of Gujarat 1983
The accused, a middle aged man had confined 2 friends of his daughter aged around 10, who had come to his house to meet the daughter, and had raped them.The trial court convicted the accused for rape, violating modesty and wrongful confinement. The High Court upheld conviction while reducing the charge from rape to attempt to rape. The Supreme Court upheld the judgement of the trial court on the ground that minor discrepancies in the evidence were not relevant. The Court further remarked that corroboration for conviction in rape cases is not necessary. This judgement was relied on in later judgments to secure conviction when they were no other eyewitnesses to support evidence given by the victim.
State of Punjab Vs. Gurmit Singh 1996
In this case, the Supreme Court was highly critical of the acquittal of persons accused of gang-raping a 16-year-old girl. The trial court had referred to the young village girl as a person of loose character who had invented the story of rape to justify spending a night out of home. It had refused to rely on her statement. The Supreme Court observed that the appreciation of evidence by the trial court was "not only unreasonable but perverse". It held that: "The testimony of the victim in such cases is vital and unless there are compelling reasons which necessitate looking for corroboration of her statement, the courts should find no difficulty to act on the testimony of a victim of sexual assault alone to convict an accused where her testimony inspires confidence and is found to be reliable. Seeking corroboration of her statement before relying upon the same, as a rule, in such cases amounts to adding insult to injury."
Sakshi Vs. Union of India 2004
The NGO Sakshi filed a writ petition in Public Interest to broaden the definition of rape in cases involving children where the child is abused by insertion of objects into the vagina or insertion of the male organ into body parts such as anus or mouth. The Supreme Court rejected the Plea & dismissed the PIL. But it issued valuable guidelines for trial of rape and sexual abuse which concern children. These are known as the Sakshi guidelines:-
A screen or an arrangement where victim or witnesses do not see the body or face of the accused.
Questions put in cross examination on behalf of accused, if they relate directly to the incident, must be given in writing to the Presiding Officer of the court who may put them to the victim/witnessed in a language that is clear and not embarrassing.
Victims of child abuse or rape should be allowed sufficient breaks as and when required during the testimony.
Anchorage Case 2006
Duncan Grant, a charity worker and UK citizen, had set up Anchorage shelter in Colaba, Mumbai, in 1995. Allan Waters, another UK citizen, was a visitor to the home. The pair were charged in 2001 with sexual assault after five boys complained to the police about repeated sexual and physical abuse by the men. They were acquitted by the High Court in Mumbai in 2008 for lack of evidence. But the Supreme Court overturned that decision and upheld guilty verdicts from the trial court in 2006 which sentenced the men to six years.
After POCSO
The Protection of Children from Sexual Offences Act, 2012 received the President's assent on 19 June 2012 and was notified in the Gazette of India on 20 June 2012. The Act is due to come into force shortly, along with the rules being framed under the Act.
State of Maharashtra Vs. Dattatraya
Accused was found guilty under POCSO and awarded the death penalty. Accused was neighbor of the victim, age 5 years. He took the victim to his house forcibly had vaginal & anal sex, caused her head injuries and smothered her as a result of which she died.
Sarath Chandra Pottala V. Union of India
Petitioner challenged the constitutional validity of POCSO on the grounds that if a question arises over the age of the accused, the Special Court has the power to determine the same. However it has no power to seek determination of the age of the victim if there is a dispute regarding it. The petition was dismissed in view of article 15 (3) of constitution and beneficial nature of POCSO.