Entrenched in culture and religion and long hidden in shadow, child marriage was denounced by the United Nations as a serious human-rights violation in 2001.
Child marriage is an appalling violation of human rights and robs girls of their education, health and long-term prospects," says Dr. Babatunde Osotimehin, Executive Director, UNFPA.
In a three-minute video posted online, Nada al-Ahdal, a slight and pretty 11-year-old girl, has caught the attention of millions in her home country, Yemen, and abroad, as she tells her story.
Sitting in a car, she speaks to the camera eloquently and forcefully, and tells of an alleged attempt by her parents to forcibly marry her to an older man.
"Does it satisfy you for me to be married? Does this satisfy you?… Mum, accept this: I don't want you. You killed my dreams, all of them."
The video went viral, first in Arabic, and then in a version that was translated into English, and clocked over seven million views in three days.
However, since it first emerged, a number of sides, including Nada's parents, have disputed the child's story.
The case has thrown a spotlight on the contentious issue of the forced marriage of children in Yemen, where it is a socially accepted custom in some areas.
Some Yemeni social media users reacted negatively to the video itself, feeling that it was wrong to expose Nada's parents to public criticism, as it was not in keeping with Yemeni traditions.
"I swear this is shameful. How can you bash the girls of Yemen like this… You've embarrassed us… This is the start of her going astray," was the reaction of one Yemeni Facebook user.
Nada is now in the custody of the Yemeni Women's Union, a women's rights NGO.. (Source: bbc.com– Girl's online plea highlights plight of Yemen's child brides–By Abubakr al-Shamahi)
***
Child marriage spans continents, language, religion, caste. In India the girls will typically be attached to boys four or five years older; in Yemen, Afghanistan, and other countries with high early marriage rates, the husbands may be young men or middle-aged widowers or abductors who rape first and claim their victims as wives afterward, as is the practice in certain regions of Ethiopia.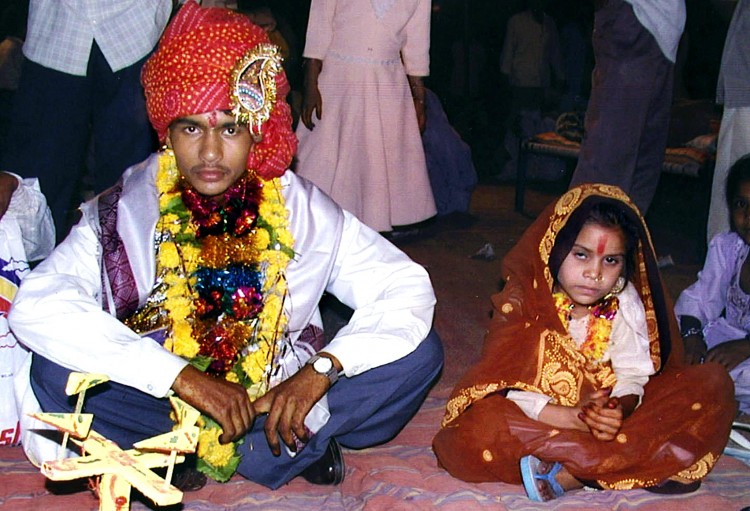 The forced marriages of young girls usually happen because families find it hard to resist the prices being offered for the daughters' hands. These people often live in extreme poverty, with the mouths of many children to feed. Girls, in particular, may be seen as a burden because they are unable to go to work and provide an income for the family.
Some of these marriages are business transactions, barely adorned with additional rationale: to preserve the virginity of the child by marrying them at an earlier age; as a way of "selling" daughters to settle a debt owed or a feud between two families ("vani").   In either case, the children have no say in the situation and are rarely aware of it until it is time for them the "widayi" or the custom of giving the daughter away to her in-laws. Gender inequality and discrimination, persecution, preserving a girl's virginity and family honor, gender-based violence, and poverty, are also contributing factors.
But while the price for a daughter may bring temporary relief to many of these parents, they are often condemning their children to a life of poverty. Many child brides are denied the right to go to school, and most will bear many children for their ageing husbands (their rapists) soon after hitting puberty. From that time on, they will be sentenced to a life of poverty and injustice.
And wedding nights are not the only times these young brides are at risk of death. A child bride faces greater health risks and experiences real physical violation and trauma as her young body is forced to deal with early sexual activity. Many child brides die while giving birth; their young, undeveloped and often malnourished bodies are not equipped to carry a baby to full term.
According to the World Health Organization, pregnancy-related deaths are the leading cause of death worldwide for girls 15 to 19 years old. As child brides, girls under the age of 15 are five times more likely to die of pregnancy-related complications than women in their 20s. Medical relief groups believe that at least 2 million women worldwide are currently living with gruesome vaginal and anal ruptures, resulting from bearing children much too young.
Therefore, along with the painful experience of sex, these girls are often impregnated in their early teen years and experience pregnancy and childbirth at a time when their bodies have barely matured.
These child brides also have to mature emotionally at a rapid pace. At a young age, they are propelled into the roles of a wife, a daughter-in-law in a joint family system, and often into the role of a mother. Before they are capable of taking care of themselves, the situation coerces them into taking responsibility of elderly in-laws and infant children.
The husbands are often brutish men in their 30s, 40s and even 50s, on the prowl to rape and own unpaid domestic servants. Often treated as indentured servants, young brides suffer beatings by their husbands and in-laws, and thousands of these girls end up trapped in the sex trade business – whether through organized child bride trafficking rings, or by simply drifting from abusive marriages into street prostitution.
Without education, they perpetuate the emotional and physical trauma of child marriage because they have not been exposed to anything else. They were confined to their husbands' homes, thus they are deprived from the rights of a children to be educated and sentencing her and her children to a lifetime poverty.
While child marriages will not come to an instantaneous end, it is important to raise awareness of the issue and work against it. Changing the situation for the girl child not only improves her life but the whole nation and future generations to come. Initiatives and campaigns all around the world must  support and promote girls' human rights. For instance the EQUALITY NOW Initiative in Egypt to stop the lowering of the minimum age of marriage for girls.  Importance of nurturing and empowering the girl child signifies to young women as 'The successor generation of women leaders'. Abolishing child marriage is wise, moral and good politics. Child marriage adds to the fragility of fragile states, where girls are often regarded as salable commodities.
According to the World Health Organization, pregnancy-related deaths are the leading cause of death worldwide for girls 15 to 19 years old. As child brides, girls under the age of 15 are five times more likely to die of pregnancy-related complications than women in their 20s. Medical relief groups believe that at least 2 million women worldwide are currently living with gruesome vaginal and anal ruptures, resulting from bearing children much too young.
Girl child Facts and Figures
Marriage:
Every 3 seconds, a girl is forced or coerced to marry
Every year, 10 million girls are forced or coerced into marriage
1 in 3 girls in the developing world is married by the age of 18
1 in 7 girls marries before they reach the age of 15
Education:
75 million girls around the world are out of school
1 in 3 girls is denied a secondary education
Girls' primary school completion rates are below 50% in most poor countries
 while about 41% of girl's transition to secondary school education, only 3% complete the cycle
FGM: Female Genital Mutilation ( FGM, which (according to WHO) involves partial or total removal of the external female genitalia or injury to the female genital organs for non-medical reasons to 'make her a woman.' )
About 140 million girls and women worldwide are living with the consequences of FGM
FGM is mostly carried out on young girls between infancy and age 15
In Africa an estimated 92 million girls above the age of 10 have undergone FGM
Sexual Health and Violence:
150 million girls under 18 have experienced rape or other forms of sexual violence
leading cause of death for young women aged 15-19 years in developing countries is pregnancy
Through our action I hope that girls in developing countries, are able to be just that, girls – and have the time and space to do a little daydreaming, as I did, instead of being forced into marriage.
***
***
***
Outcry over case of child bride Sahar Gul who was returned to her in-laws despite their attempts to force her into prostitution  
Sahar Gul, 15, an Afghan child-bride was nearly tortured to death by her husband soldier, Gulam Sakhi and is being treated for horrific injuries in a hospital in Kabul after she was rescued. She was tortured by her father-in-law, mother-in-law and sister-in-law in their effort to make her a prostitute. Sahar Gul was assaulted for six months, held in basement while her fingernails were ripped off and her skin damaged with hot irons.
She was so feeble and traumatized that for weeks she could barely speak.
Her uncle's wife, who was also there to take care of her and ensure her security, stated: "Her family was abusing her and wanted to force her into prostitution. When she refused their demand she was tortured by them." Sahar Gul's both hands were broken during torture and beating, her hair was ripped off and her finger nails were removed, her left leg had turned bruised in the thigh under repeated torture, her left eyelash and eyelid had been burnt with hot metal rod, the score of which was still visible. In short, marks of torture and beating were visible all over her body.
Her case has caused uproar in Afghanistan and Hamid Karzai, the country's president, has vowed that those responsible will be punished.
"She ran away to her neighbour's house and told them that her husband was trying to make her become a prostitute," said local community leader Ziaulhaq. " 'If you are a Muslim, you must tell the government what is happening to me,' she told them."
The locals said they did take the case to the authorities. When the police arrived Sahar's mother-in-law tried to fight them off, screaming all the while that her son had "bought" the girl who therefore had to do what she was told.
She appeared to be alluding to the dowry paid by Sakhi's family, a sum thought to be around £2,700.  (theguardian.com)
Sahar Gul, sold into marriage in northern Afghanistan at the age of 12, became 2012 poster girl for Afghanistan's battered wives after police rescued her from the cellar where her in-laws had been tormenting her.   (channel 4)
"I wanted them to be punished," Gul said after hearing the verdicts from the court. "I want them to have their nails ripped off and for them to receive burns like they gave me. I wanted to get my divorce."
The Kabul Sessions Court on May 1 delivered 10-year sentences against Gul's father-in-law, mother-in-law, and sister-in-law, who had been accused of imprisoning and brutally abusing the 15-year-old newlywed. Police are still looking for Gul's husband and brother, both of whom are suspects in the case.
Doctors are still closely monitoring her fragile psychological condition as the teenager battles acute trauma and depression. But after enduring months of hell after being sold into marriage to a man twice her age, most of Gul's physical scars have healed and she now looks forward to achieving the big goals she has set for herself.
Speaking from her new home in Kabul, at a shelter run by Women For Afghan Women, a nongovernmental organization that supports abused women, she is full of optimism.
She has been inspired by her new found freedom and has resumed her education, which she was forced to abandon at the fourth grade after she was forced into marriage.
"I study and pray. When I feel like it, I go outside and sit with my friends. Then when I'm tired, I go to sleep. I sometimes play with my doll," she says. "If I can, I sit down and write and read my schoolbooks. I go to school in the afternoons."
"In relation to the case of Sahar Gul, I have to say that in the 21st century this is a crime against humanity. All the people included are criminals," Suriya Sobrang, head of women's affairs at Afghanistan's Independent Human Rights Commission. "Afghans should see the consequences and learn a lesson. I hope this will prevent the continuation of such violent crimes in Afghanistan."(rferl.org)
***
Santadevi Meghwal, from the western desert state of Rajasthan was married off at 11 months old to a nine-year-old boy in her village, 60 km (37 miles) south of Jodhpur. 
Santadevi Meghwal, from the western desert state of Rajasthan, said she was married off at 11 months old to a nine-year-old boy in her village, 60 km (37 miles) south of Jodhpur.
Meghwal became aware of her marriage at the age 16 and, with the support of her parents, refused to go and live with her husband and in-laws as they demanded.
"I was 11 months old when I was married off. It was only when I grew up that I realized what had happened," Meghwal told the CNN-IBN television station on Wednesday. "I want to study and become a teacher. I don't want to go there," she added.
"The community is forcing us to send our daughter to the groom's and if we don't, they are demanding 16 lakh (1.6 million) rupees from us," Padmaram, Meghwal's father, told the NDTV news channel.
A local charity, the Sarathi Trust, said it was helping the family, was planning legal action against the members of the village council, and had advised Meghwal's in-laws to agree to an annulment of the marriage.
Child marriage is illegal in India, but it is deeply rooted in Indian society and remains widespread in parts of the country. About 47% of women aged between 20 and 24 were married before the age of 18, according to government figures. (businessinsider.com)
Gulf News: While child marriage is illegal, the tradition continues. What were your reasons for opposing it?
Santadevi Meghwal:
I was sceptical about it because my elder sister, who also had a child marriage, suffered a lot. Her in-laws ill-treated and threw her out of the house within four years of marriage. I did not want to suffer the same fate. Moreover, when I turned 16 and my so-called husband Sanwalram and his parents turned up at our house in Rohicha Kallan village in Jodhpur district and I refused to go with them, Sanwalram showed his true colours. He began stalking me when I would go to college. He even threatened to take me away forcibly. The villagers would see him harassing me, but never intervened. Such experiences helped me in my decision to oppose such a marriage.
My father, who works in the fields as a daily wage earner, is very supportive now and since I wanted to study further, he is fully backing my decision to educate myself.
What are your future plans?
I am 20-years-old now and have completed the second year of my graduation. My aim is to become a teacher and guide young children about issues concerning their lives. (readsharecare.blogspot.com)
***
 A Hildale, Utah/Colorado City, Arizona police officer had THREE wives; the last one he "married" when she was only 16 years old.  He was 32 years old at the time of marrying this child bride.   In Utah, this is a third-degree felony.  This poor girl was ORDERED by the religious "Prophet" to marry him.  Not only that, but she had to marry the man who was also married to her own sister.In August 2003, he was convicted in Utah of bigamy and illegal sex with this teenage girl whom he had taken as a third wife.  (childbrides.org)
***
Warren Steed Jeffs, self-proclaimed prophet and leader of the Fundamentalist Church of Jesus Christ of Latter Day Saints, Hidale, Utah, surrounded by his teenage wives (from left to right) Sharon Holm Steed (age 17), Sharon's half-sister Rebekah Barlow Steed (age 16) and Margaret Steed Jessop (age 16). Warren Jeffs' also married Sharon and Rebekah's three sisters.He was convicted of two counts of sexually assaulting a child – one 12 and one 14-year-old. (dailymail.co.uk)
CHILD BRIDES PHOTOS: