Dalmatian 
The Dalmatian we know today comes from a long line of "coach dogs," bred to chase horse-drawn carriages day and night. Consider this breed if you are an active person who can provide plenty of training, socialization, and opportunities for hearty exercise. They are tough, dependable and have an incredible stamina. Dalmatians were created to run for miles alongside carriages, helping to ward off highwaymen and add a touch of flair to the vehicle with aristocratic passengers. (Now we just have cars with racing stripes.) Not surprisingly, the Dalmatian today has an endless capacity for exercise and is the ideal companion for people who jog, skate, or bicycle. He's also a keen competitor in canine sports such as agility and flyball.
A Dalmatian must have adequate daily exercise to prevent behavior problems from developing.  If you're a cross-country runner or daily jogger, you may have met your match: Dalmatians can keep up with the most intense runners. And for those who live on a ranch or farm, Dalmatians have an instinctive calming effect on horses that goes back to their carriage-guarding days.
If you are considering a Dalmatian, be aware that the breed is not only highly active but also highly intelligent. They need training early in life to establish rules for behavior, or they will decide it is their job to run things. Dalmatians can be a bit headstrong so training must be firm and consistent.
At the same time Dalmatians are sensitive and do not respond well to harsh training methods. You need a positive approach to training with lots of rewards for proper behavior if you want a well-trained dog. Dalmatians are said to not forget mistreatment or harsh behavior.
Source:
dogtime
dogster
Bulldog 
The perfect Bulldog must be of medium size and smooth coat; with heavy, thick-set, low-swung body, massive short-faced head, wide shoulders and sturdy limbs. The general appearance and attitude should suggest great stability, vigor and strength. The disposition should be equable and kind, resolute and courageous (not vicious or aggressive), and demeanor should be pacific and dignified. These attributes should be countenanced by the expression and behavior.
Souce:
akc.org
Police Dog 
A police dog, often referred to in North America as a "K-9" (which is a homophone of canine), is a dog that is specifically trained to assist police and other law-enforcement personnel in their work, such as searching for drugs and explosives, searching for lost people, looking for crime scene evidence, and protecting their handlers. Police dogs must remember several hand and verbal commands. The most commonly used breed is the German Shepherd.
In many jurisdictions, the intentional injuring or killing of a police dog is a felony.
Source:
wikipedia
American Eskimo Dog 
Called "the dog beautiful" by his admirers, the American Eskimo Dog, or "Eskie," is a striking fellow with his white coat, sweet expression, and black eyes. He's a Nordic dog breed, a member of the Spitz family. Eskies are lively, active companion dogs who love to entertain and join in on all family activities. They are outgoing and friendly with family and friends, but reserved with strangers. Although the Eskie is a small dog — 10 to 30 pounds — he has a big-dog attitude. (dogtime)
Cairn Terrier 
That of an active, game, hardy, small working terrier of the short-legged class; very free in its movements, strongly but not heavily built, standing well forward on its forelegs, deep in the ribs, well coupled with strong hindquarters and presenting a well-proportioned build with a medium length of back, having a hard, weather-resisting coat; head shorter and wider than any other terrier and well furnished with hair giving a general foxy expression. (akc.org)
Dachshunds
Dachshunds are scent hound dog breeds who were bred to hunt badgers and other tunneling animals, rabbits, and foxes. Packs of Dachshunds were even used to trail wild boar. Today their versatility makes them excellent family companions, show dogs, and small-game hunters.
Nicknamed the "wiener dog," this smallest of the hounds is short on leg but long on personality.  (dogtime)
Yorkshire Terrier
Small in size but big in personality, the Yorkshire Terrier makes a feisty but loving companion. The most popular toy dog breed in the U.S., the "Yorkie" has won many fans with his devotion to his owners, his elegant looks, and his suitability to apartment living.  Glamorous but feisty, the Yorkshire Terrier has a vivacious spirit and a loving heart. (dogtime)
Welsh Terrier
The Welsh Terrier dog breed's zest for life is contagious, and he always enjoys himself to the fullest. Bred to hunt independently, with all the self-determination and intelligence that entails, the happy and lively Welshie rarely gets tired and wants to spend his days having fun, fun, fun. His joy, his attitude, and his brains all add up to one wonderful package: He's a true Terrier. The Welsh Terrier loves fun and pursues life to the fullest. (dogtime)
Keeshond
The Keeshond is a compact little animal with a strong resemblance to its ancestor, the Samoyed. Its eyes are medium sized and dark in color. The ears are erect, triangular in shape and set high on the head. The tail is medium in length and carried over the back. The muzzle is medium in length and well-proportioned to the skull. The feet are catlike, compact and well rounded. The dog has both a long, straight, harsh outer coat, which comes in shades of gray with black tips and a thick, downy undercoat, which is cream or pale gray. The coat stands away from the body. dogbreedinfo)
The Keeshond is an old dog breed, once a companion and watchdog on the barges and boats that traveled the canals and rivers of Holland in the 17th and 18th centuries. He's almost exclusively a companion dog today. He's a people-lover; willing to participate in all family activities, he thrives with people who expect this of their dog. He is lively, alert, and intelligent — qualities that won him status as the most beloved dog in Holland. Friendship is this loving Dutchman's number-one goal. (dogtime)
Chow dog 
A powerful, sturdy, squarely built, upstanding dog of Arctic type, medium in size with strong muscular development and heavy bone.  The body is compact, short coupled, broad and deep, the tail set high and carried closely to the back, the whole supported by four straight, strong, sound legs.  Viewed from the side, the hind legs have little apparent angulation and the hock joint and metatarsals are directly beneath the hip joint.  It is this structure which produces the characteristic shorter, stilted gait unique to the breed.  The large head with broad, flat skull and short, broad and deep muzzle is proudly carried and accentuated by a ruff.  Elegance and substance must be combined into a well balanced whole, never so massive as to outweigh his ability to be active, alert and agile.  Clothed in a smooth or an offstanding rough double coat, the Chow is a masterpiece of beauty, dignity and naturalness.  Essential to true Chow type are his unique blue-black tongue, scowling expression and stilted gait.
Greyhounds
Greyhounds were originally bred as hunting dogs to chase hare, foxes, and deer. Canines in this
dog breed
can reach speeds of 40 to 45 miles per hour, making them the Ferraris of the dog world. Not surprisingly, Greyhounds made a name for themselves as racing dogs and are still used in racing today. They also participate in many other dog sports, including lure coursing, conformation, obedience, and
agility
. Beyond their grace and speed, people love them for their sweet, mild nature. Beneath the sleek and speedy exterior lies a couch potato at heart. (dogtime)
Irish Wolfhound
The Irish Wolfhound dog breed was originally used in war to drag men off horses and chariots. He also hunted large game such as deer, boar, and wolves. Today this adaptable dog is a family companion who also competes in obedience, tracking, and lure coursing. This gentle giant has a kindly disposition and dignified demeanor. (dogtime)
Scottish Deerhound 
The original purpose of Scottish Deerhound dog breed was to hunt and bring down the Scottish roe deer, a magnificent beast twice or more their size. Today, if the Scottish Deerhound were writing a personals ad, he'd say that he enjoys long walks, opportunities to run, regular meals, and a nice sofa to nap on. A romantic past lives on in this devoted, gentle, and courageous dog. (dogtime)
Afghan Hound
The Afghan Hound is elegance personified. This unique, ancient
dog breed
has an appearance quite unlike any other: dramatic silky coat, exotic face, and thin, fashion-model build. Looks aside, Afghan enthusiasts describe
this hound
as both aloof and comical. Hailing from Afghanistan, where the original name for the breed was Tazi, the Afghan is thought to date back to the pre-Christian era and is considered one of oldest breeds. Handsome, sensitive and independent, the Afghan is treasured by those who know and love him. (dogtime)   
Karelian Bear Dog
The
Karelian Bear Dog
(KBD) is a
Finnish
or
Karelian
breed
of
dog
. In its home country, it is regarded as a national treasure. KBD will hunt a variety of animals. Its quick reflexes and fearless nature have made it very popular for hunting aggressive game, including
bears
, moose, and
wild boar
. It was the breed's ability to hunt and offer protection against a bear that earned the breed its name. (wikipedia)
Finnish Spitz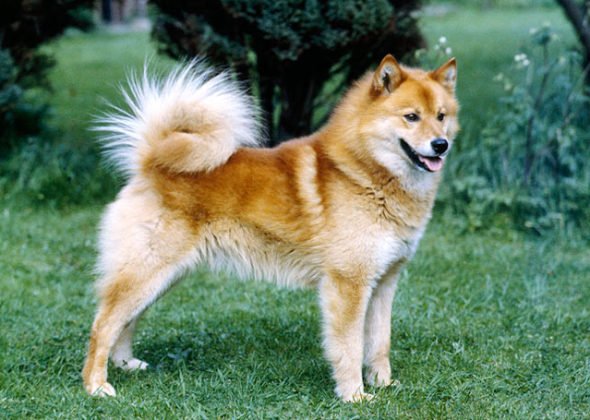 Finnish Spitz were originally were bred to hunt a variety of small and large game, and then bark when they found something. Today they're considered "talkative" companions who will keep you apprised of just about everything going on in your surroundings. Finland's charming redhead has lots to say. (dogtime)
Belgian Sheepdog 
The first impression of the The first impression of the Belgian Sheepdog is that of a well balanced, square dog, elegant in appearance, with an exceedingly proud carriage of the head and neck. He is a strong, agile, well-muscled animal, alert and full of life. His whole conformation gives the impression of depth and solidity without bulkiness. The male dog is usually somewhat more impressive and grand than his female counterpart. The bitch should have a distinctly feminine look.  is that of a well balanced, square dog, elegant in appearance, with an exceedingly proud carriage of the head and neck. He is a strong, agile, well-muscled animal, alert and full of life. His whole conformation gives the impression of depth and solidity without bulkiness. The male dog is usually somewhat more impressive and grand than his female counterpart. The bitch should have a distinctly feminine look. (ack.org)
Australian Kelpie
The Australian Kelpie has a compact body and well-developed limbs. Slightly longer than he is tall, the Kelpie has a broad chest and firm hindquarters that contribute to his flexible, energized appearance. The head is long and narrow. The medium length tail is low set. The short, compact feet have well arched toes. The double coat consists of a short and dense undercoat and a hard, straight and weather-repellent outer coat. Color possibilities include black and red, each with or without tan and fawn, chocolate and blue. Kelpie owners are more interested in the breed's working ability then its appearance.
The Australian Kelpie is not recommended for apartment life. They are working dogs that need plenty of open space to run and will be happiest with a job to do. Their all-weather coat allows them to live where it is hot as well as where it is cold. They will be content to live outdoors with adequate shelter. (dogbreedinfo)
Beagle  
The
Beagle
is a sturdy, hardy little hound dog that looks like a miniature
Foxhound
. The body is squarely-built while the skull is fairly long and slightly domed. The square muzzle is straight and medium in length. The large eyes are brown or hazel and are set well apart. The wide, pendant ears are low set and long. The black nose is broad with full nostrils. The feet are round and firm. The tail is set moderately high and never curled over the back. The coat is of medium length, close, hard, sleek and easy to care for. Any hound-type of coloring is acceptable including lemon, tricolor, black and tan, red and white, orange and white or lemon and white, blue tick and red tick. Beagles have a distinct howl / bay of a bark when they are on the hunt.
Beagles will do okay in an apartment if they get plenty of chances to be outdoors. They are very active indoors and a small yard will be sufficient.
Energetic and possessing great stamina, the Beagle needs plenty of exercise, including a brisk daily walk. It should have a fenced yard of reasonable size to romp in. Always use a lead when walking this breed or you will be running the risk of it disappearing in search of wild game. (dogbreedinfo)
German Pointer
The Pointer is bred primarily for sport afield; he should unmistakably look and act the part. The ideal specimen gives the immediate impression of compact power and agile grace; the head noble, proudly carried; the expression intelligent and alert; the muscular body bespeaking both staying power and dash. Here is an animal whose every movement shows him to be a wide-awake, hard-driving hunting dog possessing stamina, courage, and the desire to go. And in his expression are the loyalty and devotion of a true friend of man. (akc.org)
Pug  
Square-proportioned, compact and of a cobby build, the pug is a large dog in a little space. Its gait is strong and jaunty, but with a slight roll of the hindquarters. Its distinctive expression is soft and solicitous. Its forehead has large, deep wrinkles. Its coat is fine, smooth and short.
A delightful blend of dignity and comedy, the pug is an amiable, playful and confident companion. It can be stubborn and headstrong, but it is pleasant and generally willing to please. It loves to cavort and show off. (animal planet)
Belgian Sheepdog 
This medium-size herding dog breed originated in Belgium where he was used to herd sheep. He later graduated to police work, and today his versatility makes him suitable for many types of work and dog sports. He's alert, devoted, and protective.Elegant in black, this longhaired beauty also has brains and a strong work ethic. ( dogtime)
Canaan Dog
The Canaan Dog is a pariah dog type that is naturally alert, inquisitive and watchful.  He is mistrustful of strangers and unfamiliar environments, yet loyal and loving with his family.  A square dog of medium size, moderate and balanced without extremes, showing a clean outline.  The moderately angulated Canaan Dog moves with athletic agility and grace in an efficient, ground-covering endurance trot.  He has a wedge-shaped head with low-set erect ears, a high set brush tail that curls over the back when confident, and a straight, harsh, flat-lying double coat.  There is a marked distinction between the sexes. (akc.org)
Norwegian Lundehund
The Norwegian Lundehund is a small, rectangular dog breed with characteristics unlike any other. It has six toes on each front paw, one on each resembling a human thumb, while the rest of the toes are triple-jointed rather than the average double-jointed seen in other breeds. To enable its ability to hunt in small spaces, the Norwegian Lundehund also has a very flexible neck that can bend backwards to the spine, as well as flexible shoulder structure and ears that close both forwards and backwards.
The coat of a Norwegian Lundehund is generally tan or reddish, some with black hair tips. It weighs about 15 pounds and stands at a height of 12 to15 inches.
The small and energetic Norwegian Lundehund, dating back to the 16th century, was originally developed to hunt Puffin birds along the cliffs in Norway. Because of its unusual hunting grounds, the Norwegian Lundehund developed characteristics unlike any other dog breed, including six toes per front paw and a double-jointed neck. (petmd)