Thirst for Knowledge 
Many children throughout the world have to take the most incredible and unimaginable routes in order to receive the education that some of us may take for granted. It's important not to forget that, in some parts of the world, school can be a hard-won luxury.  Dangerous paths are one of the main reasons why many children decide to quit school. The lack of funds and recurring natural disasters in many countries make it difficult to provide children with the solutions they so desperately need.
A child walks to school in Qunu, a
village outside the town of Mthatha in the Eastern Cape, where former
South African President Nelson Mandela grew up. (Jennifer Bruce)
Journey Into The Mountains On A 1ft Wide Path To Probably The Most Remote School In The World, Gulu, China. 
To get to school each day children living in a mountainous village in China have to cross a valley hundreds of metres deep on a rickety, homemade cable car.
A 125-mile journey to a boarding school through the mountains, Pili, China
Crossing a broken bridge in the snow to get to school in Dujiangyan, Sichuan Province, China
Students carry their belongings as they trek back to school from home on a rugged mountain path in Dahua Yao Autonomous County, southwest China's Guangxi Zhuang Autonomous Region.
Schoolchildren Climbing On Unsecured Wooden Ladders, Zhang Jiawan Village, Southern China
School children  bicycle their way over an  aqueduct that separates Suro Village and Plempungan Village in Java, Indonesia.
Students hold on to the steel bars of a collapsed bridge as they cross a river to get to school at Sanghiang Tanjung village in Lebak regency, in Indonesia's Banten
SUMATRA, INDONESIA 
In Sumatra, Indonesia, 20 iron-willed pupils from the village of Batu Busuk have to walk a tightrope 30 feet above a river and then walk seven more miles through the forest to reach their school in the town of Padang.  This is a feat the children have been performing for the past two years ever since the suspension bridge collapsed during heavy rain.
In a picture taken on June 18, 2011 Chinese students make their way across a flooded school compound walking along a row of chairs, in Wuhan, in central China's Hubei province on June 18, 2011. (Photo by AFP Photo)
Schoolchildren get a helping hand as they cross a makeshift bridge to get to school after a mudslide that occurred in Ningnan, southwest China's Sichuan province on July 1, 2012. (Photo by AFP Photo)
Schoolchildren commute on a ferry from their schools to their homes in Jinhua village, in southwest China's Sichuan province, 17 May 2007. (Photo by Liu Jin/AFP Photo)
Afghan schoolgirls cross a wooden bridge in Qara Zaghan village in Baghlan province on May 7, 2013. (Photo by Shah Marai/AFP Photo)
A young girl in refugee camp Shuafat, near Jerusalem, walks to school despite the violence taking place between Israeli troops and Palestinian protesters.
This photo taken 12 November, 2007 shows students crossing an improvised bridge made of coconut trees at the village of San Jose in the town of Borongan, eastern Philippines. The bridge connects people to the village high school campus. During the rainy season the bridge becomes slippery and exposed to flash floods. (Photo by Ted Aljibe/AFP Photo)
Rodriguez, Philippines | June 2014: Students sit astride a bamboo raft used to ferry them across a river on their way to Casili Elementary School for the first day of classes. | (REUTERS/Romeo Ranoco
Elementary School Students Crossing A River On Inflated Tire Tubes, Rizal Province, Philippines
Vietnam students swim twice a day across a river to attend school at Trong Hoa commune, Minh Hoa district
Kids Traveling To A Boarding School Through The Himalayan Ice River, Zanskar, India
Kids Flying 800m On A Steel Cable 400m Above The Rio Negro River, Colombia
Gondola bridges are common in the mountainous country of Nepal where good roads are in short demand.
Ropeway,  Annapurna, Nepal
Students Crossing Ciherang River On A Makeshift Bamboo Raft, Cilangkap Village, Indonesia
Traveling on the roof of a wooden boat in Pangururan, Indonesia
Caidian Central Elementary School teacher Guo Bingxian is arranging bricks for the children to cross the river.
Children risk their lives as they cross the submerged bridge over the flooded Kopai river in Birbhum district , India
Students use chairs as a makeshift bridge to get to a classroom at their elementary school in the Taytay, Rizal province, north of Manila in the Philippines.
Parents carry their children on their backs as they cross the Jragung river in Demak, Central Java, on February 11, 2012 on their way to school and the market. (Photo by AFP Photo/SETIAWAN)
A group of students hitch a ride on the back of a truck to get home from school located in Ibsheway el-Malaq village in Gharbia governorate, about 103 miles northeast of Cairo.
Through the forest across a tree root bridge, India
Schoolchildren Riding A Horse Cart Back From School In Delhi, India
Girls on their way to school in Nepal. No bridge, no other way to get there. Bravest girls in the world. 
School girls walk across a plank on the walls of the 16th century Galle fort, Sri Lanka, on July 8, 2009.
Elementary school girls cross a river to go to school in the village of Nagari Koto Nan Tigo in Indonesia's West Sumatra province November 14, 2012.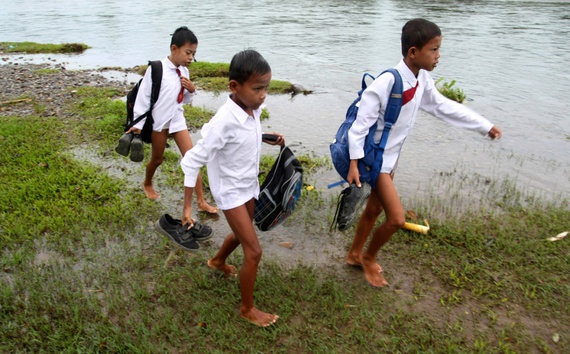 Pakistani students climb on a passenger bus on a high way in Islamabad on January 21, 2013
Primary school boys carry their benches after their school was flooded due to heavy rains at Bassi Kalan village in the outskirts of Jammu, Kashmir,India
A woman accompanies some students as they wade in the shallow part of a rocky beach to their school to attend the first day of classes in Sitio Kinabuksan, Kawag village, Subic, Zambales Province, north of Manila June 1, 2015. An estimated 24 million public school students in the primary and secondary levels attend the opening of classes nationwide, local media reported. REUTERS/Lorgina Minguito
A Turkish soldier, flanked by children on their way to school, patrols on a road in the province of Sirnak, near the Turkish-Iraqi border, southeastern Turkey, 17 October 2007. (Photo by Mustafa Ozer/AFP Photo)
A girl riding a bull to school in Myanmar
Pupils canoeing to school in Riau, Indonesia
Amish going to school ( Pennsylvania Dutch)
Going to school in Vietnam