A math teacher in Cairo, Egypt, works with his class of six students in 1922.
Much like the anticipation of the first flower blossoms of spring, around the world parents (perhaps mostly) and children eagerly await the return of school classes in fall.
With new clothes and new school supplies, children return to classrooms with new optimism for another school year. And just as the spring flowers signal a transition from one season to another, back-to-school time signals a transition from vacation time to reading, writing, and arithmetic.
— Photo Gallery by Jessie Wender, Text by E. Ray Walker
School Under Bridge In New Delhi Offers Free Education To India's Poor Children (PHOTOS)
Picture of young students taking part in a French lesson, standing in front of a chalkboard
Amish children travel to school in their horse and buggy in Lancaster County, Pennsylvania, United States (Alvin Trusty)
School for Poor in Nepal
Mali: An Islamic teacher instructs students in Quranic verses in Djenne. (Joe Penney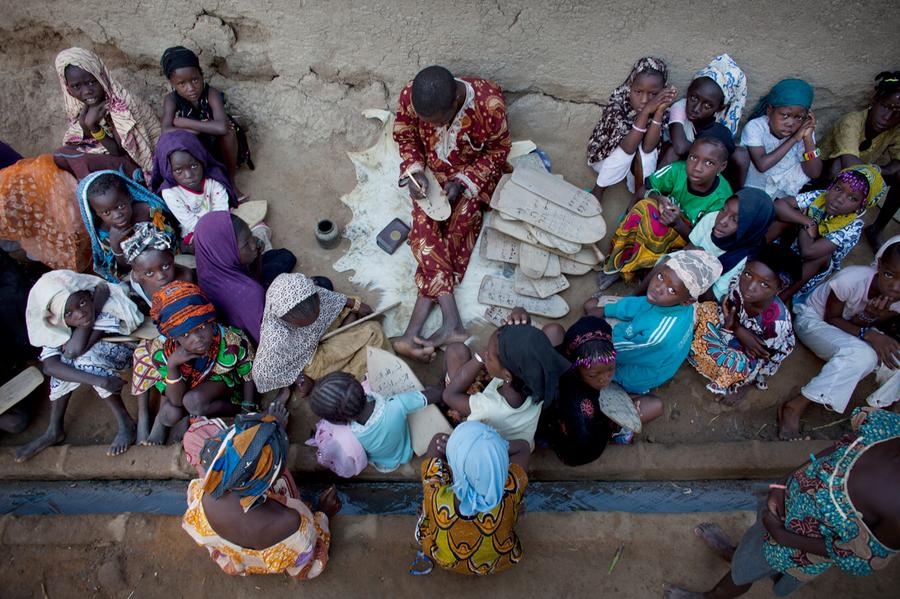 Afghan university students attend an exam in
Baharak district in Badakhshan. Three universities in the capital Kabul
have been closed for more than a week after sectarian clashes left one
student dead and nearly 30 others wounded, an official said. (Sharif Shayeq)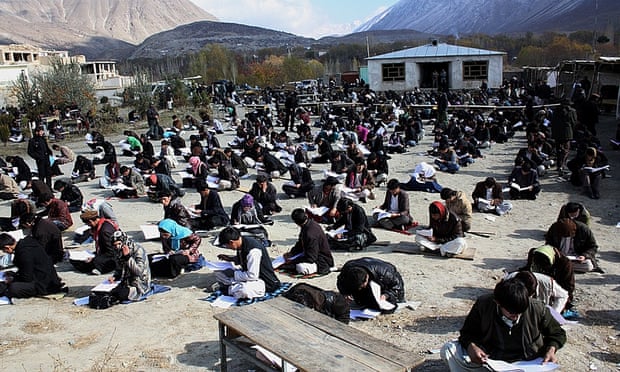 China: A preschool student looks up as other children take an afternoon nap in a
classroom of a school for children of migrant workers in Jiaxing,
Zhejiang province. (William Hong)
Afghan schoolchildren walk home after classes in an open classroom on
the outskirts of Jalalabad. (Noorullah Shirzada)
Ndege Basic School, Zambia. The school lacks basic facilities such as desks. (Jason Larkin}
A Malian schoolgirl stands at the blackboard as schools reopen in Gao, northern Mali. (AP)
Syrian refugee girls attend class at the Bab Al-Salam refugee camp in Azaz, near the Syrian-Turkish border. (Hamid Khatib)
A Palestinian teacher speaks in class at a school in Gaza City. (Mahmud Hams)
Indian school children eat a free midday meal at a government-run school
in Allahabad, India. (Rajesh KumarSingh)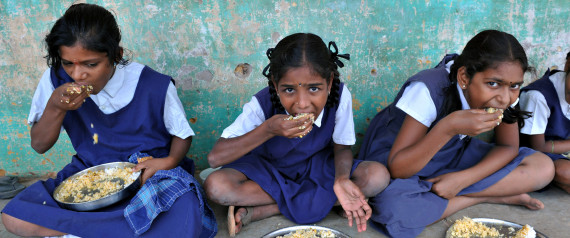 Casual America: A student in flip flops and shorts (C) watches as U.S. President Barack Obama (not pictured) receives an honorary degree during the spring
commencement ceremony at Ohio State University in Columbus. (Jason Reed)
Children learn tea ceremony at a training class in Changchun,
Northeast China's Jilin province. The class, held on
weekends, teaches children 3 to 6 years old about traditional Chinese
culture, including etiquette and Han Chinese costumes. (Xinhua)
Filipino students of Batasan Hills National high school gather for
morning assembly on the first day of the new school year in Quezon City.
Close to 21 million students began a new school year today. (Rolex Dela Pena)
An Oxford University student gets 'trashed' after finishing his exams.
Trashing is the practice whereby students have all manner of messy items
thrown at them by their contemporaries after finishing their exams. (Stefan Wermuth)
Syria: A student wears a headlight, due to electricity shortage, as he takes
his year-end examinations at a school in Aleppo\'s al-Sha'ar district. (Muzaffar Salman)
This poor little girl is not fortunate as other children who can afford to go to school.
Africa
Safety in numbers: A line of children cross the river on their way to school in the remote village in Rizal province, Philippines
Schoolgirls balance on a wall in Kabul, August 12, 2009. REUTERS/Lucy
Girls at a school in Pakistan
"The United Nations High Commissioner for Refugees estimates that there are over 17 million refugees throughout the world (2004).
Cambridge
Children attend class at the Dongzhong (literally means "in cave") primary school at a Miao village in Ziyun county, southwest China's Guizhou province in this November 14, 2007, file photo. (Photo by Reuters/China Daily)
Pre-school children look at the Gloriosa, the trinity bell from 1721 and
the world\'s largest free-swinging medieval bell, in the Erfurt
Cathedral, in Erfurt, Germany.
Iranian schoolgirls follow debates of
lawmakers in an open session of the outgoing parliament in Tehran.
Students hold earthen pitchers filled with water as they take a holy
bath ahead of the Magh Mela festival during a ceremony in Ahmedabad,
India.
School children cross a makeshift pedestrian bridge over a drain covered with garbage at a slum in Karachi, Pakistan.
Pupils hold sheets with kanji characters they wrote during a calligraphy contest to celebrate the New Year in Tokyo, Japan.
University students dressed in traditional costumes perform during the
grand Confucian ceremony of Seokjeon at a shrine at Sungkyunkwan
University in Seoul, South Korea. Seokjeon is a biannual ritual to
consecrate Chinese philosopher Confucius and his disciples as supreme
teachers at civil temples.
Henan, China: Freshmen
from the Zhengzhou Institute of Aeronautical Industry Management
balance bottles of mineral water to improve their posture. (ChinaFotoPress)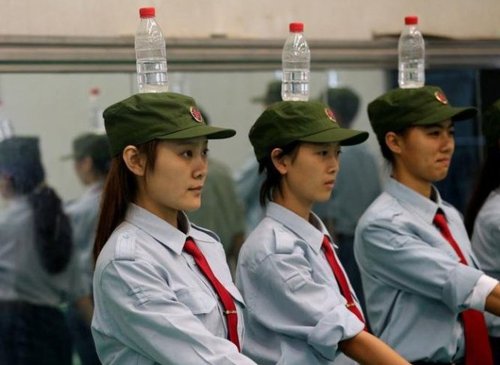 South Korean elementary
school students in a traditional Korean costume participate in "Gwageo"
or "state examination" as reenactment during Guro Book Festival in
Seoul, South Korea. The Gwageo examination, first took place
in A.D. 958, to select national government officials, who studied
Confucian classics, in Korea, was abolished after 1894. (Ahn Young-joon)
Hundreds of students of the school of nursing take part in an open-air
examination at a playground of an vocational college in Baoji, Shaanxi
province, China.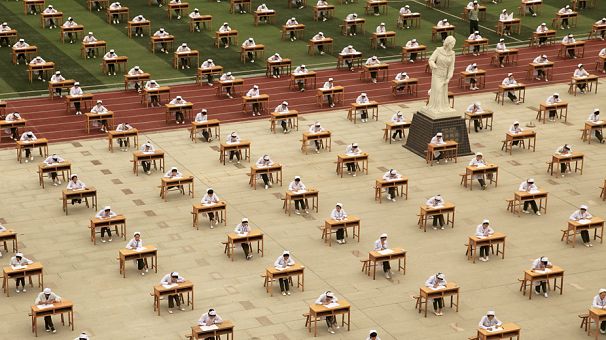 A student of the Krasnoyarsk choreographic college prepares backstage
before a dress rehearsal of a performance by graduates of the college at
the State Theatre of Opera and Ballet in Russia's Siberian city of
Krasnoyarsk.
Girls avoid sewage on their way to school in Cité Soleil, Haiti (BBC World Service)
Two boys walk to school in the UK (Ivy Dawned)
Madonna to Auction Abstract Painting to Support Girls' Education Around the World
Impoverished children study at a school run by a social organization in Bhubaneswar, India
Students Graduation Germany
Omar Bin Al-Khattab Educational Complex, Boys' Science Secondary School, Doha, Qatar, 2007
Afghan schoolchildren study at an open-air classroom in the Mohmand Dara district in eastern Nangarhar province.
Winchester Cathedral choristers form a train as they hold onto each other during an early morning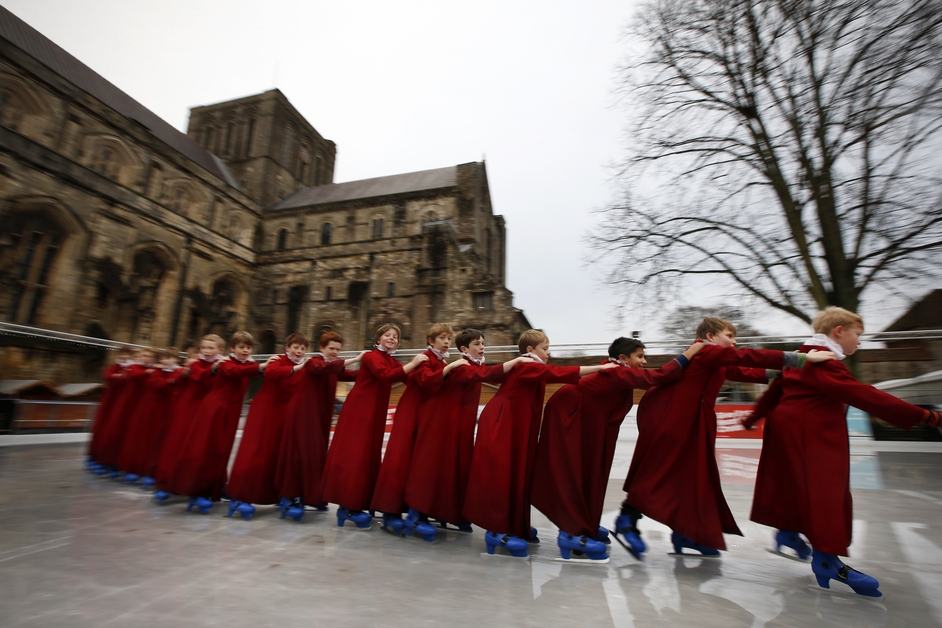 At Tangde Elementary school in the town of Wudongde, Luquan County, Yunnan province, children here finally taste their first free meal, thanks to the Free Lunch project. (Photo by Huang Xingneng/黄兴能)
The Free Lunch program was kicked off on April 27 at an elementary school in Xinhuang County, Hunan province. Peng Xiaoyu brought her little brother along and fed him rice. (Photo by Wang Lisan/王立三)
The classroom for Grade 2 at Yanshang Elementary School in Nayong County, Guizhou province was a dilapidated hut. The rent for every semester is 400 yuan ($60). (Photo by Xu Kangping/许康平)
Children at Changba Elementary School stand in a line for free lunch. (Photo by Xu Kangping/许康平)
Religious schools in Pakistan, most of them in mosques, are the only source of education …
Indian schoolchildren perform yoga at a Delhi Public School in Hyderabad.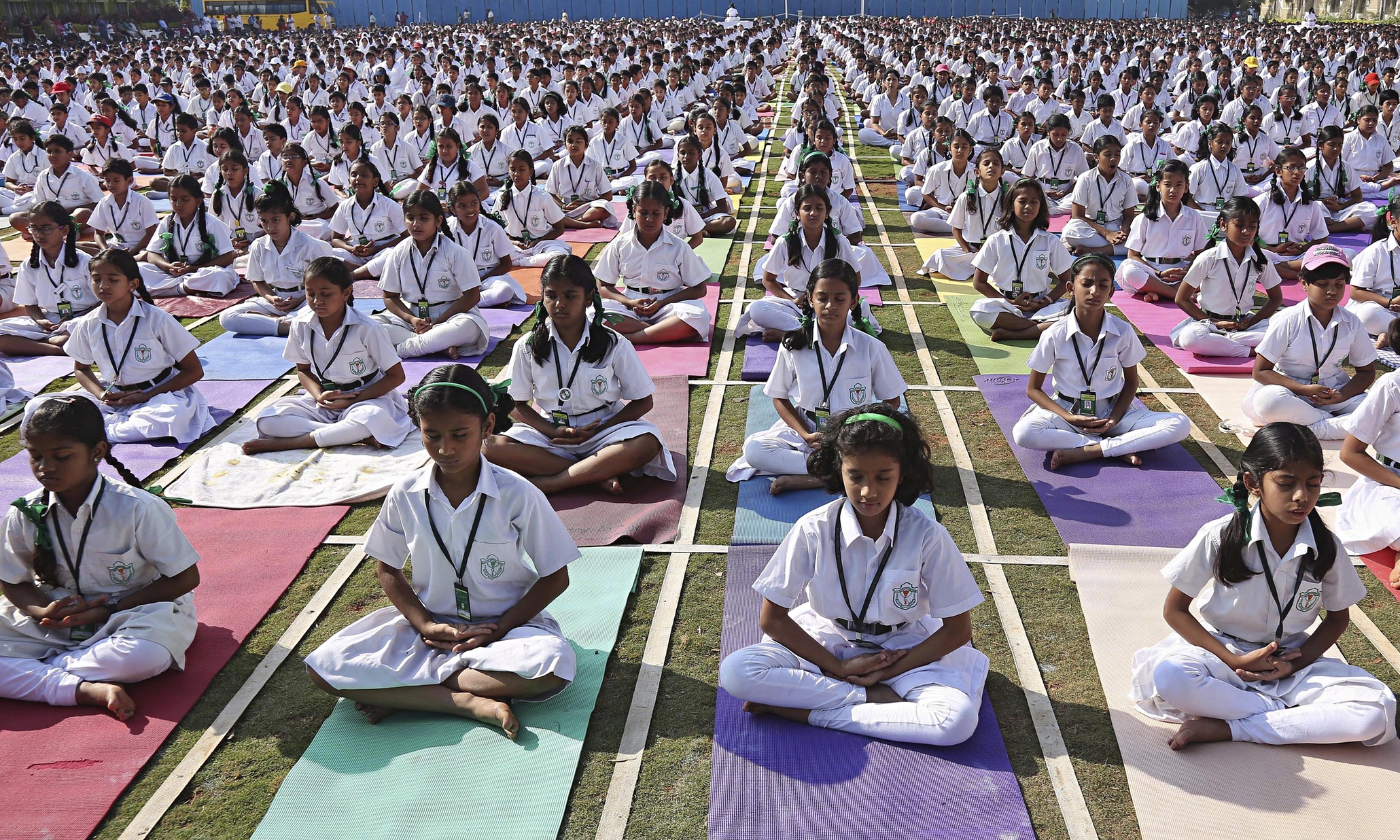 Gambella Elementary School, Gambell, Ethiophia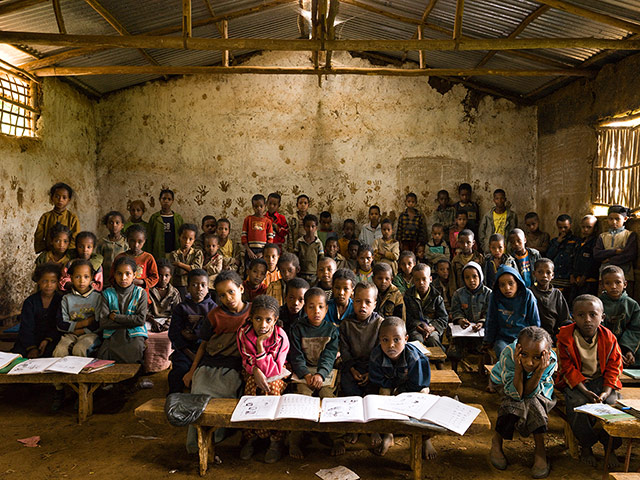 School in Democratic Republic of Congo
Palestinian students inspect their destroyed classroom on the first day
of classes in the Shejaiya neighbourhood of Gaza City.
(Wissam Nassar)
Nepalese students hug trees during a mass tree hugging event on the World Environment Day on the outskirts of Katmandu.
Education:
Muslim girls study in the light of candles at a madrasa or religious school
during a blackout in Noida on the outskirts of New Delhi. (Reuters)
Religion: Indonesian students at the Ar
Raudhatul Hasanah Islamic boarding school in Medan city in Sumatra island hold
prayers during Ramadan. (AFP)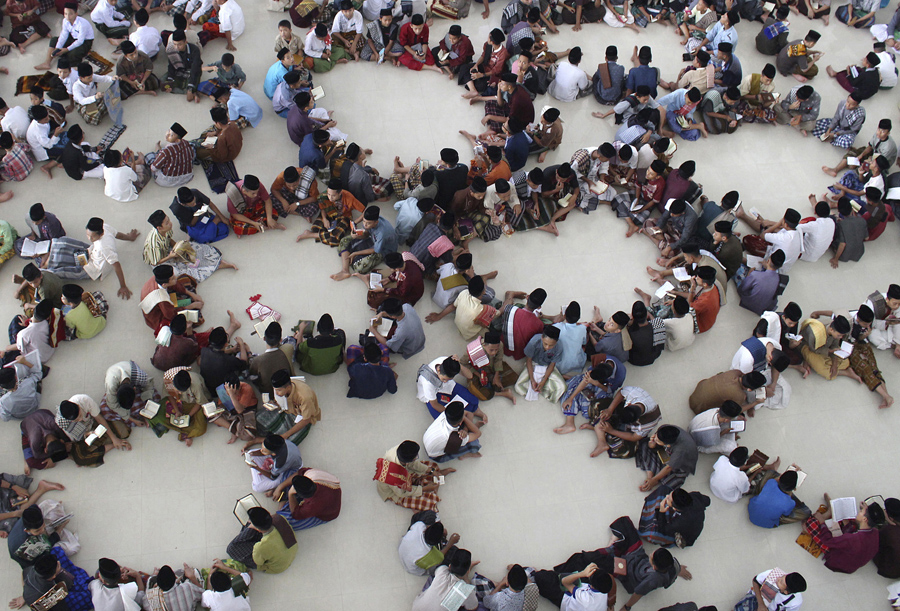 Known as the wujiao, the half-hour nap is a familiar concept in schools
across mainland China and generally happens straight after
lunch. As their buildings are too small to include dormitories and most of the
pupils live too far away to go home for lunch, they take their
traditional midday nap on top of their desks.
Rural China: Zhang Baofu teaches many students in a cornfield in Xiaodianhe
village outside Henan province's Xinxiang city because the school is in a
remote mountainous area.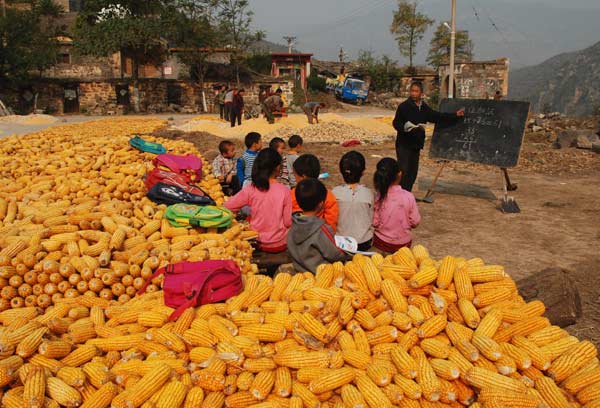 School children dressed as ancient Chinese scholars, perform during a
traditional ritual to celebrate Confucius'  birthday, or Teachers' Day,
at Taipei's Confucius Temple, Taiwan. 
Kalash female students walk to class through the entrance of the Kalasha
Dur and community centre in Brun village, located in Bumboret Kalash
valley. The Kalash, who number about 3,500 in Pakistan's population of 180
million, are spread over three valleys along the border with Afghanistan
and are known for their distinctive dress, vibrant religious festivals,
and polytheism. (Rebecca Conway)
At this primary school in Shikarpur, Sindh, Pakistan there is only one teacher and she only has basic training. She is expected to look after 100 pupils over five different grades. Photo credit: UNESCO/Amima Sayeed
Kelvin Leadismo,12, does his homework by a
firelight in his family's manyatta (traditional home plastered with
cowdung) with his siblings in Kisima township of Kenya\'s northern
country of Samburu. (Tony Karumba)
Genesis Tuazon, 8 years old, grade three student at
the Pangulo Elementary School, works on her school assignment inside
her house at the Artex Compound in Malabon City, Manila.
(Noel Celis)
Elementary schools in Wuhan, capital of central China's Hubei province,
have devised an unusual idea to deal with a rising number of
shortsighted students. Bars similar to those installed on fairground
rides have been fixed to pupils' desks to prevent them squinting too
closely at their work. (Imaginechina)
Children in South Sudan learn under a mango tree after their school was destroyed by civil war.
With the arrival of public welfare services, the locals have only just begun to get a grasp on their problems. The Dongfeng Richan Company purchased more than 100 pairs of shoes to be handed out by teachers. On the playground, children eagerly await a new pair of shoes.
Children slipping and falling on this region's muddy roads are a nonstop cause of stress for the school's headmaster. Unfortunately, all the headmaster can do is demand that his students travel in the company of others while holding hands. While there is no way to prevent falls from happening, so far there have been no deaths among the rugged youngsters.   
The whole school in Sijiji village in Ta Liang Mountain, Sichuan province in China where it is freezing cold. This is the home of the Yi minority .
Children walk, next to French militaries, along a road in Cameroon on December 5, 2013. A UN Security Council resolution on Thursday gave French and African troops the green light to restore order in the Central African Republic, the latest in a string of military campaigns by France in its former colony. (Photo by Fred Dufour/AFP Photo)
Newly-graduated Afghan midwives attend a commencement ceremony at the Governor\'s House in Jalalabad, Nangarhar province.
Faculty of medicine first year students run while seniors spray them
with different types of sauces, liquids, flour and eggs as part of an
annual tradition during a celebration in honor of their patron Saint
Lucas at Granada University in Granada, southern Spain.
A boy recites from a book during a lesson at a school in a slum on the outskirts of Islamabad, Pakistan. (Reuters)
Philippines' School Children Photos
SOURCES:
mavcas.co.uK
globalcitizen.com
fundsociety.com