Marriage is an age-old custom and various tribes in different countries treat it differently. Marriage traditions differ from tribe to tribe, country to country.
West African weddings are spectacular.
Amidst the bubbles and huddles, the scenes are however the things guests cannot help but notice. There are so many beautiful elements of culture.
Some of these are very funny and remain in the hearts of so many, long after the wedding.
1. GELE
Image: Pinterest
A gele is a large, elaborate head tie, often worn at special occasions such as weddings. The bride often wears a gele with her traditional outfit of the night. (blavity)
 2. DO NOT WEAR ANY SHADE OF WHITE
The general idea is that the brides wear white or shades of the colour, including ivory, cream e.t.c. You are not allowed to try and upstage the bride by wearing anything that is primarily white or a dress in a hue that is really close to white. You can however wear something with a touch of white, as long as the white does not dominate the ensemble. Actually, you are also not allowed to wear anything that will keep all attention on you rather than the bride. Stay away from plunging necklines, and thigh high slits. It is her day and it is important she has all the attention.
3. FABULOUS OUTFITS
 Image Credit: Pinterest
Outside of the bride and groom's spectacular wardrobes, the guests are expected to look just as fabulous. When at a West African wedding, you can expect to see beautiful African garb in many different colors and varieties.
4. THE BRIDE IS ALWAYS LATE
This happens in virtually all Nigerian weddings. It is the guests who arrive first, followed by the groom, even the pastor arrives before the bride.
As the originators of CP time, waiting 2-3 hours for the bride and groom to arrive at their reception is expected. Oftentimes people arrive intentionally late to the reception just to make sure that they don't wait forever.  (zikobuzz)
5. LIBATION CEREMONY
  Image credit: pinterest
In some West African cultures, libation ceremonies are a happy way to honor and include the couple's ancestors. Typically, alcohol (which is thought to connect the living world with the spiritual) is poured onto the ground in each of the cardinal directions. Then prayers or toasts are recited in honor of the couple's ancestors and recently deceased loved ones. The libation ceremony is also an opportunity to honor family elders.(theknot.bom)
6. TASTING THE FOUR ELEMENTS ( FROM YORUBAN TRADITION)
 Image credit: youtube
In a ritual adapted from a Yoruba tradition, the bride and groom taste four flavors that represent different emotions within a relationship. The four flavors typically used are sour, bitter, hot and sweet. Each flavor represents the highs and lows that come with marriage — ending in sweetness. (theknot.com)
8. NATIVE ANKARA EVERYWHERE
Image Credit: Escapades! True Life Stories
This is an evidence of a true Nigerian wedding. There are different groups wearing different style of several kinds of Ankara usually having a touch of the 'color of the day.
One can be identified to be either from the bride's side or the groom's (very common with the Yoruba tribe).
It really makes you feel out of place if you're on English outfit and sometime is a determinant if you get food or not. (zikobuzz)
9. THERE ARE MORE PEOPLE AT THE WEDDING RECEPTION
Image credit: proof.nationalgeographic.com
The proverb "It takes a village to raise a child" is evident at these weddings. Most African weddings have a guest list of at least 300 people because both the bride and groom come from large family backgrounds. A wedding is a major event in West African culture, so everyone shows up and shows out.
An opulent wedding for nearly 1,000 guests was held at the banquet hall of a private housing estate in Lagos, Nigeria, on January 19. A wedding with thousands of guests is one way to visualize just how big Nigeria's economy is: 160 million people live in Nigeria, which boasts the second-highest GDP in Africa. In Nigeria, money trickles down from the 2.5 million barrels of crude oil produced per day by the Oil and Gas people, government jobs come with a steady paycheck and endless opportunities to embezzle, and the rich here are richer than most people outside Nigeria could ever imagine.
10. "LITTLE BRIDE"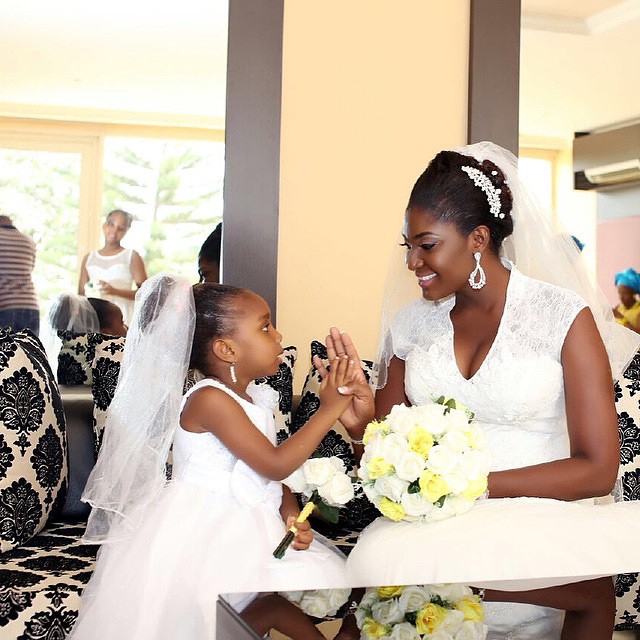 Image credit: lovelyweddingsng
A "little bride" is a common feature at most Nigerian weddings instead of a flower girl.(dailybeast.com)
11. YORUBA TRADITIONAL WEDDING ACT OF PROSTRATING
Image credit: ask.naij.com … The groom and his entourage ask the blessings of bride's family
A widely known fact about Yorubas across Southwest states like Ogun, Lagos, Oyo, Osun, Ekiti and Ondo, is that they value respect. In every sphere of life, courtesy is important to them. Therefore, hey prostrate (lie flat on the ground) in front of his parents and ask for their blessing and prayers. His parents raise him up and he sits between them and hugs them. Then he goes to the bride's parents and does the same thing, except the master of ceremonies for the bride's family (the Alaga Ijoko) may require the men to prostrate multiple times or perform other tasks before they win approval. The bride enters, veiled, with an entourage of young women. She goes through a process similar to the groom's, except that she kneels instead of prostrating. Then she goes up to sit with the groom on the dais. (offbeatbride.com)
12. Money spray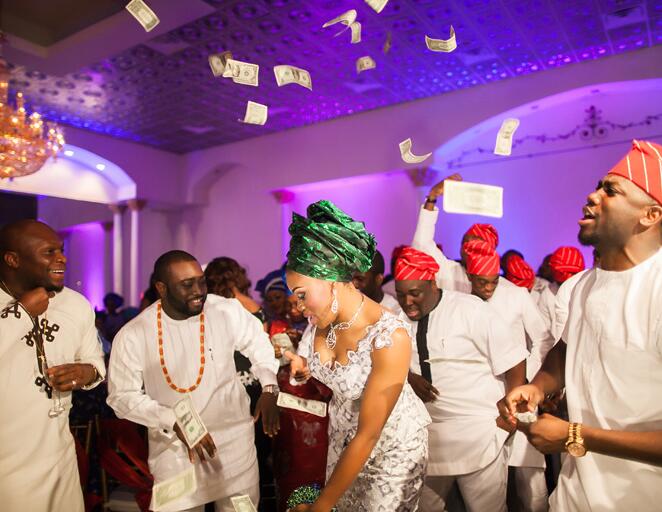 Image credit: theknot.com
From the moment she walks out, the jaw bride is expected not to smile until she has been sprayed plenty money by her husband.
Money dances are popular wedding customs in a number of different countries, from Poland to the Philippines. In Nigeria, especially among Yoruba and Igbo cultures, the tradition of tossing money at the bride is called the "money spray" -naira notes and is a celebrated part of the wedding ceremony. Typically, guests put bills on the bride's head or shower her with money while she dances. Sometimes there's so much money tossed to the bride and groom that a family member has to help the couple collect it all. The money is a gift from guests to help the couple start their new life together.(theknot.com)
13. TAKE A GIFT TO THE WEDDING
Image credit: ask.naij.com
The norm for Nigerians is to go to the wedding, dance eat and go home. Unless they are related to the bride or groom, they hardly attend with a gift. A few , especially those in Lagos, justify not gifting the bride and groom with the excuse that they paid for Asoebi or they will spray cash on the dance floor, but should that suffice? Unless the invitation specifies "no gifts", it is important that you take a gift in honor of your invitation. Great thing is that you have up to about 6 months to give the bride/groom a wedding present, so if you miss your chance at the wedding itself, you can still send them something. (travel.jumia.com)
14. VIRGINITY TEST IN YORUBALAND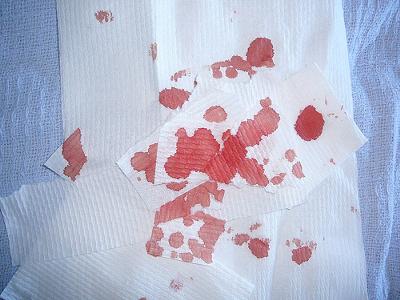 The virginity test is one ancient Yoruba tradition that has been a very controversial one. It occurs after the wedding ceremony when the groom is expected to consummate the wedlock. This ceremony is done to determine if the bride was a virgin when she was married off. If the bride is deemed a true virgin, she gets gifts of high value from both families and a symbolic message of a white cloth stained with blood (Ipon/Eje) is taken to her family, which is received with joy. In the event that the bride does not pass the test and it is discovered that her virginity is no longer intact, a euphemistic message of (half boiled/roasted yam) is sent to the bride's family. This spells doom for the woman. All and sundry will know her status and she will have to live with the shame of that revelation and the disgrace that will be meted on her family from then on.  (kokofeed)
15. CARRYING A BRIDE
Image credit: Wedding Feferity
Though, not a serious part of the Yoruba marriage tradition, it is done for its significance. The groom's ability to carry his signifies that he has the strength to take care of her. (naij.com)
****
SOME UNUSUAL WEDDINGS:
Zairean Man Marries Three Wives on the Same Day in Church
Christianity is known for its monogamous marriages but this Zairean man got married to three happy women on the same day and what makes it even more surprising is that fact that the wedding was held in a church. While it may sounds like a script from Nollywood, it was actually real and that's why it makes our list of a weirdest African weddings (kokofeed)
9 Year Old Boy Marries 62 Year Old In South Africa
A nine year old boy Saneie Masilela married a 62 year old woman in South Africa after the boy declared that his dead ancestors had told him to do so. The two were joined together in 2013 and his mother is of the opinion that if they hadn't done so, bad things would happen in the family. This marriage makes Saneie the world's youngest groom and he renewed vows with his bride who happens to be a mother of 5 this year. (kokofeed)
BRIDE SHOWED UP FOR HER TRADITIONAL WEDDING
Image credit: nairaland
Found this on twitter; The story alleges that the bride who is the daughter of a local chief chose to bare here breasts on her traditional wedding in consonance with the age long moribund culture of her people. the shocking event took place in an unidentified part of Southern Nigeria. (http://spicyblogz.blogspot.co.uk)