Guava leaves deserve much more than the attention they are already given because of the numerous health benefits they provide. These leaves are rich in important nutrients such as vitamins A and C, healthy fiber, lycopene and potassium.
The use of guava leaves is one of those natural alternatives, which can be beneficial for almost all skin issues and hair loss.
Skin problems are quite common among men and women alike, from all ages, from acne, blackheads and blemishes to wrinkles and dark spots. Guava leaves are also helpful to stop hair loss. Everyone who's faced these issues knows that cosmetic treatments and commercial skin care products can be quite expensive and rather ineffective in many cases so why don't we try some natural alternatives which have proven so much more beneficial and effective.
How guava leaves can help you eliminate wrinkles, cure acne, lighten dark spots and alleviate atopic dermatitis.
Elimination of wrinkles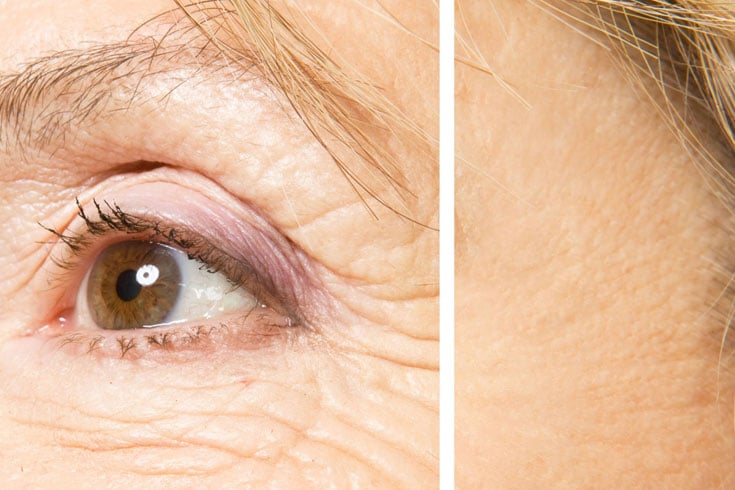 Image source: fashionlady.in
Those dreaded crows feet, those smile lines- everything that a woman hates. Wrinkles are really the bane of a woman's existence and as she progresses in her age, they become an inevitable part of her life. Fortunately, using guava leaf extract for skin can actually help reduce the appearance of these fine lines and wrinkles to a very noticeable extent. The antioxidants present in the leaves help to fight the free radicals that cause wrinkles to appear. The properties of the guava leaf also shrink the pores of the skin, hence giving it an even tone.
Help Beat Acne
Image source: Fithacker
Acne or pimples usually strive on skin that is infected and the pores are clogged. According to a study published by the American Journal of Chinese Medicine, guava leaves are useful against microscopic organisms which cause acne. They work as strong anti-bacterial agent and soothe the skin and help diminish the appearance of acne.
Another important property of the guava leaves which help to reduce pimples is the anti-inflammatory quality. The presence of anti-inflammatory agents help to calm down the pimples and reduce the redness. Usage of these leaves over a period of time will also reduce the redness.
Lighten Dark Spots (black and red)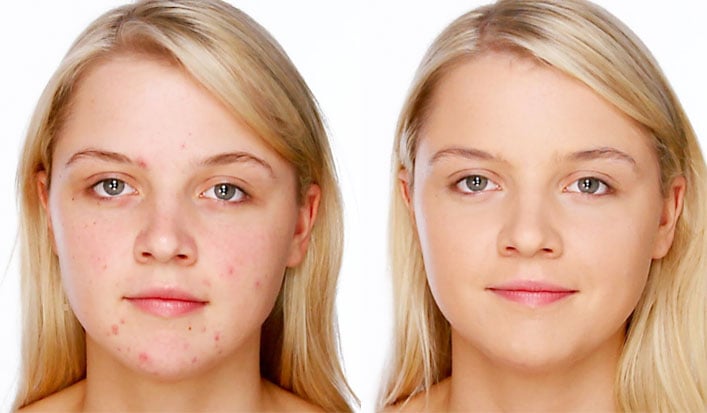 Image source: fashionlady.in
Guava can also help get rid of blemishes, red and black spots from your face. The leaf has components that not only help reduce inflammation and kill bacteria but it also helps lighten blemishes by acting as a toning agent.
Cure Atopic Dermatitis
Image source: webmd.com
Guava leaves have proven extremely effective in the treatment for atopic dermatitis, relieving the redness and irritation it usually causes. Additionally, they possess anti-allergic properties which prevent the creation of histamines (chemicals that are released in the body as part of an allergic reaction, causing the typical itching, sneezing, wheezing and swelling allergy symptoms).
Method of treatment:
Take a few guava leaves. Now crush these leaves and add them to a pot of boiling water. Let the leaves boil in the water till the water turns brownish in colour and looks concentrated. Allow the solution to cool and then using a cotton ball apply the solution on your face or the area you would like to treat. Apply it thoroughly on your face and allow to stay for about fifteen after which you can wash your face with plain water. Do this twice a week for effective results.
In case of atopic dermatitis, crush the dried leaves into smaller pieces and add it to a tub of warm water. Soaking in this water helps relieve the itching and redness, eventually helping relieving the discomfort you feel due to the condition. Do this twice a week and you'll notice significant improvement in no time.
For Hair Loss
Image source: My Health Booster
Guava leaves have a miraculous ability to stop hair loss and make it grow back with vigour, believe scientists. Owing to their richness in vitamin B, an important vitamin for hair growth, guava leaves are a boon for those suffering year round hair loss. Also, the guava leaves are most effective in improving the platelet count of a Dengue patient.
How to use guava leaves on your hair
Growing aplenty in your colony, a guava leaf potion is actually even simpler to make. Take about a handful of guava leaves and boil them in a litre of water for about 20 minutes, till the benefits of the guava leaves have been soaked up by the water.
Allow the potion to cool down completely at room temperature. Strain the leaves and bottle the decoction you can use from time to time on the scalp and roots of your hair like a tonic.
Use the cooled liquid to massage your scalp in order to prevent further hair loss.
You can take a palm full of it and massage on your scalp. Keep it on for a few hours before washing it off. You can even massage it to your hair and let it stay overnight. Wear a shower cap or a towel when you go to sleep, and then rinse off first thing in the morning. The vitamin B component in guava leaves helps strengthen the roots and hair follicles, and checks hair fall.
Other health benifits of guava leaves
1. Diabetes
 In Jamaica the Guava leaf is use by persons with high blood sugar and persons with Diabetes. One leaf is steam and drink as tea to lower blood sugar and to help in the treatment of Diabetes.
2. Bad Cholesterol
Tea made from guava leaves decreases bad cholesterol levels (LDL) without affecting the levels of good cholesterol (HDL).
3. Lose Weight
Help you lose weight. The tea made from these leaves prevents carbohydrates to turn into sugar while suppressing the appetite.
4. Diarrhea, Dysentery and Food Poisoning
Guava leaf tea provides great relief for the upset stomach due to their powerful antimicrobial properties.
5. Prostate Cancer or Prostate Enlargement
In case of enlarged prostate or prostate cancer guava leaf tea works like a charm.
6. Fertility Problems
Men who have fertility problems should consume this tea.
 7. Minor Cuts and Skin Abrasions
To prevent infections from minor cuts or skin abrasions apply crushed guava leaves. Another way of using this miraculous tea is to relieve outer ear infection. Take a few drops from the cooled guava tea and apply them in your ear.
8. For Dengue
For dengue treatment, take 9 guava leaves and boil them in 5 cups of water. Boil until half of the water evaporates.
9. Diabetes
Diabetic should also consume this tea because it does not stimulate insulin secretion but it helps reduce blood sugar levels.
10. Toothache, Gum Problem
If you have a toothache or inflamed gums and sores in your mouth chewing guava leaves will provide a great relief.
11. Blackheads
If you have those annoying blackheads you can remove them with your homemade guava scrub. Crush a few leaves and stir them with some water and apply them like you do with your regular face scrub.
SOURCE:
http://www.healthyfoodteam.com/use-guava-leaves-beat-wrinkles-acne-dark-spots-skin-allergies-use-2/
http://foodsandhealthylife.com/use-guava-leaves-to-beat-wrinkles-acne-dark-spots-and-skin-allergies/
http://www.wellordie.com/homeremedies/use-guava-leaves-to-stop-hair-loss/
http://dailyhealthgen.com/2016/06/06/guava-leaves-can-extremely-100-stop-hair-loss-make-grow-like-crazy-2/
Disclaimer: cloudmind.info does not guarantee any specific results as a result of the procedures mentioned here and the results may vary from person to person. The topics in these pages including text, graphics, videos and other material contained on this website are for informational purposes only and not to be substituted for professional medical advice.