AFP News: French dermatologist Philippe Assouly described two unusual cases highlighting a previously unknown "toxic association of alopecia (hair loss) with a common plant (family)," which includes squashes, gourds, and pumpkins.
Image: ph.yahoo.com
A doctor warned Friday, May 25,  that bitter-tasting pumpkins and squashes can contain potent toxins, after two women were poisoned by their dinners and lost most of their hair.
French Dermatologist Philippe Assouly, Department of Dermatology Image: ResearchGate
French dermatologist Philippe Assouly described the two unusual cases in a scientific journal, highlighting a previously unknown "toxic association of alopecia (hair loss) with a common plant".
The plant family in question are cucurbits and include squashes, gourds, and pumpkins.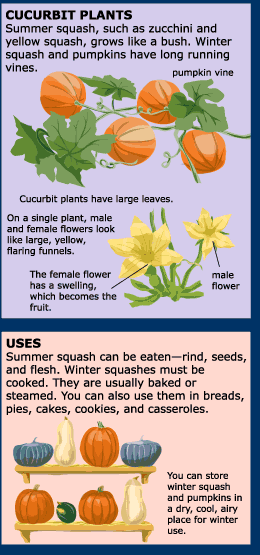 Image: United States Botanic Garden
In the first case, a woman in France suffered nausea, vomiting and diarrhoea, which started soon after she ate a bitter-tasting pumpkin soup.
The symptoms lasted for about a day. Then a week later, she started losing hair from her scalp and pubis.
"The meal had been shared with her family, who had eaten less of the soup than she had, and they experienced symptoms of food poisoning but no hair loss," Assouly wrote in the Journal of the American Medical Association Dermatology.
A second woman experienced food poisoning with severe vomiting after a meal that included squash. Other diners had skipped the squash because it tasted bitter.
"About three weeks later, the patient experienced substantial hair loss on her head as well as severe alopecia on the armpits and pubic region," the doctor said.
Cucurbits can contain cucurbitacin, a toxic compound that gives off a bitter taste.
The bitterness is bred out of domesticated cucurbits. But sometimes insects moving from one field to another cross-pollinate a cultivated plant with a wild or ornamental one.
"Bitterness in a squash should serve as a warning," Assouly told AFP. "One should not force a child to finish it."
Three years ago, a German died of cucurbitacin poisoning after eating a courgette stew, the doctor said.
These are the first known cases of hair loss due to cucurbit poisoning.
Image: SlideShare
sciencealert.com: Unfortunately, cucurbitacin does more than abuse your taste buds – it's known to be toxic in doses that are small enough to fit on a plate.
Online gardening blogs are full of words of wisdom describing the "stomach cramps, diarrhoea … and a pounding heart" that can come with eating too much of these drought-stressed or hybridised cucurbit.
Hey, it's not like the plant isn't doing its best to warn you.
While medical reports of cucurbitacin poisoning typically describe bad things coming out both ends, none have so far included trichorrhexis nodosa – a change to the structure of hair shafts that causes them to snap off.
That make this case study a new addition for the medical books.
Within several weeks, both women found they were losing hair on their scalp and from other parts of their bodies.
Even months later, some of the regrowth was still showing signs of breaking off at a weakening 2 to 6 centimetres (about an inch or two) from the base of the hair's shaft.
The case study doesn't say whether the two subjects eventually recovered, so we can only hope it's a temporary effect.
But Assouly is convinced that he knows what caused it.
"Acquired trichorrhexis nodosa supports the diagnosis, with the length of the hair that grew after poisoning matching the length of the new hair growth," the dermatologist writes in the Journal of the American Medical Association report.
There's no word on what the mechanism might be behind this form of alopecia, so it could be worth researchers digging deeper.
The take home message for the rest of us is to pay attention to those bitter notes in your home-grown pumpkins, just in case they're producing a little too much toxin after cross-pollinating with a wild cousin.
If your stomach doesn't thank you for it, your head just might.
This research was published in in JAMA Dermatology.
jamanetwork.com:
Hair loss induced by plant ingestion, a classic cause of toxic anagen effluvium, is rare. The most commonly involved plants are colchicum, tubers of 
Gloriosa superba
, 
Lecythis ollaria
, and 
Leucaena leucocephala 
(containing mimosine).
1
 The implicated mechanism of toxic effects from these plants on the hair follicle seems mainly due to their antimitotic action.
*****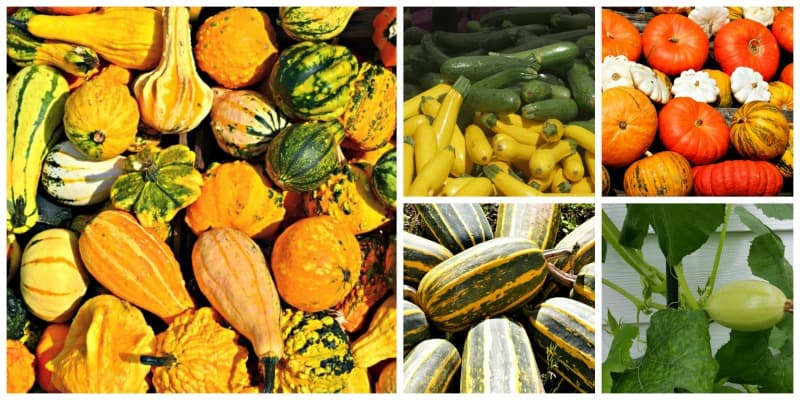 CURCUBITS Image: backyardgardenlover.com
Cucurbit vegetables come in many different shapes and sizes: from giant pumpkins to miniature gherkins, and although they all need a healthy nutritious soil, they have their own little growing preferences.
Many cucurbits are climbing, some like to trail, and others are happiest staying wherever you planted them. There are the cucurbits that prefer the heat, and there are the varieties that thrive in cooler weather.
Without doubt, the cucurbits are one of my favorite garden groups. They provide our familly with some great additions to salads, pasta dishes and the BBQ. They will also help to feed us in the winter with a mass of home-made soups we freeze.
Here is a list of cucurbit vegetables as well as some growing help and advice.
CUCURBIT VEGETABLE LISTS
Pumpkins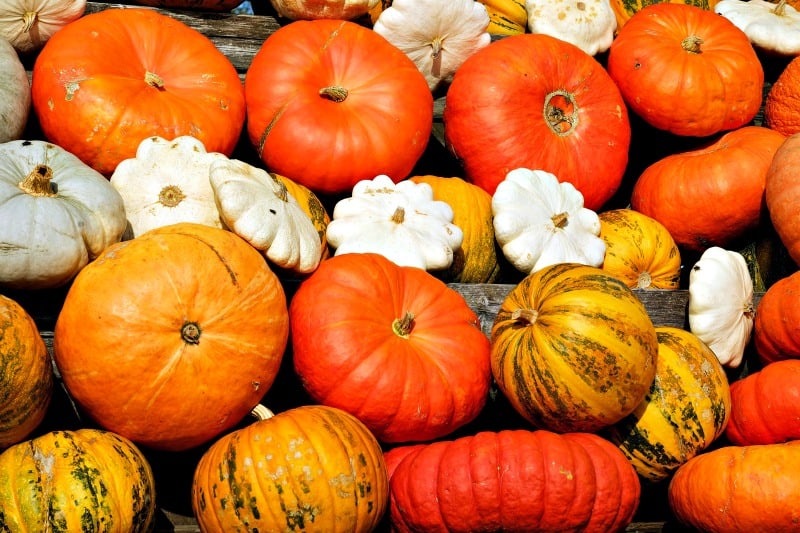 Image: backyardgardenlover.com
Depending on their variety, you can sow pumpkins in pots during April or directly in the ground mid-May. They need a lot of trailing area, so when you plant leave 30 inches to a yard between plants. Harvest as late as possible when the foliage has died back, and before the first frost.
There are many varieties from the orange Halloween type to giant pumpkins, that can grow over 1000 lb, to little colored varieties that are great for stuffing and roasting.
Whatever variety you grow, you should lift the fruits onto a board or pallet as they start to grow. If the ground stays wet hey can rot.
If fruits are not setting, use a paintbrush to agitate the flowers to pollinate them.
Marrows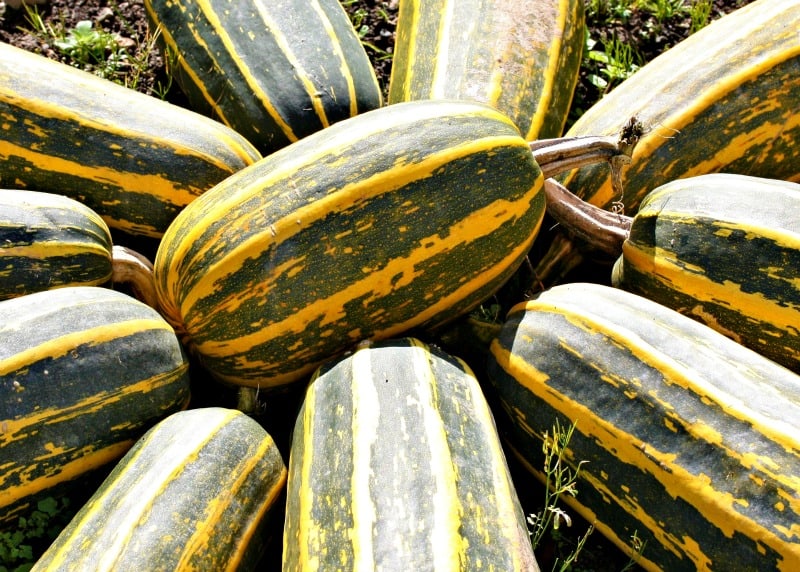 Image: backyardgardenlover.com 
Growing marrows is similar to all other cucurbit vegetables: make sure to allow about 3 feet between each plant. The popular green marrow is probably the best known although there are different sized and colored varieties now on the market.
Marrows are a bit larger and longer than zucchini, and they can range in color from light to deep green.
Courgettes (Also known as zucchini)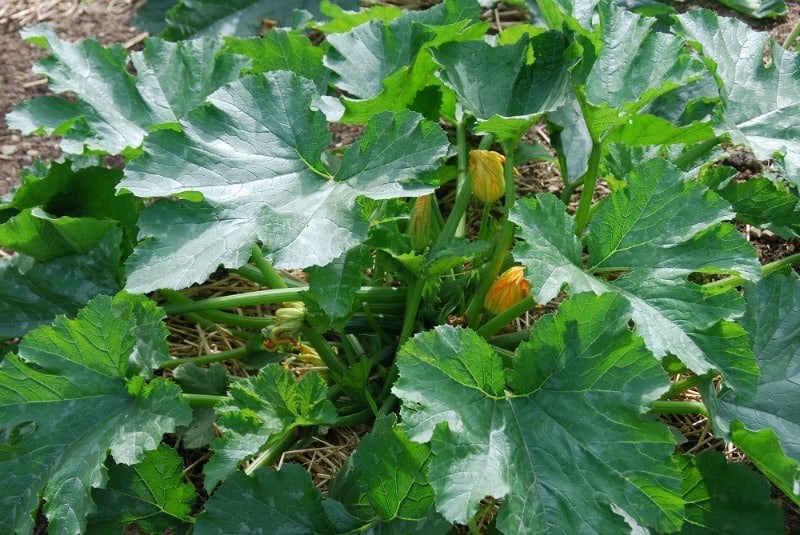 Image: backyardgardenlover.com 
Courgettes are my favorites. We love eating them raw, making zoodles, frying them, and making yummy soups for both summer and winter.
Courgette plants will need at least 40 inches of space as they tend to get quite big.
Squash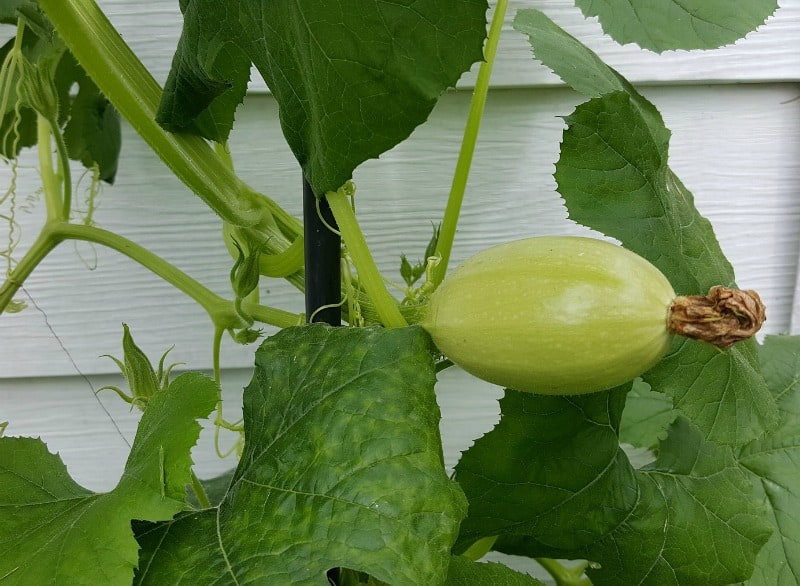 Image: backyardgardenlover.com
A generic name for quite a variety of cucurbit vegetables, squash can come in various shapes and sizes. Summer squash tend to be quite small, have soft skins, and don't store well.
Winter squash is harvested late in the fall, and some varieties can be stored for up to six months. They include varieties such as the bottle shaped butternut squash, the pumpkin shaped dumpling squash and the stringy spaghetti squash.
Cucumbers
Image: backyardgardenlover.com
One of our favorite crops to grow, cucumbers do much better outside in the garden (we tried them in the greenhouse and they did poorly). Outdoor cucumbers are easier to grow and have a much better flavor.
Sometimes male flowers would cause bitter taste to fruits so it was good practice to remove them. This has been bred out of most varieties, so when choosing cucumber seeds choose F1 varieties. Gherkins are small cucumbers and can be grown in much the same way.
Gourds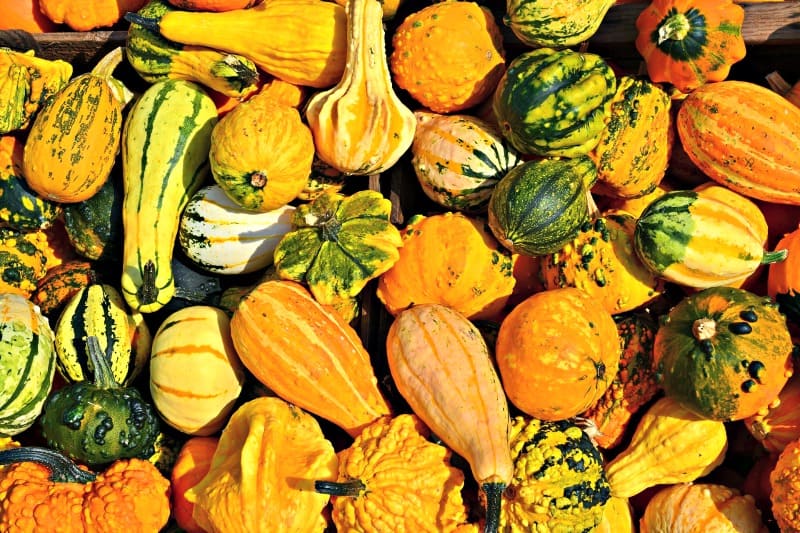 Image: backyardgardenlover.com
Gourds are mostly grown for their aesthetics rather than for eating.  Coming in a wide variety of shapes, gourds are likely to be used in craft projects and to make bird houses (large gourds make really unusual bird houses.)
Drying your own gourds is a very simple process: just leave them on the vine, even after the leaves of the mother plant have withered. Once the gourd becomes light, it's ready to be cleaned and decorated.
What can you make with gourds? They make beautiful fall decorations, but can also be used as ornaments. You can even make vases and bowls for autumn decor.
Watermelon And Musk Melons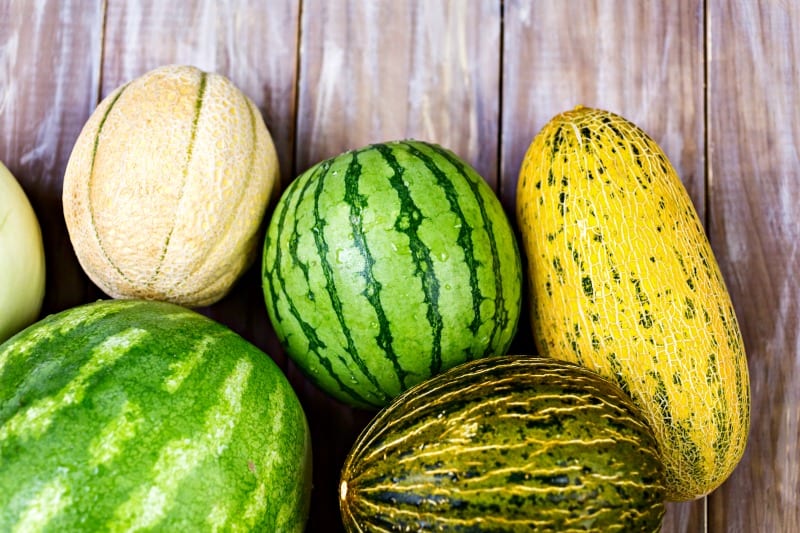 Image: backyardgardenlover.com
While having completely different origins, Watermelons & Musk Melons are both grown in a similar way. For a reliable crop they will both need to be grown in the greenhouse.
The watermelons can get quite big and will trail over the floor of the greenhouse, while the musk melons can be trained to climb.