'Holy Water' Costing Lives Video by Sky
Thousands of AIDS and HIV patients are risking their lives by refusing medication in favour of holy water. The controversial treatment is offered by a church in Ethiopia which claims to have cured hundreds of believers. (3mins)
ETHIOGRIO: Religion – Mass Exorcisms In Ethiopia (Photos)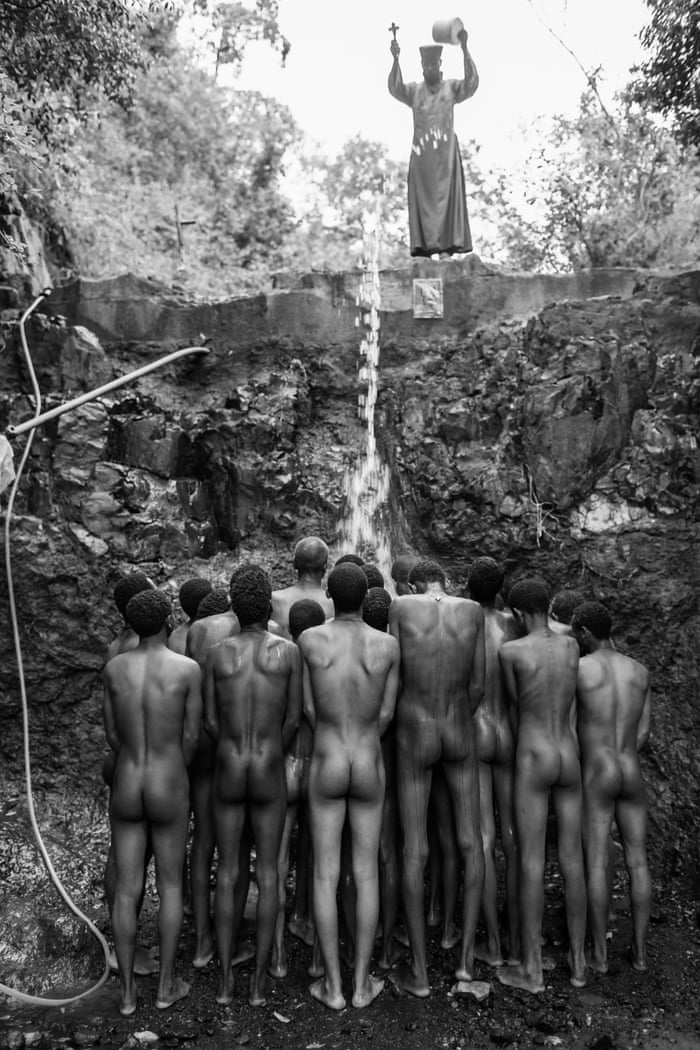 A priest holding a cross throws buckets of water over a group of men. Holy water is believed by many in the group to cure diseases including HIV and cancer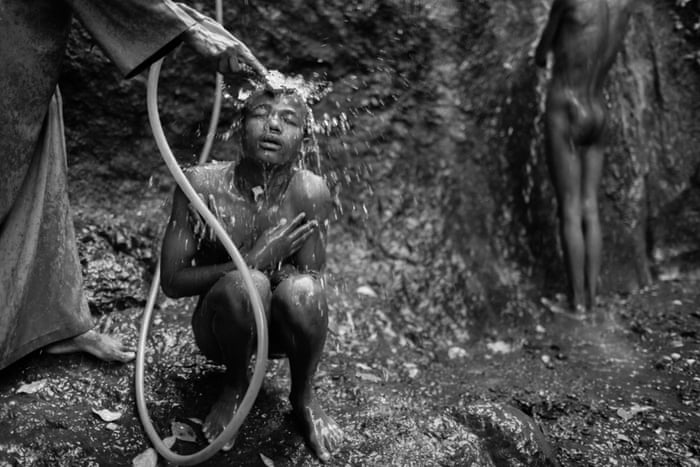 A priest blesses a boy with water and a cross. The pilgrims have to be naked throughout the ceremony, but most wear a small wooden cross around their neck as a sign of faith.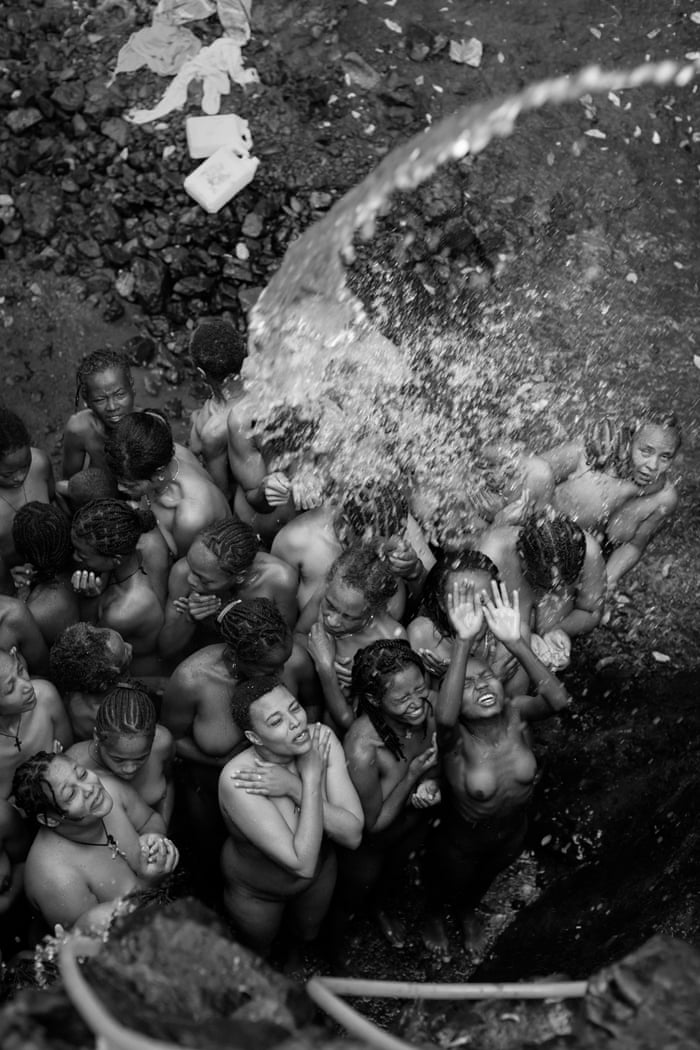 Women being showered with holy water. During the ceremony men and women are generally kept apart, although all ritual activities are performed by male priests.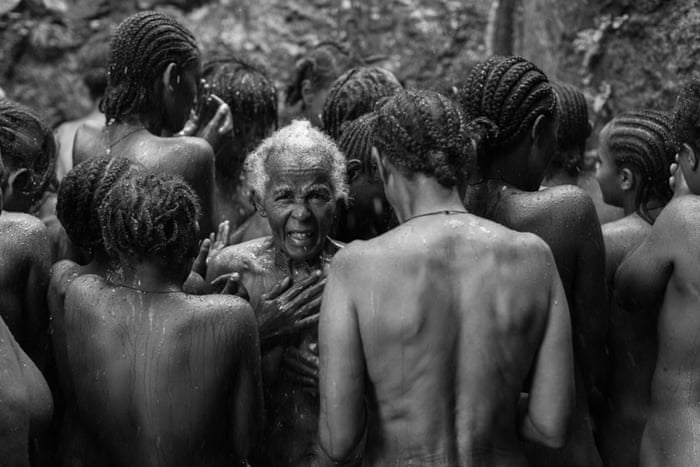 An elderly woman is drenched with holy water. All age groups attend these ceremonies. Their popularity is increasing, partly due to increased exposure in the media and on the internet
IRIN: Church endorses 'holy water' and ARVs as people flock to miracle mountain
Desperate Ethiopians, flocking to an ancient mountain north of the capital, Addis Ababa, seeking a "holy water" cure for AIDS have been belatedly warned by the church to keep taking their antiretroviral (ARV) medication.
"Both are gifts of God, they neither contradict nor resist each other," the Archbishop of the Ethiopian Orthodox Church, Abune Paulos, said this week. "You can swallow your drugs with the holy water," he added.
Thousands of HIV-positive people from all corners of Ethiopia have visited Entoto mountain, on the northern outskirts of the capital, after local priests promised they could cure the virus.
"I found out my HIV status seven months back and packed my bags for Entoto – many people have been healed," Tesfaye Belete*, a former soldier seeking treatment, told PlusNews.
Ethiopia's Orthodox church has several deeply-rooted beliefs among its adherents. One of these is the power of Entoto's 'tsebel', or 'holy water', to heal the sick and cast out demons. The water, which comes from a spring on the mountain, is poured onto the patients or drunk as a healing tonic.
Until Archbishop Abune's clarification, the Church's position on the use of ARVs had been unclear and many patients believed so strongly in the power of the holy water that they stopped their ARV regimens altogether.
"A majority of holy water users believe that either HIV/AIDS is caused by an evil spirit or it is a demon by itself," said Ato Zena Berhanu, a PhD student in Addis Ababa who has researched the issue. "There are people who believe that the only solution to HIV/AIDS is the holy water and they do not want to use the antiretroviral drugs."
A recent report by the UK's satellite broadcaster Sky News on Entoto's exorcisms has drawn widespread criticism of the Church for its failure to advise patients to continue with their ARV medication.
A refuge 
Entoto has long been a safe heaven for community outcasts and those looking for spiritual help. "Approximately 4,000 people currently reside at Entoto in search of a miracle," said Haimanot, one of the priests who performs the ceremonies.
He said patients came from all social backgrounds and lived there until they were "cured". Healing, he added, could take anywhere from one day to several years, and supposedly manifested itself in the form of a dark discharge in the patient's saliva.
Zewdi Zuriah came to Entoto after being abandoned by her husband when she tested HIV-positive. "If one is too sick to cook or wash, the neighbour pitches in as the primary care giver… we also talk openly about our disease and share our fears."
Zeinab Tsehay, a former sex worker who joined the community four months ago, says she will stay in Entoto "as long as it takes" for her to be cured.
Alem Bekele, who came all the way from Gonder, in the north of the country, said: "As soon as I received the bad report about the virus in my blood, I took the bus to Entoto." She was willing to try conventional drug therapy, but said she did not have enough money to return home for her ID card, which she would need to access free, government-provided ARVs.
Harsh conditions 
A typical day at Entoto starts at dawn, when the patients descend to the bottom of a steep ravine and line up naked. The clergy then stand on the edge of the cliff and shower them with the holy water.
Residents in Entoto put up with very poor living conditions where 'patients' can rent a tiny room without a bathroom for between US$5 and US$7 per month.
Several patients are crammed into each room and with the unavailability of toilets and poor hygiene, other health problems like tuberculosis are commonplace. Especially since the 'healing' requires patients to drink up to six litres of holy water every day.
But few complain about the conditions; they believe that this suffering only makes them stronger candidates for healing.
According to Berhanu, a concerted effort was needed to ensure people remained on their drug regimens, even if they used the holy water. "Entoto and other holy water sites in other parts of the country are attracting thousands of people living with HIV/AIDS – there should be some organised effort to address the problems of these citizens in a culturally sensitive manner; this includes encouraging people to combine holy water and ARV drugs, and designing and implementing a care programme for the patients."
There is still no known evidence-based cure for AIDS.
When contacted, an official of the Ministry of Health said the ministry did not have a position on the exorcisms at Entoto, but continued to advise patients to stay on their ARVs.
Ethiopia's HIV prevalence is estimated at about 3.5 percent, with more than one million people living with the virus – just seven percent of these are currently on antiretroviral medication.
* Names have been changed
Light at the End of the Tunnel: HIV Treatment in Ethiopia
Since the HIV/AIDS epidemic arrived in Ethiopia, attitudes toward the disease as well as the opportunities for treatment and a healthy life have changed dramatically. With the Government of Ethiopia's commitment to providing national free treatment for HIV/AIDS, patients have increased access to HIV services in their local communities. Through the President's Emergency Plan for HIV/AIDS, the U.S. Agency for International Development (USAID) has been working to support the delivery of life-saving HIV/AIDS treatment in Ethiopia. From strengthening pharmaceutical supply chains to supporting rural health workers to providing technical assistance to policymakers, U.S. assistance is making a real difference in the lives of Ethiopians. In just one year, the number of Ethiopians accessing HIV counseling and testing, increased from 500,000 to more than 9 million. The number of people on anti-retroviral therapy has increased from 900 in 2005 to 290,000 in 2010.
By Kate Pfizenmaier, SCOPE Program Manager
Strengthening Care Opportunities through Partnership in Ethiopia (SCOPE), a program in the Department of Global Health, empowers religious leaders to be health advocates in their communities.  One way SCOPE does this is by encouraging Ethiopian priests to educate people at holy water sites on the importance of HIV testing, counseling, and treatment.
Holy water sites in Ethiopia are traditional places of healing.  People of the Ethiopian Orthodox Christian faith, who make up 85% of the population in the Gondar region where SCOPE works, travel for miles or even days to seek the curative powers of holy water blessed by Orthodox priests. Visitors drink holy water and submerge themselves in pools to receive healing.
Those who visit these sites believe that holy water has curative powers and can heal any illness from HIV to depression or anxiety.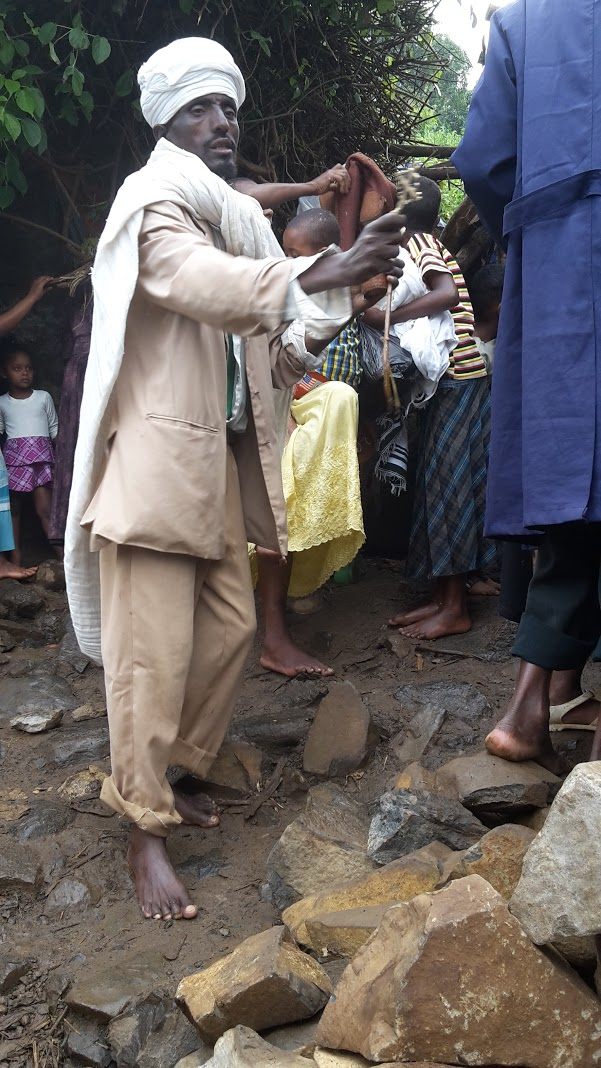 This tradition offers a unique opportunity to reach populations that are typically difficult to access for health education and services. Even people from the most remote villages travel to holy water sites on the high holy days. SCOPE works with health workers and Orthodox priests at four traditional healing sites in Gondar to encourage holy water users to supplement holy water with modern medicine.  SCOPE is particularly focused on ensuring that people living with HIV are accessing the medication they need and encouraging people who don't know their HIV status to be tested.
Last month provided a great opportunity for thousands of people to be educated about HIV/AIDS when a religious holiday brought masses to holy water sites. Filseta Lemariam (the Fasting of St. Mary) is a high holy day where Ethiopian Orthodox Christians abstain from eating animal products and visit their place of worship.  In addition to educating large groups on this holy day, priests trained by the SCOPE program counseled their parishioners. Five people seeking healing at holy water sites were inspired by their priests to begin taking their HIV medication after discontinuing it in favor of traditional medicine.
Next month SCOPE plans to introduce voluntary HIV testing and counseling at these holy water sites. If HIV positive, parishioners will be referred for treatment; and if HIV negative, they will learn how they can prevent infection.
SCOPE is a partnership between the University of Washington's Department of Global Health, the University of Gondar, and members of faith communities in the United States and in Ethiopia.  
Colorful Church in Entoto Mountain Image: trevorstravels.com
Mount Entoto is the highest peak overlooking the city of Addis Ababa, the capital of Ethiopia. Mount Entoto is part of the Entoto mountain chain, reaching 3,200 meters above sea level. Source: mygola.com
An HIV/AIDS colony on Entoto Mountain outside the capital of Ethiopia, lives in shacks made with plastic, tarps, tin and mud. Thousands of individuals have flocked to the mountain in recent years seeking the curative powers of the spring water. Image: Adventures of a Ferengi – WordPress.com
Ethiopia is like no other country. The country is host to pan African institutions, but the dominating cultural traditions have little in common with those of other countries in Africa. Ethiopia was never colonised, and partly for this reason, is a country where ancient historical traditions have been preserved. The ceremonies and rituals of the Ethiopian Orthodox Church open a window on the authentic world of the Old Testament. You will find yourself transported back in time, visiting unique churches, monasteries and castles in beautiful surroundings. Source: harmattantours.com
The German Church School integrates visually impaired children and offers parenthood/sponsoring of children from poor environments. A project for HIV-infected women provides income from the production of coffee bean jewelry. "Together" is an NGO which takes care mainly of single, visual impaired mothers. Source: KimKim
One of two telescopes at the Entoto Observatory and Research Centre situated in the Entoto Mountains Source: Wardheernews