Energy Drink Isn't Getting You Through the Day, It's Killing You From the Inside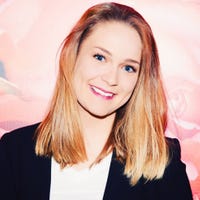 Nov 03, 2016
You know when you're cramming for finals, get zero sleep, and basically subsist on Red Bull and Cheetos? Yeah, you shouldn't do that anymore. Well, maybe the Cheetos can stay, but the energy drink has to go because it's pretty much destroying your body.
It shouldn't come as a total surprise that energy drinks aren't good for you. They've been linked to deaths in the past and are known for having similar effects to cocaine. And now, in a new case study published by the British Medical Journal, more side effects of were discovered and it's terrifying because they can destroy your liver.
The case study involved a 50-year-old construction worker who was drinking four to five energy drinks a day over the course of three weeks. He ended up developing acute hepatitis and experienced nausea, abdominal pain, and vomiting. Originally he thought it was the flu, but once his eyes and skin turned yellow, he went to the emergency room where they found he had a severe liver infection. As soon as he stopped bringing on energy drinks, the symptoms went away.
Grub Street points out this is the second time taking energy drinks excessively has been tied to liver failure. In 2011, an otherwise healthy 22-year-old woman was diagnosed with acute hepatitis — she had admitted she was drinking 10 energy drink cans a day for two weeks.
In both cases, doctors say the high niacin (or vitamin B3) levels are what causes the liver damage, not so much the caffeine or other ingredients. According to the BMJ report, niacin is what causes liver damage.
At this point, not studying at all and just winging your final sounds like a better alternative than an energy drink, TBH.
Source:
cosmopolitan.com
*****
Moderation is Key. Too much of anything can potentially be dangerous, so moderation is recommended when consuming energy drinks as well. Caffeine (trimethylxanthine) and other ingredients in these beverages are drugs and should be respected. To reduce the potential energy drink dangers education is key.
Red Bull may give you wings, but at what cost? To some, energy drinks are dangerous elixirs, while others consider them magic potions of vitality? The truth about how they affect your body is not so black and white.
To get to the bottom of this caffeine-packed can, we spoke with Kamal Patel, the Director of Examine.com. Right off the bat, Patel explains that understanding energy drinks and their ingredients is complicated:
Part of the reason there are so many misconceptions is that the umbrella category "energy drinks" is more heterogeneous than almost any other category. Sometimes it's just caffeine plus some kooky ingredients that don't do anything, sometimes it's high levels of active ingredients, and sometimes they overlap with ergogenic aids targeted at athletes.
It would be impossible to cover every single beverage out there that claims to be an "energy drink," but popular brands like Red Bull, Monster, Rockstar, and 5-Hour Energy all have a lot in common when it comes to their special "energy blend". For the purposes of this article, we'll focus on those. But as always, check the ingredients list yourself and see how your drink of choice stacks up.
Common Energy Drink Ingredients (and What They Do)
Before we can discuss how energy drinks affect your body, you need to know what they're made of. Here are some of the most common supplements found in popular energy drinks, and what they do:
Taurine is a naturally occurring amino acid that plays many fundamental biological roles. If you're a moderately healthy individual, you likely produce the taurine your body needs on your own. According to Katherine Zeratsky, R.D., L.D., at Mayo Clinic, an average energy drink will have about 1,000 milligrams of taurine per 8-ounce serving, which is considered safe by medical researchers. Zeratsky suggests that taurine may help with mental and physical performance, but there's very little evidence to support it. It may, however, help your eyes if you look at a screen all day, according to Patel. One study, led by M. Zhang and published in Amino Acids, suggests that regular taurine supplementation helps reduce and alleviate visual fatigue commonly associated with visual display terminals.
Guarana is actually a plant that grows in the Amazon, and is commonly found in Brazil. It's not the plant itself that you're ingesting, however, it's the seeds; which have been used by indigenous people of the Amazon to increase their energy and alertness for centuries. According to Erica Bub and Karla Shelnutt, PhD, RD, at the University of Florida, the chemical component of guarana that gives you energy is actually just naturally occurring caffeine. In fact, guarana has the highest caffeine content of any other plant out there. That means it's effect on you is essentially the same as caffeine's. Still, as Patel explains, there's been a lot of research to see if guarana has any additional effects on people aside from its caffeine content. A recent study, published in the Journal of Negative Results in Biomedicine, suggests that commercial products containing guarana have no major effect on your mood, anxiety, or psychological well-being. Essentially, it's comparable to ingesting caffeine, which can be fine if you respond well to caffeine, but we'll go over that major supplement more later on.
Ginseng is a medicinal herb that has long been thought to improve physical performance, focus, and memory (especially when taken in combination with another herb, ginkgo biloba). Patel says there is no overwhelming evidence of ginseng being harmful for most people, especially in the short term. In fact, Patel points out that there may be some potential benefits outside of getting energy fast:
A recent meta-analysis presented preliminary evidence that Ginseng, a popular ingredient in energy drinks, could potentially have a positive effect (though modest) on fasting blood glucose levels in both people with and without type 2 diabetes. Two randomized controlled trials, which were published a year after the meta-analysis, provided further evidence in support of ginseng and its potential role in improving blood glucose regulation in individuals with impaired glucose tolerance or type 2 diabetes.
That being said, the U.S. National Library of Medicine suggests that long-term use (more than 6 months of regular ingestion) may cause insomnia, and possibly interfere with proper drug action of certain medications such as insulin, oral hypoglycemic agents, blood thinners, and diuretics. But this all may be moot, because according to Bub and Shelnutt, the amount of ginseng commonly found in energy drinks is less than the amount traditionally considered to be beneficial anyway. We don't really know enough about ginseng yet to say whether it's good or bad, but if your only source of it is the occasional energy drink (rather than daily supplement pills), you're probably fine.
In general, you'll probably find at least four B vitamins listed on your energy drink's nutritional facts; including vitamin B3 (niacin), vitamin B6 (pyridoxine), vitamin B12 (cobalamin), and vitamin B5 (pantothenic acid). Medical research shows that a deficiency in some B vitamins can lead to feeling fatigued, but according to the National Institutes of Health, supplying your body with more vitamin B than needed does not provide "extra energy." When you ingest more vitamin B than your body needs, it merely gets lost in your urine. In fact, you probably already get most of the B vitamins your body needs from your diet, so the B vitamins in energy drinks are probably going in and out of you in no time. The NIH suggests that B vitamins are safe for consumption, even when your body doesn't need them, but too much vitamin B6 can be dangerous. Fortunately, you'd need to consume nearly 50 servings of energy drinks to reach any dangerous numbers.
These aren't the only ingredients you'll find in energy drinks, of course. Besides a mix of other supplements in very small doses, there are two more major players when it comes to energy drink ingredients: sugar and caffeine. Sugar isn't always bad for you, but in high amounts, it's very unhealthy. It's particularly dangerous in drink from because you can keep drinking it without your body recognizing your sugar intake, meaning you'll stay hungry. Unless you opt for a sugar-free version, most energy drinks have around 30 grams of sugar per serving, and, depending on the size of the drink itself, you could be ingesting a small meal's worth of calories without supplying your body with any important nutrients. The artificial sweeteners used for the sugar-free versions of most energy drinks is a completely different can of worms. These substitutes help deliver the same previous ingredients without the refined sugar hit, but there has been a lot of controversy over how they may affect your body. Overall, there's no clear evidence that artificial sweeteners are associated with cancer risk in humans, but there's a lot left to learn about them.
Caffeine, on the other hand, is the most popular ingredient in any energy drink, and it's probably what's giving you any feeling of increased energy. Caffeine improves your motivation and focus by increasing catecholamine signaling, but this effect can be dampened over time as your body builds a caffeine tolerance. Patel says that once you've developed enough tolerance, only the wakefulness effects will still be present. So basically, you won't be able to fall asleep, but you won't feel like you have any extra "energy" either. We've talked about how caffeine affects the body at great lengths if you want to learn more.
How Energy Drinks May Affect Your Body In the Long Term
None of that sounds too bad, right? Patel suggests that the occasional energy drink is probably okay when you're having one of those long days, but regular consumption (daily, for example) may have adverse health effects:
Most studies on this topic appear to be associations so causality cannot be determined, but stimulants in large quantities are a cause for concern, specifically on mental health (stimulants taken to avoid sleep) and cardiovascular health. The amounts of sugar in some of these can also be a health concern just based on total calories, but also from a gastrointestinal standpoint if they are taken alone and there are complicating factors (e.g. pre-diabetic)… The reason is that energy drinks typically have a lot of different ingredients, so it's a crapshoot as to how they'll affect your health in the long term. In fact, I can imagine a House MD type scenario where the culprit is some weird energy drink that the patient felt they needed to get through each day.
Basically, it's hard to know specifically what could go wrong, but there is a great deal of concern over the topic. In fact, just this year an otherwise healthy 26-year old man suffered a heart attack that doctors say may have been caused by his energy drink habit. Of course, he was also said to have downed eight to ten energy drinks a day, making a heart attack at that age not sound too farfetched. Generally, there isn't a lot of research focused on energy drink use over time, but as Patel explains, there is one prominent ingredient in which researchers do know the long term effects: caffeine.
As most caffeine drinkers already know, habitual caffeine consumption can possibly lead to dependency in some people. Withdrawal symptoms, such as headache or fatigue, are somewhat common after short-term consumption of 600 mg or greater per day. In fact, the Diagnostic and Statistical Manual (DSM-5) has officially recognized caffeine withdrawal, as well as caffeine intoxication (the criteria of which includes 5 or more symptoms, such as nervousness, restlessness, tachycardia and gastrointestinal disturbance, that occur soon after ingesting an excess of 250mg of caffeine) which can occur at large, acute doses.
So while we don't know how some energy drink ingredients can affect you in the long term, we do know about the most prevalent ingredient. Caffeine is "Generally Recognized as Safe" by the FDA, but there's still reason to be wary of it. In fact, there's a lot of the concern aimed toward energy "shots," like the popular 5-Hour Energy brand, because of their hidden caffeine content. According to lab test commissioned by Forbes, these tiny bottles can have anywhere from 150 to 210mg of caffeine jammed inside. Consumer Reports found 5-Hour Energy Extra Strength to have nearly 250mg of caffeine, the highest of any energy drink they tested. In reality, that's no more than a large cup of coffee at Starbucks, but it's all packed into a tiny bottle that doesn't say how much caffeine is inside. It can be troubling because these energy supplements are marketed as safer, healthier alternatives to other types of energy drink, when there isn't a whole lot of differences between them. 5-Hour Energy is sugar-free, and contains very little calories, but you're still downing the same high levels of B vitamins and other supplements you'd find in other energy drinks.
Overall, the FDA cautions consumers over energy drinks and "shots," and notes that consuming them is not a suitable alternative to rest or sleep. Furthermore, the FDA has investigated multiple cases of people experiencing adverse effects after consuming energy drinks, including a few deaths that may possibly be linked to them as well. Before you spit Rockstar all over your screen, however, keep in mind there just isn't enough research to show that energy drinks are safe or dangerous in the long term. Be moderate about your energy drink consumption, keep your caffeine intake within reason, and you'll probably be okay.
The Bottom Line
All in all, after scanning around 10 of the most popular energy drink brands, Patel says there is nothing that's completely unsafe in the doses present. So, if you absolutely must have an energy drink, we've come up with a few tips in collaboration with Patel for choosing a good energy drink:
Consider sticking with energy drinks that have a nutrition facts label, so you can see what you're ingesting. As Ruth Litchfield, associate professor at Iowa State University, explains, energy drink companies can market their products as dietary supplements and bypass the FDA approval process with a "supplement facts label" that gives you much less information.
Look for one with a modest amount of caffeine; somewhere around 100mg, which is about the same as a cup of coffee.
Keep your eye on each energy drink's sugar content. Red Bull, for example, is popular, but also very high in sugar content if you don't reach for the sugar-free.
Be sure to check out the actual servings listed on an energy drink's can. A standard serving size for most energy drinks is eight fluid ounces, but many energy drinks like Monster and Rockstar come in 16 or 24 fluid ounce cans, so keep that in mind as you consider your options.
With all of that in mind, however, Patel still recommends you approach energy drinks with caution:
That being said, energy drinks are the ultimate band-aid solution that can cover up actual health issues (like thyroid health, chronic fatigue syndrome, etc). So I don't like the idea of them. My personal approach to energy drinks: the biggest concern might not be the risk of individual ingredients, but rather that energy drinks could mask health issues. While it might sound cliche, no one needs an energy drink.
There are plenty of other ways to wake yourself up and keep energized, number one being getting a good night's rest to begin with. If that's not an option, grab a nap if you have some time. Even a cup of coffee is probably a better choice because you're not adding a bunch of other supplements to your caffeine intake. For now, there's not enough evidence to definitively say whether or not energy drinks are bad for you. In the short term they might be just fine, but they are definitely not something you want to rely on. As with most things, moderation is key.
Kamal Patel is the director of Examine.com. He's a nutrition researcher with an MPH and MBA from Johns Hopkins University, and is on hiatus from a PhD in nutrition in which he researched the link between diet and chronic pain. He has published peer-reviewed articles on vitamin D and calcium as well as a variety of clinical research topics. Kamal has also been involved in research on fructose and liver health, mindfulness meditation, and nutrition in low income areas. Examine.comand Kamal are both on facebook.
SOURCE:
lifehacker.com
*****