Head hunting in New Zealand: Major Gordon Robley with his collection of tattooed Maori heads (1895) (en.wikipedia.org)
Heroic Africans: Legendary Leaders, Iconic Sculptures – Sept 21 – Jan 29, 2012 brought back memories. Those packets of exotic stamps cost only a few bucks but provided an escape route out of daily life to 'lands of many contrasts' with unpronounceable names. (http://parisbreakfasts.blogspot.com.au)
Nanking Massacre Children by Japanese (http://ahrp.org)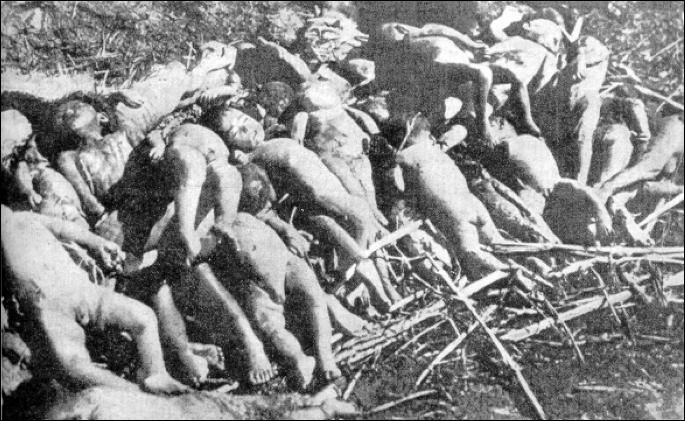 Sun Yuanxin, a surviving forced miner who worked for Japan during the World War II, looks at the remains of miners at a museum of liaoyuan miners' tomb during Japanese occupation in liaoyuan, Northeast China's Jilin province, Aug 28, 2014. The miners' tomb, which keeps 197 forced miners' remains, was an important evidence of Japanese crime of using forced Chinese labor between 1931 and 1945. No more than twenty of the forced miners in liaoyuan are still alive today.[Photo by Wang Haofei/Xinhua] (http://www.icrosschina.com)
Japanese soldiers shooting blindfolded Sikh prisoners before bayonetting them. This set of four photographs were found among Japanese records when British troops entered Singapore. (en.wikipedia.org)
This remarkable photograph taken secretly by Australian Private George Aspinall in northern Thailand during the building of the Thai-Burma Railway shows the skeletal and desperate plight of the so called 'fit' Australian workers the Japanese forced to build the railway in 1943. The swollen stomach of the man on the right is caused by 'wet' beri beri. (Photo from Changi Photographer) (timbowden.com.au)
Top level officers of Unit 731 (Japan's biological & chemical warfare unit). This photo was taken on June 25, 1943 – the 8th anniversary of Unit 731. (ahrp.org)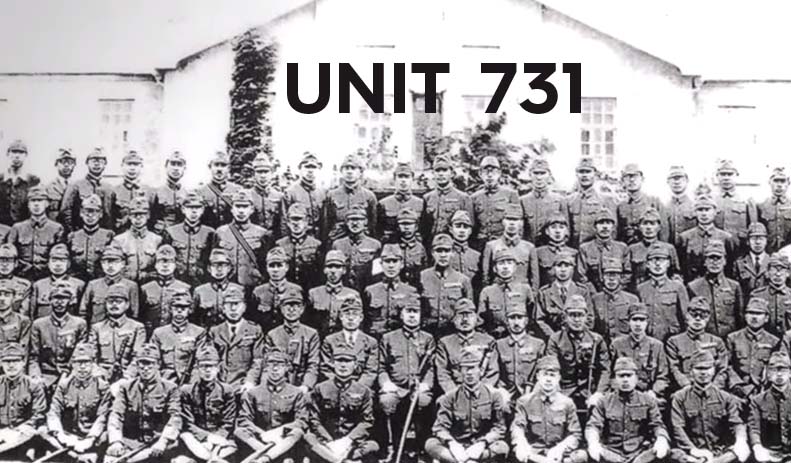 The face of war: The first press pictures of dead U.S. soldiers that was presented to the public, 1943. (rarehistoricalphotos.com)
The USS Arizona (BB-39) burning during the Japanese attack on Pearl Harbor. (en.wikipedia.org)
Chinese prisoners in Nanjing — some victims were reportedly buried alive.
Allied prisoners toiling on the railway. (Topham Picturepoint/Press Association) (americanpowsofjapan.blogspot.com)
West German Chancellor Willy Brandt paying tribute to the Jewish insurgents killed by the Nazis during uprising in the Jewish ghetto in Warsaw in 1943 – seen in front of the Jewish
About 100,000 people were murdered in South Korea prior to what we call the Korean War, including 30-40,000 killed during the suppression of a peasant revolt in one small region, Cheju Island." (www.globalresearch.ca)
At the end of WWII when we beat the Japanese and moved in to occupy, many civilians were killing themselves because of the propaganda they recieved from their government, regarding "barbaric Americans".
Japanese Atrocities-Buried Alive Chinese, Koreans (http://ahrp.org)
1896 Aboriginal prisoners shackled, photographed before Roebourne Gaol (jail in Western Australia) (partage-le.com)
Not much is known about this iconic World War II photograph, but to many it is instantly recognizable, and is titled simply "Grief". (listverse.com)
Starving people from the famine of Mount Lebanon (www.bbc.co.uk)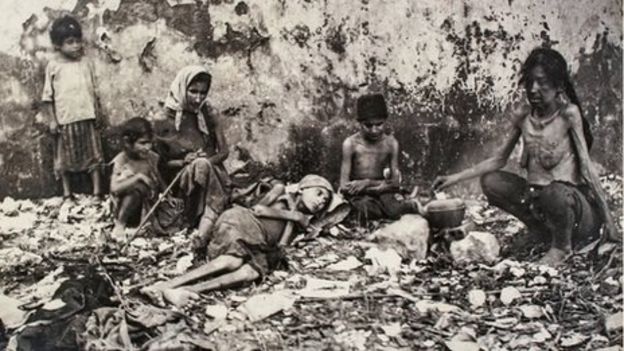 "Grandson tells his aunt, Evdokia, which at that time was just a little girl. Neighbors invited her home. It happens in 1933, during the Holodomor (Great Famine) in Ukraine. (jurnalulbucurestiului.ro)
Remains of Chinese Children Bayonetedby Japanese Soldiers (www.slidego.com)
Stalag XXIIA, Germany, 1945, A former American POW in a hospital. (www.pinterest.com)
Greece, winter of 1941-1942. Starving Greek child. In the autumn of 1941 German occupation forces confiscated all produce to answer food needs of their troops on the Soviet front. An estimated number of half a million people lost their lives of starvation in that most cold winter of 1941-1942, mostly at the urban areas. Twice a day special servicemen collected dead frozen bodies to give them a hasty collective burial. (pinterest.au)
The bodies of female prisoners exhumed from a mass grave near the Helmbrechts concentration camp, a sub-camp of Flossenbuerg. (collections.ushmm.org)
Pair of Russian soldiers frozen to death in their foxhole by the bitter cold during the Second Battle of Suomussalami.
peashooter85: "German soldiers hang teenagers suspected of aiding Soviet soldiers, World War II. "
The above engraving depicts the execution of David van der Leyen & Levina Ghyselins, described variously as Dutch Anabaptists or Mennonites, by Catholic authorities in Ghent in 1554. Strangled & burned, van der Leyen was finally dispatched with an iron fork. Bracht's Martyr's Mirror is considered by modern Mennonites as second only in importance to the Bible in perpetuating their faith. (http://bjws.blogspot.com.au)
1560 Persecution of the Mennonites from John Fox, The Ecclesiastical History containing the Acts and Monuments of Martyrs.  John Foxe (1516/17-1587) was an English historian & martyrologist, the author of Actes & Monuments (popularly known as Foxe's Book of Martyrs).