The THREE VERSIONS about the dog and the new born baby ..
Yet another heartstring-tugging tale (with photos) of a dog's supposedly saving an abandoned newborn child is creating misty eyes among social media users.
ORIGIN:In November 2015, social media around the globe were awash in photographs of a dog seemingly carrying a newborn child (with umbilical cord still attached) in its mouth, with accompanying text proclaiming that the canine had found the child abandoned on the street and had carried it to safety:
A dog found a newborn child that had been abandoned in the street by his mother. The dog took the baby in her mouth while avoiding hurting him and put him in front of a house. Thanks to this dog, this baby today is alive and in perfect health.
Verifying the veracity of these images has proved difficult, as the accompanying text typically makes no mention of details such as time and place. (Some iterations of the message do mention location but attribute the story to multiple, widely varying parts of the world.) Similar reports regarding dog rescues of abandoned children have certainly appeared in the news media over the years (sometimes in tandem by photographs that have no actual connection to the story being reported), but none of them appears related to this iteration.
The most common version of this item holds that it occurred somewhere in or around Saudi Arabia, as reported in the Saudi publication Sada:
A picture went viral in Saudi Arabia this week, showing a dog carrying a newborn baby in its mouth to take her to a nearby house, where she was rushed to hospital.

The Saudi daily 'Sada' said it does not know whether the incident took place in the Gulf Kingdom or another country but it added that the dog saved the baby's life.

"Those who posted the pictures said the dog carried the baby to the nearest house, whose dwellers rushed her to the hospital…the baby's life was saved by the dog," the paper said, adding that the baby was apparently dumped by her mother near a waste bin.
At this point we don't yet know whether these photographs are authentic (rather than capturing something that was staged), whether the backstory attributed to them (about a dog's finding and rescuing an abandoned newborn) is accurate, or the time and place of their setting.
Thanks to this gentle stray dog, the baby boy is alive today
VIA: snopes.com
***
Stray Dog Pulls Newborn from Garbage Dump
A stray female dog from Campinas, Brazil, is being called an "angel sent from the heavens" after the homeless pet saved the life of a newborn baby boy.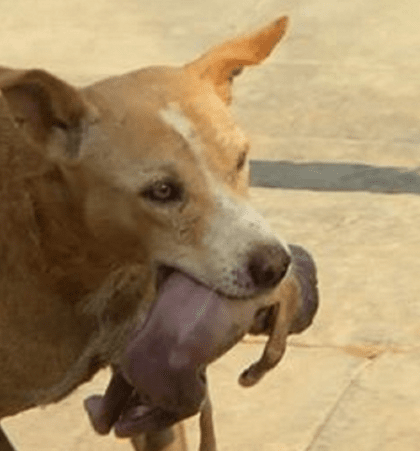 Photo credit: seamosmasanimales.com
The dog who was scavenging for food in a garbage dump came across the newborn who still had the umbilical cord attached. The smart dog gently carried the baby in her mouth out of the dump, walked a few hundred feet to the closest house and handed the baby over to helpful humans hands. There, as if asking "please help him," the dog showed the humans the baby and left him to their care.
The home residents rushed the baby to the nearest hospital and doctors carefully cared for the tiny newborn. Medical representatives said the baby boy is in great condition and was unharmed by the dog.
Local residents are in disbelief that a mother would be willing to dump her newborn in a dump just minutes after giving birth. Authorities are now looking for her, the worst mother ever.
Thanks to this gentle stray dog, the baby boy is alive today.
 VIA .lifewithdogs.tv  POSTED BY KATHERINE
***
Perro rescata a bebé de la basura y ¡se salva!
Los médicos informaron que gracias a la acción del canino,  pudo salvarse y se encuentra en recuperación sin signos vitales dañados.
Campinas, São Paulo.-Una madre sin corazón, arrojó a su bebé recién nacido a un basurero después de darlo a luz para que falleciera abandonado, sin imaginar lo que sucedería.
El bebé con el cordón umbilical adherido a su cuerpo, fue hallado por un perro quien lejos de lastimarlo lo llevó en su hocico hasta una vivienda cercana donde los vecinos de inmediato llevaron al recién nacido a un hospital, de acuerdo al diario Hoy Estado de México.
El rescate del perro fue captado en una imagen, la cual fue tomada por un vecino de la mujer, captando el momento exacto en el que el leal animal llevaba en el hocico al recién nacido.
Los médicos informaron que gracias a la acción del canino,  pudo salvarse y se encuentra en recuperación sin signos vitales dañados.
Las autoridades de la ciudad carioca se encuentran realizando investigaciones para dar con el paradero de la madre quien por esta acción podría pasar al menos cinco años en la cárcel.
La noticia se ha vuelto viral en redes sociales, causando sentimientos encontrados entre las personas; por un lado el repudio a la cruel madre que fue capaz de cometer semejante crimen sin el más mínimo remordimiento y por otro lado el reconocimiento a esta perrita sin hogar que ha demostrado mucho más humanidad que algunas personas.
VIA  debate.com.mx