Angelina Jolie 's inspirational quotes and qoutes about inner beauty
"Refugees have done more for my heart and my spirit than I can ever express in words. They have changed my life. They have shown me friendship and love and courage and loyalty. They have triumphed against enormous odds with unbroken spirit.This work has given me a voice and an understanding of our world. Once you have seen what you must do, how can you stop doing what you can, whatever it costs you?"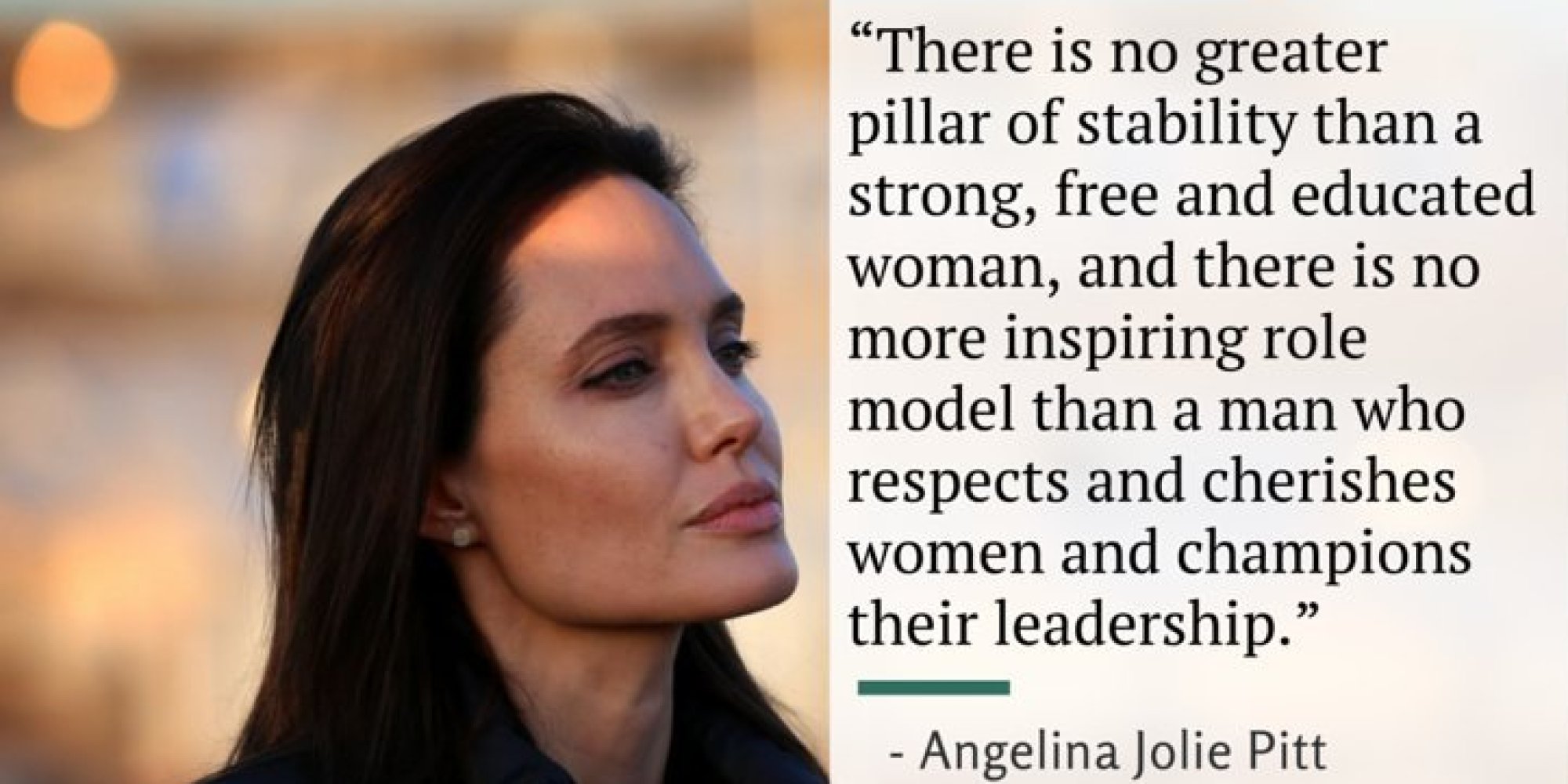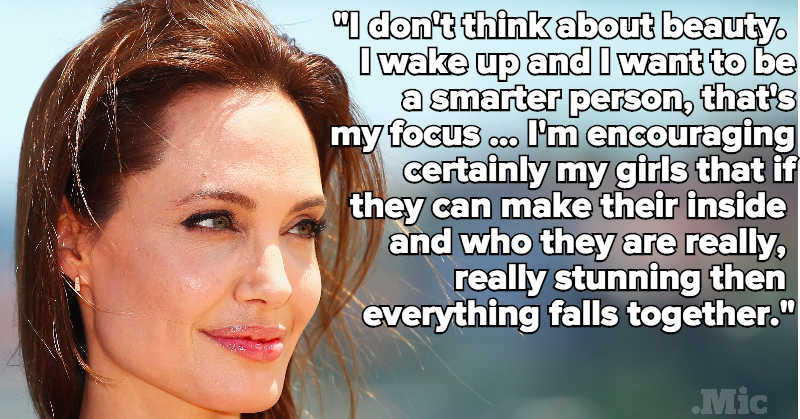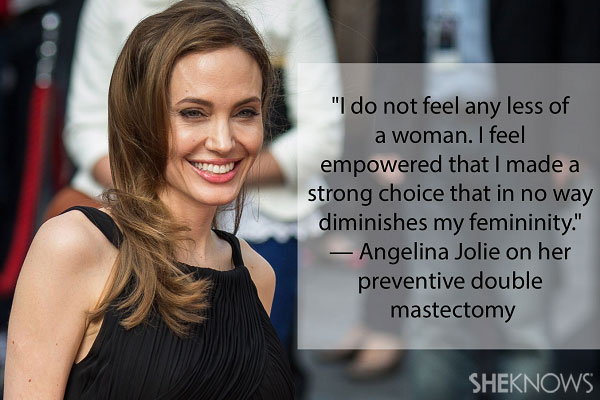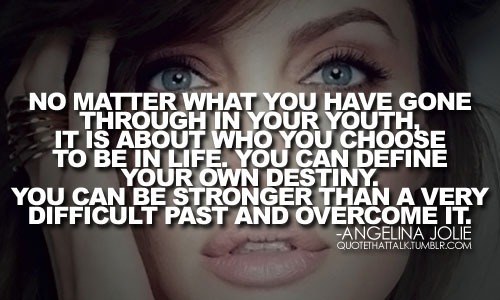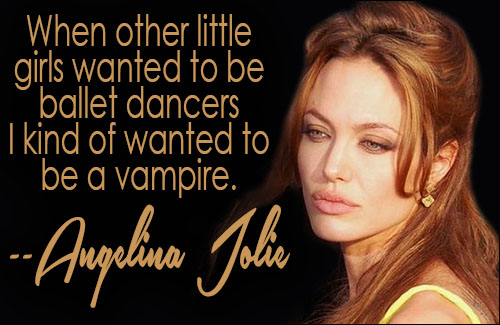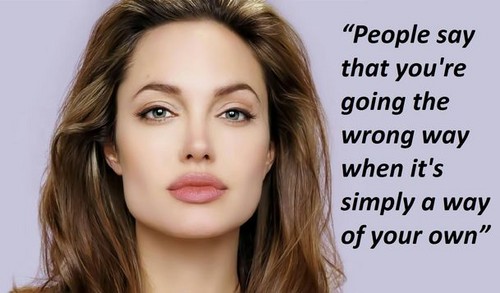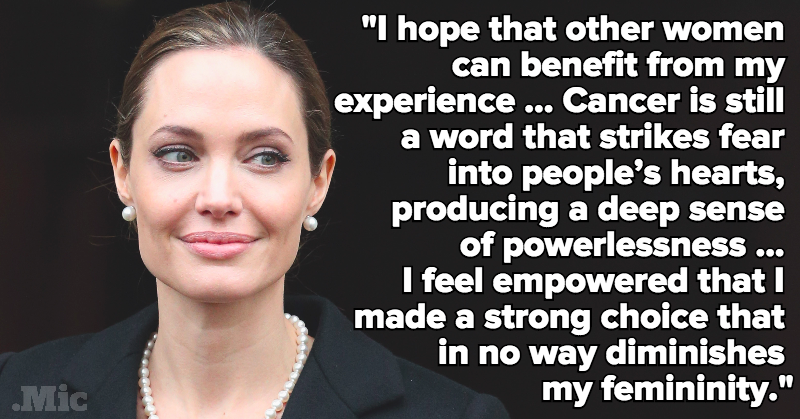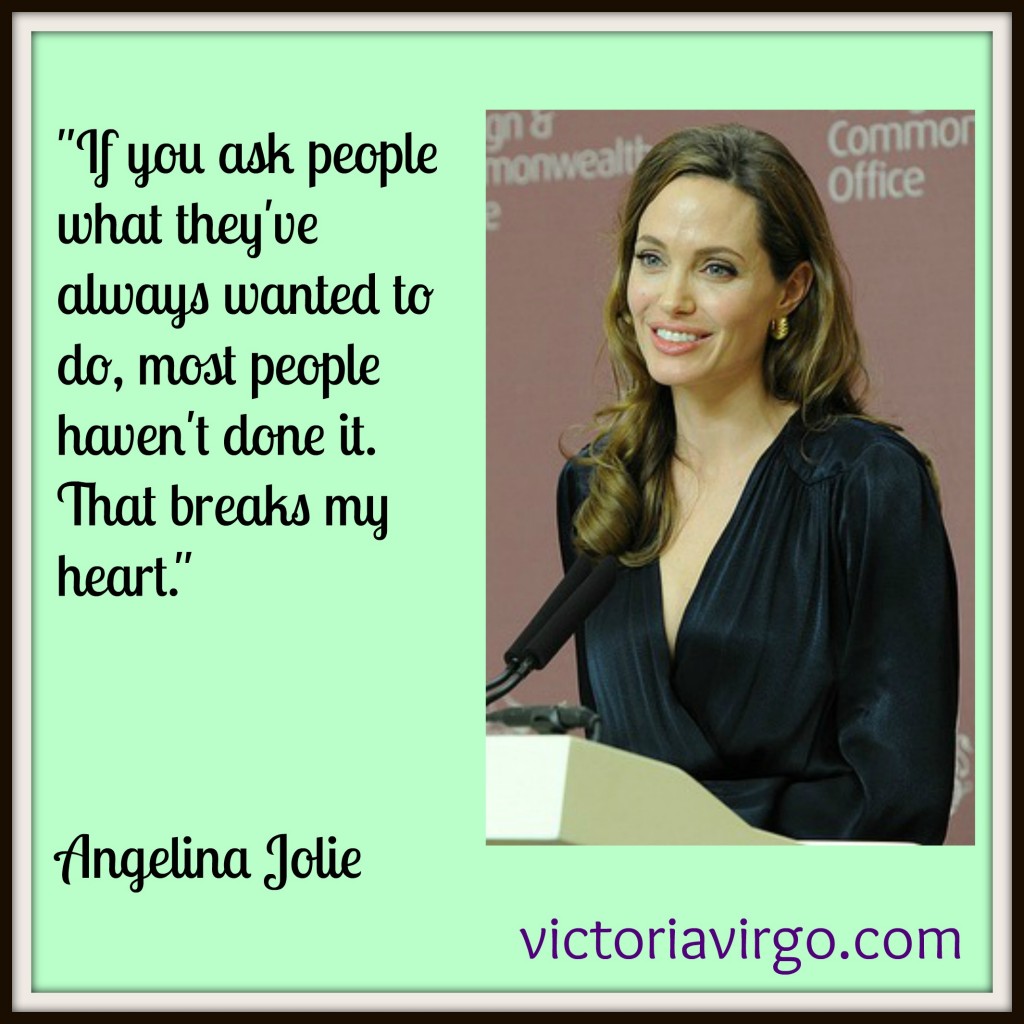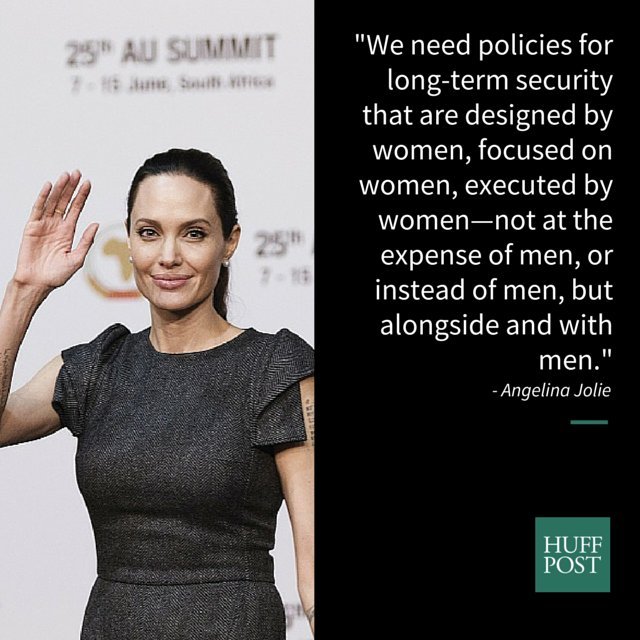 "If every choice you make comes from an honest place, you're solid, and nothing anybody can say about you can rock you or change your opinion."
― Angelina Jolie
"I used to think I was unstable because I had this thirst for something. I could never figure out what it was. I couldn't sleep at night, and I always wanted to be somewhere else. I always saw myself, wherever I was in life, staring out the window."
― Angelina Jolie
"If I think more about death than some other people, it is probably because I love life more than they do."
― Angelina Jolie
"I will do the best I can with this life, to be of use."
― Angelina Jolie
"When I met survivors of war and famine and rape, I learned what life is like for most people in this world and how fortunate I was, I realized how sheltered I have been. And I was determined never to be that way again."
― Angelina Jolie
"If I make a fool of myself, who cares? I'm not frightened by anyone's perception of me."
― Angelina Jolie
"Anytime I feel lost, I pull out a map and stare. I stare until I have reminded myself that life is a giant adventure, so much to do, to see."
― Angelina Jolie
******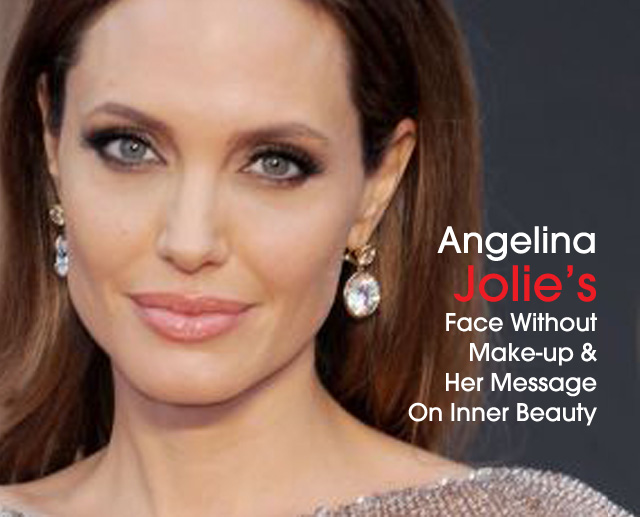 60 Minutes profiled Angelina Jolie on Sunday!Besides discussing her directorial debut for In the Land of Blood and Honey, the show probed into her definition of beauty. "I always felt not traditionally beautiful," she admits. "I have big features. But, as I've gotten older, I look like my mom, and I love my mom. You start to put your lineage in line of the different things that you are….You come to love the combination of whatever it is you are." Jolie is passing this message along to her own girls telling them: "I wake up and I want to be a smarter person. That's my focus. That's what I'm encouraging my girls—that if they can make their inside and who they are really, really stunning then everything falls together." But there's one person whose opinion counts the most, "As long as Brad thinks I'm beautiful," she laughs. "I don't think about beauty." (http://www.instyle.com/news/angelina-jolie-talks-beauty-60-minutes)
From her bad girl days with Billy Bob Thornton to today's reformed mother of six, Angelina Jolie has come a long way in her forty years. Not only has she gone from one of Hollywood's most dangerous players to a respected actress, director, and human rights advocate, but she's also made a huge mark on the beauty world. Those lips! Those eyes! On St. Angie's 40th birthday, we'd like to pay tribute to some of the biggest beauty lessons we've learned from her over the years.
Read more: http://stylecaster.com/beauty/beauty-lessons-angelina-jolie/#ixzz4FUUQWWXU
*****
THE 5 BEST BEAUTY LESSONS OF ANGELINA JOLIE
Don't underestimate the power of simplicity.
A fresh face with nude gloss, a slinky black dress, a bold red lip with no other makeup—Angelina is the master of the simple, impactful look, and she's all the better for it. Some may call her beauty choices safe, given that she rarely experiments with trends, but we prefer to say that they're just smart.

Good brows change everything.
We'll never forget Angie's signature '90s look, crazy plucked brows and all, but it just goes to show how much a good set of well-groomed brows can change up your look. A natural, filled-in look softens the whole face, especially if your features are angular or "severe."
Find what works for you and stick to it.
Angelina has experimented with countless beauty looks over the years, some to more success than others, but at the end of it all she's found a handful of hair and makeup looks that are totally foolproof for her. A simple cat eye, a subtle smokey eye, classic updos, glowing skin, and touchable bombshell hair, are all integral to Angie's sexy yet soft signature look.
Taking good care of your skin is critical.
Angelina had her wild child days, during which we're certain skin care was not her utmost priority, but throughout her reformed years she's consistently showed off a glowy, gorgeous complexion that never looks like she's caked with makeup—or, for that matter, just emerged from a fresh round of Botox. She is genetically blessed, to be fair, but skin that radiant doesn't come without some effort.

Inner beauty is way more important than makeup ever will be.
If there's anything we've learned from Angelina, it's that her heart is what makes her truly outstanding—and that, yes, bad girls can go good. She's a big-time humanitarian, a passionate philanthropist, a mother of six (!), and more recently, an outspoken supporter of cancer prevention treatment based on her own experiences. Angelina's ability to back up her physical beauty with her interest in helping others is something that really inspires, rather than just pleases the eye.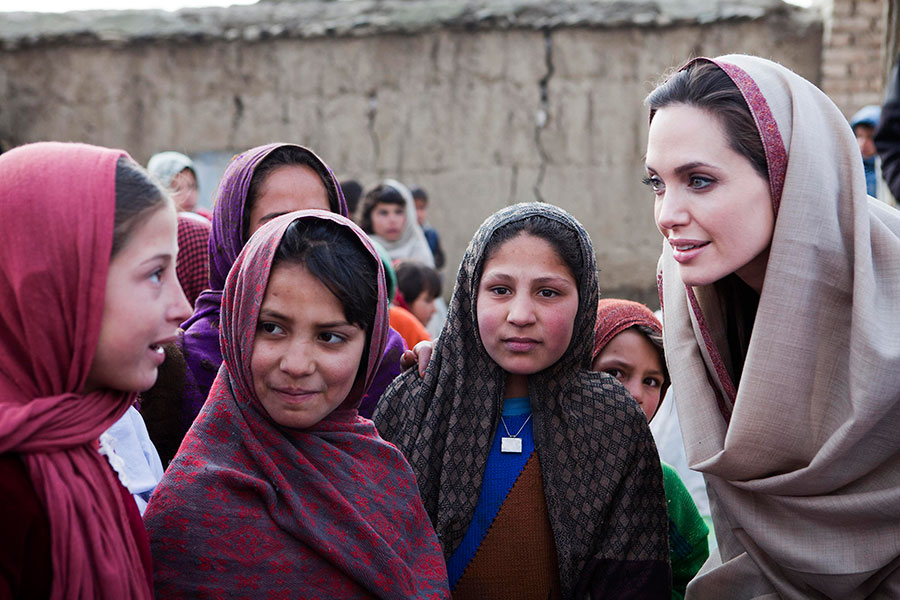 Read more: http://stylecaster.com/beauty/beauty-lessons-angelina-jolie/#ixzz4FUToxRnj
*****
THE BEAUTIFUL TRUTH
Is beauty still a rare gift? Sarah Wilson examines what it means to be beautiful today.
Angelina Jolie was voted the world's most beautiful woman by Vanity Fair readers in 2009
But today, this relationship is messily ambivalent and confused. Being beautiful in 2009 is neither rare nor removed. It's purchasable with cosmetic surgery, spray tans, eyebrow-shaping and bum-lifting. For the first time in history, we can cheat nature and emulate the beautiful people. Who is authentically beautiful? Who can tell? And perfect beauty is a little dull, don't you think, when so many can attain it?
In recent years, beauty peddlers – magazine editors, advertisers, film directors – have experimented with weird beauty (think bleached eyebrows), gimmicky beauty (size-18 singer Beth Ditto), androgynous beauty (1990s model Kristen McMenamy) and alien beauty (hot Australian model Gemma Ward) in an attempt to keep beautiful interesting and exclusive, and to differentiate it from "plastic surgery" beauty. We've been fed models with gaps in their teeth, Roman proboscises, too-wide eyes and cocaine-damaged septums. It's like the ante has been upped. The truly beautiful are those who can still be beautiful, despite the paint-flick of "ugly".
It's created a new class of those you could call "beautiful in spite of": a phenomenon that explains why models these days wear Buddy Holly glasses and harem pants. They know only they can pull it off. It sets them apart and makes them more beautiful for it. As international trend forecaster Faith Popcorn has said, "No one likes perfect any more. It's over."
Except for us mere mortals. Paradoxically, the pressure to be perfect has intensified for us. The option to buy our way to beautiful has become an imperative, even among those of us who'd like to claim we haven't been sucked in.
The other day, as I had my toenails pedicured as I sat in a vibrating vinyl chair, it occurred to me that three years ago, most Australian women didn't do this, save for special occasions. Today, it's not an option not to. Neither are leaving eyebrows untamed or skin un-honeyed. One friend lamented that she only had one day off a week now. "Saturday is spent attending to beauty catch-up," she said. "Our mothers were allowed to go grey at 35. And garden instead."
I wonder if anyone else is starting to feel a little resentful about beauty. And about beautiful people. The ones who keep upping the ante.
This ambivalence can be illustrated by way of Angelina Jolie. The woman is stunning, but her appeal divides opinion. When I was editing Cosmopolitan, you had to play her carefully when deciding to put her on the cover. When single and going through her weird stage about six years ago (remember the Billy Bob split and the ill-conceived tatts?), she walked off shelves. She was beautiful but her tendency to make ill-judged life decisions brought her closer to us. We related. And she was more beautiful for it. She was also a little odd in her aesthetic, and it sat well with the emerging backlash to the "plastic surgery look".
But when she partnered up with the most desirable man in the world, turned earnest and adopted kids, we drifted. Because she had drifted too far away, into perfection. She was promptly relegated to the weekly gossip magazines to be torn back to earth.
But, significantly, earlier this year Vanity Fair readers voted her the most beautiful woman in the world. What's extraordinary is that 58 per cent did so. The runner-up, supermodel Gisele Bundchen, had nine per cent.
I'm not suggesting a tectonic mood shift here. But Jolie tends to divide opinion, not coalesce it. What's changed? That spread she did in W magazine last year, shot by partner Brad Pitt, wearing no make-up and exposing a smattering of imperfections helped.
On the cover she looks tired and is breastfeeding in a daggy nightie. Several years of not flaunting her beauty in glamorous threads has also helped. Tellingly, she's been dropped from Vanity Fair's Best Dressed List issue next month.
Angelina Jolie represents authentic, straight-up beauty, says Jacque Lynn Foltyn, author of The Importance of Being Beautiful, and she thinks this type of beauty is what we're crying out for right now. She cites the '90s supermodels who have resurfaced in the past six months, now aged well into their 40s (Claudia, Naomi, Christy and Linda have all been signed to luxury campaigns), and makes the point that we're moving towards a more realistic and somewhat conventional take on beauty. "It's like we're sick of being tricked. We want a more reliable, wholesome beauty," says Foltyn.
It's always convenient to be able to reference a reality TV show to paint a point in the Zeitgeist. US series True Beauty screened on Channel 7 last month. It tracks a bunch of beautiful people who are duped into competing in what they think is a beauty contest. The catch? They are actually being tested to see if they're nice people. Which giraffe-limbed pawn gives money to the homeless man on the way to the catwalk casting? The winner is the beautiful person who's the most beautiful on the inside. The execution is appalling, but I wonder if its existence reflects a genuine yearning for true beauty?
"We're entering nicer, more considerate times, and selfish pursuits like preening yourself have been shown to fail in terms of bringing happiness," says consumer psychologist Adam Ferrier. "We want beauty to be presented as something more than just the way we look. It's happening to counter the plastic porn beauty that still infiltrates. The brighter the picture, the darker the negative."
Ursula Hufnagl, director of Chic Model Management, agrees. She's noticing a demand for models who are more reflective of reality, and says there's a shift from the potency of beauty in and of itself. "Clients have begun demanding ethics and standards from the girls that reflect how they want their products perceived."
Amid all this shifting, scientists have made clumsy attempts to explain things. Scientists love to study beautiful people. Since Pythagoras pulled out a set square they've tried to pin down beauty. There are mathematical equations that prove Christy Turlington's face is the definition of beauty. Beautiful people, according to the boffins, are cheaters, get better jobs and are liked more by babies … and other animosity-inducing results.
Last month, a study published in the Journal of Evolution & Technology argued that plastic surgery allows women to cheat the natural order. Essentially, beauty is an advertisement of your genes and what you can offer as a mate. Clear skin screams "I'm parasite-free" while a small chin suggests a low level of androgens. Beautiful people pass good genes along the evolutionary chain. The genetically flawed but surgically corrected person gets around this and moves along the mating chain undeservedly, procreates and passes on undesirable genes.
And get this: the scientist claimed it was an ethical dilemma and argued that cosmetically altered folk should provide a "before" photo to partners so "the potential mate is aware of what genetic predisposition they are getting into". Where do you draw the line – isn't mascara equally cheating nature?
Is this where our ambivalence has got us? I don't like to think so. Beauty has always reflected the times. As Adam Ferrier says, we are entering nicer times and are seeking a take on beauty beyond the messy, shifting parameters and the scientists' critical and weirdly obsessed gaze. We will naturally move towards a more evolved, wholesome and true take because we want to. I find it beautifully satisfying that as I write this, Dannii Minogue has publicly declared she's finally ditching Botox for a "more natural look".
As Henry David Thoreau wrote, "The perception of beauty is a moral test."
Source:
Sarah Wilson, Sunday Life / http://www.smh.com.au/lifestyle/beauty/the-beautiful-truth-20090901-f63t.html