Kim Phuc: The girl in the photo — naked, crying, burned, running, with other children, away from the smoke — became emblematic of human suffering during the Vietnam War. Kim Phuc was 9 then, a child who would spend the next 14 months in the hospital and the rest of her life in skin blistered from the napalm that hit her body and burned off her clothes. She ran until she no longer could, and then she fainted.  (bostonglobe.com)   
A Cambodian refugee with her child at the Ban Mai Rut refugee camp near Klong Yai, Thailand. 01 July 1979. Photo courtesy of the UN   
Horst Faas photo – a Vietnamese man holds a child burned by napalm – Vietnam War
A Vietnamese child clings to his bound father who was rounded up as a suspected Viet Cong guerrilla during "Operation Eagle Claw" in the Bong Son area, 280 miles northeast of Saigon on February 17, 1966. The father was taken to an interrogation camp with other suspects rounded up by the U.S. 1st air cavalry division. (Richard Merron, Henri Huet/AP)    
Mother and weeping child, Bangladesh, 1972    
Photo: An Iraqi woman and child watch US soldiers carry out a raid in Tikrit on October 17, 2003. (Getty Images: Joe Raedle) ..   
Mother and Child, Ho Chi Minh City, Vietnam 2014   
An Afghan mother, who lost relatives in Afghanistan's war, cradles a child at a mass grave on the outskirts of Kabul.    
An Armenian woman kneels beside a dead child lying in a field in Syria. The Armenians had been forcibly uprooted from their homes and marched south toward the Syrian Desert by the Turks. All of the men and teenage boys were systematically murdered.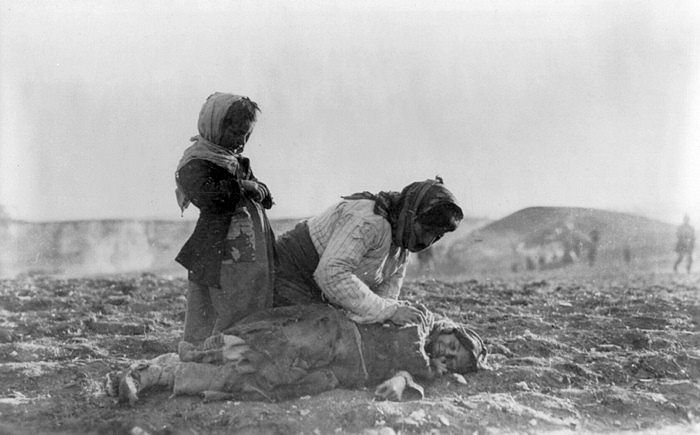 Beirut, Lebanon     
Children of war victims Chechnya people Russia North Caucasus  
The image is epic. It shows thousands of desperate people waiting in a gray canyon of rubble framed by shattered buildings to receive food aid in Yarmouk camp, near Damascus. The photo was shared millions of times last month via social media, and on Thursday, the image appears on a big screen in New York's Times Square in an effort to focus attention on besieged neighborhoods inside Syria and civilians who are literally starving to death.       
In October 1939, a Finnish mother and her children take cover in the snow following a Soviet air raid during the Finnish-Soviet Winter War.

War Underfoot (Carolyn Cole) Los Angeles Times photographer Carolyn Cole took this terrifying photo during her assignment in Liberia. It shows the devastating effects of the Liberian Civil War.
Bullet casings cover entirely a street in Monrovia. The Liberian capital was the worst affected region, because it was the scene of heavy fighting between government soldiers and rebel forces.  ( toptenz.net )
The Power of One (Oded Balilty) In 2006, Israel authorities ordered the vacation of illegal outposts, such as Amona. Oded Bality, an Israeli photographer for the Associated Press, was present when the evacuation degenerated into violent and unprecedented clashes between settlers and police officers. The picture shows a brave woman rebelling against authorities.    (toptenz.net)
Wedding rings from WWII concentration camps.   (toptenz.net)
People seeking shelter behind lamp-posts at Dam Square in Amsterdam after German troops opened fire at the celebrating masses.     (toptenz.net) 
Austrian women commit suicide as the Red Army approaches.  (toptenz.net)    
A German soldier returns home to find his family no longer there.  (ww2incolor) 
Casualties of a mass panic; during Japanese air raid, 4,000 people were trampled or suffocated to death trying to return to shelters. Chungking, China, June 5, 1941.  (ww2incolor.net)
A member of a Marine patrol on Saipan found this family of Japs hiding in a hillside cave. The mother, four children and a dog, took shelter from the fierce fighting in that area. June 21, 1944.  (ww2incolor.net)    
 Four machine gunners showoff their haircuts.    (ww2incolor.net)   
  Japanese prisoners of war are bathed, clipped, "deloused," and issued GI clothing as soon as they are taken aboard the USS NEW JERSEY. Prisoner bathing. December 1944. (ww2incolor.com)    
A toddler, clutching his soldier father, gazes upward while the latter lifts his wife from the ground to wish her a "Merry Christmas." The serviceman is one of those fortunate enough to be able to get home for the holidays. December 1944. (ww2incolor.net)  
New York City celebrating the surrender of Japan. They threw anything and kissed anybody in Times Square. August 14, 1945. (ww2incolor.net)  
QANDIL, IRAQ: Three female PJAK guerrilla play make tea at their camp in the mountains that make up the Iran Iraq border…The PJAK is a Kurdish separatist group fighting a guerrilla war for Kurdish independence in Iran. They were founded in 2004 when they split from the PKK, the (Kurdistan Workers' Party) which is fighting for Kurdish independence in Turkey. Both groups follow a general Communist ideology and both have male and female fighting units…Photo by Sebastian Meyer (sebmeyer.photoshelter.com)