AN ELDERLY COUPLE'S SWEET LOVE STORY IN BAKERSFIELD, CALIFORNIA 

Don and Maxine Simpson made the promise "till death do us part" when they were young, but the phrase gained new meaning this week when the two died just four hours apart. Instead of mourning, the Simpsons' family is choosing to celebrate their love.
"All Don wanted was to be with his beautiful wife. He adored my grandmother, loved her to the end of the Earth," KERO reports.
Don and Maxine were married just a few months after they met and were together 62 years.
Maxine had been battling cancer all this year and two weeks ago, Don broke his hip. But the couple's granddaughter, Melissa Sloan, found a way to keep the two together as their health deteriorated.
Sloan cleared out a spare bedroom and put two beds together so that the couple could speak and hold hands. Maxine was the first to pass away.
Melissa Sloan told KERO: "I walked them out with her body. Walked back in to check on grandpa and he quit breathing as soon as her body left the room. He left with her."
Elderly couples dying around the same time isn't unheard of, and it's usually celebrated as a sign of love.
According to WFOR, earlier this year, a couple that had been together for 45 years died just 10 minutes apart. The couple's son said, "You have to look at it in a romantic way. They did everything together."
And there's actually some research that says dying of a broken heart is a real thing.
Source: aol.com
****
AN ELDERLY couple passed away within just minutes of each other after spending almost seven decades together
After meeting at a dance in 1948, lifelong sweethearts Italvino and Diva Possa died just 40 minutes apart, lying side-by-side in the same hospital ward yesterday.
When the devoted couple arrived for treatment on the same ward, staff pushed their beds together so that the lovers – who had been married for 65 years – could hold hands.In their time together, Italvino, 89, and Diva, 80, did not spend a single day apart,

family

members revealed.
After he died my aunt whispered in my grandmother's ear that my grandfather had passed away in peace. At that moment she became more peaceful
Italvino was being treated for leukaemia, which he had been diagnosed with in August last year.Meanwhile his wife Diva had started chemotherapy after being told she had a tumour in her bladder in April.Diva's condition had started to deteriorate last week, prompting her to invite her ten children and their extended families to speak to her at the hospital.
Source: express.co.uk
****
A BRITISH husband and wife have become the world's oldest married couple as they celebrated their joint birthdays – just ahead of their 89th wedding anniversary 
Golden oldies! World's oldest married couple celebrate joint 109th and 102nd birthdays
With a combined age of 211 YEARS, the elderly lovebirds tied the knot in the same year that Margaret Thatcher was born and the Prime Minister was still Stanley Baldwin.
We know that we are blessed and we are eternally grateful for God giving us this land and our lives
Karam Chand turned an impressive 109 on Sunday – the same day his wife of almost 90 years Kartari celebrated turning a staggering 102.The record-breakers marked the happy occasion with four generations of

family

at their home in Bradford, West Yorkshire.After almost 89 years together, Karam and Kartari have watched their family balloon – and now have eight children, 27 grandchildren and 23 great grandchildren.The inspiring golden oldies claim to be the world's oldest married couple, tying the knot back in December 1925 after falling in love in India as teenagers.
Source: express.co.uk
***
IMONDA,99, SAYS MARRIAGE IS HEAVEN 
IT HAS been a year since 99-year-old Mushiba Imonda and his 83-year-old wife Sitali Kalaluka made sensational headlines in all media institutions about their remarriage after 39 years of being on separation.
The wedding nicknamed the Alpha and the Omega (The beginning and the end) because according to the husband, he was sure it was the first and last time he was reuniting with his wife  till death do them apart.
The couple separated for more than three decades ago. At the age, 99, Mr Imonda is still bold to walk although with the aid of a walking stick, his wife is also energetic enough to perform duties such as gardening, fetching water and cooking.
Their wedding was a crowd pulling event which attracted people from all walks of life with a number of them making pledges ranging from monetary form to material possessions.
The couple who together make 180 years beat the record of being the oldest couple to have ever reported of re-uniting in Zambia.
"Marriage is bliss, the one year I have lived with my wife has been rosy, I am enjoying every bit of it," Mr Imonda told this reporter with a glowing face.
He was speaking at the comfort of his house in Moole village in chief Sikwa`s area in Mongu district where he is a headman.
Throughout the interview Mr Imonda was laughing hysterically and teasing this reporter of how he wished she knew how he was feeling to have a wife after a long time of loneliness.
"I used to wash clothes on my own. I also used to cook and clean my house. This is no longer the case,  my wife has taken up all those responsibilities, I just relax in my camp chair or my reed mat waiting for her  to perform house chores and prepare my food. I am a happy man," he said.
Mr Imonda who turned 99 in July this year, praised Government and well-wishers who supported him and his wife during their wedding which took place on November 30, 2013 at Mongu Trades Training Institute.
The two were married in 1974; they later separated in the same year due to alleged irreconcilable issues.
The lovebirds did not have any children in their marriage, though Mr Imonda went and married another woman after the separation and has a child with his second wife, Mrs Imonda never married as she claims her love for husband was still lingering on her mind hence she turned down all marriage proposals from other men.
Fortunate enough, as Mr Imonda stated, what God has put together no man can put apart despite time and distance, the two were reunited by Mr Imonda's niece, Dorothy Kaumba who happens to be the former Mongu Mayor.
"The man used to complain that he needed to reunite with his former wife after his second wife died, it so happened that I knew someone who comes from the village were his first wife used to live so that`s how  Mr Imonda started writing letters to his first wife and made the marriage proposal," Ms Kaumba said.                                    "I feel like a young woman who has just been married for the first time, my husband is a loving and caring man. We live a happy life than before because we have grown and there is no need for us to be differing, we understand each other better now," Ms Kalaluka said.
Source: daily-mail.co.zm
****
Man aged 92 sings love song to his dying wife in heartbreaking footage
The emotional moment was captured on camera by the couple's granddaughter before going viral with more than 3.4 million views
This is the heartbreaking moment a 92-year-old man sings a love song to his dying wife as she lies in a hospital bed.
Erin Solari, the couple's granddaughter, captured the moment her grandfather Howard serenaded his wife Laura, 93, singing Rosemary Clooney's version of You'll Never Know.
Lying in the bed, and clearly weak, Laura tells her husband how much she loves him, and that he must 'behave'.
The music then starts up before Laura attempts to whisper the words to Howard.
When he realises what she is doing, he takes over and sings the rest of the song, looking deep into her eyes.
In the background, family members are heard sobbing as the couple share some of Laura's last moments together.
"Howard then takes over for her and sings the rest of the song to her while stroking her face."
She also explained that Laura had been well enough to go home after the video was taken, and is spending her final days resting at home.
The emotional footage was uploaded to Facebook on September 12, 2015 and has since clocked up more than 3.4 million views.
Source: dailymail.uk
****
WIIFE INDUCES LABOR SO HER DYING HUSBAND CAN HOLD THEIR NEWBORN BABY ONE TIME
Mark Aulger beat cancer only to discover the chemotherapy destroyed his lungs. With only one week to live, his wife induces labour so that he can meet his daughter Savannah once before he dies. He slips into a coma the next day after meeting his baby.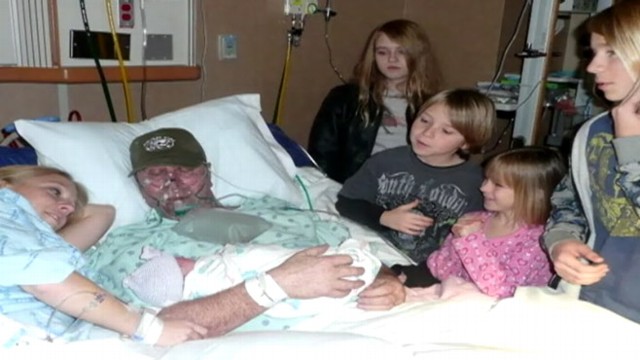 Savannah Aulger will never have snapshots with her father on her first birthday, on Christmas or at a school event.
The only picture she will ever have of them is the one as sweet as it is heartbreaking. Hooked up to an oxygen mask at the hospital, the man she would call dad cradled her in his arms for 45 minutes.
He sobbed. He smiled. And there was no doubt that he loved her.
"He would talk to my stomach when I was pregnant," Diane Aulger said of her husband. "He was so excited for her."
The next day, Mark Aulger slipped into a coma.
The Aulger family of The Colony, Texas, had a lot to rejoice about in the weeks before Savannah's Jan. 18 birth, which was induced two weeks early so her father could hold her.
A home movie on Christmas showed a pregnant Diane Aulger, 31, handing out gifts to their four children, the oldest of whom is 15. Mark, 52, who had just received the news that he had beaten cancer, played the guitar, providing a soundtrack for the Christmas morning festivities.
On Jan. 3, life threw a curveball.
Mark Aulger was admitted to the hospital, unable to breathe.
Doctors told him that eight months of chemotherapy had ravaged his lungs and diagnosed him with pulmonary fibrosis. "We thought he could get on steroid treatment and oxygen and live for years," Diane Aulger said.
But on Jan. 16, Mark Aulger found out those treatments would be fruitless. He had one week left to live.
"He was awake and alert, himself. I really didn't believe the doctor [at first]," Diane Aulger said. "The next day his doctor came in and said: 'When are you going to have this baby?'"
On Jan. 18, in a larger-than-normal delivery room, Mark rested in his bed, a supportive presence for Diane as their baby girl entered the world.
"The day she was born his oxygen levels were really high," Aulger said. "He held her for 45 minutes. Him and I just cried that whole time."
As Diane was recovering, Mark tried holding his daughter again the next day, but was only able to last one minute. "He just couldn't take it," Diane Aulger said.
The devoted husband and father of five slipped into a coma.
"If she cried, he would shake his head and moan. I put her on him when he was in the coma a few times and his hand would move toward her," Aulger said.
On January 23rd, with his family by his side, Mark Aulger died in his hospital bed.
"The kids go on as if dad is really still here," Diane Aulger said. "Mark was a very funny guy. My kids still tell jokes how they would when he was around. He would have been a wonderful daddy to Savannah." (abcnews.