1) A young Chinese woman has overcome the tricky problem of providing care for her elderly grandmother – by taking her to work with her every day.
Huang Lihua, 24, from south-western China's Chongqing municipality said that when Huang Lihua was a young child both of her parents needed to go to work and sent her to stay with her grandmother in the countryside.  As a result they had sent her to stay with her grandmother Wan Zongsiu, 88, in the countryside.
She said: 'Some people say to me that it must have been very difficult leaving the city and my parents and going to live in the countryside where nothing happened and I didn't know anybody.'
She added: 'But actually the time there with my grandmother was one of the happiest of my life. I was very young actually when I went there first, I was just two, but I remember that my grandmother was very kind taking me with her everywhere.
After leaving school she first went to work in south-eastern China's Guangdong province where she earned enough money to return to her parent's home and start her own business, a fast food restaurant in the city.
She said: 'I have everything I want in my life now – a boyfriend who I love very much and a business that is doing well.
'Therefore it was natural to me that I should think of my grandmother who gave me so much and started me off so well in life.'
'So I agreed to look after her but because she was used the countryside and this is the city she had difficulty fitting in, and then I came up with the idea of taking her with me to work.
'There is always something going on and plenty of people to talk to, and now she is happy in the city.
'She sits outside the front and watches life go by and I can see that she is content.'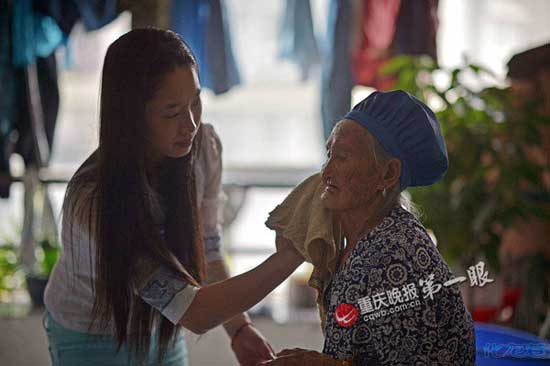 Although her grandmother doesn't always feel well enough for the journey, she still makes the daily trip even if Huang has to carry her the mile between work and home.
Worried that her grandmother was becoming dispirited while staying home alone, Huang began taking the 88 year-old woman to work with her everyday. Sometimes when the old lady gets tired walking, the girl carries her to the shop.
On good days that she can walk using a stick and said: 'I wouldn't miss my visits there for anything.'
2) In a post on Facebook, Relpma Jc Jen shared how her grandmother was the one who took good care of her since her birth. Being a loving and caring grandmother, now that her grandma is 98 years old and could no longer take care of herself, out of love and gratitude, she said that it is time for them to reverse the roles and for grandma to be the one they will pamper. While the grandma could no longer hold a spoon and fork, Relpma and siblings gladly feed her. They also bathe grandma and does not mind being her grandma's "hands and feet", doing the things her grandma that grandma could no longer do.
Photo credit: Relpma Jc Jen / Facebook
So inspiring to see an example admirable young lady to today's young generations who are often viewed as selfish and irresponsible.
3) It's a morning routine where Jarryd will get up and then turn the radio on. This is so his grandmother can enjoy some music in the morning.
Jarryd Stoneman lives in Neuseeland and deals with his grandmother, Katie Thomas, who is in the hospital. 93 year old woman suffering from Alzheimer's, therefore, have to be constantly addressed. Ever since Jarryd Stoneman was a kid, his grandmother used to take care of him. Now the roles have been reversed, and 23-year-old Jarryd has to take care of his grandmother.   Jarryd grandson, whom he joins a strong bond, keeps him company and entertains. Look how well it happens!