France Says Truck Attacker Was Tunisia Native With Record of Petty Crime
Local paper Nice Matin names suspect as Mohamed Lahouaiej Bouhlel, a French Tunisian man, 31, from Nice
French, Americans, Armenians and Ukrainians among confirmed dead – dozens more are injured or missing
Eyewitnesses said driver zig-zagged at 40mph to hit crowds of people who were sent flying or jammed under wheels
Bouhlel then opened fire with a gun from cab of the lorry before being killed by a police marksman in shootout
"We have an enemy who is going to continue to strike all the people, all the countries who have freedom as a fundamental value," Hollande said.
Nearly 24 hours later there was no claim of responsibility, and the Paris prosecutor, François Molins, said the killer, whom he identified as Mohamed Lahouaiej Bouhlel, had been "completely unknown by intelligence services."
Bouhlel was identified by fingerprints after his identification card was found in the truck, Molins said. Authorities began searching an apartment building where Bouhlel apparently lived, and Molins said Bouhlel's ex-wife had been detained.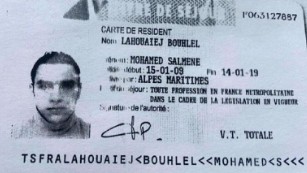 No group has claimed responsibility for the attack, and authorities did not release information about a motive. Interior Minister Bernard Cazeneuve said that so far, the investigation has not uncovered any evidence of jihadism. But Molins said the attack fits with calls that "terrorist organizations regularly give out on their videos and elsewhere."
Mr. Bouhlel was born on Jan. 3, 1985, and raised in Msaken, a town in northeastern Tunisia, Mr. Molins said. He had a history of petty crime, including theft, going back to 2010, and he received a six-month suspended sentence in March for assaulting a driver during an altercation in January.
Bouhlel's father, who lives in Tunisia, has revealed that his son showed signs of mental health issues — having had multiple nervous breakdowns and volatile behavior, said CNN terrorism analyst Paul Cruickshank.
"However, he is completely unknown by intelligence services, both at the national and local levels," Mr. Molins said. "He has never been in any database or been flagged for radicalization."
"He had never been the subject of any kind of file or indication of radicalization," Molins said.
Mr. Bouhlel rented the truck on Monday in Saint-Laurent-du-Var, about six miles west of Nice, and then parked it in the Auriol neighborhood of eastern Nice.
Just before the carnage Thursday night, hundreds, if not thousands, had gathered on the promenade to watch a colorful display of fireworks and live music for the national holiday.
But as the last firework fizzled, gunfire rang out — authorities and witnesses say the driver shot from the cab of the truck — and the truck accelerated down the crowded street.
At 9:34 p.m., according to surveillance footage, Mr. Bouhlel bicycled to the truck and drove it westward, arriving at 10:30 in the Magnan neighborhood, north of the Promenade des Anglais.
At one point, he fired a gun several times at three police officers close to a hotel, the prosecutor explained said.Officers gave chase for about 300 meters until they shot him, Molins said.
He drove into the crowd, heading east on the promenade, around 15 minutes later.
Mr. Bouhlel initially crushed two people and then drove 1.1 miles east, running over people left and right. Outside the Negresco Hotel, Mr. Bouhlel fired at three police officers who fired back, then pursued him for about a thousand feet. They killed him outside a Hyatt hotel and casino.
Mr. Bouhlel was found dead in the passenger seat. In the truck's cabin, police found an automatic 7.65-millimeter pistol, a cartridge clip, and several cartridges. They also found a fake automatic pistol; two fake assault rifles, a Kalashnikov and an M-16; a nonfunctioning grenade; and a mobile phone and documents.
Among the dead were two German students and their teacher from the Paula-Fürst-School ; two Americans Sean Copeland, 51, and his son, Brodie, 11, of Texas ; two Tunisians, three Australians, two Chinese  and one Russian. Of the 202 people wounded, 52 had serious injuries and 25 were in intensive care, Mr. Molins said.
Mr. Hollande said the victims were physically and psychologically scarred. "Many told me that they had no recollection of what might have caused their wounds," he said. "However, they remember the bodies that were torn to shreds right in front of their eyes."
Despite mounting criticism over France's efforts to prevent terrorism attacks, Mr. Hollande praised French security forces, saying they had "taken all necessary measures so that this fireworks show might be as protected as possible — as had been the case during the European Championship soccer tournament."
LEARN TO LIVE WITH TERRORISM
Hollande declared three days national mourning, starting on Saturday, world leaders — including Pope Francis, President Obama, Chancellor Angela Merkel of Germany and Britain's new prime minister, Theresa May — expressed sympathy and outrage.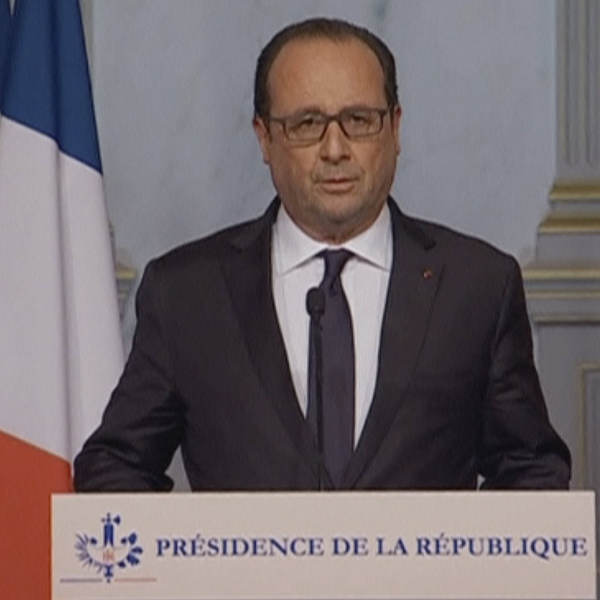 France was just preparing to lift its state of emergency, which was put into place in the wake of the January and  November, 2015 terror attacks in and around Paris that killed 147 people, the deadliest attack in France's history.  And it raised new questions throughout the world about the ability of extremists to sow terror.
"Why Nice?" Mr. Hollande asked. "Because it is a city that is known worldwide, one of the most beautiful cities on the planet. Why on the 14th of July? Because it is a celebration of freedom. It was, therefore, indeed to affect France that the individual committed this terrorist attack."
But Prime Minister Manuel Valls said Friday that a bill to
extend
the state of emergency for three months would be submitted to parliament by Tuesday.
"France has been struck once again in her flesh, on the 14th of July, on the day of our national celebration," Valls said. The attacker wanted to "harm the very idea of national unity," he said, adding grimly that France will have to "learn to live with terrorism."    
"The horror, the horror has, once again, hit France," Mr. Hollande told the nation early Friday morning before leaving for Nice.
"France has been struck on the day of her national holiday," he said. "Human rights are denied by fanatics, and France is clearly their target."
The attacks could add to the political problems facing Mr. Hollande, who is expected to seek a second five-year term next year even though he is deeply unpopular. On Friday, criticisms of the government's seeming inability to prevent attacks began to emerge.
 TIRED OF ATTACKS
Nice is just the latest city to be hit by a terror attack. The internet reverberated with calls for prayer for victims of attacks in 
Brussels
;
Istanbul
;
Orlando, Fla.
;
Baghdad
; and other cities struck by mass terrorism attributed to Islamist extremists this year.
Twitter user Rabia Chaudry described the recent attacks as "a global, asymmetric war that can't be won."
Sources:
http://edition.cnn.com/2016/07/15/europe/nice-france-truck/
http://www.nytimes.com/2016/07/16/world/europe/attack-nice-bastille-day.html?_r=0
**********