Tihar (Nepali: तिहार) or Swonti (Newar: स्वन्ती) is a five-day-long Hindu festival celebrated in Nepal which comes soon after Dashain. It is similar to Deepawali but with a regional variation. In Nepal, all Hindu ethnic groups celebrate this festival with their own variation. Among the Newars, it is popularly known as Deepawali or Swanti. The festival is celebrated from Trayodashi of Kartik Krishna to Kartik Shukla Dwitiya every year. Tihar in general signifies the festival of lights, where diyas are lit both inside and outside the houses to make it illuminate at night. The five-day festival is considered to be of great importance as it shows reverence to not just the humans and the Gods, but also to the animals like crows, cows and dogs who maintain an intense relationship with humans. People make patterns on the floor of living rooms or courtyards using materials such as colored rice, dry flour, colored sand or flower petals outside of their house, called Rangoli which is meant to be a sacred welcoming area for the Gods and Goddesses of Hinduism.
The Nepalese people celebrate the festivals of both Buddhism and Hinduism, and Buddhist shrines and Hindu temples are considered equally sacred.
Tihar
Also called
Deepawali (दीपावली), Yamapanchak (यमपञ्चक)
Observed by
Hindus worldwide (with various names and slight variations)
Type
Hindu/Buddhist
Celebrations
Decorating homes with lights, singing, dancing, gambling, etc.
Observances
Prayers and religious rituals
Date
New moon day of Kartika, celebrations begin two days prior and end two days after that date
2015 date
November 8-12
Reference: wikipedia
Tihar
 is the  most celebrated festival after Dashain in Nepal. It is a five-day unique festival celebrated in  Yama Panchak in late autumn.
Story behind Tihar
There are various stories about the celebration of Tihar. One of the famous stories behind the celebration of tihar is related to Yama the god of death and his sister Yamuna. Yama had been staying away from his sister for a long time. His sister wanted to meet him so she asked various sources to visit him and ask him to give her a visit. She sent crow, dog, and cow and at the end she went herself to see her brother. She worshipped him with tika and flowers, she put him five colored tika. Yamuna made a circle with mustard oil, Dubo Grass (Cynodon Dactylon) and put Makhmali Mala (Globe Amaranth) and asked Yamaraj not to go till the oil, Dubo Grass and the flower gets dry. Therefore, every sister worships her brother keeping him in the circle of mustard oil, putting mala (garland) of Makhmali flower and Dubo grass. (weallnepali.com)
FIVE DAY LONG HINDU FESTIVAL CELEBRATION: 
November 9, 2015 — First day – Kaag Tihar (Crow Puja) 
On the first day of Tihar is called Kaag Tihar or Kwah Puja (worship of the corvids).  Crows and ravens are worshiped  by offerings of sweets and dishes placed on the roofs of houses early in the morning.People believe the crow gets the messages to the house in the morning. Crows (Kag in Nepali) are considered as the messenger of the Lord of Death, Yama. There is a popular Nepali superstition of crows too: When the crows caw, sadness is coming. The cawing of crows and ravens symbolizes sadness and grief in Hinduism, so devotees offer crows and ravens food to avert grief and death in their homes. On this day crows are worshiped and are kept happy. Where there are no crows, any winged animal of the heavens (bird) will enjoy the feast. So Tihar is also about appreciating animals around us. People worship it to bring good luck themselves.
November 10, 2015 — Second day – Kukur (Dog) Tihar or Khichā Pujā  
The second day of tihar is called Kukur Tihar or Khichā Pujā (worship of the dogs),  dedicated to the most loyal friend of mankind.It is also called the Khicha Puja by the Newars.  This day is also observed as Narka Chaturdashi. Dogs, which are believed to be messengers of Lord Yamaraj, the God of Death, are worshiped once each year on this day.  Kukur, the dog, Puja  is done by putting a red tika on dog's forehead and flower garland around the neck offering him foods and sel roti.  Generally male dogs are worshiped. It is said dog can see endangers and the death coming.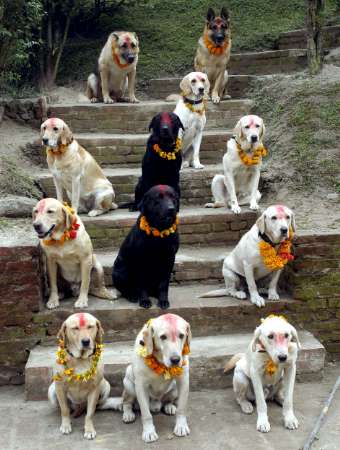 On this day, people pray to the Kukur to guard their homes. Call someone "Kukur", he/she will bash you instantly! There are lots of Kukur running around in search of a loving home. You can find them on streets and in your backyards, but on this day, even the most unsightly Kukkur will be treated like a king, everyone has a day. Tihar is also about breaking the boundaries only men created, "The Good", "The Bad", "The Ugly", and all but same to the mother nature! In Hinduism it is believed that Kukur guard's the underworld empire just like it guards our everyday homes!. Tihar is about loving Kukurs too!
November 11, 2015 — Third day – Gai (cow) Puja and Laxmi Puja
The 3rd day of Tihar is about worshiping the mother of the universe – cow. On the morning of third day is Gai Tihar (worship of the cow). In Hinduism, cow signifies prosperity and wealth. According to Hinduism, the human infant is fed breast milk by its human mother for under three years. After weaning, the cow acts as the surrogate mother providing milk for the rest of the human life – through childhood, adult age and old age. Cows are worshipped with sesame oil light, garland of flower and red color (abir). Wheat flour, sel roti, rice and dal are feed to cows.  Disciples try to pass in-between four legs of the cow. Cows are the mothers of the universe, the sacred animal. Nine balls of cow dung represent the nine months of pregnancy. Some look cow as Goddess Lakshmi, the goddess of wealth and prosperity. The cow puja is performed by giving a tika to a cow on her forehead, and a flower garland (Flower Leis) on the neck, and offering good meals. Houses are cleaned and the doorways and windows are decorated with garlands made of Sayapatri (marigolds) and Makhamali flowers (chrysanthemums).  Those performing Cow puja place her manure in different parts of the home, drink a drop or two of the cow's urine, as a part of a purification process. Also dip a blade of grass into the urine and lightly sprinkle it on each other's body to become closer to the mother of the universe – cow.
In the afternoon they clean their houses, paint floors with Red Mud (Rato Mato) and cow dung (gobar). Small circle are made in front of the main gate and decorated with colorful designs. Some people call it rangoli. 
Small designs of footsteps are painted from the main entrance to the puja kotha. These footsteps are believed to be the footsteps of goddess Lakshmi.
In the evening, people play cards in Lakshmi puja to welcome goddess Lakshmi in the night. People believe, lakshmi comes to the house which is clean and bright.  Lakshmi, the goddess of wealth is thanked for all the benefits that were bestowed on the families by lighting oil lamps (Diyo) or candles on doorways and windows to welcome prosperity and well being. It is believed that by worshiping Lakshmi and pleasing her in return, she gives them wealth. People worship wealth and food store this day.
  Goddess
Lakshmi
, the
Hindu
  Goddess of wealth and prosperity.
From the third day onwards tihar is celebrated by playing Deusi,  mostly sung by the boys and Bhailo, sung by the girls, along with light and fireworks. Generally girls and kids go out to neighbors, enjoy dancing and with traditional instruments sing traditional songs called Bhailo songs. They sing and dance all night long and in return the home owners give them money, fruit and Sel roti  (a special type of Nepali bread made by rice flour and sugar) and  share the bounty amongst themselves. The tradition is called "Bhailo" and songs are called Bhailini songs.
The song starts with "Bhailini aain agana gunyo cholo magna, hey ausi ko din gai tiharo bhailo". Badali kudali rakheko, laxmi pooja gareko, hey ajako dina gaitiharo bhailo…" Meaning Bahilini are at your door to ask for a gunyo cholo (Nepali traditional dress), today is no moon day and Cow pooja and Bhailo day, the house is clean and you have done Lakshmi puja, today is cow pooja day and Bhailo".
November 12, 2025 — Fourth day – Goru Tihar (Govardhan parbat ko puja) and Mah (aatma or self) Puja  
On the fourth day of Tihar, there are three different known pujas, depending on the people's specific cultural background.
> It is observed as Goru Tihar or Goru Puja (worship of the oxen).
Also a popular ritual of the day is the Govardhan puja or Goru Tihar (Oxen Worshiping). Oxen are worshiped on this day as they till lands and help grow crops to sustain life.
>
People who follow
Vaishnavism
perform
Govardhan Puja,
which is worship towards goverdhan mountain. They make a cow dung in making hill  taken as representative of the mountain and is worshiped.  Cow dung has big importance in Hindu culture. In the old days it was used for everything from light at night (Methane) to polish mud floors of traditional houses. Still now no Puja is complete without cow dung in Nepali Hindu culture.
> In this night Newar community perform Maha Puja also known as self-puja. It is done to purify our body. In this puja a Mandap decorated with Saipatri (marigold flower), sweets and fruits and a special Mala (garland) which is made of thread is kept. Each member of the family has one Mandap. A female member of the family offers the person sitting on the Mandap a Sagun with her hands crossed. Shagun usually consist of fried eggs, fruits, sweets, meat, fish, lentil and pastries. In the left hand with egg and fish and in the right hand Rakshi (homemade alcohol). This is also the first day of the special annual calendar of an ethnic group known as Newar residing in Nepal.   The beginning of Nepal Sambat, Newari New year.
In the evening many Nepali children and young men go house to house singing Deusi song (Aahai bhana mera bhai ho deusi re bhana na bhana deusere). Deusi is very similar to Bhailo. Bhailo is primarily for female and Deusi for male. However, now a days there is such distinction. People go in group with males and females members to celebrate Bhailo and deusi both.
November 13, 2005 — Fifth Day: Bhai Tika or Bhai Duj   
 The fifth and last day of Tihar is called Bhai Tika or Kija Puja and is observed by sisters applying tika  to the foreheads of their brothers to ensure long life and thank them for the protection they provide. It is believed that Yam raj, the God of Death, visited his sister, Goddess Yamuna, on this day during which she applied the auspicious tika on his forehead, garlanded him and fed him special dishes. Together, they ate sweets, talked and enjoyed themselves to their hearts' content. Upon parting, Yamraj gave Yamuna a special gift as a token of his affection and, in return, Yamuna gave him a lovely gift which she had made with her own hands. That day Yamraj announced that anyone who receives tilak from his sister will never die on that day. Sisters make a special garland for their brothers from a flower that wilts only after a couple of months, symbolizing the sister's prayer for her brother's long life. Brothers sit on the floor while their sisters perform their puja. The puja follows a traditional ritual in which sisters circle brothers, dripping oil on the floor from a copper pitcher and applying oil to their brother's hair, following which a seven-colour tika is applied on the brother's forehead. Next, brothers give tikas to their sisters in the same fashion along with an exchange of gifts. This ritual is practiced regardless of whether the brother is younger or older than the sister. Those without a sister or brother join relatives or friends for tika. This festival strengthens the close relationship between brothers and sisters. In addition to these,Newars make colourful Ashtamangala mandalas  and recite chants and procedures in accordance with Tantric rituals. Along with the seven-coloured tika, sisters provide brothers with Sagun, sweets, Makhamali (Gomphrena globosa) garland, and a sacred cotton thread of Tantric importance, similar to Janai thread meant to protect their bodies.
On this day, Rani Pokhari Temple (located at central Kathmandu) is opened for those who do not have any brother or sister. This is the only time in a year the temple is open to general public.
Sources:
wikipedia
weallnepali.com
 nepalvista.com
drikpanchang.com
******************************
LIFE IN NEPAL 
So-called "holy men" wait outside the entrance of the Hindu temple. Covered with human ashes, they smoke marijuana and have cow dung in their hair.
Cow dung is still used in India for cooking
The 'chulha' (stove) where the cooking is done is wood fired, into which cow-dung patties are also used fuel. The women place pots for cooking when the fire is very hot. The principal meal consists of unleavened bread eaten with a spicy chutney of chillies.
A villager arranged cow dung to dry in Allahabad, India. The cow chips are a major source of fuel for rural households.
Yogis gather to meditate amid the smoke of burning cow dung – Pashupatinath Temple; Katmandu, Nepal
Opium guy's daughter was redoing their cow-dung floor. Didn't smell at all, creates a seal on the dirt that's very easy to sweep clean.
Newar devotees tying bells around a four wheeled chariot for Rato Machendranath festival.
Burn Victim: Child taking bath in cow Urine
Hindus conjuring daemons into their souls while being surrounded and eating hot cow dung. (that one guy really seems to like his cow dung)
Men apply a holy paste made up from a mixture of cow dung, cow urine
For Hindus all over the world, the cow symbolizes motherhood, wealth, strength, abundance, selflessness and all earthly pleasures.
Holi in Nepal
Hindu worshiper drink cow urine
Filtered cow urine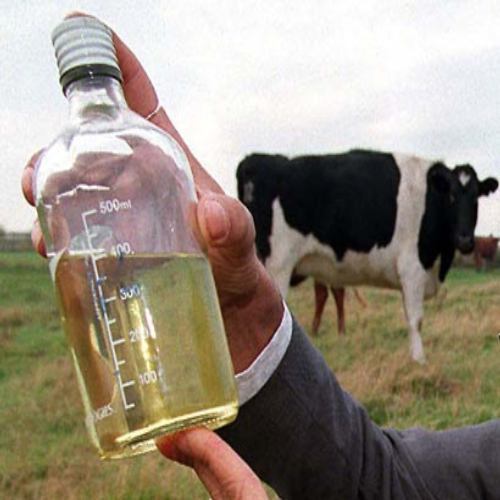 Nepal cow festival
Beef is not at all eaten by Nepalese as it is taboo and it is greatly abhorred. It is prohibited to slaughter a cow in Nepal as it is the national animal. The scientific explanations for it are the following :
Cows are worshipped and considered to be the axis on which the economy of an agricultural country like Nepal revolves. Lord Vishnu and the Cow are regarded as identical. She is considered to be Laxmi, the Goddess of Wealth. According to religious scriptures, those who kill a cow or allow it to be slaughtered, suffer in hell for many years. Hindus reject the view that old and useless cows unsuitable for providing milk can be slaughtered. But Hindus consider cows as mothers and nobody can eat the flesh of one's mother even if she is old. The Puranas also describe cows as mothers. Scientifically, the dung and urine even of an old cow are believed to be far more valuable and useful than its flesh. For Hindus not only cows but her five sacred products called panchagava, i e., milk, curd, ghiu (clarified butter), dung and urine are all means of purifying the mind and body. Panchagavais also used in religious rites. Cow's urine is not repugnant to an old-fashioned Hindu because a cow is a herbivore. Therefore, Hindus highly venerate cows and bulls. No Hindu eats or  slaughters  a cow. To offer beef to a Hindu is highly insulting.   (imnepal.com)
Nepalese royalty in the 1920s
 Sources: 
wikipedia
drikpanchang.com