Mark Zuckerberg recently shared his personal challenge for 2016 — to build an assistant powered by artificial intelligence—on Facebook, and while it's an ambitious goal, it's the CEO's response to one commenter that is generating the most attention.
On Sunday, the Facebook founder and CEO wrote that "every year, I take on a personal challenge to learn new things and grow outside my work at Facebook. … My personal challenge for 2016 is to build a simple AI to run my home and help me with my work. You can think of it kind of like Jarvis in Iron Man." The invention will be something of a robot butler, Zuckerberg explained, helping with chores around the house and even childcare for his 1-month-old daughter, Max. "I'll teach it to let friends in by looking at their faces when they ring the doorbell. I'll teach it to let me know if anything is going on in Max's room that I need to check on when I'm not with her." (yahoo.com)
On his Facebook page, Mr Zuckerberg posted a photo of himself, his wife Priscilla Chan and their new daughter, Max, along with a post entitled "A letter to our daughter".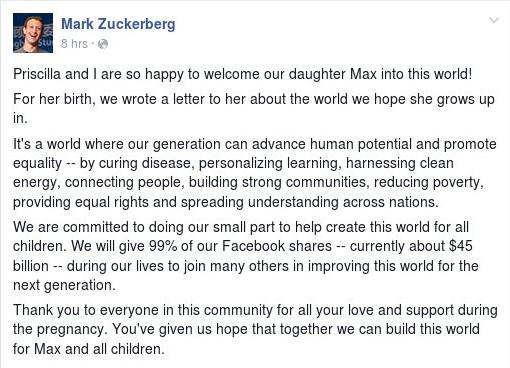 "Max, we love you and feel a great responsibility to leave the world a better place for you and all children," Zuckerberg and Chan said in letter to their daughter, which they posted on Facebook on Tuesday.
"We wish you a life filled with the same love, hope and joy you give us. We can't wait to see what you bring to this world."
Darlene Hackemer Loretto, A Grandma Who Called  Mark Zuckerberg a "Nerd" on Facebook
The response has been applauded online, receiving more than 20,000 likes for its empowering message. "Mark Zuckerberg, good answer … we need more girls/women in technology and science!" wrote one user. "Always encourage young girls to grow up to become the successful ones, not just marry the successful men," wrote another. (yahoo.com)