A former Chinese millionaire is now in debt after spending her money adopting and raising 75 sick and abandoned children over the years, according to reports.
Li Lijuan, from Hebei, became a millionaire in the 1980s through her successful garment business. Over the past 19 years, the 46-year-old has used the money to adopt a total of 75 children, many of whom were abandoned by their families because of ill health or disability. The others became orphans after losing their parents through coal mine disasters or other tragedies.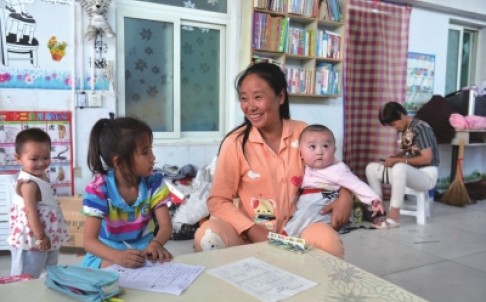 Li is now said to be more than two million yuan (£103,000, $161,000) in debt as the amount it costs to raise her adopted children began to overtake her income over the past few years.
According to Shanghaiist, Li was able to use funds from one of her iron ore mines as well as savings from her garment business to raise the children. However, the mine shut down in 2008 thanks to urban developments, taking away a huge part of Li's incoming salary.
Despite this, she continued to raise her children, sometimes more than 20 at a time, selling off her property and other valuables to help raise funds.
Even with extra help from charities and even friends and family, Li has struggled to keep up with the costs of raising the children and now finds herself in debt.
She continues to raise the children in Shangquan Village and sends them to school hoping that "knowledge will change their wretched fates," Chinese media reports. Some of her previous children are said to have gone on to become university students and public servants.
Li's dedication to raising the adopted children was previously highlighted in 2011 after she was diagnosed with early-stage lymph cancer. She only spent seven days in hospital before leaving after deciding she'd rather spend the high medical costs on the children.
Even though she has looked after 75 children, Li has not seen her own son for more than 10 years after they fell out.
In 2004, Xiao Wen underwent surgery after suffering from a serious spinal injury. Li was not able to visit him hospital as she was taking one of her adopted children to another hospital for his own operation. Her son then suffered from a depression and refused to see his mother, eventually being taken in by his grandmother.
SOURCE: 
yahoo news