All hail Tom Cruise and his superhuman ability to never age.
Cruise, no stuntman is required:  Cruise was really on the side of a plane.  He was also really on the Burj Khalifa in MI:GP and in MI:2 during the rock climbing scene too. The thin wire to protect him had been digitally edited out, but the whole thing was real.
Critics Consensus: Mission: Impossible Rogue Nation continues the franchise's thrilling resurgence — and proves that Tom Cruise remains an action star without equal.
With the IMF disbanded, and Ethan (Tom Cruise) out in the cold, the team now faces off against a network of highly skilled special agents, the Syndicate. These highly trained operatives are hellbent on creating a new world order through an escalating series of terrorist attacks. Ethan gathers his team and joins forces with disavowed British agent Ilsa Faust (Rebecca Ferguson), who may or may not be a member of this rogue nation, as the group faces their most impossible mission yet. (Rotten Tomatoes)
***
In a summer filled with superheroes, sequels to films of '90s past, and countless Warner Bros. movies, the fifth installment to the "Mission: Impossible" series is probably the most fun you're going to have at theaters all summer.
The plot, which revolves around a secret criminal organization called the Syndicate which is trying to eradicate Ethan Hunt (Cruise) and the Impossible Missions Force (IMF) is fine, but admit it, if you're heading out to see this film, it's for one reason and one reason alone — to watch a 53-year-old Cruise performing ridiculous stunt after ridiculous stunt.​
Paramount made that clear from its big marketing promotion for the film showcasing the actor, who insists on doing his own stunts, hanging dramatically from the side of plane as jet fuel was coming right at him.  
It's been touted in every billboard, poster, and most trailers for the film. And for good reason. When everyone found out Cruise was actually the one climbing aboard that plane, hanging on for his life at 5,000 feet from the sky, people were excited. He's doing that — at WHAT age? Paramount even released afeaturette on making the scene which included Cruise saying he was "scared s–less" before take off. ( techinsider)
***
The best stunt?
That plane scene is just the start of "Rogue Nation."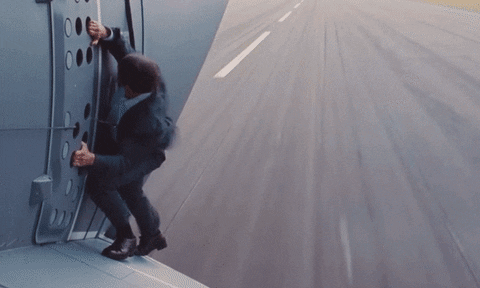 There's a moment early on where Cruise muscles his way up a pole while handcuffed and barefoot, using sheer upper body strength to power himself free and take on a guy named the Bone Doctor (Jens Hulten). It's times like that where you'll wonder to yourself, "No really? How is he doing these stunts? He's 53." (techinsider)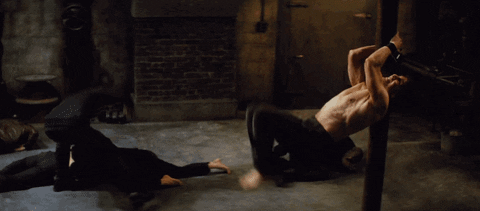 Another stand-out scene includes Cruise tracking down villain Soloman Lane (Sean Harris) and the syndicate at the Vienna Opera House in Austria.
It turns out the best way to sneak backstage at the Vienna Opera House is to swing several stories high on a single curtain rope.
If you thought the plane scene looked crazy, it's really not even Cruise's best stunt.
"In what is easily the best part of the film, Cruise dives off a 120-foot ledge into an underwater safe to swap out computer keycards and help Benji gain access into a building. In the film, Cruise's character preps himself for three minutes of time underwater. What makes this scene so extraordinary is knowing that Cruise is really holding his breath the ENTIRE time this sequence is playing. And, it's not just for three minutes, either. The actor prepped for weeks to learn how to hold his breath for over six minutes while performing the scene. "  (techinsider)
Underwater scene that calls for Cruise to hold his breath for six minutes, nothing can beat that. Repeat: Six minutes.
***
Box Office: 'Mission: Impossible 5′ Notches Series-High Opening Day, Eyes $52 Million Weekend
Tom Cruise actioner "Mission: Impossible — Rogue Nation" generated $20 million at the Friday box office, marking the biggest opening day in the "Mission: Impossible" franchise.
The Paramount/Skydance release is on track to pull in about $52 million for the weekend in its 3,956 locations, according to studio estimates. The fifth installment in the series, written and directed by Chris Mcquarrie, finds Cruise facing off against a squad of special agents known as the Syndicate. Simon Pegg, Jeremy Renner and Rebecca Ferguson also star.
"This is the rare sequel that leaves its franchise feeling not exhausted but surprisingly resurgent at 19 years and counting," Variety's review says of the pic. Cruise has already announced plans for a sixth film.
"Mission: Impossible — Ghost Protocol," the previous pic in the series, pulled in $209 million in the U.S. and $485 million internationally. The first four "Mission: Impossible" films have totaled more than $2 billion in worldwide grosses.
The "Vacation" remake pulled in $4.5 million in 3,411 locations on Friday night, bringing its cumulative gross to $10.8 million since bowing on Wednesday. The laffer is expected to make about $13 million in the three-day frame
New Line's "Vacation," made on a $31 million budget, bows 32 years after the original trip to Walley World. Helms plays the grown-up Rusty Griswold, who plans a trip to the theme park with his wife, played by Christina Applegate, and their children. Chris Hemsworth also stars.
Also bowing this weekend is drama "The End of the Tour," which stars Jason Segel as David Foster Wallace and Jesse Eisenberg as the reporter tasked with profiling the author. The A24 release made $44,000 in four locations Friday night.
Holdovers "Ant-Man," "Minions" and "Pixels" each generated about $3 million in Friday receipts.
***