LinkedIn

: Libya after Gaddafi: Now a Modern Slave Trade Market
Thanks to Nicolas Sarkozy, David Cameron, Hillary Clinton, Barack Obama and their FUK-USA-NATO's intervention in 2011 which United Nations blindly supported, Libya is now a failed state and its economy is in shambles. Their murder of Muammar Gaddafi, gave Libya new low level of human dignity: Migrants and refugees from sub-Saharan Africa are turned into slaves and being sold for USD$400 – 800 like the current sale of 12 Nigerian citizens.
Gaddafi turned Libya into Africa's wealthiest nation. Libya had the highest GDP per capita and life expectancy on the continent. Less people lived below the poverty line than in the Netherlands. For over 40 years, Gaddafi promoted economic democracy and used the nationalised oil wealth to sustain progressive social welfare programs for all Libyans. He also helped refugees. Under Gaddafi's rule, Libyans enjoyed not only free health-care and free education, but also free electricity and interest-free loans.
Gaddafi pursued an anti-colonial and pan-African foreign policy that the United States and European countries condemned as sponsorship of terrorism. Gaddafi's greatest crime, in the eyes of the Zionist governments of France, UK, US and their NATO, was his desire to put the interests of local labour above foreign capital and his quest for a strong, self-reliant and truly United States of Africa. In fact, in August 2011, President Obama confiscated $30 billion from Libya's Central Bank, which Gaddafi had earmarked for the establishment of the African IMF and African Central Bank.
Image: LinkedIn
Al Jazeera: Libya is the main gateway for people attempting to reach Europe by sea, with more than 150,000 people making the crossing in each of the past three years.
The Crime Syndicate's "humanitarian" intervention in Libya involved capturing a stable, prosperous country with rule of law and turning it into a hell hole rife with a full-blown slave-trade market. The International Organization for Migration says Libya is "living off the trade."
This slave trade has been underway for several years, but finally, in February of this year, UNICEF issued a report on it. An open-source search on the report reveals it received only passing mention by western faux-media rags. Source:  renegadetribune.com
Migrants and refugees stuck in Libya are being sold into slavery, CNN reported earlier this month.
The combination of Libya's splintered government in the wake of Muammar Gaddafi's fall and the influx of people from Nigeria has led to a situation where stranded men and women are being held against their will and, in some cases, sold into slavery or prostitution.
The All Progressive Congress (APC), Germany Chapter has condemned in strong term the dastardly treatment being meted out to black African traveling through Libya to Europe. Source: PM News
"As shocking as it seems, it's indeed true. The reason [the slave trade] can happen is because there is really no rule of law across much of Libya," Leonard Doyle of the International Organization of Migration told Al Jazeera.
Each year for the past three years, more than 150,000 migrants and refugees have crossed into Europe from Libya in hopes of making their way to a new life. It's a treacherous journey. More than 3,000 people have drowned each of the past four years trying to cross the Mediterranean Sea.
US television network CNN aired footage last week of an apparent slave auction in Libya. African migrants were apparently seen as being sold off as farm hands to locals, sparking a global outrage / Photo: YouTube Source: The African Courier
The Renegade Tribune: "They [the refugees] are from several African countries and they say they have fled war, poverty and unemployment in their countries … They have taken a tough journey through the desert and they have paid people smugglers to get to Libya to try to cross the Mediterranean to Europe. With the security and financial collapse in Libya, human trafficking and smuggling have become a booming trade," says Mahmoud Abdelwahed, reporting from a detention centre in the Libyan capital Tripoli.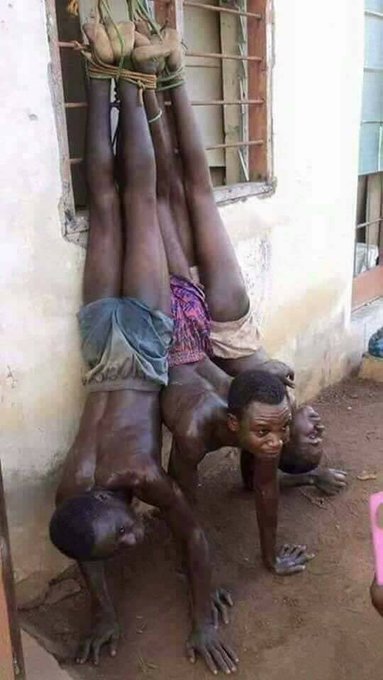 Image: Trendsmap
The Guardian: West African migrants are being bought and sold openly in modern-day slave markets in Libya, survivors have told a UN agency helping them return home. New testimony from the International Organization for Migration suggests that the trade in human beings has become so normalised that people are being traded in public. Mohammed Abdiker, IOM's head of operation and emergencies describes the situation as dire.
Image: Petition Site
The Renegade Tribune: Journey to the Hell Hole of Libya
Much of it just doesn't pass the smell test. First and foremost, why are Africans from countries like Senegal, Gambia, Ivory Coast, Guinea and Nigeria trekking thousands of miles across scorching desert to go to Libya, where there is no security nor rule of law, living conditions are hard and violence is commonplace? And they have done this for three or four years. What is the inducement?Somalia as a fonte makes some sense, but livability indexes show Lagos, Nigeria, at 39.7, which is about the same as Tripoli, Libya, at 40.0. Dolua, Cameroon, rates 44.0; Dakar, Senegal, rates 48.3; and Abidjan, Ivory Coast, is 49.7. By most accounts, the latter two countries are stable and improving.
American Rapper Cardi B has condemned the United Nations for its continued silence in the face of the dehumanizing slave trade going on in Libya. She said the UN wants Libya's resources and as such, they are fine with the instability in Libya, because it benefits them. She went on to say that the UN never mind their business and are always up in other people's issues, but when it comes to the issues that really matter, they go silent. Source: Khalimusic
Assuming you survived the long trek to Libya — and no one really knows how many perish along the way — you will be greeted by armed militia thugs who make their own rules, control border crossings and detain migrants for exploitation, slavery and rape. Every step of this dangerous journey, refugees and migrants are easy prey. Simply put, the odds of making it out of Libya are not good.
Black people are being sold off in slave markets in Libya and the international community is not treating the issue with the seriousness it deserves.The modern-day slavery in Libya has been fueled by instability in the north African country. Refugees and migrants use Libya as a conduit for reaching Europe.Militias in Libya have taken advantage of the situation to make money. Most refugees and migrants from West Africa have been arrested and sold off in slave markets in Libya. Source: Ghafla!
This slave trade has been underway for several years, but finally, in February, 2017, UNICEF issued a report on it. An open-source search on the report reveals it received only passing mention by western faux-media rags.
The UNICEF report states that 92% of all children who arrived in Italy last year 2016 were unaccompanied. Imagine that! That figure is either staggering or implausible bullshit. As always, The New Nationalist (TNN) leaves it to you to decide.
West African men are being auctioned off as slaves in various towns in Libya. A CNN footage recently showed the sale of a dozen men in a courtyard outside the country's capital, Tripoli. Source: Daily Post Nigeria
Once in Europe more squalor awaits as just 34,000 migrants out of 1.2 million who arrived in Germany were working after two years in country.
The lure or bait into these perilous conditions should be laid squarely at the feet of the nongovernmental organizations (NGOs) that are assisting with migrants' transport from hell-hole Libya to Italy. They have blood on their hands.
Image: UpnUpNews
UpnUpNews: According to CNN which exposed the racket, slave sales are conducted on the outskirts of the nation's capital, Tripoli, where auctions take place for various types of manual labourers. In one case, a video was made available, which shows the sale of "big strong boys for farm work".
An undercover operation revealed similar auctions where around a dozen people were sold in a matter of five to six minutes. "Does anybody need a digger? This is a digger, a big, strong man, he'll dig," an auctioneer calls out in one clip. "What am I bid, what am I bid?"
The interested bidders raise their hands till a final price is decided on following which the new slaves are transferred in the possession of their new "masters".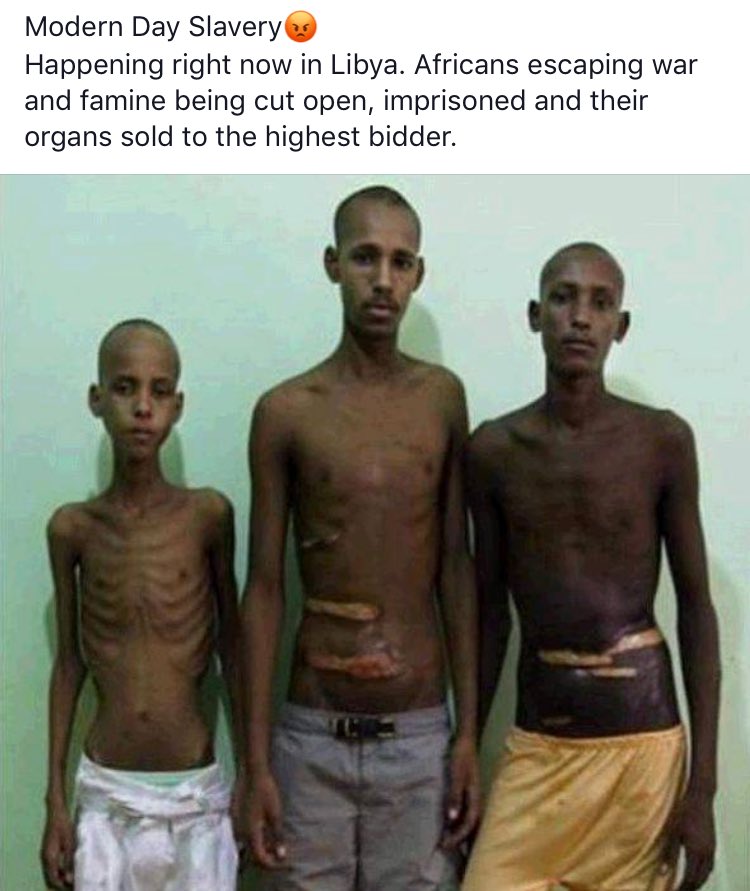 Modern day black Slave trade in Lybia,exposed  Image: Twitter
Slavery is getting a boost in places like Libya that are seeing a wave of desperate migrants from North Africa, hoping to find a better life in Europe. A crackdown by local authorities on boats ferrying people to the coast of Italy has turned smugglers to another profession — that of flesh traders.
At a detention centre in Tripoli, one man recalled how he ended up becoming an indentured servant after he ran out of money. Victory, 21, left Nigeria with his life savings and hopes of a brighter future. On reaching Libya he was forced to live in inhuman conditions and later sold as a day labourer once he could not afford to pay his smugglers.
Copied – This is happening to our people in Lybia. Please watch and share. Do not report these images because this is happening in 2017. Slave trade in Libya is real. Blacks are being sold for only $400 and world is still quiet. #slavetrade #lybia Source: Oby Oriji's Blog
He expected to pay off his debt through work but was unable to make enough. Finally his smugglers contacted his family for ransom. He was released after paying them a total of more than $2,780.
"If you look at most of the people here, if you check your bodies, you see the marks. They are beaten, mutilated," he said of his fellow detainees who have reportedly suffered a similar fate.
On being made aware of the slave trade in the region, the authorities said they were not aware of the auctions but confirmed the presence of organised gangs operating smuggling rings.
Earlier this year, the International Criminal Court (ICC) expressed interest in investigating crimes against immigrants in Libya, after the International Organization for Migration (IOM) warned about people being sold at slave markets in the country.
The International Coalition Against Human Trafficking – WordPress.com : Fearless Pulitzer Prize-winning photographer Narciso Contreras has revealed that while global attention has been focused on the North African country of Libya as a gateway for migrants attempting to reach Europe by sea, its status as a flourishing modern-day slave market has somehow managed to fly under the radar.
"What I found is that it's a slave market, it's like an industry but the world is looking at Libya as a transit country,"  he told the Thomson Reuters Foundation.
According to Contreras, who spoke to migrants kept as slaves during a documentary he was working on in Libya, the country is still in a lawless state six years after the fall of former dictator Muammar Gaddafi. Armed groups compete for land and resources, and large weapons and people-smuggling networks are operating with total impunity. Even worse, Libya has become a modern-day slave market, keeping migrants at the mercy of a complex trafficking web tolerated by the country's many militia groups, an issue largely ignored by the world.
 From February to June 2016, Narciso Contreras travelled around post-Gaddafi Libya documenting what he saw. The results are on display at Saatchi.Source: aestheticamagazine.com Image: Starr FM
The Renegade Tribune:There are some intrepid investigative reporters who have gone into the field to look into this. One is Ross Kemp, who followed the migrants' pathways in September 2016. The migrants have been subjected to incredible human suffering and look licked throughout.
The UNICEF report focuses on the plight of women and children, but there is little reason to believe men fair much better. According to the report, three quarters of the migrant children interviewed said they had experienced violence, harassment or aggression at the hands of adults. Nearly half the women interviewed reported suffering sexual violence or abuse during the journey. Most children and women indicated that they had to rely on smugglers, leaving many in debt via "pay as you go" arrangements and vulnerable to abuse, abduction and trafficking.
The primary hazards are sexual violence, extortion and abduction. Nearly half the women and children interviewed experienced sexual abuse during migration – often multiple times and in multiple locations.
Several global celebrities have spoken against the modern-day slavery in Libya. Celebs are using their influence to implore governments to take action. Source: 

Ghafla!
The report is vague on where exactly the problems were; but after several years of this, one would think good intelligence on where criminality is rampant would be well known and that observers and security could be deployed. Yet, no real help in this regard is mentioned in the report. It does note, however, that more than a third of the women and children interviewed said their assailants wore uniforms or appeared to be associated with military and other armed forces.These violations usually occurred at security checkpoints within cities or along roadways.
The story gets even more bizarre as most of the married women (representing three quarters of those interviewed) brought at least one child with them, but more children were left behind. You decide if this makes much sense.
Once in western Libya, women are held in detention centers in harsh conditions, such as poor nutrition and sanitation, significant overcrowding and a lack of access to health care and legal assistance. Most children and women said they expected to spend extended periods working in Libya to pay for the next leg of their journey, which would either be a return to their home country or to destinations in Europe.
African migrants trying to reach Europe are being sold into slavery in Libya, including for sex, for as little as USD 200, international monitors said today, citing testimony from victims. Image: nation.co.ke
The migration and slave routes, as of September 2016, an estimated 256,000 migrants have been identified in Libya, of which 28,031 are women (11%) and 23,102 are children (9%), with a third of this group including unaccompanied children. The real figures are believed to be at least three times higher. The number who died en route is unknown and undetermined in the report.
Consider the recruitment of these slaves at the point of origin. The report states, "Although very little information about human trafficking was gathered through the IOCEA interviews [why not?], other research confirms that Libya is a major transit hub for women being trafficked to Europe for sex.
"Trafficked Nigerian girls are being sent to Europe on the same route that the smugglers use. Nigerian criminal groups typically 'offer' victims an irregular migration package to Europe for an estimated 50,000 to 70,000 Nigerian naira (roughly 250 euros) during the recruitment in Nigeria. Once at destination, the debt is converted into 50,000 to 70,000 euros to be paid in the form of forced prostitution for a period that could last up to three years or longer."
Modern-day slavery is widespread around the world and Libya is by no means unique … But what's particularly shocking is that this is happening effectively in the open, where people can go to a farmhouse, place a bid and end up 'owning' a human being. Source: aljazeera.com Image: kt press
TNN takeway: So after several years of this trafficking, when almost the whole world has access to internet cafes and cell phones, news of the journey's perils involving sexual exploitation and slavery hasn't found its way back home to Africa? There are no cousins, brothers, sisters or friends who have gone through this misery to warn of this criminal racket? It makes little if any sense.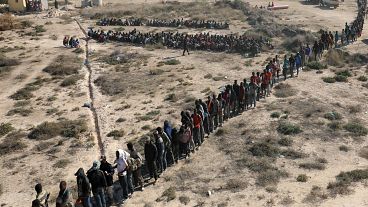 Armed faction captures key Libyan port of Sabratha as concern for migrants grows Source: Euronews
AFRICAN COURIER: Further reactions across Africa
Other African nations also shared their reactions, with Senegal's government expressing "outrage at the sale of Sub-Saharan African migrants on Libyan soil" that constituted a "blight on the conscience of humanity." Niger's President Mahamadou Issoufou meanwhile said that the issue had made him "deeply angry" and urged Libyan authorities and international organizations to do "everything possible to stop this practice."
Agence France Presse reported that protesters also gathered outside the Libyan embassies in Paris and in several other African capital cities including Bamako, Mali and Conakry, Guinea over the weekend. Protests are planned in Berlin and London later this week.
Libyan Deputy Prime Minister Ahmed Metig meanwhile said in a statement that his UN-backed Government of National Accord would investigate the allegations. Many Libyans also took to social media and used the hashtag #LibyansAgainstSlavery on Facebook and Twitter, expressing their horror and disapproval.
Image: Ghafla!